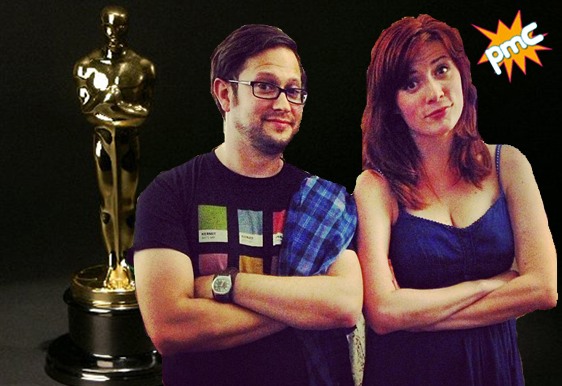 With the Oscars this Sunday, we thought it time for us to weigh in with our personal Top 10 Movie lists of 2013. Will there be overlap? READ AND FIND OUT!
Cole's Top 10:
This was  tricky year for movies for me — I liked a lot of stuff, but I wasn't IN LOVE with a lot of it. But overall, it was a pretty solid year for movies. My faves, in order:
1. Short Term 12
Brie Larson stars as Grace, a young counselor at foster-care facility for at-risk teenagers.  When Jayden (the great Kaitlyn Dever, from "Justified") arrives, she finds herself facing demons from her own past, all the while trying to protect the young teen from an abusive home situation. It's an immensely powerful, affecting look at troubled teens, both humorous and moving, littered with great performances from the adult leads and the authentic tweens. It's on DVD/Blu-Ray — so seek it out!
2. Philomena
Judi Dench stars in the true story of Philomena Lee, who, with the help of a disgraced journalist (Steve Coogan), tries to track down the son she gave away through an Irish Abbey fifty years prior. The chemistry between the two leads is undeniable, and Dench once again turns in a tremendous performance. Plus, it has the best reference of Big Momma's House in a film ever. Another great film helmed by Stephen Frears ("The Grifters").
3. Mud
This is the year of Matthew McConaughey. He turned in amazing performances in Dallas Buyer's Club (for which he'll probably take home an Oscar on Sunday), The Wolf of Wall Street, and this little indie gem. His interpretation of the unstable yet honorable fugitive who befriends two young boys in Arkansas is mesmerizing every moment he is on screen, and the two young stars (Tye Sheridon and Jacob Lofland) are both convincing and promising talents.
4. About Time
I'm a sucker for Richard Curtis movies — I find his dialogue to be fresh and funny, even if the scenarios can be far-fetched. About Time is a splendid time travel dramedy — the first half is hilarious, the second half heartwarming. Domnhnall Gleeson (Brendan's son, and one of the eldest Weasley boys from the "Harry Potter" series) is a great protagonist, and his relationship with his dad, played by the always fantastic Bill Nighy, is touching and spot on.
5. Gravity
A landmark technical achievement from director Alfonso Cuaron (whose "Children of Men" is one of my favorite films of all time), "Gravity" is a nail biter from start to finish. You're hard pressed to spot the edits as many shots lingers for days, dancing around the cosmos in a true reminder of what a cinematic experience can really be.
6. Her
Spike Jonze's film has a lot going for it — interesting ideas, great performances from its leads (Joaquin Phoenix is better than I've ever seen him, and ScarJo's voice over work is impressive), a thought-provoking script and a great score by Arcade Fire. I only shudder to think that high-waisted pants are going to be a thing again.
7. The Way, Way Back
Jim Rash and Nat Faxon's great coming-of-age flick, it's the first effort since winning an Oscar for Best Screenplay, and their directorial debut. Points for casting Steve Carrell against type, and Sam Rockwell is award worthy for his scene stealing supporting role (ditto Allison Janney).
8. The Secret Life of Walter Mitty
Ben Stiller stars and directs this update of James Thurber's classic story — this one either works for you, or rubs you the wrong way. For me, it was magical from frame one, enhanced by Jose Gonzalez's great musical score, and Stiller's whimsical approach to the material.
9. 12 Years a Slave
Brutal yet engrossing take on slavery by director Steve McQueen is an important and challenging film. Chiwetel Ejiofor delivers a career-best performance, and his scenes with the equally good Michael Fassbender are electric.
10. Nebraska
Alexander Payne's character study gives Bruce Dern the role of a lifetime, and he hits it out of the park. Will Forte shows he has chops to, and the rest of the cast (June Squibb, Bob Odenkirk and Stacey Keach) are all great. A meandering, Americana slice of life that really works if you surrender to its pacing and charm.
HONORABLE MENTION: Frozen, The Hunger Games: Catching Fire, Before Midnight, Dallas Buyer's Club, Iron Man 3, Monsters University, Captain Phillips, The Wolf of Wall Street
Vanessa's Top 10:
I'll echo Cole's sentiment on the movies this year-  I enjoyed several, but wasn't really madly in love with many of them.  I felt like there were a lot of hype-machines trying to make things happen that didn't really work for me (cough *AmericanHustle* cough)  (is that how people write that "cough" bit out?) (not sure where to put the period since I'm basically done with my thoughts but I keep writing parenthetically.  <— There.  Period.  Now there are too many periods and sentence fragments, I just need to move on!!)  These aren't really in strict best-worst order or anything, they all suited me well in different moods.
1. Philomena
Philomena did it for me.  It had a lot of components I love in movies – a lot of heart, based on a true story, not afraid to be sentimental yet never felt overly so at all.  Judi Dench and Steve Coogan were a delightful odd couple and the movie's tone was so effortlessly real it was very easy to be totally engrossed.   Judi Dench is WORTH THE HYPE.  She IS the hype. There is a moment back in the abbey at the end of the film (no spoilers) that I actually re-watched several times because it felt so poignant.  Classy movie, beautifully written an acted, and the story will really stay with you.
2. 20 Feet From Stardom
This documentary is really wonderful.  We go into the world of the backup singer and it is just as hip-shakingly, soulfully, diva-ly delicious as you might imagine.  The film is a real celebration of talent, perseverance, and hard work.  The singers they profiled were all great characters with rich stories and strong personal motivations.  Watching this left me thinking a lot about the nature of creativity and how varied the definition of "success" is amongst artists. It also left me wanting to have been young, beautiful, and talented with an amazing voice  in the 1960s and wear shimmy-shimmy mini dresses and be able to move my body in ways I definitely can't/ought not.
3. The Hunger Games: Catching Fire
I was VERY disappointed in the first Hunger Games movie, and honestly had no expectations for this one, but I was so pleasantly surprised.  This movie felt like a MOVIE.  I was all jazzed up when I left the theater because I had been so thoroughly entertained.  Jennifer Lawrence proved herself as an action star.  She can really handle multiple genres as she's shown in her already awesome and varied career, but I personally am very glad to see her in this strong, physical role.  Hats off to director Francis Lawrence for really turning this franchise around.   This film was worlds classier, more grounded, and more thrilling than it's predecessor and it also took far better advantage of the casts' abilities.
4. Her
Spike Jonze did it up in this one!  It was a real treat for the eyes, ears, and brain.  I loved this film because it was surprising and it didn't go where I expected it to at all.  He found a way (and this is also a testament to the performances all around) to make it seem incredibly natural for a man to fall in love with a machine.  It wasn't a posed as a cautionary tale, it was earnest and sweet and tender (until it wasn't.)  It's a story about the profound loneliness that we're all steeped in, even in the most connected eras.  Joaquin Pheonix and Scarlett Johansson's aural sex scene proves that our biggest sex organ is our brain, and sometimes it's hotter with the lights out and without all the gratuitous shots of hot bodies.  (Zac Efron, if you're reading this- disregard that last part.)
5.  Saving Mr. Banks
First of all, this movie was VERY poorly marketed.  You're gonna go in expecting a nostalgic romp though the Happiest Place on Earth.  Disney! Mary Poppins! Tom Hanks and Emma Thompson!  WHAT FUN!!! No… not really.   It's Marley and Me all over again.  But once you get over your expectations, you can really enjoy this film.  It's the true story of Walt Disney's (affable ol' Tom Hanks) dealings with author P.L Travers (played so skillfully by Emma Thompson) as he tries to Disney-fy her "Mary Poppins" on the big screen.  More than that, it's the story of P.L Travers sad and tumultuous childhood that led her to write her wonderful book.   Go in expecting very little Disney magic and a lot of sad flashbacks.
6. The Place Beyond The Pines
I know this film wasn't for everyone, but it worked for me.  Well acted, thoughtful, and dark – it's a look at love, recklessness, and legacy.  Again, the movie wasn't quite marketed properly.  It was sold as the story of a motorcycle bad boy and his love affair, but really it's a very sad triptych of frustration, hope, and loss.
7.  In A World… 
Is there anything Lake Bell CAN'T do?  She wrote, directed, and stars in comedy about a woman trying to break into the male-dominated world of movie-trailer voice over and she looks dang good doing it.  She's great, and she also created amazing roles with great arcs for the rest of the cast.  Your heart will break for Rob Corddry, and then he'll make you a sandwich to try to make you feel better and it will break your heart even more because he's just that wonderful.  Props to Ken Marino for leaving me feeling happily nauseated as only his characters can.
8.  The Wolf of Wall Street 
Yowza, everyone on Facebook had an opinion on this Scorsese number!  Many thought it was gratuitous, ridiculous, and glorified horrible behavior.  I thought it was gratuitous, ridiculous, and really pretty great.  And whoever thinks that Jordan Belfort (played by the always electric Leonardo Decaprio) was made to look GOOD by this film has his or her own issues they need to deal with on their own time.  The whole cast knocked it out of the park, but I have to say it was my favorite Jonah Hill performance EVER, and he stole the movie for me.
9. 12 Years a Slave
What a fun popcorn flick!  Juuuuuust kidding.   This movie was so very difficult to watch, yet so well done.   The only thing I would change about it would be Brad Pitt saving-the-day at the end.  I really didn't want the white man to have anything to do with a happy ending.
10.  This Is The End
Hey, you made me laugh. This movie felt like watching a bunch of your funniest friends try to crack each other up, scene after scene .  It was bawdy and broad and dirty, but also had a surprising amount of morality and heart.  The ending of this movie really did feel like heaven. BSB 4 EVER.
HONORABLE MENTIONS: 
Movies that STRESSSSED me out:
Gravity
Prisoners
Capitain Phillips
Movies I've heard enough about to NEVER want to see:
Blackfish
Movies that seemed like the cast lost a dare:
Labor Day (WOWWWW that's a bad movie with a great cast.  Just WOW.  I didn't even know that kind of "WOW" was possible.)
Now You See Me….  (And NOW I never, ever will ever again.  The only thing worse than a really slick dumb movie, is a really slick dumb movie that desperately wants you to think it's smarter than you.)