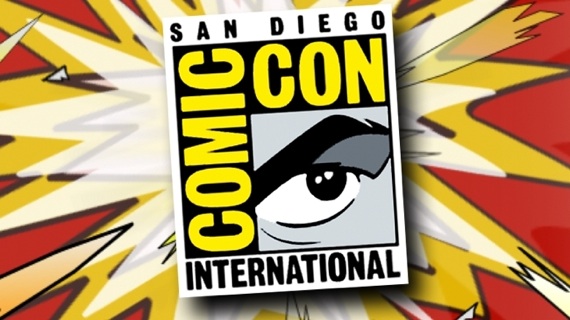 Your PMC hosts took on the 2011 San Diego Comic Con! What follows is Cole's recap of the two days they spent there, with Vanessa's comments inserted throughout! Enjoy!
I was hesitant to return to the annual San Diego Comic Con this year, as my experience last year was tragic—hours and hours and hours and hours in line, and not a panel to show for it—in fact, I was about ten people away from admittance into Hall H when the infamous Resident Evil Pen Stabbing happened. The convention center was so jammed packed you could hardly walk anywhere. I was disheartened, but thought I'd give it one last try—and with my podcastin' partner Vanessa Ragland with me, we descended upon the 'Con Friday morning for the start of a truly terrific con! Here's the breakdown on what we saw over the two days we attended, who was involved, and what we thought, as well as some embedded trailers!
This is Vanessa writing. When I write, it will look like this, which I call "red."  Let me first say- I was DREADING Comic-Con.  Dreading.  I have heard the stabbing story enough times to really freak me out, also I don't do well in crowds (anxiety central) and I am afraid of large groups of people in costumes.
FRIDAY, JULY 22ND
After a brisk walk from the Cruise Ship parking lot (more than adequate parking, and at a max of $20 a day, not too bad!), we obtained our press passes and headed over to Hall H. I expected us to have to wait in line and was shocked to see that we could just walk right in as the eleven a.m. panel had just begun! And it was a doozy…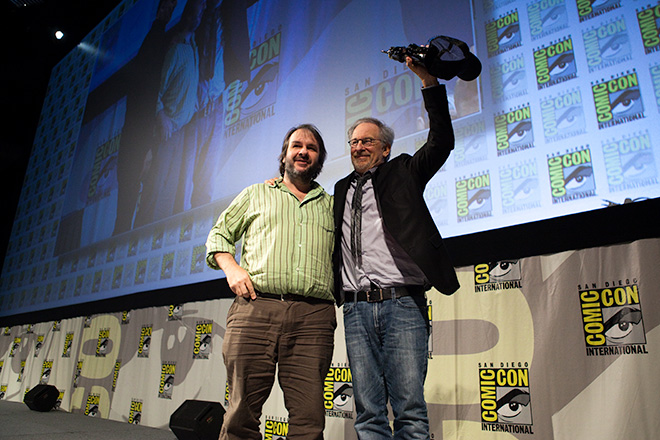 11:00-12:00 Paramount: The Adventures of Tin-Tin (Steven Spielberg, Peter Jackson, cameo by Andy Serkis)
We sat down as a sequence from the Steven Spielberg-directed The Adventures of TinTin was playing on the monitors, in 3D. The motion capture technology that was utilized in films like The Polar Express and Beowulf has come a long, long way, and the stylized look was absolutely gorgeous. With Spielberg at the helm, Peter Jackson producing, and a script by Edgar Wright and Joe Cornish, it looks to be a quality film!  It includes voice work by Jamie Bell and Daniel Craig.
Spielberg and Jackson spoke passionately and eloquently about the project, and took questions from the audience. Spielberg revealed that there is a story for an upcoming Jurassic Park 4 and hopes that it will go into production in the next year or two. Jackson said he'd love to return to his horror roots in the next couple of years. Frequent Jackson collaborator Andy Serkis, wearing dark glasses, asked a silly question about Daniel Craig, just to get a reaction from the crowd. Perhaps the best moment of the Q&A occurred when a young boy asked what film was Spielberg's favorite experience, and he replied E.T., because when the shoot ended, he had grown so attached to Henry Thomas and Drew Barrymore that he realized he wanted to have a family. It was so great to see filmmaking legends up close and personal, and I hope Spielberg returns to the Con in the future.
Oh my gosh.  I have only been here for an hour… but I LOVE COMIC-CON!  I just saw Spielberg and Peter Freaking Jackson.  I keep looking at Cole like, is this happening?  And it was.  And no one stabbed me or made me wear lyrca or anything!   This panel was amazing, and I couldn't believe the creative energy and joy radiating from these guys.
The trailer for TinTin: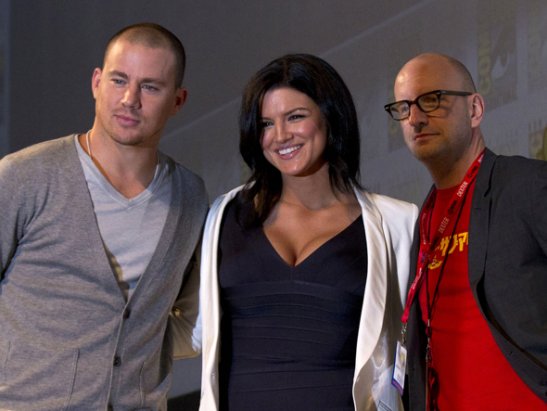 12:15-1:15 Relativity Media: Haywire (Steven Soderbergh, Gina Carano, Channing Tatum) and The Raven (John Cusack, Luke Evans, Alice Eve, James McTeigue)
Next up were two films from Relativity Media. First up was Haywire, a gritty actioner from director Steven Soderbergh and the screen debut of mixed martial artist Gina Carano. She plays a covert ops specialist who is double-crossed by her own agency and works to find out who betrayed her. Think The Bourne Identity minus the amnesia, with action sequences extremely visceral AND realistic—Soderbergh didn't want anything that couldn't actually be done, resulting in some quick fight sequences. Carano was charming on the panel and showed a real charisma on screen. In addition to the trailer, we were shown a hotel room fight between Carano and rising star Michael Fassbender. It was exciting and raw, and if its any indictation of the rest of the film, it's going to be really entertaining. Channing Tatum was on the panel as well, and was asked about the next G.I. Joe movie, but wasn't at liberty to say anything. Soderbergh was asked about the unavailability of his terrific King of The Hill on DVD, and said he's hoping to find a way to get it out there soon, citing studio indifference to releasing DVDs now that the sales numbers are so low due to streaming.
Haywire is going to be awesome.  I just know it.  I love girls who kick butt, and Carano REALLY kicks butt.  She was so strange to see in person- after her introduction I expected a sort of rough and tumble Chyna/Suicide girl, and instead there was a beautiful, mild-mannered, elegant and soft spoken woman.  My favorite parts of this panel were how humble and thankful  Carano was juxtaposed by her badassery.  She would be like, "It's such an honor to work on this amazing film."  Then they would show a really brutal clip and she would tuck her raven hair behind her ear, smile shyly and say something creepy like "I really loved it when they broke the TV over my head." Channing Tatum was super charming, as was Soderbergh.
The trailer for Haywire: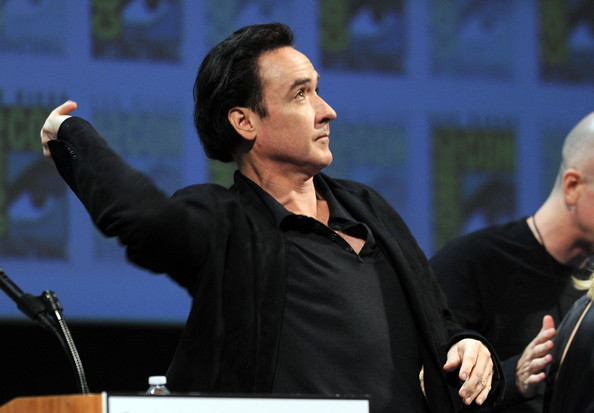 Rounding out the hour was The Raven, a gritty thriller following Edgar Allan Poe (John Cusack), who helps out a detective (Luke Evans) seeking a serial killer whose gruesome acts reflect Poe's writings. When Poe's love interest (Alice Eve) is abducted by the killer, it's up to the duo to find her before it's too late. It was directed by James McTeigue (V for Vendetta), who was joined on the panel by Cusack, Evans and Eve. The trailer looked slick, with a nice visual style. It appears to be a mash up of Seven and Sherlock Holmes, and as much as I like John Cusack, I'm not sure if the casting is quite right. Cusack did his research and seemed to know a lot about the author, but the little footage we saw didn't look that great. Here's hoping it comes together!
Yeah, I don't know what to say about this one.  The premise is interesting, but I never got a feel for what this movie is going to be- and I didn't totally trust that the filmmakers and actors knew either.  I love me some Poe, but I have a bad feeling about this one.
The trailer for The Raven: (NOT YET AVAILABLE–SORRY!)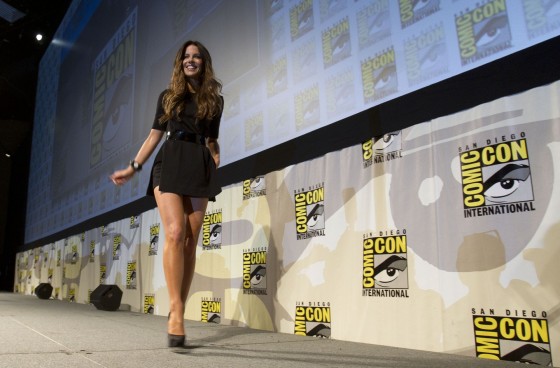 1:30-2:30 Screen Gems: Underworld Awakening (Kate Beckinsale, Len Wiseman, Michael Ealy, Theo James, Mans Marlind, Bjorn Steing) and Attack the Block (Edgar Wright, Joe Cornish, John Boyega)
Screen Gems showcased two of their latest offerings, the first of which was the latest in the vampire action series, Underworld Awakening. Kate Beckinsale returns as Selene, who busts out of prison to discover that humans are now aware of both the Vampire and Lycan clans and have started a war to destroy them both. The trailer featured a lot of the spandex-clad warrior sliding around and slicing up those in her way, and the crowd responded positively, especially to Kate Beckinsale's presence on the panel, which also included directors Mans Marlind and Bjorn Steing, producer and writer Len Wiseman (also Beckinsale's significant other), and actors Michael Ealy and Theo James. When asked about more sequels, Wiseman said he definitely has ideas of where they can go, and is interested in taking the characters to completely different places, "except space!" Since I hadn't seen any of the others in the series, its impossible for me to say how this will stack up the rest of them.
I also haven't seen any of this franchise- but I had a great time listening to them.  Maybe because Kate Beckinsale was soooo pretty?  I will seek these out now though, if nothing else she wears a black body condom and attacks people.  So that's cool.
The trailer for Underworld Awakening: (ALSO NOT YET AVAILABLE! GRRRR!)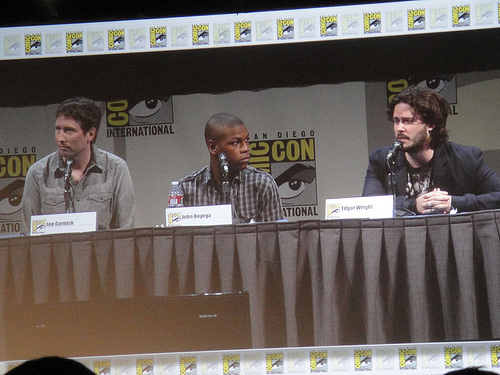 Next was Attack the Block, a seriously cool looking import from the UK about a bunch of young petty thieves and thugs in South London, who have to fend off an alien attack. A true genre mashup of sci-fi, action and comedy with a bit of social commentary thrown in, the film earned rave review at SXSW and in England, and is now playing in limited release here in the states. In addition to the trailer, we were shown a sequence in which the young anti-heroes battle their way to "The Weed Room," a potential safe house from the creatures. Popping off firecrackers and flares to distract the monsters and illuminate the hall ways of the run down tenament, it's full of tension and excitement. The cast is largely made of first time kid actors between 12 and 17, and also features Wright's buddy Nick Frost as a pot dealer. The panel brought us producer Edgar Wright, director Joe Cornish and the lead kid John Boyega. The coolest part of the film is that the monsters are fully realized and not computer generated, harkening back to the days of actual tactile creature effects. It's a welcome change, and I'm definitely excited to see this as soon as possible.
Oh my gosh.  This panel was awesome- and the movie was awesomer. Can't say enough great things about this- everyone up there seemed truly passionate and excited, and the trailer is SO GOOD.  Find this movie.  See it.  Be in awe of how gritty and funny and terrifying something can be.  Oh, and how cool- it is just oozing with cool.
The trailer for Attack the Block:
We then left Hall H to take our chances in the line for the HBO True Blood panel in Ballroom 20; after two hours in line, we were sad to be turned away about fifty people away from the door! We decide to walk the exhibition floor for a little bit and then head across the street to the Gaslamp District and grab some dinner, then on to drinks with friends. A good first day at the con, and Saturday would be even better!
Sorry I made you wait in the line Cole.  I had a feeling we could make it… well, ok, I really knew we probably wouldn't make it but I had to try.  I was very close to my darling Eric, and if I hadn't tried to see him I couldn't live with myself.  And also, I think the line-waiting and disappointment thing is a staple of Comic-Con.
SATURDAY, JULY 23rd
After a great breakfast with our podcast guest and buddy Tony Hale, we headed back into line for Hall H, where we were pleased to see that we'd be able to have great seats once they let us inside. Sure enough, we got a great view of the stage and were in store for some great panels.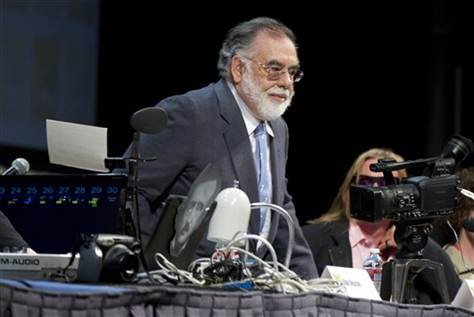 11:45-12:45 TWIXT: Francis Ford Coppola, Val Kilmer and Dan Deacon
It was truly an honor seeing legendary film director Francis Ford Coppola hold court to a captive Hall H crowd, seeming like a kid in a candy shop talking about his latest film, the super experimental TWIXT. The story follows a horror writer (played by Val Kilmer), who goes to a small town on a book signing tour, only to be told by the local Sheriff (Bruce Dern) that there's a very high unsolved murder rate. Struggling through writers block, he's visited by Edgar Alan Poe (Ben Chaplin) in a dream and talks with a young goth girl (Elle Fanning), who may or may not be a ghost. There are sequences shot in 3D (Coppola explained that he'd rather not give us eye fatigue and headaches when it wasn't necessary and only use it to enhance certain scenes) and  a score by Dan Deacon. We were given Poe 3D masks instead of traditional glasses, and what truly makes TWIXT intriguing is that Coppola and Deacon plan to tour with the film—Deacon will score it live, and Coppola will cut it and rearrange it as you watch it, basing his decisions on audience reactions. If you like a certain character, he'll up their involvement, if you aren't responding to certain kinds of scenes, he'll use shorter versions or cut them out all together. Coppola had an iPad on which he could rearrange as he went, and he showed us the trailer again, this time changing it up as it played and Deacon scoring it on his laptop. He even showed us a version of what could happen just by hitting shuffle. An intriguing concept for sure—it's hard to tell if the film itself is any good, but the chance to see a master of cinema play around in front of us would be hard to pass up. Kilmer and Coppola event chanted "NOSFERATU!" over a segment of score making it a truly surreal afternoon.
Val Kilmer?  Actually really funny and charming.  Color me surprised!  F.F Coppola?  The sweetest, most lit-up, excited man ever.  I am not really sure what to expect from the film- but I love the enthusiasm and daring that went into making it.  I will definitely be seeing this.  Maybe one of the cutest things I've ever seen is Mr. Coppola fiddling around on the iPad with some technical difficulties.  It was a little bit of an "aww, grampa" moment.  But then you realize grampa is a legendary film maker, and he's in the middle of trying to reinvigorate an artform.  And it's a little less "aw grampa" and a little more "damn, brother!"
The trailer for TWIXT: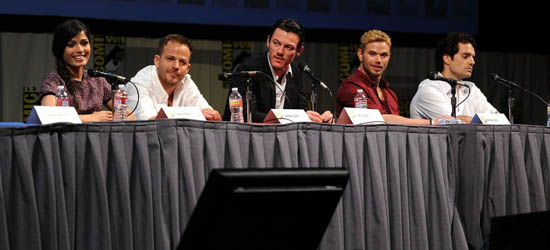 1:00-2:00 Relativity Media: Immortals (Tarsem Singh, Henry Cavill, Stephen Dorff, Freida Pinto, Luke Evans, Kellan Lutz, Gianni Nunnari, Mark Canton)
If you like Gods played by bohunks in loin cloths have we got a film for you! Immortals, a 3D visual feast turning Greek mythology on its ear, is from Tarsem Singh (The Cell, The Fall) and stars a bunch of up-and-coming actors who are all headlining other high profile films in the near future. On the panel were Henry Cavill (the newest Superman), Stephen Dorff (Somewhere, Blade), Freida Pinto (Slumdog Millionaire), Luke Evans (The Raven, The Hobbit), Kellan Lutz (Twilight), producers Gianni Nunnari and Mark Canton and director Singh. The trailer showcased the 3D images well and had plenty of high-octane stylized action sequences, reminiscent of 300. Lots of slow-mo, though. We were also shown a big action sequence towards the end where some of the Gods battle some bad guys in a cave. Looks to be breathtaking visually, but hard to say if the script has much behind it. The panel itself was ok; Tarsem Singh has a great spirit to him and was pretty informative; Mark Canton came off as a typical old-school Hollywood Producer; Henry Cavill seemed a bit flustered; Stephen Dorff grunted a few times; Freida Pinto was absolutely lovely and told some nice stories; Kellan Lutz seems like a total airhead (when asked about his research to play Poseidon, he said that The Little Mermaid is his favorite movie).
It looks like this movie will be visually stunning and void of pretty much everything else. I'm not a big fan of Tarsem's past work- I know there is an audience that it really works for, but I ain't it.  The cast was really, really good looking even if they all seemed a bit off.
The trailer for Immortals: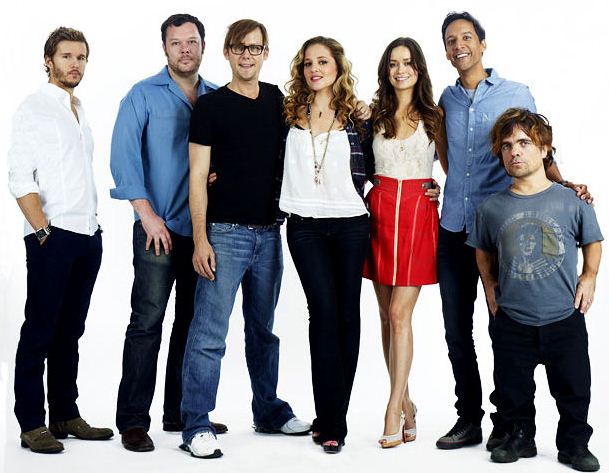 2:15-3:15 IndieVest Pictures: Knights of Badassdom (Ryan Kwanten, Danny Pudi, Summer Glau, Peter Dinklage, Jimmi Williams, Margarita Levieva, Michael Gladis, Joe Lynch)
After a bunch of actual LARPers (Live Action Role Players) took the stage, we were treated to a tremendous panel on one of the most fun looking comedy horror hybrids to come along in a while! Knights of Badassdom follows Joe (Ryan Kwanten), a rocker who's just gone through a bad breakup. His roommates (Steve Zahn and Peter Dinklage) drag him to their latest LARP battle to try and cheer him up, but all hell breaks loose (literally) when they accidently conjur an actual succubus, who takes on the form of Joe's ex-girlfriend Beth (Margarita Levieva). As the bodies pile up, the pretend warriors and wizards must find a way to defeat her. The trailer was fun and well received, and the top-notch cast riffed and joked through a colorful panel. Peter Dinklage was especially wry, trading barbs with Jimmi Williams. Margarita Levieva accidently let loose a major spoiler, which I won't go into here, but basically said," There's the scene where I'm eating REDACTED's heart, and…" We were also treated to a clip of Dinklage explaining to Kwanten the basics of LARP scoring, and it's hilarious. Very excited for this one.
I was already hyped for this movie, and now- color me even more hyped.  I had a blast at this panel, and the enthusiasm and fun of the cast/crew was palpable. I especially loved all the hype of how they used REAL larpers- it's like the geek version of Gran Torino.
The trailer for Knights of Badassdom: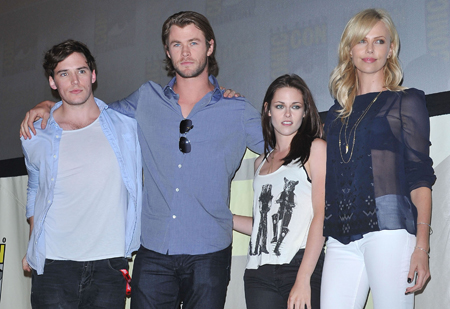 3:30-4:15 Universal Pictures: Snow White and the Huntsmen (Kristen Stewart, Charlize Theron, Chis Hemsworth, Sam Clafin, Rupert Sanders)
A complete re-imagining of the traditional Snow White legend, there was no actual footage ready to be shown as they hadn't shot anything yet, but we did see some footage director Rupert Sanders put together that will give us a basic idea of the look he's going for, as well as still of each of the main actors in their wardrobes. It's supposed to be an epic on the scale of Lord of the Rings, and looks to be just that. The cast comprising the eight, yes eight, dwarves is a who's-who of heavyweight Brits, including Ian McShane, Eddie Marsan, Nick Frost, Tony Jones, Ray Winstone, Stephen Graham, Bob Hoskins and Dave Legeno. Charlize Theron was particularly funny and brash on the panel, and Kristen Stewart was her usual awkward self, brushing the hair out of her face continually and giving half-assed answers. The crowd was packed with annoying Twilight teens, screaming constantly for her (much like they screamed early for Kellan Lutz). It will be exciting to see the actual footage when its complete (most likely at next year's fest).
The footage mock-up they showed was STUNNING.  Seriously.  And the accompanying dialogue/v.o was poetic and beautiful.  I thought Charlize came off as a total powerhouse, and I didn't think Kristin Stewart was that awkward.  I feel like Charlize and Kristin have great chemistry and it's going to be fun to watch them hate each other on screen.  I am really excited about this movie-  the concept art, descriptions, and casting seem spot-on for an epic tale.
Since there's no trailer to show, here's a pic of Kristen Stewart in costume: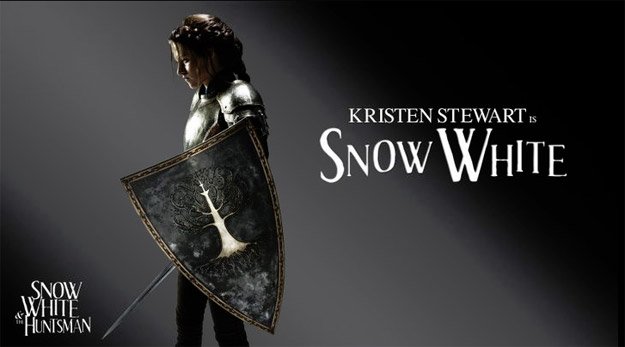 We decide to leave Hall H and go say hello to our friends Mike, Kevin and Bill, signing at the RiffTrax Booth, and a quick hello to Rob Paulsen, one of our latest podcast guests who we hit it off with really well. It's onto Room 24ABC, which is a madhouse right now due to the Teen Wolf panel (yawn), but soon empties out for our last panel of the day.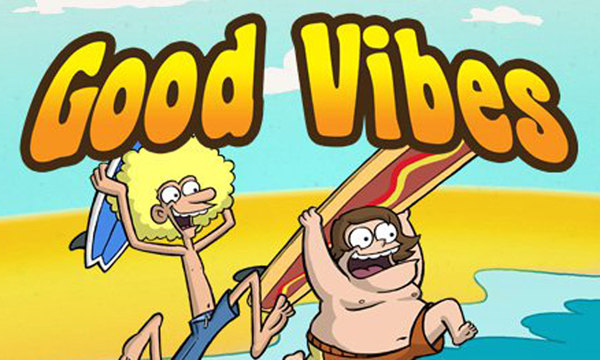 6:30-7:30 Good Vibes (Tony Hale, Adam Brody, Alan Tudyk, Jake Busey, David Gordon Green, Tom Brady, Brad Ableson, Mike Clements)
The cast of MTV's newest animated comedy, Good Vibes, was on hand to celebrate the series that will be paired with the reboot of Beavis and Butthead this fall. We're shown a full episode, and it's a brash and funny look at a trio of young surfer guys (voiced by Josh Gad, Adam Brody and Tony Hale) in a coastal California town, who (in this episode) set up a floating city in the ocean just outside of city jurisdiction so they can party and drink with friends, only to have it get out of hand. Of course, there's a lesson at the end, but it's funny and biting the whole way and is an incredible use of flash animation. The panelists were game, with Tudyk very funny (when given the chance to speak), but the whole thing was marred by an incredibly off-putting Comic Con employee who was in charge of the room, and was condescending and mean to everyone in attendance. She also stopped the Q&A at the beginning, saying she needed to screen the questions and blaming the panelists for "getting to it too soon." Ohhhh-k. And after all that, the first question was "Hey Adam Brody, you are good, why don't you get more famous good parts?" AWKWARD. Despite the weird vibe, Good Vibes is good fun.
The episode they aired was really fun, and I'm glad to see MTV foraying back into the waters of animation and original (non-reality) programming.  What's next?  Playing music?  Nah.
This is going to be a fun raunchy show, but with heart. It was so fun to see a full episode and get a feel for what the show is going to be.  There was clever writing, great voice acting, and it seems like a very smart move for MTV. Another good move for them would be remembering that they should also show music on their channel.

Trailer for Good Vibes:
We were given tickets to turn in for a T-shirt from the show, which we redeemed at the Hilton Bayfront, and our day at the Con was over. After a fish taco dinner in the Gaslamp, we hit the road back to LA. What a great experience! Thanks San Diego!
Who knew? I had fun! I didn't get stabbed!  Not everyone was wearing a costume!  SUCCESS!  It was a blast, and I am already excited about next year.  The energy you soak up by being surrounded by creative and happy people is delicious.