Past Guests Bios Continued
Paul Brittain (PMC Podcast Ep 188: click HERE):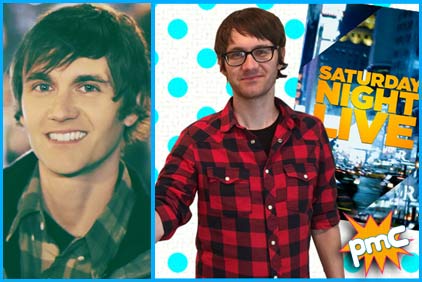 Paul Brittain is an actor, writer, comedian living in Los Angeles. A native of the Chicago area, Paul started his career performing improv and sketch with some of Chicago's city's famed comedy theaters including Improv Olympic, The Annoyance, and Second City. From there he moved to New York to join the cast of "Saturday Night Live" from 2010 – 2012 where he performed such characters as "Sex" Ed Vincent, Goran "Funky Boy" Bogdan, and Lord Cecil Wyndemere and celebrity impressions including James Franco, Johnny Depp, and Ron Paul.  He appeared in the films  'Grown Ups 2' and 'Hotel Transylvania' and his tv credits include ABC's 'Trophy Wife', HBO's 'Hello Ladies', 'Kroll Show',on Comedy Central, and IFC's 'Comedy Bang Bang.'  Paul stars in the upcoming independent feature 'Nigel And Oscar Vs. The Sasquatch.'
Wayne Federman and Jaime Fox (PMC Podcast Ep 187: click HERE):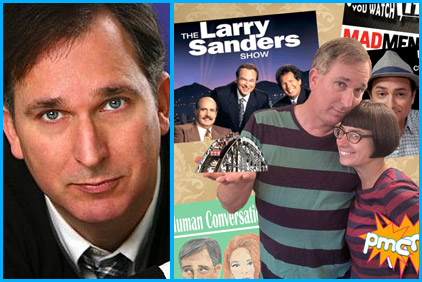 Wayne Federman is a "That Guy"; we are subconsciously familiar with his face, burned into the vacuum tubes of our minds like an errant screensaver. Although his name may not be as familiar, trolling the communal id will reveal his patented one-scene "Federman-and-outs" in a slew of high-profile films: Legally Blonde, 40-Year-Old Virgin, Funny People, Step Brothers, 50 First Dates — plus substantial arcs in shows like X-Files. The Larry Sanders Show and Curb Your Enthusiasm. He studied under Stella Adler at Tisch, did ventriloquism as a child, and wrote a biography on Pistol Pete Maravich. He currently hosts the Human Conversation podcast with Erin McGathy on the Feral Audio Network.
Jess Harnell (PMC Podcast Ep 186: click HERE):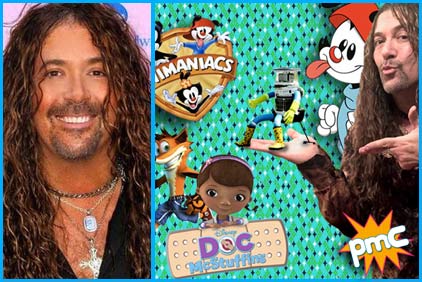 Named by Variety magazine as one of the top ten voice actors in the business, the Emmy-nominated Jess Harnell is truly one of the best and busiest. Jess has appeared on practically every animated series on TV and has had dozens of starring roles,, including "Captain Hero" on "Drawn Together", Chilly and The Wicked King on "Doc McStuffins", "Cedric" on "Sofia The First" and of course "Wakko" on "Animaniacs".
Jess's voice has been heard on countless popular prime time series as well, including shows such as"America's Funniest Home Videos" which he ahs announced for the last 14 years. Jess is also the lead singer in the acclaimed 80's metal/pop mash-up band and Youtube sensation "Rock Sugar", sharing stages with such rock legends as AC/DC, Slash and Aerosmith.
Just a few of Jess's film credits include "Finding Nemo," the "Toy Story" franchise, and "Up" as well as his being the only voice actor to voice two major characters in the "Transformers" series of films.
One of the top celebrity voice matches in the business, Jess perfectly mimics over 150 celebrities- both speaking and singing- from Arnold Schwarzenegger to Ozzy Osbourne, Elvis Presley to all four Beatles, Albert Brooks To Christopher Walken, Steve Perry to Willie Nelson and Pee Wee Herman to Rodney Dangerfield. As Jess says, "if it's related at all to the voice, I like to believe I can do it. And if I can't, I'll work on it until I figure out a way that I can."
Ginger Gonzaga (PMC Podcast Ep 185: click HERE):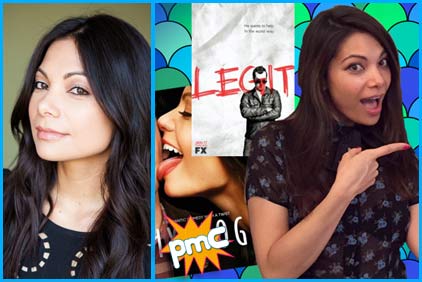 Ginger is an actor/writer known for her role as Jim Jefferies's frustrated and immature girlfriend in FX's critically adored dark Comedy "Legit," her lead role as Maya in ABC's "Mixology" and Seth MacFarlane's "Ted." She can also be seen performing comedy at various Los Angeles venues.
After deciding her Political Science major and Chinese minor were bullshit, Ginger graduated early to study a much more fun form of bullshit-Improv Comedy! She began at The Groundlings Theatre, Second City and The Upright Citizens Brigade before becoming the host of Hulu's daily comedy pop culture recap show "The Morning After."
In television, Ginger will next be seen in recurring on Season 2 of The Duplass Brother's "Togetherness" (HBO), starring in the Shipley Brother's comedy "Wrecked" (TBS) and guest starring on "Key and Peele" (Comedy Central).
In film, Ginger will next be seen in Demetri Martin's upcoming "Dean" (opposite Demetri Martin, and Gillian Jacobs), and Henry Phillip's upcoming "Still Punching the Clown" (opposite JK Simmons and Jim Jefferies.) Ginger also sings, and performs in Los Angeles. You can follow her on twitter: @gingerthejester
Dan Van Kirk (PMC Podcast Ep 184: click HERE):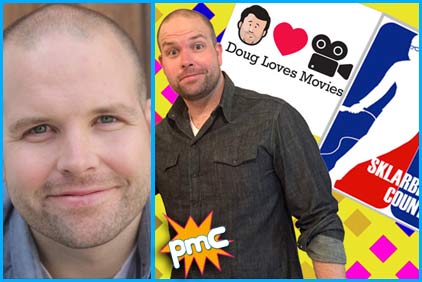 Dan Van Kirk grew up in Rochelle, IL and lived in Chicago for years as he started his career as an actor and comedian at the famed The Second City Theatre.
Since moving to Los Angeles, Dan has become part of both the stand-up and improv/sketch communities, working with the UCB Theatre, The Nerdist Channel, College Humor, and the comedy podcast network, Earwolf.com. Every week, Dan can be heard co-hosting the podcast, "Sklarbro County," with fellow comedians Jason and Randy Sklar.In 2013, Dan was given his own sketch show, "DVK," on the YouTube comedy network, The Nerdist Channel.  He can frequently be heard on the podcast "Doug Loves Movies" as well.
In addition to writing "DVK," Daniel is also the of author a weekly NFL column titled, "Upon Further Review," for the website Cover32.com. The article covers all the football games each Sunday with a comedic twist.
Including his monthly performances as a member of the UCB Maude Team: "TUT!," Daniel has showcased his talent at a numerous theaters and festivals around the country including South by Southwest, The Montreal Just For Laughs Festival, Riot: LA Comedy Fest, and YouTube's "Comedy Week." Check him out on Twitter: @danielvankirk
Diane Franklin (PMC Podcast Ep 183: click HERE):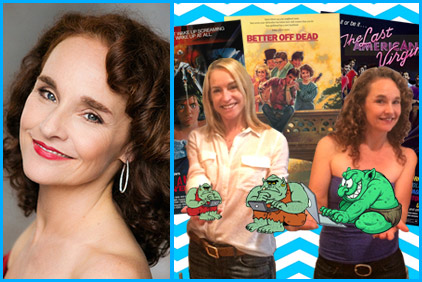 Diane Franklin is the most excellent babe of the 80s. Best known for her innocent charm, dialects and curly dark hair, Diane starred in several iconic cult films that keep the 80s memorable. Making her film debut as dream girl, Karen, in "The Last American Virgin" (1982), Diane continued to work and television, until 1985, when she landed a break-out role as Monique Junet, the unconventional and spirited French-exchange student, in the hilarious comedy "Better Off Dead" (1985). Audiences may also recognize Diane as Princess Joanna, the Medieval babe from "Bill & Ted's Excellent Adventure" (1989). Today, Diane can be seen acting in her daughter's totally awesome comedic films, (http://www.oliviadelaurentis.com) and recently published an autobiography about how she became an 80s babe actress, titled "Diane Franklin: The Excellent Adventures of the Last American, French-Exchange Babe of the 80s" (Amazon/Kindle)
1980s Films• "Last American Virgin" (1982)• "Amityville II: The Possession" (1982)• "Second Time Lucky" (1983)• "Better Off Dead" (1985)• "TerrorVision" (1986)• "How I Got Into College" (1989)• "Bill & Ted's Excellent Adventures" (1989)
Amanda Wyss (PMC Podcast Ep 183: click HERE):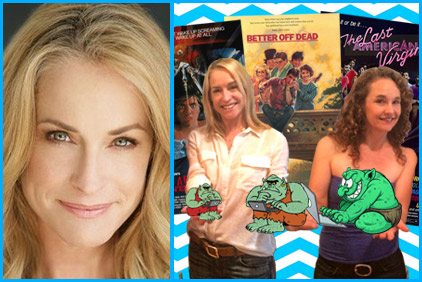 Amanda Wyss was born and raised in Manhattan Beach, California, a cool coastal enclave south of Los Angeles. Some of her most memorable film performances are in "Fast Times at Ridgemont High," "A Nightmare on Elm Street," "The Son of Darkness" movies, "Better Off Dead," "Silverado," and the award-winning, "Powwow Highway." She's also worked extensively in television on such shows as "Dexter" and her recurring roles on "Highlander" and "CSI." She just finished filming the movies "Getting the Kinks Out" and "The Id.
Ilene Graff (PMC Podcast Ep 181: click HERE):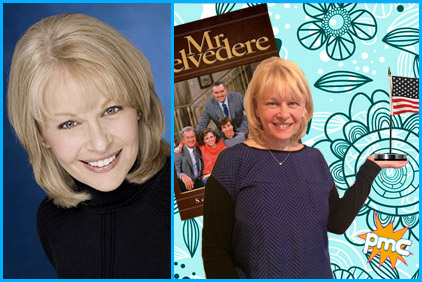 Ilene Graff is a Grammy-nominated recording artist best known to audiences as Marsha Owens, the mom on the long running ABC comedy "Mr. Belvedere." She made her professional Broadway debut years earlier on the musical stage in "Promises Promises," the Neil Simon, Bacharach/David hit, where she understudied the leading lady and sang backups from the orchestra pit. She performed the role of Fran Kubelik in New York a dozen times before starring in the National Tour.
Ilene went on to play Sandy for two-and-a-half years in the original Broadway production of "Grease," but her biggest Broadway triumph was creating the role of Cleo in the Cy Coleman, Michael Stewart musical comedy hit "I Love My Wife," directed by Tony Award winner Gene Saks. She can be heard on the show's Original Cast Album. Other theatre credits include: "Charley's Aunt" with Charles Grodin, "Cabaret" as Sally Bowles, "Annie Get Your Gun" as Annie Oakley, and "Over Here" directed by Mr. Belvedere himself, Christopher Hewett.
Ilene created the role of Donna in the world premiere of composer/arranger/producer husband Ben Lanzarone's musical, "You and Me," with book and lyrics by Lloyd J. Schwartz, winning the The Valley Theatre League's ADA Award for her performance. She had the thrill of performing the role of Mama Rose in a Los Angeles revival of "Gypsy" as well as entertaining Jerry Herman himself at a performance of "Jerry's Girls."
In addition to playing the role of Bob Uecker's wife on "Mr. Belvedere," Ilene starred in two other series, several pilots, and guest-starred on many episodic TV shows, MOWs and mini-series. She is very proud to have co-starred in the ABC/Walt Disney Company film "South Pacific, "working with Glenn Close and Harry Connick, Jr. Ilene shared the screen with Rodney Dangerfield in the feature film "Ladybugs," and co-stars in the feature film "Loving Annabelle," which is a favorite on the festival circuit, as well as the Korean-American smash, "My Father," and the upcoming "The Things We Carry."
Ilene has co-hosted Variety Club Children's Charities Telethons for many years, and has sung the National Anthem for the Dodgers, Angels, Clippers and Kings. She's performed her act throughout south Florida as well as performing in concert for The Actors' Fund in programs saluting Kander and Ebb, Cy Coleman, Harold Arlen and Jule Styne. Ilene recently headlined at New York's world famous Birdland, as well as at The Crest Theatre in Delray Beach, Florida, The Magic Castle in Hollywood, and Sterling's and The Canyon Club in Los Angeles. She's also enjoyed sold-out engagements at the Metropolitan Room in Manhattan.
Ilene created and teaches a Vocal Performance Workshop called Making the Song Your Own. She and Ben have done master classes around the country, as well as on Crystal Cruises Emerging Artists Voyages, representing the Los Angeles Music Center Spotlight Awards.
Ilene's book, co-written with Michele Gendelman and Donna Rosenstein, "What The Other Mothers Know," published by HarperCollins, is available from online booksellers everywhere.
Ilene is a native New Yorker who graduated from Ithaca College with a degree in Drama. She and husband Ben Lanzarone met while working in the Broadway production of "Grease, "where Ben was playing the piano and conducting. Ben serves as Ilene's Musical Director, arranger, co-producer and accompanist. Their Grammy-nominated CD, "Baby's Broadway Lullabies" is a collection of beautiful theatre songs arranged especially for sleepytime and is available on her website, www.ilenegraff.com. Their daughter Nikka Graff Lanzarone, a Musical Theater graduate of the Boston Conservatory, is a Broadway musical theatre performer.
Harland Williams (PMC Podcast Ep 180: click HERE):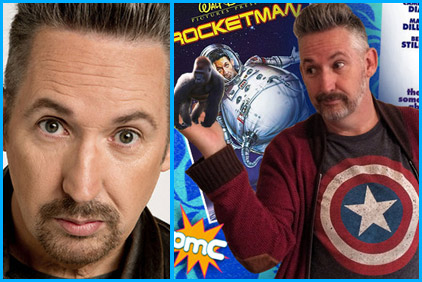 Harland is known for his diverse career in the entertainment industry. From acting in his many TV and movie roles, his live stand up comedy routines, numerous stand up specials and his regular appearances on late night talk shows.
Harland has also written and illustrated eight children's books and several humor books as well. He is the voice behind many popular cartoon characters in both TV and film including 'Monster' on Nickelodeon's "Robot and Monster," 'Apple' on "Annoying Orange," and various voices on Comedy Central's new show, "Trip Tank."
Harland also writes and directs films, TV, animation, and Internet projects. And if that's not enough he has a weekly Podcast on iTunes called "The Harland Highway."
Harland's well-known movie roles include "Dumb and Dumber," "Freddy Got Fingered," "There's Something About Mary," "Half Baked," "Superstar," "RocketMan," "Sorority Boys," "Down Periscope," "The Whole Nine Yards," "Back in the Day," "Employee of The Month," and many more.
He has performed his stand-up comedy routines on "Late Night with David Letterman," "The Tonight Show," "Conan O'Brien," "Jimmy Kimmel," HBO, Comedy Central, and is currently on tour at comedy clubs throughout the world. The tour is to promote his new stand up special titled, "Harland Williams A FORCE OF NATURE," available on Netflix and HULU.
In the television world Harland stars as 'Sheldon' in the hit sitcom "Package Deal," on City TV across Canada. In the film world he co-stars in his latest movie "Back in the Day" with Michael Rosenbaum and Nick Swardson. In the APP world he has an incredible new APP called FALLOPIO. A superhero who protects the egg in the fallopian tubes. Stay tuned to his website harlandwilliams.com for ALL things Harland!
Laura Dreyfuss (PMC Podcast Ep 179: click HERE):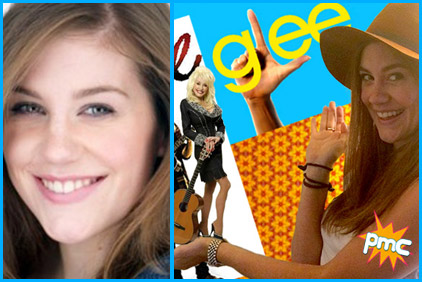 Laura Dreyfuss played Madison McCarthy on the final season of FOX's smash show "Glee." She played the lead role of 'Girl' in the Broadway hit "Once," taking over for Christin Milioti. This summer, she'll be originating a role in the new musical "Dear Evan Hanson," premiering in Washington D.C., opposite Ben Platt and directed by Michael Greif.
Follow her on Twitter: @lauradreyfuss
Paul Adelstein (PMC Podcast Ep 178: click HERE):
Paul Adelstein played Dr. Cooper Freedman for six seasons on Shonda Rhymes' "Private Practice," a role he also played on "Grey's Anatomy." He currently plays Leo Bergen on "Scandal," and Jake on BRAVO's first scripted series "Girlfriend's Guide to Divorce." He played Agent Paul Kellerman on FOX's "Prison Break." Other film and TV work includes "Intolerable Cruelty," "Be Cool," "Memoirs of a Geisha," "The Grifters," "ER," "Medium," "Las Vegas," "Cupid," "Without a Trace" and "Scrubs." He hails from Chicago, where he did a lot of theater and performed with the Steppenwolf Theatre Company. Music is also a passion in his life — he sings and plays guitar in the band Doris. He is married to actress Liza Weil. Follow him on Twitter: @adelsteinpaul
Agnes Bruckner (PMC Podcast Ep 177: click HERE):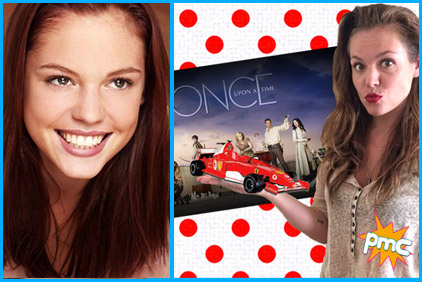 Agnes Bruckner started early as a series regular at the age of 11 on the beloved soap opera "The Bold and the Beautiful." She portrayed Anna Nicole Smith in the Lifetime original movie "Anna Nicole," and currently stars and Malificent's daughter Lily on "Once Upon a Time" and as Deputy Nikki Banks on the American version of "The Returned" on A&E. Other film and TV work includes "Blood & Chocolate," "24," "Private Practice," "The Glass House" and "Blue Car" (for which she was nominated for an Independent Spirit Award).
Follow her on Twitter: @agnesbruckner1
Brian Palermo (PMC Podcast Ep 176: click HERE):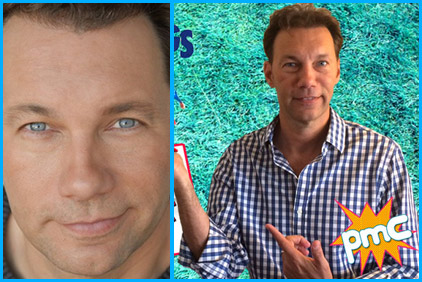 Brian Palermo may be a familiar face to some from his numerous television appearances. He has guest-starred recently on "Modern Family," "2 Broke Girls" and "The League" among others. And he is a recurring correspondent for "The Tonight Show With Jay Leno."
He is an engaging actor and comedian who has been a performer, director and teacher with The Groundlings Theatre for over 15 years.
Brian was a staff writer on the animated series "Histeria!" and has written scripts for "Disney's The Weekenders" and "Dave The Barbarian." This year he will write scripts for the new animated series "Puss In Boots."
Whitney Moore (PMC Podcast Ep 175: click HERE):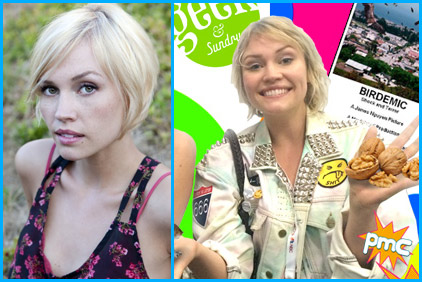 Whitney Moore starred as Nathalie in the cult classic "Birdemic: Shock and Terror," and its sequel "Birdemic II: The Resurrection." Other film work includes the upcoming "Breakdown Lane" and "Drugs & Other Love," and the films "Angry Video Game Nerd: The Movie," "A Horrible Way to Die" and "Snake and Mongoose." She is a regular contributor to Nerdist.com. Follow her on Twitter: @tweetneymoore
Jessica Chobot (PMC Podcast Ep 175: click HERE):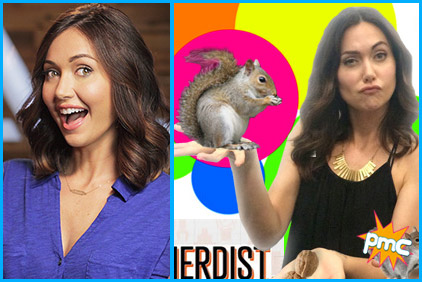 Jessica Chobot is the host of Nerdist News. She has hosted the IGN shows "IGN Strategize" and "Weekly Wood," and used to present the "IGN Daily Fix." She gained exposure modeling a photo of her licking the SONY PSP, which has been widely parodied since. She made multiple appearances on G4's "Attack of the Show and hosted a video game preview segment on Fuel TV's "The Daily Habit." She voices a character in the hit game "Mass Effect 3," and has her own Nerdist Network podcast, "Bizarre States." Follow her on Twitter: @jessicachobot
Phil Hendrie (PMC Podcast Ep 174: click HERE):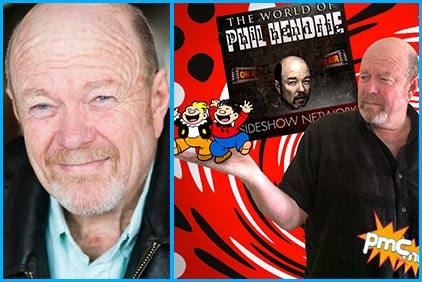 Creative genius chock full of character, comedy and commentary — that's Phil Hendrie. Famous for concocting a cast of fictional characters, all of whom he plays on air while simultaneously serving as host of his national talk radio program, Hendrie actually started out as a disc jockey at WBJW 1440 AM in Winter Park, Fla., a suburb of Orlando. After 15 years working as a disc jockey at stations across the country, he realized he hated what he was doing. Moving to Los Angeles, Hendrie debuted in talk radio as a weekend host at KFI-AM 640.
In 1990 at KVEN-AM in Ventura, Calif., Hendrie introduced his first fictional character on air — an Iraqi, Raj Fahneen. The Gulf War was happening and Fahneen vociferously defended Saddam Hussein. Thinking he was a real person, listeners went ballistic and the phones lit up. An entire cast of characters would evolve from that moment on, marking Hendrie's place in radio history.
Hendrie's popularity resulted in the radio show going national in 1999. By 2006, he was ready to explore the next chapter of his career — acting in front of the camera. He departed from radio and quickly added to his resume which already included Trey Parker's and Matt Stone's motion picture, "Team America: World Police," as well as television roles on "Andy Richter Controls the Universe," Richard Appel's "A.U.S.A.," and Judd Apatow's "North Hollywood." He also starred in Steve Levitan's "Phil Hendrie" and wrote, executive produced and starred in "Phil at the Gate."
For the last 10 years, Hendrie has regularly played characters on FOX's popular animated series "King of the Hill" and "Futurama." Other recent television work includes roles on "Giants of Radio,"" "The Replacements," "Three Strikes," "Mike Birbiglia's Secret Public Journal," David Mamet's "The Unit," and NBC's "Teachers." He also played Nets Coach in the motion picture, "Semi-pro." Hendrie continues to act today and is currently working on the motion picture, "Last Call."
Although he enjoyed acting on a full-time basis, Hendrie missed the daily creative outlet that radio provided. In 2007, he returned to national radio in the late evenings. On over 100 radio stations today, Hendrie is a master of satire and comedy. He has come a long way since doing voices as a child growing up in Altadena, Calif. Influenced by comedy greats such as Jackie Gleason, Lenny Bruce, and "Emperor" Bob Hudson, Hendrie has artfully carved his own niche in comedy and the spoken word format.
Daniel Franzese (PMC Podcast Ep 173: click HERE):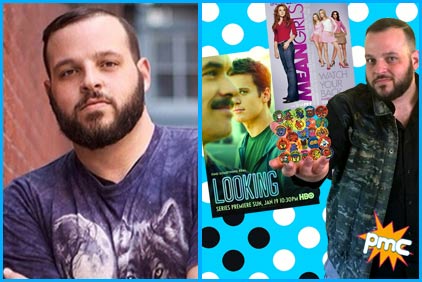 Born in Brooklyn, NY and raised in Fort Lauderdale, FL, actor Daniel Franzese is best known for his interesting and daring choices in breakthrough films: from his debut role in Larry Clark's "Bully," to Tina Fey's hit comedy "Mean Girls," to 2010's update of the highly controversial "I Spit on Your Grave." He currently plays Eddie on HBO's "Looking."
His prescient choices carry into his television and stage work, which include guest roles on "Party Down," "The Comeback," and "Burn Notice." In 2011 he co-wrote and starred in the New York Fringe Festival mega hit "The Jersey Shoresical: A Frickin' Rock Opera," which won him the Overall Excellence Best Ensemble Award and played Off Broadway. Other NY theater credits include "Dog Sees God" by Bert V. Royal ("Easy A") and his hilarious hit solo storytelling show "I Never Really Made The Kinda Money To Become a Mess" with The Theater Project. On YouTube his viral comedy video "Sh*t Italian moms Say" has reached over 3.3 Million views this past year. He recently wrapped his first feature as director (w/ Grammy winner Allee Willis) for the documentary "Allee Willis Loves Detroit" coming out in 2015. Daniel is set to star in the upcoming Broadway musical "FOUND" by TONY Nominee Hunter Bell ("Title of Show," "Silence the Musical") with music by Eli Bolin ("Sesame Street") and co-written and directed by Lee Overtree ("Story Pirates").
Todd Glass (PMC Podcast Ep 172: click HERE):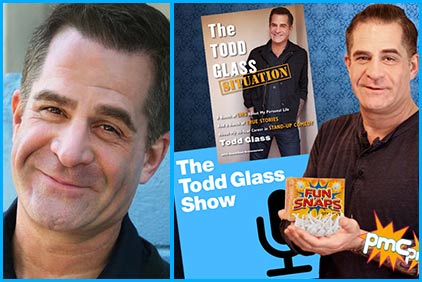 Todd Glass is a Los Angeles-based comedian who has appeared on numerous television series including "Last Comic Standing," "Late Night with Conan O'Brien," "Jimmy Kimmel Live," "Louie," and many more.
His podcast, The Todd Glass show, is available on the Nerdist network.
Visit http://toddglass.com/
Scott Adsit (PMC Podcast Ep 171: click HERE):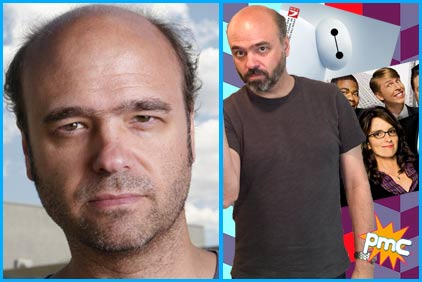 Scott Adsit performed as a member of the Mainstage, ETC, and Northwest companies of the Second City in Chicago. He produced, wrote, directed and performed on "Moral Orel," a stop motion animation show on Adult Swim. He played Pete Hornberger on NBC's "30 Rock." He voiced the lovable medical robot Baymax in Disney's "Big Hero 6."
Leonard Maltin (PMC Podcast Ep 170: click HERE):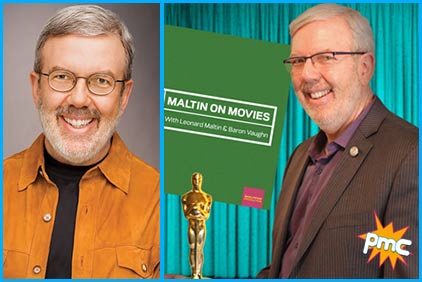 Leonard Maltin is one of the most recognized and respected film critics of our time. He appears regularly on Reelz Channel and spent 30 years on the hit television show, Entertainment Tonight. Check out his new weekly podcast, Maltin on Movies with Baron Vaughn, on Wolfpop.
Baron Vaughn (PMC Podcast Ep 170: click HERE):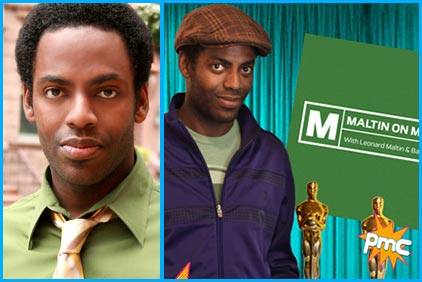 BARON VAUGHN recently released his first comedy recording, "Raised By Cable," produced by AST Records, available at Amazon (mp3 and CD), and iTunes. Baron's performed stand-up on Conan (twice), Late Night with Jimmy Fallon, The Late Late Show with Craig Ferguson (below) and has had numerous appearances on Comedy Central most recently in the form of his own "Half Hour" comedy special. He's performed in the HBO U.S. Comedy Arts Festival (Aspen), The Just for Laughs Comedy Festival (Montreal), The South Beach Comedy Festival (Miami), Moontower Comedy Festival (Austin), San Francisco Sketchfest, Bridgetown Comedy Festival (Portland), Vancouver Comedy Festival, All Points West Music Festival (New Jersey), FYF Music Festival (Los Angeles), Bonnaroo Music and Arts Festival (TN), and Bumbershoot Music and Arts Festival (Seattle). He has also appeared in many shows on VH1, MTV, FUSE as well as the films Black Dynamite, Cloverfield, The Other Guys (Deleted Scenes), and was a series regular on USA's recently canceled Fairly Legal (2010-2012).
James Adomian (PMC Podcast Ep 169: click HERE):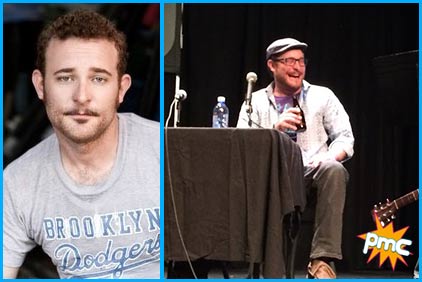 James Adomian is a prolific performer/ writer/ standup who is a staple in the comedy scene in LA and NY, as well as across the country, having made his rounds in sketches on late night shows like "Conan" and "The Late Late Show with Craig Ferguson." He'll soon be seen in David Cross' feature directorial debut "Hits" (which will have its premiere at Sundance), starring opposite David Cross, Michael Cera, Amy Sedaris, and Julia Stiles. IFC recently announced that James is developing a new show for their network called "The Embassy." He's currently co-writing the pilot (in which he'll play multiple different characters) with Scott Aukerman ("Comedy Bang! Bang!") and his company Earwolf.
As a performer, James' many memorable characters appear in movies, TV, and as celebrated guests all over the podcast-o-sphere. He's a fan favorite on IFC's "Comedy Bang! Bang!," and has appeared multiple times on Adult Swim's "Childrens Hospital" and also on "The Eric Andre Show." As a standup, James recently appeared on Comedy Central's "John Oliver's New York Stand Up Show," was a finalist on "Last Comic Standing," and spends much of his time performing to sold out crowds across the US and abroad. Earlier this year, James was honored on The Advocate's list of "Top 40 Under 40", which said "it's only a matter of time before Adomian is a household name". His debut standup album "Low Hangin' Fruit" is available on Earwolf.
Ron Funches (PMC Podcast Ep 169: click HERE):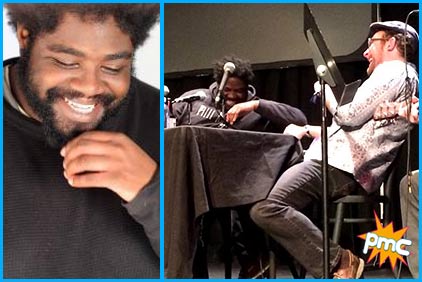 Ron Funches is a very funny stand up comedian with a unique delivery and lovable demeanor. You just want to hug and squeeze him like a big stuffed bear. His easy going, inventive style sounds the way fresh chocolate chip cookies taste. Ron performs stand up all over the United States impressing audiences everywhere.
Ron's television appearances include recurring roles on Comedy Central's "Kroll Show" and Disney's "Crash and Bernstein." A guest star role on Fox's "New Girl," stand up performances on TBS's "CONAN," and Comedy Central's "John Oliver's New York Stand-Up Show," and many appearances on Comedy Central's "@Midnight."
You can catch Ron in his series regular role on NBC's show "Undateable."
Ryan Lambert (PMC Podcast Ep 169: click HERE):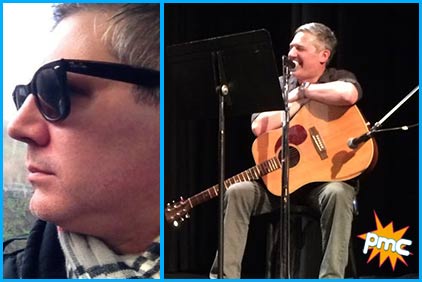 Ryan Lambert began his acting career on the television show "Kids Incorporated," as a regular cast member from seasons 2 through 5. He played cool-kid Rudy in the cult classic "The Monster Squad," and made appearances on "It's Garry Shandling's Show," "Silver Spoons," "Webster" and "Side Kicks." Currently residing in the Bay Area, he's sung and played guitar in the bands Elephone and Kill Moi. You can follow him on Twitter @ryanlambert111
Ed Crasnick (PMC Podcast Ep 166: click HERE):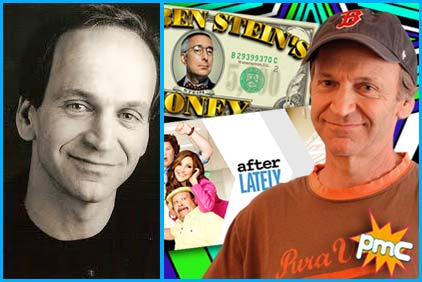 Ed Crasnick is a comedian, writer, producer and actor. He hosts and created the web series "This Week in Comedy," in which he interviews famous comedians about the industry. He was a writer on "Win Ben Stein's Money" and producer on "After Lately."
As an actor, he's appeared on things like "The Sopranos," "Curb Your Enthusiasm" and "Just Shoot Me," in which we played Woody Allen. He has a podcast called "Humor Me," and a self-help comedy series "Ed Talks." Follow him on Twitter: @edcrasnick.
Michael Ironside (PMC Podcast Ep 165: click HERE):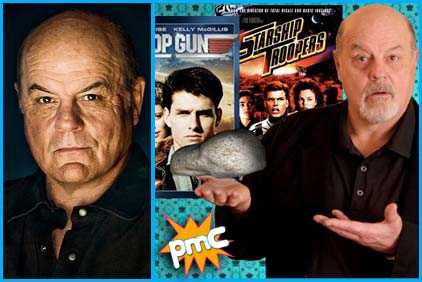 Michael was born February 12, 1950 in Saint Mary's Hospital Toronto Canada … the first born child of Patricia June Passmore/Ironside and Robert Walter Ironside … his loving parents, June and Bob.  He was later followed by four more, two of each – Winnifred, William, Robert and Beverly. As of this writing his parents are both deceased and missed deeply on a daily basis and his siblings are all alive, robust and cherished beyond words.
Legally named Frederick Reginald at birth, the moniker never really stuck and by the time the newborn and his Mom were bathed, blessed and bundled off home from the hospital their extended family and friends in the neighborhood were calling the little guy … Mike.  When later canvassed as to why the name "Mike", the common consensus from all that were present was "just didn't look like a Fred … more like a Mike".
An insatiable reader Mike would tend toward flights of fantasy rather than sports. While most were on the street shooting pucks or chasing balls, Mike would more often than not be racing about with a broom handle sword or dish towel mask as, Robin of Locksley, Horatio Hornblower, The Black Rose's Walter of Gurnie or anyone of a multitude of characters he'd collected from books.
At twelve years of age, in a precocious burst of enthusiasm he tackled writing an autobiographic novel which drew the attention of a young student teacher Judy Millen. Under her tutelage he adapted a couple of the chapters into a one act play titled "The Shelter". The play won a National Collegiate play writing award and as part of it's prize, was produced and staged at the Factory Lab Theater.
A grade school graduate and product of The Toronto Board of Education, Mike went on to Attend The Ontario College of Art (now the OCAD) where in his fourth year he and fellow students went against the non linear convention of the time and wrote, acted and shot "Down Where the Lights Are" a 72 min. dramatic movie on super eight film with crystal sync sound.  After a Film Festival Screening the movie was accurately reviewed as "a technically flawed, robust attempt at cinematic story telling". However, in spite of it's short comings, the movie attracted the attention of Beryl Fox at The National Film Board of Canada and Mike was invited to join an on going acting/writing/directing workshop of young Canadian professionals who were being schooled in their craft by the Award Winning Actors Studio Alumni Janine Manatis. It was here, under the shrewd intuitive eye of Manatis that Mike started his journey of learning, unlearning and relearning his craft.
Janine Manatis also cast Mike in his first role of any note, playing Jimmy Porter in a television production of John Osborne's "Look Back in Anger". The broadcast attracted talent agent Lawrie Rotenberg whose subsequent representation jump started Mike's acting career.
In the seventies, while signing contracts at the ACTRA union office in Toronto, his daughter Adrienne, no more than 6 at the time, voiced the astute observation that Mike was a hockey player's name not an actor's name and further added that if he wanted to succeed going forward, Michael was the preferred way to go. Acutely aware of his young daughter's genius for all things media, he immediately re-registered his name and upon leaving the union office that afternoon actor Michael Ironside saw the light of day for the very first time
In 1981/82 after the box office success of David Cronenberg's "Scanners" and Jean Claude Lord's "Visiting Hours", Michael, heeding the advice of a local industry crony who stated "if you want to make a living, you've got to go where the living's being made" packed up, left Toronto and relocated to Los Angeles.
"V" the NBC mini series and subsequent series soon followed the move to LA and parts in Richard Pryor's semi autobiographical "Jo Jo Dancer Your Life Is Calling" and Tony Scott's "Top Gun" came soon after.
With work in over a hundred and fifty productions to date … "Total Recall" to "Terminator:Salvation", "ER" to "Smallville" and the ongoing Ubisoft's "Splinter Cell : Sam Fisher" franchise, Michael is what is known in the entertainment industry as a "working actor".
Personally he knows with all his being that he's blessed with a loving family, solid friends and good health.
Mindy Cohn (PMC Podcast Ep 164: click HERE):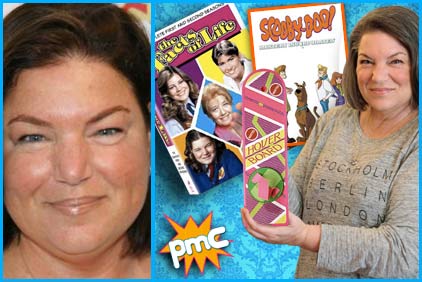 Mindy Cohn starred as Natalie Green for all ten years of the classic sitcom "The Facts of Life." She's been the voice of Velma Dinkley on Scooby Doo for the last fourteen years, and has appeared in several TV shows and movies, such as "The Boy Who Could Fly," "Sex and Death 101," "The Secret Life of The American Teenager," "Hot in Cleveland," "Violet Tendencies," "The Kids From Room 402," "The Second Half" and "Dream On." She currently splits her time between New York and Los Angeles, where she does a lot of theater. Follow her on twitter: @mindycohn
Pamela Adlon (PMC Podcast Ep 163: click HERE):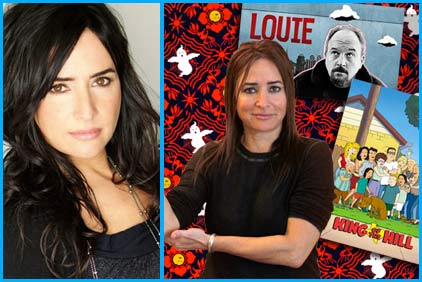 Pamela Adlon's diverse career spans the gamut of film and television projects and includes an Emmy Award for "Outstanding Voice-Over Performance" for her work as awkward middle schooler 'Bobby Hill' on the hit animated series "King of the Hill."
In addition to recently shooting the seventh season of "Californication," she is currently voicing the role of 'Vidia' in the "Tinker Bell" movies. She starred opposite Louis C.K. on the comedy series "Lucky Louie." Adlon has had recurring and guest starring roles on "Boston Legal," "The Wedding Bells," "Head Case," "Monk," "Star Trek:TNG;" and the Steven Soderbergh and George Clooney series "Unscripted."
Adlon has been acting since age 12, making her film debut in "Grease 2″ with Michelle Pfeiffer. Additional feature credits include "Say Anything…," "Bed of Roses," "Sgt. Bilko," "The Adventures of Ford Fairlane," "Eat Your Heart Out," "Plump Fiction" and "Some Girl." Adlon's extensive voice work includes the animated features "The Animatrix," "Vampire Hunter D," "Kiki's Delivery Service," "Recess: School's Out," "Trumpet of the Swan" and "Brother Bear" and numerous animated children's television shows including "Squirrel Boy," "Jakers!," "The Adventures of Piggley Winks," "Recess," "All Grown Up," "Pepper Ann," "Wild Thornberries," "Zevo 3," "Pound Puppies" and "101 Dalmatians: The Series," as well as adult animated series "The Oblongs," "The Drinky Crow Show" and "MWA."
Pamela has a recurring role in "Louie," the new series on FX re-uniting her with Louis CK.  She also serves as Consulting Producer on the show, which has been a critical success including a WGA award and an Emmy Nomination.
Patrick Fischler (PMC Podcast Ep 162: click HERE):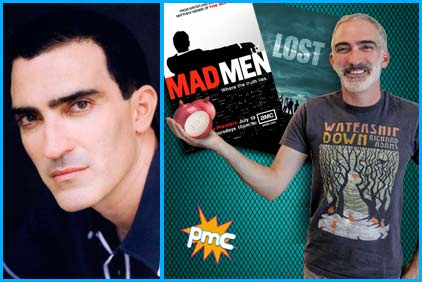 Patrick Fischler is well-known for his roles as Jimmy Barrett in Mad Men, Phil in Lost, and Detective Kenny No-Gun in Southland.
Fischler was born in Los Angeles, California, on December 29, 1969. His father Bill purchased a restaurant on the Pacific Coast Highway in Malibu when he was five years old, naming it "Patrick's Roadhouse" after him; it has since become a hot-spot for many celebrities. After graduating from high school, Fischler attended the Tisch School of the Arts of New York University, where he met and started dating his future wife, Lauren Bowles, who would become an actress. After graduating, Fischler and Bowles both moved back to Los Angeles, where they formed a theater group called Neurotic Young Urbanites along with other New York University graduates. A visiting agent saw Fischler perform at a Neurotic Young Urbanites production and became impressed, arranging for him to attend an audition for the 1994 action film Speed, which then became Fischler's debut in the feature-film industry. In the film, Fischler portrayed a man trapped inside an elevator alongside several others, which nearly falls due to an attack by a bomber.
In 1998, Fischler starred in the indie film The Week That Girl Died, a romantic comedy about three longtime friends in a small New England fishing town. Fischler also appeared in the 2001 psychological thriller Mulholland Drive, playing a man describing a horrible nightmare that he had. He also appeared in the 2002 made-for-TV film Gilda Radner: It's Always Something, a biopic about comedian Gilda Radner, where he starred as Eugene Levy. He also made appearances in the films Twister, Ghost World, Old School, The Great Buck Howard, and The Black Dahlia. In the latter film, his character was referred to as "Jewboy", which led to accusations of antisemitism within the film. Fischler also guest-starred in TV shows, including Angel, Nash Bridges, Burn Notice, Lie to Me, Bones, Cold Case, Monk, Star Trek: Enterprise, Girlfriends, CSI: Crime Scene Investigation, CSI: Miami, and CSI: NY.
Fischler later auditioned for what would become one of his best-known roles: that of Jimmy Barrett on the AMC-produced drama series Mad Men, of which he was a fan. Alex Witchel, a writer from The New York Times Magazine, who sat in on Fischler's audition, lauded his performance, remarking that he was "breathtakingly good". The character of Jimmy Barrett is a client of the advertising company featured within the show, whose wife sleeps with protagonist Don Draper. Fischler was cast in the role because he had a "New York quality" that Jimmy Barrett was meant to have. Fischler stated that entertainer Joey Bishop was a major influence on how his portrayal because he wanted his character to have "a charming element to him and make people laugh even while he said horrible things", a characteristic shared with Bishop. Because of this role, Fischler received a great deal of exposure and an increase in name recognition after his role on Mad Men ended.
Starting in 2009, Fischler landed recurring roles on both the ABC-produced drama series Lost and the NBC-produced police-procedural drama series Southland. Because he was cast on Lost immediately while the pilot for Southland was being filmed, he had to work on both shows over the course of six months. In order to do so, he constantly flew back and forth between Hawaii, where Lost was filmed, and Los Angeles, where Southland was filmed, while simultaneously dealing with his wife's then-pregnancy. On Southland, he portrayed Detective Kenny No-Gun; while on Lost, he starred as Phil, a member of the Dharma Initiative that was active in the show's chronology of 1977, who was originally expected to appear in only two episodes, but ended up appearing in nine.
More recently, Fischler appeared in the 2010 comedy Dinner for Schmucks, starring as Vincenzo, one of the guests at a dinner where rich people bring eccentric guests and compete for who can bring the biggest loser. Fischler also provided the voice and movements of real-life gangster Mickey Cohen in the video game L.A. Noire, which was released on May 2011. The game uses a facial performance-capture technology called MotionScan to record the performances of actors, then convert them to the graphics of the game. The game's casting directors had previously worked on Mad Men and specifically approached Fischler to star as Mickey Cohen; he accepted due to his liking of the film noir genre. In January 2012, Fischler appeared in One for the Money, a crime-thriller film adapted from the 1994 novel of the same name written by Janet Evanovich, and the first in a series that features the character of Stephanie Plum, who is a bounty hunter. In the film, he portrayed Vinnie Plum, a bail bondsman and Plum's cousin. He then portrayed poet Lew Welch in the 2012 film Big Sur, which is based on the autobiographical novel by Jack Kerouac.
Richard Horvitz (PMC Podcast Ep 161: click HERE):
I have known that I wanted to be a performer since I was the age of 5, when I fell in love with three classic entertainers that set me on my life's journey: Flip Wilson, Tom Jones, and Get Smart's Don Adams.  I would spend hours imitating Flip's "Geraldine," singing Tom Jones' "It's Not Unusual," and mimicking Don Adams catchphrase, "Missed it by that much!" From such auspicious influences at an impressionable young age, one might have expected me to grow up to be a devil-made-me-do-it Casanova, equipped with only an impish grin and a shoe phone, but instead I've followed a much straighter path to some of my most notable characters: A megalomaniacal alien, an anthropomorphic red squirrel, an über-nerd, and an angry beaver.  But keep reading, because it's been a winding road to success…
It all started when I was cast in a TV commercial for Freshen Up Bubble Gum. The famous line, "There's liquid inside this gum!" took a certain sense of self that not many 10 year olds could pull off… but miraculously, I did.  From there I began to do commercials for many products including Chevrolet, Rustler Steak House, and Mattel Toys.  I also began appearing on many TV sitcoms, from Different Strokes to You Can't Take it With You, Head Of The Class, Rags To Riches and more. It was the era of the adorable wisecracking kid, and I fit the bill.  Truth be told, I still do.
When I was 13 years old, I was cast in my first Equity job in the musical Oliver! at the Aquarius Theater in Los Angeles.  Thus began my life long love of theater, and especially musical theater. The show was directed by Onna White, the Oscar winning choreographer of the 1968 movie version of Oliver!, and starred Dick Shawn, Stubby Kaye and, reprising her film role as Nancy, Shani Wallis.  The time we spent on that show and in that theater are some of the happiest days of my life, despite the fact I played a street urchin and incorrigible pickpocket.  Just another instance of art imitating life.
During my freshman year at UCLA, I was cast in the TBS sitcom Safe At Home. Cable was new at the time, and our show was one of the first sitcoms rocking the cable airwaves.  We did 103 episodes, and I played the nerdy nephew of the station owner where the series was set.  By that time, I'd elevated the art of wiseacre to new heights. The best part of working on Safe At Home was that I had the great opportunity to work with many actors I had grown up watching on TV, including several of the Brady Bunch, David Carradine, and Dave Madden (Reuben Kincaid from The Partridge Family). The highlight, though, was when I got to play "Gilligan" to Alan Hale Jr.'s Skipper!  I dare you to top that!
In 1987 while I was still working on Safe at Home, I was cast in my first feature film.  Summer School was a Paramount Picture and directed by one of my all time idols, the legendary Carl Reiner. By now I'd graduated from wiseacre kid to super nerd –-"Eakian" in Summer School.
Given the trajectory I was on (careening toward the nosy neighbor or kicking and screaming little league dad), I changed the focus of my career in the early 1990s to voice over work.  If you have been kind enough to peruse the rest of my website, you probably have a good idea of how I've taken to the animated world (and it's taken to me). From Daggett (The Angry Beavers) to Zim (Invader Zim), Billy (The Grim Adventures of Billy and Mandy), Rodney J. Squirrel, (Squirrel Boy), I love 'em all.  Plus all the gamers out there may recognize my voice in many video games including Psychonauts, Destroy All Humans, Ratchet and Clank, and many more.
In addition to my voiceover work, in 2001 I began performing sketch comedy with the very talented and very funny Fred Willard and his sketch comedy group "The MOHOS." I have had the good fortune to appear often with Fred in many sketch shows, as well as many television appearances including twice with him on the Jimmy Kimmel Show. I've also made several appearances on The Tonight Show with Jay Leno, including a memorable turn as a caroler along with ultimate merry gentleman, Jim Carrey. I also was featured on SNL in the digital shorts "Bear City," and have appeared on TOSH.0.  All in all, the giants of comedy know whom to call when they need someone who is equally engaging in fur or in bowties.  My previous work experiences lend themselves perfectly to all such occasions.
My most recent film moments are probably some of my most memorable. I appeared as Matt Damon's attorney, Bob Zaideman, in the feature film, The Informant! Later this year you will see me improvising along side Steve Carell in the film, Crazy, Stupid, Love.
In addition to voice acting, I teach voice over acting to aspiring talent as well as to already established performers. Teaching is one of the most rewarding experiences of my career. Whenever I hear a rabid, screaming ferret or a butt-kicking five-year old ninja and recognize the voice as that of one of my students, I have to smile.  And laugh.  And fall on the ground, writhing in glee.  I'm so grateful for it all, and in particular that it's an actor's life for me!
Dee Bradley Baker (PMC Podcast Ep 161: click HERE):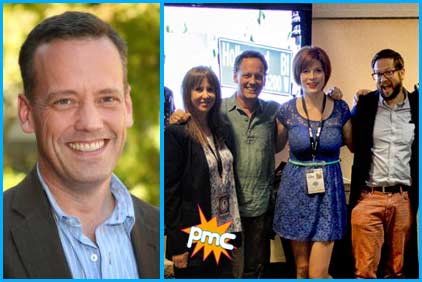 Dee Bradley Baker is one of the most versatile and sought after A-list voice actors working today. His voice is seemingly everywhere, featured in literally hundreds of television shows, movies and top video games. Over the past two decades, Dee has earned an extraordinary reputation among show creators and fans alike with his chameleon-like acting skills and his wide range of realistic creature sounds, from tiny birds and insects to gigantic monsters.
Dee is currently featured as the lead box troll "Fish" in Laika's animated feature,"The Box Trolls." Fresh seasons of TBS/Fox's Emmy-nominated series "American Dad" (Klaus the goldfish) are on the way, as well as Book IV of Nickelodeon's "Avatar: The Legend of Korra" (Tarrlok, Pabu and Nala).
His character Julian is prominently featured in a new season of Disney's "Randy Cunningham: 9th Grade Ninja." Dee continues to voice the worlds most famous semi-aquatic egg-laying mammal, Perry the Platypus in Disney's mega-hit, "Phineas and Ferb."
Dee has appeared regularly on many Disney Television cartoons. He currently appears on "Gravity Falls," (Waddles the pig) and "Jake and the Neverland Pirates" (Tic Tock Croc and creatures). In addition, his creature vocals are featured in two "Tinkerbell" movies.
Fans of the Walt Disney theme parks may be surprised to learn that Dee voices the parrot on the "Pirates of the Caribbean" ride and Boba Fett for the newly retooled "Star Tours 3D" attraction.
Perhaps the standout showcase of Dee's impressive acting ability is his portrayal of Captain Rex and an entire army of clone soldiers in Lucas Animation's Annie-nominated "Star Wars: The Clone Wars" series. He is able to maintain subtly distinct personalities among the clone troops, sometimes sustaining entire episodes almost completely solo. This has earned Dee "Annie Award" nominations for Best Voice Actor two years in a row.
Other notable television credits include: the super aliens in "Ben 10," and Cinnamon Bun in "Adventure Time." Dee was also a regular on "Cow and Chicken," "Codename: Kids Next Door," "Teen Titans," and "Batman: Brave and the Bold." Fans of Nickelodeon's classic 90's gameshow "Legends of the Hidden Temple" are thrilled to learn that Dee voiced the rock god Olmec.
Dee has worked with many of Hollywood's top feature film directors, including Gore Verbinski on "Pirates of the Caribbean" (the parrot), Zach Schneider on "Dawn of the Dead" (zombies), Ivan Reitman on "Space Jam" (Daffy Duck and Tasmanian Devil) and George Miller on "Happy Feet" (Maurice). He also provided the vampire sounds for the recent remake of "Fright Night."
The video game world knows Dee's work quite well. He is featured in many of this year's top video games including "Batman: Arkham City" (Ras al Ghul), "Portal 2" (the co-op bots), and all sorts of creatures in "World of Warcraft: Mists of Pandaria," "Diablo 3," "Left 4 Dead 2," "Gears of War" series and "Halo" 2 and 3.
Dee is a fan and family favorite on stage as well, making yearly special celebrity guest appearances at Walt Disney World and San Diego's ComiCon. He has also been a featured performer at the Hollywood Bowl in Los Angeles with the world famous Video Games Live show.
Michael Showalter (PMC Podcast Ep 160: click HERE):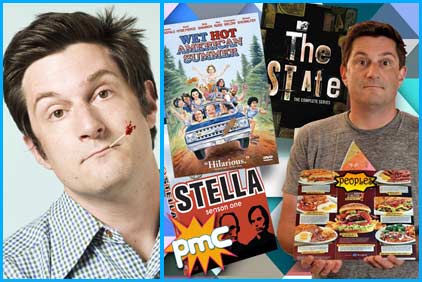 Michael Showalter is a writer, director, actor and teacher, living with his wife Kalin in Los Angeles.  Michael is an original founding member "The State," a sketch comedy troupe best known for their MTV series in the 90′s. He co-wrote and starred in the cult film "Wet Hot American Summer." He is also one third (along with Michael Ian Black and David Wain) of the comedy trio "STELLA" which began as long running weekly nightclub show in Manhattan, and then became a TV series on Comedy Central.
He wrote, directed and co-starred with Michelle Williams, Justin Theroux, and Elizabeth Banks in the romantic comedy "The Baxter." Showalter also created and starred in the Comedy Central series "Michael & Michael Have Issues" with collaborator Michael Ian Black with whom he also shares a popular weekly podcast called "Topics." Most recently Michael again collaborated on a feature film starring Paul Rudd and Amy Poehler called "They Came Together," and wrote and directed the new dramedy "Hello, My Name is Doris" starring Sally Field and Max Greenfield. He has a new book of humor out called, "Guys Can Be Cat Ladies Too". Follow him on Twitter: @mshowalter
Cary Elwes (PMC Podcast Ep 159: click HERE):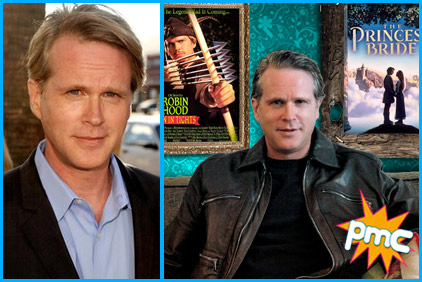 Cary Elwes played the iconic role of farm boy Westley turned Dread Pirate Roberts in Rob Reiner's immortal classic "The Princess Bride." His memoir, "As You Wish: Inconceivable Tales from The making of the Princess Bride" is released on October 14th. He played the title role in Mel Brooks' Sherwood forest send-up "Robin Hood: Men In Tights," and took on perfect fly-boy Lt. Kent Gregory in the hilarious Top Gun parody "Hot Shots!" He starred in the smash horror film "Saw" as well as the 7th installment "Saw 3D," as well as roles in "The Crush," "The Chase," "Twister," "Kiss the Girls," "Lady Jane," "Liar, Liar," "New Year's Eve," Francis Ford Coppola's "Bram Stoker's Dracula," and will soon be seen in the upcoming films "The Greens Are Gone" (opposite Catherine Keener) and "Sugar Mountain."
On Television, he recurred as Brad Follmer on "The X-Files" and Pierre Despereaux on "Psych," as well as roles on "Seinfeld" and the HBO miniseries "From the Earth to the Moon." Follow him on Twitter: @Cary_Elwes
Jay Chandrasekhar (PMC Podcast Ep 158 – click HERE):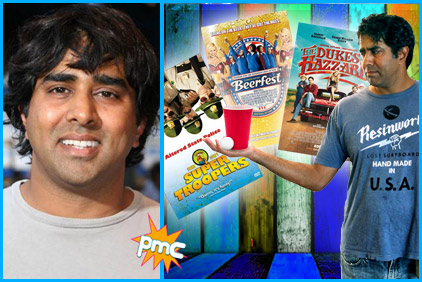 Director/actor and writer Jay Chandrasekhar attended Colgate University where he achieved his BA in History before completing the New York University – Tisch School six-week intensive Film Production program. He formed the comedy troupe Charred Goosebeak while at Colgate, where he then formed Broken Lizard and soon made his first independent feature, "Puddle Cruiser," which was the winner of the Hamptons International Film Festival's Grand Prize for Best Film and screened at the Sundance, London Int'l, SXSW and Berlin Int'l film festivals. Soon came "Super Troopers," which became a cult classic for Jay and his Broken Lizard comedy group, which also did the films "Beerfest" and "Club Dread."
Jay directed the big-screen version of the beloved TV staple "The Dukes of Hazzard," and has directed episodes of the TV shows "Arrested Development," "The New Girl," "Community," "Ben & Kate," " Undelcared," "Happy Endings," "Psych," "Up All Night" and "Warehouse 13," and many more. He wrote, produced, directed and stars in the new Amazon pilot "Really," also featuring Sarah Chalke, Selma Blair, Rob Delaney and Hayes MacArthur. Follow him on Twitter: @jaychandrasekha
Mary Birdsong (PMC Podcast Ep 157 – click HERE):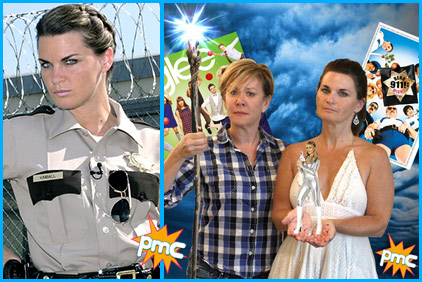 Mary Birdsong played Dept. Cherisha Kimball on the Comedy Central staple "Reno 911!" She played Kai in the hit dramedy "The Descendants," and has appeared on the shows "Crossballs," "The Daily Show," "Raising Hope," "The Middle," "Ben and Kate," "Wendi & Mary" and "Ed." Film work includes "Reno 911!: Miami," "Adventureland," "Percy Jackson: Sea of Monsters," "It's Kind of a Funny Story" and "Dr. Doolittle."
She'll soon be seen on Stephen Soderberg's "The Knick." She also has appeared in several broadway productions, including Martin Short's "Fame Becomes Me." Follow her on twitter: @marybirdsong
Romy Rosemont (PMC Podcast Ep 157 – click HERE):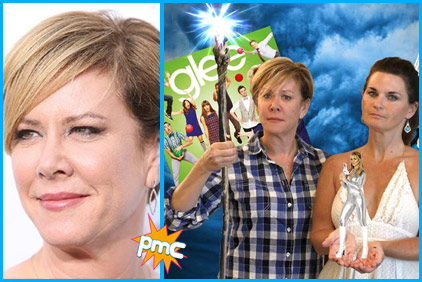 Romy Rosemont is best known as Carole Hudson-Hummel, Finn's mom on the hit FOX show "Glee." She recurs as Jacqui Franco on "CSI," and has appeared on the shows "Shark," "Boston Legal," "Crossing Jordan," "Friends with Money," "Close to Home," "Grey's Anatomy," "Friends," "Herman's Head," "Prison Break," "Ghost Whisperer," "Criminal Minds" and "Drop Dead Diva."
She plays herself on the fun web series "Bitter Party of Five," in which she and her four co-stars from the failed pilot "Downwardly Mobile" interview other celebs while trying to keep their bitterness in check. She is married to actor Stephen Root, the two meeting on an episode of "Fringe." Follow her on twitter: @romyrosemont
Sam Richardson (PMC Podcast Ep 156 – click HERE):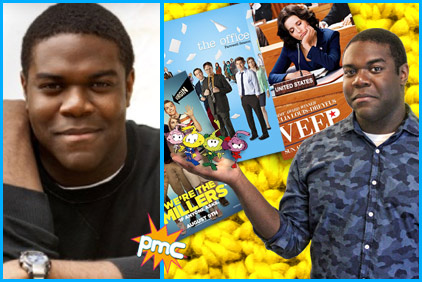 Sam Richardson plays Richard, an inept new aid to Selina on HBO's "VEEP." He has the distinction of playing TSA Agents twice – on the TV show "Arrested Development" and in the film "We're the Millers."
He played Colin, and Athlead employee on "The Office" and Sam on "Harder Than It Looks." He hails from Detroit, MI, and trained at the Second City in Chicago.
Follow Sam on twitter: @samrichardson9
Skeet Ulrich (PMC Podcast Ep 155 – click HERE):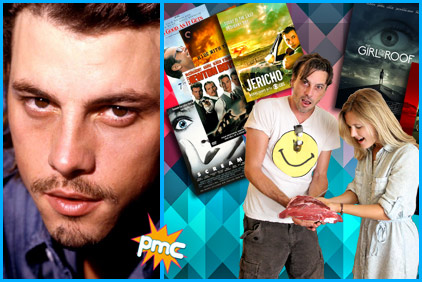 Skeet Ulrich is an actor hailing from Lynchburg, VA. He studied at the Atlantic Theatre Company under David Mamet, and broke through in Hollywood in the early 90s in films like "Boys" opposite Winona Ryder; "Scream" as the serial killer Billy; Richard Linklater's "The Newton Boys;" "The Craft" with Neve Campbell; "Ride With the Devil" from Ang Lee; James L. Brooks' "As Good As It Gets," and Kevin Spacey's directorial debut "Albino Alligator."
He starred as Jake in the beloved CBS series "Jericho," as well as in the "Law & Order" spin off set in Los Angeles, and in the epic miniseries "Into the West." He recently made his directorial debut with the short "The Girl on the Roof," written by his wife, actress Amelia Jackson-Gray. Follow him on Twitter: @skeetme1
Amelia Jackson-Gray (PMC Podcast Ep 155 – click HERE):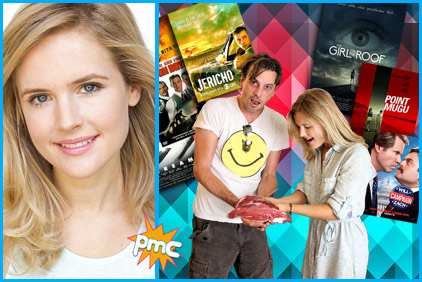 Amelia Jackson-Gray is an actress and writer. Film and TV work include "The Campaign," "Entourage," "Snakes on a Train," "iCarly," "The Mentalist," "Law & Order: LA," "Little Britain USA" and "Last Exit."
She wrote and produced the short "The Girl on the Roof," which is the directorial debut of her husband, actor Skeet Ulrich. Follow her on twitter: @AmeliaJG
Lauren Lapkus (PMC Podcast Ep 154 – click HERE):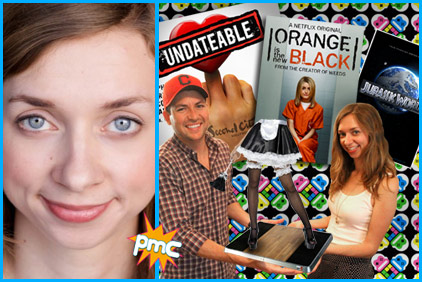 Lauren Lapkus is an actress and improviser in Los Angeles.
Originally from Evanston, Illinois, she graduated from DePaul University and performed all over Chicago, most notably at iO Chicago. After a whirlwind year in NYC she moved to Los Angeles, where she can be seen performing improv with Bangarang! and ASSSSCAT, both at The Upright Citizens Brigade Theatre.
Lauren is best known for her role as Susan Fischer on Netflix's original series, "Orange is the New Black." Her credits include playing Dee Dee on NBC's "Are You There, Chelsea?," Showtime's "House of Lies," "Chelsea Lately," "@midnight," and "Blended," starring Adam Sandler and Drew Barrymore.
She was featured in Back Stage's "10 Comics to Watch in 2012" and performed in the New Faces Characters Showcase in Montreal's Just For Laughs Festival
You can currently see her in her recurring role as Susan Fischer in season 2 of Orange is the New Black", now streaming on Netflix. Later this year, Lauren will appear on Comedy Central's "Kroll Show," "Key & Peele," and "Drunk History," as well as IFC's "Comedy Bang! Bang!" She is currently shooting "Jurassic World," and will soon begin work on a new TBS sitcom called "Buzzy's," alongside George Wendt and Ashley Tisdale.  @laurenlapkus on Twitter!
"Lauren Lapkus's funny faces, pitch-perfect voices, and black humor are invariably riveting." –Chicago Reader 
"Reliably funny " – LA TIMES
"Keep your eye on Lauren Lapkus, at Just for Laughs she was amazing as a variety of weirdos in Alone: Chicago's Best Solo Acts." – Chicago Sun Times 
"A real find" – A.V. Club
"…Eccentric…smart and funny." –Centerstage Chicago 
"Sugar high sketch comedy with anything-for-a-laugh energy that never gives out." -Chicago Reader
Chris Alvarado (PMC Podcast Ep 154 – click HERE):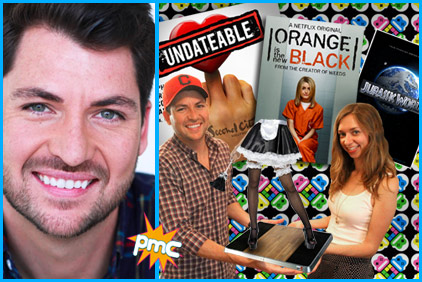 Chris Alvarado is from Downey, CA. He spent three years in Chicago where he trained at The Second City Conservatory and did improv all over town. Now in L.A., he has trained at UCB and iO West. He can be seen Wednesday nights at 9PM at iO West with HEYDAY and Friday nights at 9PM at The Second City in UNDATEABLE.
TV appearances include "Jimmy Kimmel Live!," "Comedy Bang! Bang!" and "Are You There Chelsea?" Film work includes "Spare Change" and "Finding Focus." You can follow him on Twitter @chrisalvarado
Katie Findlay (PMC Podcast Ep 153 – click HERE):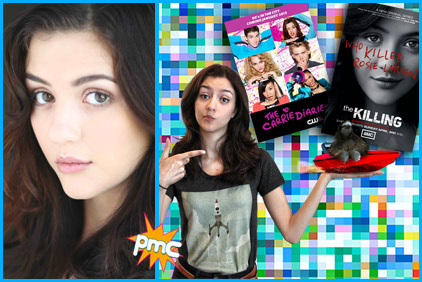 Katie Findlay is known for her role as Rosie Larsen in the American crime drama television series "The Killing." From 2013 to 2014, she portrayed Maggie Landers in The CW's teen drama "The Carrie Diaries."
In 2014, she will begin starring in the new Shonda Rhimes ABC series "How to Get Away with Murder." She recently played Gaby, the perfect girl-next-door in the indie comedy "Premature." Other TV and film work includes roles on "Psych," "Fringe," "After the Dark," and "Stargate Universe." She hails from Canada and currently resides in Vancouver, BC.
Erin Gibson (PMC Podcast Ep 152 – click HERE):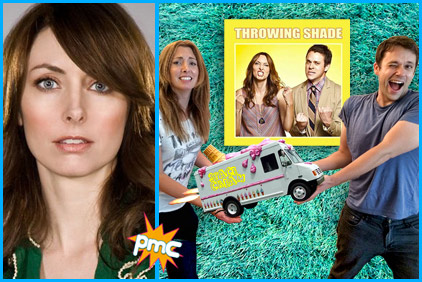 You might know Erin Gibson as the writer and host of Current TV's "Modern Lady," a weekly comedic look at how women are portrayed by the media. Because of the success of "Modern Lady," Erin is a sought after speaker on topics like gender issues in media and how to use satire to inspire change.
As an actress and comedian, she's appeared on "Chelsea Lately,"
"Parks and Rec," HBO's "Funny or Die," "The Aisha Tyler Show," "King of Queens," and web series for Comedy Central, The WB, and NBC's "Community". You can see Erin and writing/performing partner Bryan Safi as Michele and Marcus Bachmann for Funny or Die or as Becky Lake and Brock-Cody Stewart-Thomas in their monthly satirical entertainment show "Entertainment Hollywood" at the Upright Citizens Brigade Theater. Huffington Post Comedy named her Twitter one of the top female feeds to follow. Erin's Twitter.
"She is a perfect example of my new favorite brand of feminism.
She takes all the hatred of women and stupid depressing stereotypes
and makes fun of them. " – Bitch Buzz
"Our girl-crush, Erin Gibson." – Bust Magazine
Bryan Safi (PMC Podcast Ep 152 – click HERE):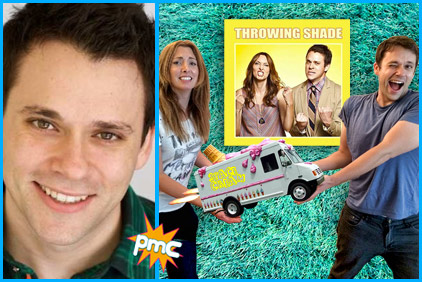 Bryan Safi is an Emmy Award-winning writer and performer living in Los Angeles. He is the writer and host of "That's Gay," a segment that looks at gay issues and stereotypes and how they're portrayed by the clueless media. Safi and the segment were included in Out Magazine's "Out 100" – their collection of the 100 gay men, women and transgender people who made it a year to remember – and That's Gay was also a 2010 Webby honoree. The segment is also regularly featured on the front pages of The Huffington Post, Andrew Sullivan, Ted Casablanca's The Awful Truth on E!, and Entertainment Weekly's PopWatch.
In addition to infoMania, Bryan's written for Joan Rivers, was a staff writer at "The Ellen DeGeneres Show," for which he won an Emmy Award, and a staff writer for the comedy website Funny or Die, creating web series' for Will Ferrell, Jack McBrayer and Richard Jenkins. He's also a blogger for The Huffington Post and regularly performs at the Upright Citizens Brigade Theatre in Los Angeles. Bryan's twitter.
"The arbiter of all things gay" – Huffington Post
"As the creator and host of That's Gay, Bryan Safi uses humor to raise awareness of homophobia in popular culture. Fearless, in that he takes on equally homophobic gay-endorsed gay pandering and hip-hop's use of no-homo, Safi takes folks to task without preaching" – OUT Magazine
John DiMaggio (PMC Podcast Ep 151 – click HERE: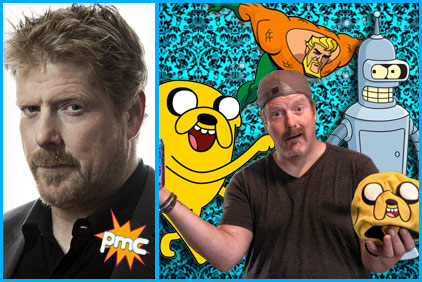 John DiMaggio is one of the hardest working voice over actors in show business. His credits include Bender on "Futurama," Jake the Dog on "Adventure Time," Rico on "Penguins of Madagascar," Marcus Fenix on the "Gears of War" game series, and many, many more. He recently produced a fantastic documentary on voice actors called "I Know That Voice," available now on iTunes and Amazon. He's also a part of the live show and podcast "The Thrilling Adventure Hour."
Patton Oswalt (PMC Podcast Ep 150 – click HERE):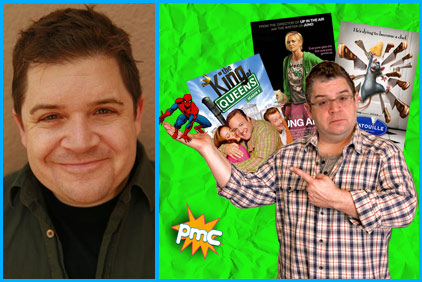 In 2009 Patton won critical acclaim in Robert Siegel's feature film Big Fan, which made its debut at Sundance in January 2009 and was distributed by First Independent Pictures. Patton recently filmed his new Adult Swim live-action TV series The Heart, She Holler, the film Scoutmasters with Johnny Knoxville, and starred alongside Charlize Theron in Young Adult, receiving a Critic's Choice nomination for Best Supporting Actor. Patton appeared in Steven Soderbergh's feature film The Informant and Observe and Report with Seth Rogen Patton starred in The Comedians of Comedy, which was shot as an independent feature film, a TV series and a long running tour. Patton has also appeared in more then 20 films, including Magnolia, Starsky and Hutch, Reno 911!: Miami, A Very Harold & Kumar 3D Christmas, The Secret Life of Walter Mitty, Seeking A Friend for the End of the World, Odd Thomas, and Balls of Fury.  Patton provided the voice for Remy, the rat, in Pixar's Oscar-winning Ratatouille.
As a comedian, Patton has shot four TV specials and six critically acclaimed albums.  He now tours regularly, headlining both in the United States and UK.
Patton was a series regular on Showtime's United States of Tara, and played Spence on The King of Queens on CBS for nine seasons. He played Constable Bob on Justified, and recurs as Agent Koenig on Marvel's Agents of S.H.I.E.L.D. He appeared on The Sarah Silverman Program, Flight of the Conchords, Seinfeld, Burn Notice, Reaper, Aqua Teen Hunger Force and Tim and Eric's Awesome Show, Great Job! He also recurred on SyFy's new series Caprica.  Patton is a regular contributor to Countdown with Keith Olbermann, Real Time with Bill Maher and Lewis Black's Root Of All Evil. He's currently the narrator on the show The Goldbergs. He also voices characters on Word Girl and TBS's Neighbors from Hell.
Patton's first published book Spaceship Zombie Wasteland was critically acclaimed and was on the New York Times Best Seller List for January 2011.
Bruce McCulloch (PMC Podcast Ep 149 – click HERE):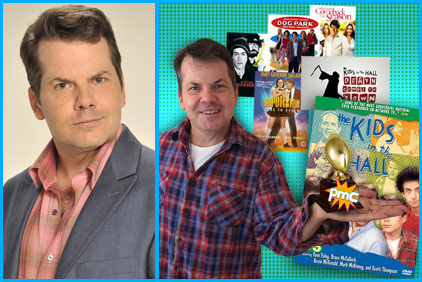 Bruce McCulloch is a founding member of The Kids in the Hall, who recently returned with an eight part miniseries called Death Comes to Town on CBC and IFC. Bruce also executive produced the series.
Bruce works a lot in the cheese-machine that is television. Currently, he's co-creating No Sugar Tonight with and for Jeff Garlin. The show is for ABC, home of Bruce's short lived and underappreciated television series Carpoolers.
Bruce wrote and directed the films Comeback Season starring Ray Liotta and Glenne Headley and Dog Park starring Luke Wilson and Natasha Henstridge. He also directed Stealing Harvard for Imagine Entertainment and Revolution Studios starring Jason Lee and Tom Green and Superstar for Lorne Michaels and Paramount Pictures starring Molly Shannon and Will Ferrell.
He has written and performed several one-man shows including Jazz Stenographers, Two-Headed Roommate and Slightly Bigger Cities.  He also co-wrote and starred in a stage adaptation of the book  "Letter's to Wendy's." Bruce has two spoken word/ comedy/ music CD' s Shame-based Man and The Drunk Baby Project. He is currently working on a book of short pieces entitled "The Pink Dot Stories."
Mackenzie Astin (PMC Podcast Ep 148 – click HERE):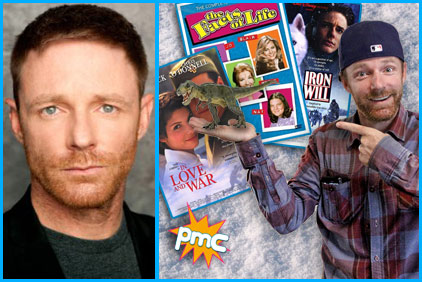 Mackenzie Astin made his acting debut in a TV movie, Lois Gibbs and the Love Canal. He went on to co-star with Charlotte Rae in TV's The Facts of Life when he was thirteen, where he was on the show for four seasons.  He starred as Will Stoneman in the Disney sled dog flick Iron Will opposite Kevin Spacey and Brian Cox, and as the lead character Dodger in the 80s cult classic The Garbage Pail Kids Movie. He worked with director Sir Richard Attenborough in In Love and War, and opposite Kevin Costner in Wyatt Earp. Other film work includes The Final Season and The Last Days of Disco. He appeared as Kate's lost love on Lost, and recurs as a news anchor on Scandal.
John Michael Higgins (PMC Podcast Ep 147 – click HERE):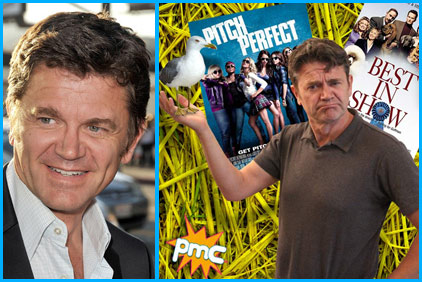 John Michael Higgins is a double hyphenate: he's sort-of well-known for being a member of the Christopher Guest "company," starring in such films as "Best in Show" and "A Mighty Wind." But before becoming a disreputable light improvisational comedic actor he spent twenty years on the New York and regional stages doing lots of things that nobody gives a shit about anymore. Then, after playing David Letterman in the HBO film "The Late Shift," Mr. Higgins' career became centered in Hollywood. In addition to many animated series (like Janet Varney's own "Legend of Korra" above or below, or whichever position she's taking these days), Michael has another twenty years of appearances on television shows ranging from "Seinfeld" to "CSI," from "Ally McBeal" and "Arrested Development" to "Kath and Kim" and the recently deceased "Happily Divorced."
Movie audiences also know him for his work in the films of Vince Vaughn, "The Break-Up," "Fred Claus" and "Couple Retreat," and with Jim Carrey in "Fun with Dick and Jane" and "Yes Man." More recently it's been "Pitch Perfect" and "Best Man Holiday," in addition to lots of commercial work like Old Navy and that idiot executive in all those DirecTV commercials and the current DIY videos for Lowe's on Funny or Die.
Stephen Root (PMC Podcast Ep 146 – click HERE):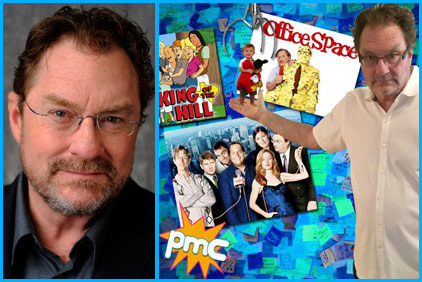 One of the most prolific character actors working today, Stephen Root has worked alongside many of the biggest names in Hollywood. Born in Sarasota, Root majored in acting and broadcasting at the University of Florida and remains a die-hard Gator fan. After three years of touring the U.S. and Canada with the National Shakespeare Company, Root settled in New York, honing his craft in many regional theaters and starring off-Broadway in 'Journey's End' and 'The Au Pair Man'. His Broadway debut came in 'So Long On Lonely Street', which was followed by the Tony award-winning production of 'All My Sons', with Richard Kiley. A starring role as 'Boolie', in the Broadway national touring company of 'Driving Miss Daisy' with Julie Harris, brought Root to Los Angeles where he now resides. Back on the boards, he recently starred with Helen Hunt and Lyle Lovett in 'Much Ado About Nothing', an LA Shakespeare Production.
His first acting role on screen came in George A. Romero's cult horror classic Monkey Shines. After that, many more under-the-radar supporting roles came his way until he found fame in the acclaimed series NewsRadio, where he played the somewhat eccentric owner of a radio station, Jimmy James, with Dave Foley as the station manager. The show ran from 1995 to 1999. Root has played more eccentric characters in recent years, voicing several characters in the hit animated TV series King of the Hill, a show created by and starring Mike Judge. Judge would later cast Root in another cult classic film, Office Space, where Root played the squirrelly and unforgettable Milton Waddams, a man who is pushed around at work and has a fetish for Swingline staplers. Root has worked with the Coen brothers several times in the films O Brother Where Art Thou?, The Ladykillers and No Country For Old Men. He played Gordon Pimm in the comedy Dodgeball and Dwight Dixon on the stylish TV comedy Pushing Daisies. He played the shifty Gaston Means on HBO's Boardwalk Empire and Judge Mike "The Hammer" Reardon on FX's Justified. He'll soon be seen on Fargo and Turn.
Haley Joel Osment (PMC Podcast Ep 145 – click HERE):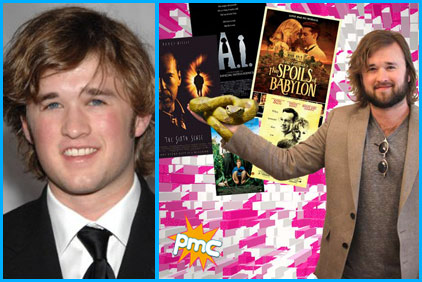 Haley Joel Osment began acting at the age of four, when he tried out for a Pizza Hut commercial in a shopping mall. The commercial launched his career, and he landed his first television role later that year. As a young child, his first film role was as Forrest Gump's son, also named Forrest Gump, in the 1994 film of the same name as well as making a small appearance in Mixed Nuts. He had roles in numerous TV series, including Thunder Alley, The Jeff Foxworthy Show, and, most notably, the final season of Murphy Brown in which he replaced Dyllan Christopher as Murphy's son Avery. Osment also made numerous guest appearances in various TV series, including The Larry Sanders Show, Walker, Texas Ranger, Touched by an Angel, Chicago Hope, The Pretender and as a child dying from leukemia in the emotional episode 'Angels and Blimps' of the series Ally McBeal.
He first achieved stardom in 1999 when he appeared in the blockbuster The Sixth Sense, co-starring Bruce Willis. For this role, Osment won the Saturn Award for best young actor. He was also nominated for the Academy Award for Best Supporting Actor, but lost to Michael Caine, with whom he would later star in Secondhand Lions.
The 2000 Academy Awards ceremony honored another of Osment's future co-stars, Best Actor Kevin Spacey, who, along with Helen Hunt, appeared in Osment's next film, Pay It Forward. The following year, Osment appeared in Steven Spielberg's A.I. Artificial Intelligence cementing his stature as one of the leading young actors in Hollywood. This role earned him his second Saturn Award. Osment has since provided voices for The Country Bears and The Jungle Book 2.
Osment was the voice of Sora, the main protagonist of the Walt Disney Company and Square-Enix's Kingdom Hearts video-game series, which was extremely financially successful as well and generally well-received critically.  He'll be soon seen in the big-screen version of the HBO hit Entourage, and was a integral part in the IFC mini-series send-up The Spoils of Babylon. He currently plays Shelby on Alpha House, and stars in the new Kevin Smith horror film Tusk.
Andy Daly (PMC Podcast Ep 144 – click HERE):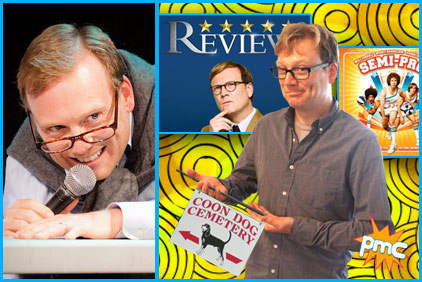 Andy Daly produced and stars in the upcoming Comedy Central series "Review."  He has appeared in such films as "Semi-Pro," "Yogi Bear," "The Informant!" and "Transformers 3″ and television shows like "Eastbound & Down," "Modern Family," "Drunk History," "The Office," "Delocated," "The Life and Times of Tim," "Reno 911," "Crossballs" and "MADtv."  His podcast, The Andy Daly Podcast Pilot Project debuted in December on the Earwolf podcast network.  Andy was one of the earliest students of The Upright Citizens Brigade in New York and has been improvising with them ever since.  He now lives in Los Angeles with his wife and two daughters.
Sarah Burns (PMC Podcast Ep 143 – click HERE):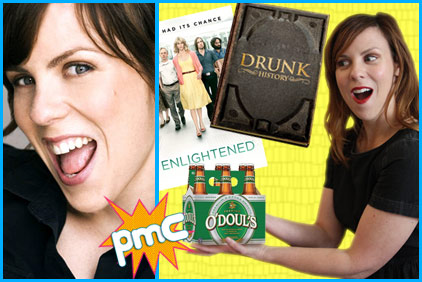 Sarah Burns is an actor, actress, writer, and writeress. She is probably best known for her roles as the self-sabotaging lush Hailey, in the film "I Love You, Man" and for her portrayal of the conflicted Krista in HBO's award winning series "Enlightened", alongside Laura Dern and Mike White.
Sarah performed at NYC's Upright Citizen's Brigade Theatre for over 7 years and credits the theatre with both keeping her out of trouble and contributing to her enormous array of wigs and sketch props. Her most recent credits include the Nicole Holofcener film "Enough Said," Comedy Central's "Drunk History," and "The Mindy Project" as well as "The New Normal," "Flight of the Conchords," "Party Down," "Life As We Know It," and "Going the Distance."
Sarah lived in San Francisco for 4 years and considers Tacqueria Cancun's Vegetarian burrito the best in the world. Fact!
Julie Brown (PMC Podcast Ep 142 – click HERE):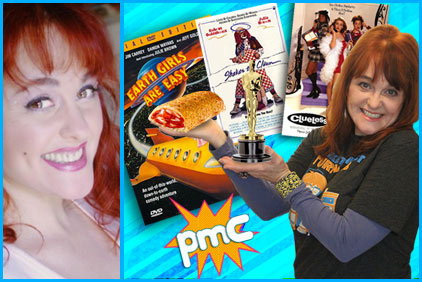 Whether through stand-up, the big screen, television or music, comedienne and actress Julie Brown is adored worldwide, and continues to captivate audiences. Since childhood, Julie has had a knack for making people laugh. Known for brilliantly mocking her Hollywood comrades, Brown's original claim to fame was her award-winning parody "Medusa: Dare to be Truthful," for Showtime Networks, in which she spoofed the one and only, Madonna. An esteemed pop icon, Julie is currently finishing up her third studio album entitled "Smell The Glamour," featuring the dance hit "Big Clown Pants" and "Another Drunk Chick".
Julie grew up surrounded by Hollywood stars and entertainers. Born in Van Nuys, California, the throbbing heart of the Valley, she is a third-generation show biz baby. In the 80's, Julie's outrageous talent brought her to the stand-up comedy scene in LA and San Francisco, where she quickly grabbed the attention of the gay community. Discovered by comedy legend Lily Tomlin, Julie's life changed forever when Tomlin cast her in "The Incredible Shrinking Woman." After writing and starring in "Earth Girls Are Easy" with Jim Carrey & Geena Davis, Julie skyrocketed into the national spotlight. Some of her other commended movie roles include "Attack of the 5'2" Women," "Plump Fiction," "Like Mike," "Police Academy 2: Their First Assignment" and "Clueless."
With things moving at full steam, Julie jumped back and forth from movies to TV, capturing roles on hit shows like "Laverne & Shirley," "Murphy Brown," "Quantum Leap," "Buffalo Bill," and "The Jeffersons." Recently, Julie flaunted her amazing talent on fan favorites "CSI," "Six Feet Under," and "The Wizards of Waverly Place." She hosted her own comedy show "Just Say Julie" on MTV for several seasons. This led to her star turn on "The Edge" on Fox, and "Strip Mall" on Comedy Central-shows she also helped create. When the film "Clueless" was spun off as an ABC sitcom in 1996, Julie reprised her role as Millie, the gritty, hilarious gym coach.
Always active in television, Julie lends her voice to dozens of cartoon series, including Steven Spielberg's "Animaniacs," "Aladdin," "Pinky and the Brain," "Quack Pack" and the much loved "A Goofy Movie." In 2008, Julie co-wrote the Disney Channel's blockbuster hit "Camp Rock," in which she co-starred with The Jonas Brothers. Her reputation for incisive humor has made her a featured guest commentator on E! Network specials, including "101 Reasons the '90s Ruled," "101 Most Starlicious Makeovers," and "50 Most Outrageous TV Moments."
Undeniably talented, Julie has made a huge impact as a musical artist. After the release of her first album "Goddess In Progress," her style and sound grabbed the attention of the international crowd, and caught fire all across the globe. Her singles, "Girl Fight Tonight," "The Homecoming Queen's Got a Gun," and "I Like 'Em Big And Stupid" were instant hits and received heavy airplay throughout the country. In late 2008, Julie released a political parody single, "The Ex-Beauty Queen's Got a Gun," which became a pop sensation nationwide.
In 2007, Julie took to the road with her own one-woman show, headlining in Chicago, San Francisco and New York City. Continuing to perform today, Julie currently lives high up in the Hollywood Hills, where she enjoys cooking, raising Malti-poos, and mixed martial arts cagefighting in her limited spare time.
Dana Snyder (PMC Podcast Ep 141 – click HERE):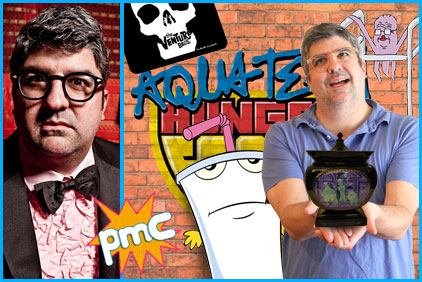 A native of the Lehigh Valley region of Pennsylvania, Dana Snyder grew up in Las Vegas, Nevada and graduated from Las Vegas High School in 1992 and Webster University in Missouri. He claims to be "slightly dyslexic". He has been married since 2005 to Christine "Sweetie" Snyder, who has made frequent appearances in his official podcast.
Snyder is well known as the voice of Master Shake on "Aqua Team Hunger Force." Snyder has also provided the voice roles of Gazpacho on "Chowder," Granny on "Squidbillies," Dr. Wang on "Minoriteam," and The Alchemist on "The Venture Bros." Snyder has also had live-action roles on the Adult Swim series "Saul of the Mole Men."
Omar J. Dorsey (PMC Podcast Ep 140 – click HERE):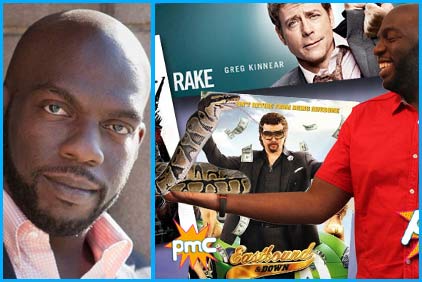 Actor Omar Dorsey can be seen opposite Greg Kinnear in the new Fox comedy, Rake. Rake follows a lawyer (Kinnear) whose personal gambling problems have lead him to a self-destructive behavior that has him battling wits with everyone around him. Dorsey plays Roy, Greg's best friend and the series airs Thursday at 9:00 pm ET/PT on FOX.
Before Rake, Omar was seen opposite Danny McBride in the critically acclaimed HBO comedy series, Eastbound & Down.  Dorsey co-starred as Dontel Benjamin, a flashy former NFL player turned loudmouth talk-show host who goes head to head with Danny McBride's character, Kenny Powers.
An Atlanta native, Dorsey studied acting at Georgia State University and trained under storied actor Afemo Omilami. He has been cast in numerous movie and television roles including two Academy Award nominated feature films. In 2009 Dorsey co-starred Sandra Bullock in Warner Bros.' The Blind Side which was nominated for an Oscar for Best Motion Picture of the Year and grossed over $309 million worldwide. In 2012, Dorsey co-starred in the Quentin Tarantino western, Django Unchained, which grossed over $425 million worldwide and starred Jamie Foxx, Christoph Waltz and Leonardo DiCaprio.  Django was also nominated for an Oscar for Best Motion Picture of the Year. Dorsey's TV credits include roles on television shows such as Bones, Rizzoli & Isles, K–Ville, NCIS, CSI: NY, Castle and The Mentalist.
Dorsey currently lives in Los Angeles with his wife and two daughters.
Christine Lakin (PMC Podcast Ep 139 – click HERE):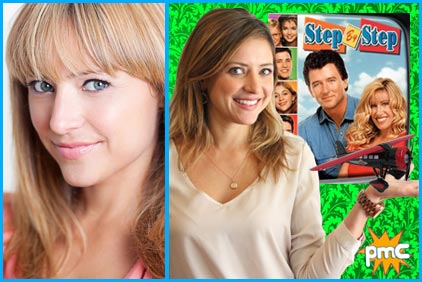 Christine Lakin was born in Dallas, TX and was raised outside Atlanta, GA.  At age 7, she became one of the youngest members of the Atlanta Workshop Players, a local theater company.  As a child, Christine starred in dozens of national commercials before making her film debut at age 11 opposite Christopher Reeve in TNT's The Rose and The Jackal.  Shortly thereafter, she landed the role she is still remembered for, "Al", in the sit-com Step By Step, starring Patrick Duffy and Suzanne Somers, which ran for a successful 7 seasons.
Christine is currently seen on multiple episodes of VH1's sketch show Stevie TV with Stevie Ryan and as a commentator on their 100 Most Powerful Women in Music.  Ms. Lakin voices multiple roles on FOX's Family Guy, most notably as news anchor "Joyce Kinney".  She also stars in a recurring role on ABC Family's Melissa & Joey and recently gigged as Craig Kilborn's "Huckleberry Friend" on FOX's The Kilborn File.  Christine starred opposite Josh Duhamel in Garry Marshall's New Year's Eve and is likewise recognized from the hit Valentine's Day, opposite Jaime Foxx and Jessica Biel.
Christine performed in the NY workshops of the highly anticipated Heathers, The Musical as Heather Duke.  In addition, Christine has starred in numerous LA theater productions including The Breakup Notebook (Ovation Nom) and Dog Sees God (LA Weekly Award, Best Comedic Female).  She is also a member of the Ovation Award Winning Troubadour Theater Company.  Ms. Lakin is a nominated choreographer in her spare time, whose work has appeared on HBO's True Blood, Breaking In, The Hard Times of RJ Berger and in such films as Reefer Madness and You Again.
Christine is the creator of Worst Audition Ever, an evening of hilarious oration and storytelling about the most vulnerable moments in artistic humiliation, performing bi-monthly to sold out crowds around Los Angeles and this summer in New York. http://www.worstauditionever.com
Ms. Lakin writes, produces and stars in her web series, Lovin' Lakin.  The docu-series spoofs her as a former child actor and features cameos from Kristin Chenoweth, Kristen Bell, Seth MacFarlane and Patrick Duffy, debuting soon on Hulu.  She is also the female judge on the You Tube reality series Internet Icon, the search for the next You Tube star.  The show is featured on the YOMYOMF network and Christine judges alongside internet sensation Ryan Higa.
Christine can also be played currently as a motion-capture character in the Uncharted series for Sony Playstation.  Lakin is featured in FOX's 2012 Thanksgiving release, Parental Guidance opposite Bette Midler and Billy Crystal, which she also choreographed.  Ms. Lakin will be playing Clarice this fall in the west coast premiere of the cult hit Silence! The Musical at the Hayworth Theater running August 30-December 8th.
Christine is a UCLA alumnus and graduated Cum Laude with a B.A. in Communications.
Josh Gondelman (PMC Podcast Ep 138 – click HERE):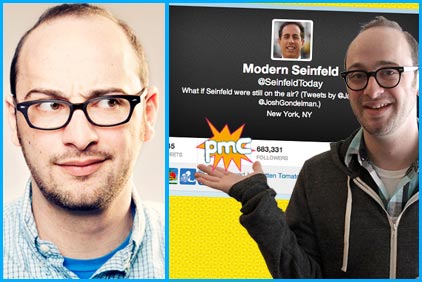 Josh Gondelman is a writer and comedian who incubated in Boston before moving to New York City. With years of experience as a preschool teacher and a pretty good guy, Josh charms audiences using his good-natured storytelling and cracks them up with his sharp, pointy wit.
Josh is the winner of the inaugural Laughing Skull Comedy Festival and the co-creator of the popular Modern Seinfeld twitter account. His writing has appeared in McSweeney's Internet Tendency, New York Magazine, and Esquire. He is pleased to meet you!
David Nadelberg (PMC Podcast Ep 135 – click HERE):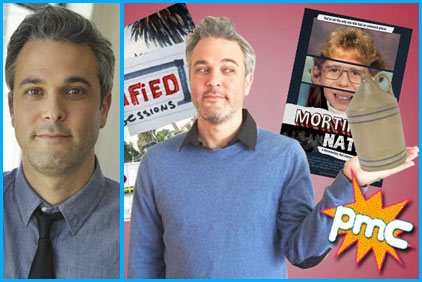 David Nadelberg is the creator of Mortified (getmortified.com), a grassroots storytelling project where adults share the embarrassing things they saved from childhood (old letters, lyrics, diaries, artwork).
As heard on This American Life, Mortified produces stage shows, books, web content, film and TV projects. Nadelberg hosts Sundance Channel's interview series The Mortified Sessions and produced the upcoming documentary, Mortified Nation. He has appeared on The Today Show, Talk of the Nation, and All Things Considered. He lives in Los Angeles, where he is on a constant search for good tomato soup.
Kevin Heffernan (PMC Podcast Ep 134 – click HERE):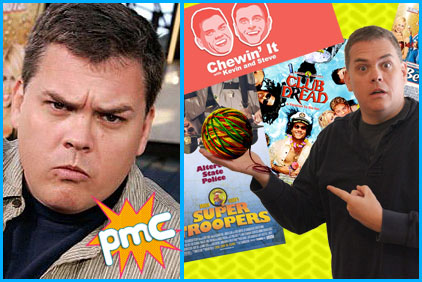 Best known as one of the five founding members of the Broken Lizard Comedy Troupe (alongside director Jay Chandrasekhar and fellow comedians Paul Soter, Steve Lemme, and Erik Stolhanske), Kevin Heffernan came of age in West Haven, CT, attended the prestigious and exclusive Fairfield College Preparatory School in nearby Fairfield, and eventually enrolled in Colgate University, where he met Chandrasekhar and Co.; the bunch formed a collegiate comedy troupe called "Charred Goosebeak." Heffernan plays significant roles in the Lizard features, including 1996's Puddle Cruiser, 2001's Super Troopers, 2004's Club Dread, and 2006's Beerfest.
He maintained a moderately high profile in Super Troopers, where he portrays the no-nonsense, by-the-book cop Farva, who makes an unsuccessful attempt to crack down the pot-smoking, prank-playing deadhead cops played by the other troupe members. Yet his prominence among his contemporaries increased quite a bit in Club Dread, in which he played a character called Lars. Heffernan edited, co-produced, and co-wrote the script for Puddle, edited and co-wrote Troopers, and co-wrote Club Dread and Beerfest.
He also directed 2006's The Slammin' Salmon. Like the other four members of the Lizard troupe, he also joined the ensemble cast of The Dukes of Hazzard, alongside Burt Reynolds, Seann William Scott, Johnny Knoxville, and Jessica Simpson; Heffernan plays Sheev. In addition to his Lizardian activities, Heffernan also co-wrote the script of Divine Trash, the 1998 documentary on cinematic "gutter king" John Waters, with director Steve Yeager. Critics responded quite favorably; The New York Times' Stephen Holden referred to the piece as "a fine and fascinating biography." He's the co-host of the podcast Chewin' It with Kevin and Steve, which lives on the Nerdist network of shows. He also stars with frequent collaborator Steve Lemme in the web series The Adventures of Fatty & Tatty.
Danny Tamberelli (PMC Podcast Ep 133 – click HERE):
Danny Tamberelli played little Pete Wrigley on the beloved Nickelodeon series The Adventures of Pete and Pete. He stared as Jackie on The Babysitter's Club and voiced Arnold on The Magic School Bus.
He also starred on the Nickelodeon series All That! and Figure it Out. Film work includes The Mighty Ducks and Igby Goes Down. He plays bass and sings in the rock band Jounce, and is also the bassist for the band Every Good Boy. He also does sketch comedy with the group Man Boobs.
Paul and Storm (PMC Podcast Ep 132 – click HERE):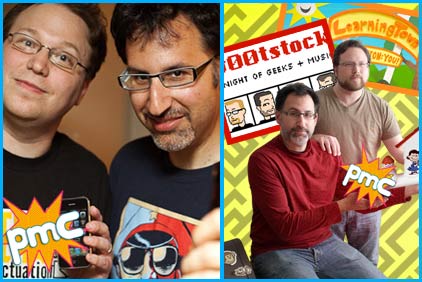 Paul Sabourin and Greg "Storm" DiCostanzo have been writing and performing comedy music together for over a decade, starting with their stint in the a cappella band Da Vinci's Notebook. Road warriors throughout their entire career, their experience performing live in venues ranging in size from living rooms to stadiums has given them a virtual utility belt jam-packed with tools for keeping audiences on the edges of their seats.
Known for their sharp satirical writing and ability to deploy multiple musical styles, Paul and Storm's music can be found on radio (including the "Bob and Tom" syndicated radio show and Sirius/XM's "Dr. Demento Show"), television (Comedy Central, The Drew Carey Show), and throughout the internet (The Guild, Homestar Runner).
Paul and Storm are also widely known through their association with Jonathan Coulton, and as co-creators and co-hosts (with Wil Wheaton and Adam Savage) of the geek-oriented w00tstock concert series, whose guests have included Neil Gaiman, "Weird Al" Yankovic, Felicia Day and Chris Hardwick. They're also notorious for generating far-reaching Twitter memes, most notably #wookieeleaks and #kanyenewyorkercartoons.
www.paulandstorm.com
Doug Benson (PMC Podcast Ep 131 – click HERE):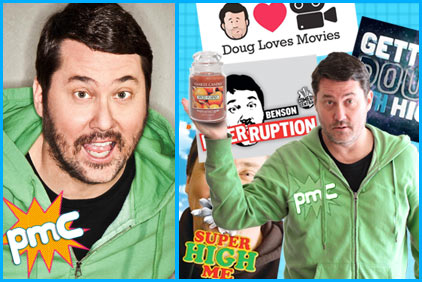 It would take too long to cite all of Doug's credits, but here's a small sampling:  He has his own documentary called Super High Me based on a joke from his standup act. It's available on DVD!  How does a little show called NBC's Last Comic Standing grab you?  Fact: he finished top six in the 2007 season, no big deal.  Doug was a series regular on four seasons of VH-1's Best Week Ever.  He makes recurring appearances on ABC's Jimmy Kimmel Live.
His second Comedy Central Presents half-hour special premiered in January '09.  He had the nerve to hit on Jennifer Aniston on the classic sitcom Friends, is a character on The Sarah Silverman Program, and oops, almost forgot, got Larry David in a headlock on HBO's Curb Your Enthusiasm.  If that's not enough for you, he's a creator/writer/star of The Marijuana-Logues, a show that's been a hit (small pun intended) in clubs and theatres from Los Angeles to New York – and drew a bongload of rave reviews.  Now there's a CD, also called The Marijuana-Logues, and a book, The Marijuana-Logues: Everything About Pot That We Could Remember.
In 2006, High Times Magazine named him Stoner of the Year, and in 2009, he successfully made it to all the shows in his thirteen-day Medical Marijuana Tour.  Now Doug has four CD's out on Comedy Central Records: Unbalanced Load, Hypocritical Oaf, Potty Mouth and Smug Life.  He continues to express his love of movies on his Doug Loves Movies podcasts (available on iTunes).  And Doug's long-running live show, The Benson Interruption, was recently a series broadcast on Comedy Central.   Enough about Doug Benson already!
Armin Shimerman (PMC Podcast Ep 130 – click HERE):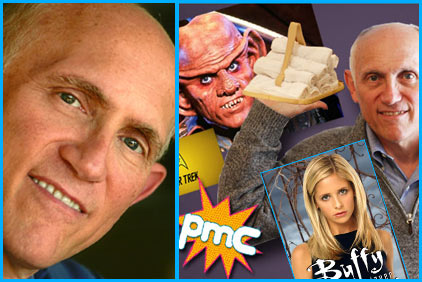 When Armin Shimerman was sixteen, his family moved from New Jersey to Los Angeles, where the teenager enrolled in a drama group.  The training suited him, and after his graduation from UCLA, Shimerman was chosen as an apprentice at San Diego's Old Globe Theatre.  He went on to appear in plays at the Tyrone Guthrie Theatre, the Mark Taper Forum, and the American Shakespeare Festival.  On Broadway, Shimerman received roles in Richard Rodger's final musical, "I Remember Mama," as well as "Broadway," "St. Joan" and Joseph Papp's production of "The Threepenny Opera."
Back in Los Angeles, his television career blossomed with recurring roles in Beauty & the Beast and Brooklyn Bridge and a variety of characters in episodes of Star Trek: The Next Generation—including a Ferengi or two.  The transition to a leading role on Star Trek: Deep Space Nine as Quark, the most charismatic Ferengi this side of Humphrey Bogart, was a natural.  Following DS9, the actor has appeared in dozens of series, including guest shots on L.A. Law, Seinfeld, and The Practice, and recurring characters in Buffy the Vampire Slayer (as Principal Snyder) and Boston Legal.  Shimerman continues performing but makes time to teach Shakespearean techniques to students at such places as Los Angeles' High School of the Performing Arts, the Theatricum Botanicum, the Tyrone Guthrie Theatre and UCLA, among others.  He serves as a National Board Member of the Screen Actors Guild.
Reginald VelJohnson (PMC Podcast Ep 130 – click HERE):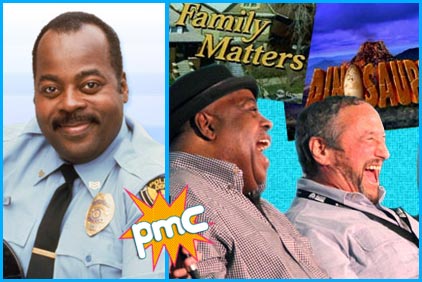 Veteran character actor Reginald VelJohnson portrayed the lovable head of the Winslow family Carl for nine season on the hit TGIF show Family Matters. He's also beloved for his role as Sgt. Al Powell in the action classic Die Hard.
Other film roles include Die Hard II, Turner and Hooch, You Again, Like Mike, Posse, Ghostbusters and Crocodile Dundee. Television work includes Bones, Chuck, The Equalizer, 227, Perfect Strangers, Tales From the Crypt, Diagnosis Murder, The Hughleys, Crossing Jordan, Will and Grace, Monk, That's So Raven, The Ghost Whisperer, Childrens Hospital, Mike and Molly and Hart of Dixie. Follow him on twitter: @rveljohnson
Stuart Pankin (PMC Podcast Ep 129 – click HERE):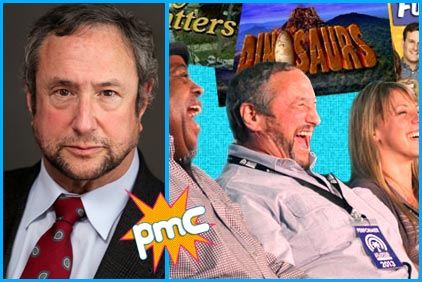 Veteran character actor Reginald VelJohnson portrayed the lovable head of the Winslow family Carl for nine season on the hit TGIF show Family Matters. He's also beloved for his role as Sgt. Al Powell in the action classic Die Hard. Other film roles include Die Hard II, Turner and Hooch, You Again, Like Mike, Posse, Ghostbusters and Crocodile Dundee.
Television work includes Bones, Chuck, The Equalizer, 227, Perfect Strangers, Tales From the Crypt, Diagnosis Murder, The Hughleys, Crossing Jordan, Will and Grace, Monk, That's So Raven, The Ghost Whisperer, Childrens Hospital, Mike and Molly and Hart of Dixie. Follow him on twitter: @rveljohnson
Chris Gore (PMC Podcast Ep 128 – click HERE):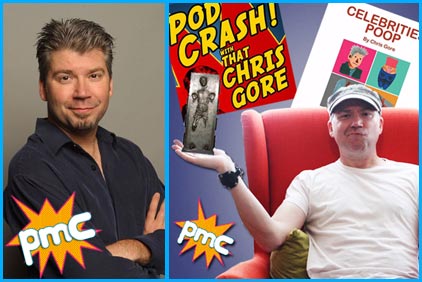 Chris Gore is a writer, filmmaker and a television personality who has built a solid reputation as a hilariously outspoken voice in the film world.
As a teenager, Chris founded the legendary Film Threat, which began as a fanzine. He is the author of several books including The Ultimate Film Festival Survival Guide, The Complete DVD Book
and The 50 Greatest Movies Never Made. In addition to being a noted speaker and author, he is the film expert on the G4TV's Attack of the Show where his weekly movie review segment DVDuesday is among the most popular.
Chris began his own independent filmmaking career with the cult short Red and co-wrote and produced the feature comedy My Big Fat Independent Movie. He was named one of the 25 Most Influential People in Independent Film by Film Festival Today magazine.
Chris considers himself a movie geek who is lucky to have forged a career working as a full-fledged "Nerdlebrity." He lives in Los Angeles.
Molly Quinn (PMC Podcast Ep 127 – click HERE):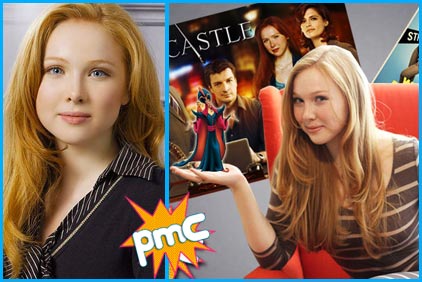 At age 6, Molly Quinn performed in her first community ballet, and she has been performing in front of an audience ever since.
Quinn stars as Alexis, Richard's daughter on the hit ABC series Castle, which is entering it's sixth season. Quinn is currently in cinemas with the Newline film We're the Millers, directed by Ross Thurber, in which she stars opposite Jennifer Aniston, Jason Sudeikis and Emma Roberts. Prior to that she played the starring role in Hansel and Gretel Get Baked, from director Duane Journey and producer Mark Morgan (Twilight series, Percy Jackson & The Olympians: The Lightning Thief). Past credits include working alongside Reneé Zellweger and Logan Lerman in My One and Only, and showcasing her comedic skills alongside John C. Reilly in Walk Hard: The Dewey Cox Story. She also worked for acclaimed director Robert Zemeckis in the motion-capture version of the Charles Dickens classic, A Christmas Carol.
When Quinn's not in front of the camera, she works on numerous projects as a voice over artist. Most recently cast as Supergirl in Superman Unbound.  She has also voiced roles for Cartoon Network's hit series Ben 10: Ultimate Alien, and is the voice of Bloom in the Nickelodeon global hit, The Winx Club.
Currently residing in Los Angeles, Quinn keeps in touch with her roots by routinely traveling home to visit family and friends in Texarkana, Texas.
Robyn Lively (PMC Podcast Ep 126 – click HERE):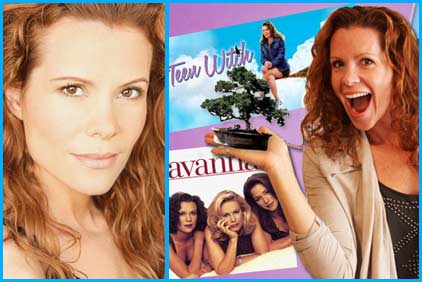 Robyn Lively is best known for her role as Louise Miller in the cult 80s comedy Teen Witch, which continues to have a rabid following – its "Top That!" rap has become a viral sensation.  She played Jessica Andrews, pal to Ralph Macchio's Daniel LaRussa in The Karate Kid Part III; little sister Becky Carson in the Disney channel film series Not Quite Human; Nurse Michele Farber in Doogie Howser, M.D.; and the mysterious Lana Budding Milford in David Lynch's Twin Peaks.
Other work includes Wildcats, Savannah, George & Leo, Dream a Little Dream 2, Longmire, It's Always Sunny in Philadelphia, Punky Brewster, Knight Rider, JAG, Silver Spoons, Amazing Stories, The Best of Times, Parker Lewis Can't Lose, Crazy From The Heart, Quantum Leap, The Young Indiana Jones Chronicles, The X-Files, Early Edition, Crossing Jordan, The Drew Carey Show, CSI:NY, Nip/Tuck, American Dreams, Cold Case, The Mentalist, Psych, Saving Grace, 30 Rock and Chicago Hope.
Tricia O'Kelley (PMC Podcast Ep 126 – click HERE):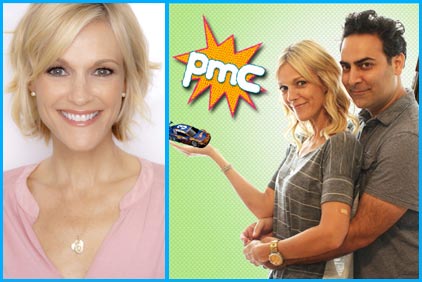 Tricia O'Kelley currently stars in the hit web series Bitter, Party of 5, and is perhaps best known as Marly on the hit CBS sitcom The New Adventures of Old Christine. She began her acting career in Chicago, where she appeared in numerous television commercials, including spots for McDonald's, Budweiser and Sears. After graduating from the University of Wisconsin, Madison (where she studied TV and film production), she returned to Chicago to continue acting. While in Chicago, Tricia founded a full-service resource center for actors which provided many resources for the local acting community, including classes, workshops, resume services, career consultations and seminars.
Through her company, Tricia published the first complete resource book for actors in the Midwest. She was also honored as one of the "100 Women Making a Difference in Chicago" by Today's Chicago Woman magazine. Since moving to Los Angeles, Tricia has appeared in dozens of television roles, including guest spots on Two and a Half Men, CSI: Crime Scene Investigation, Frasier, Everybody Loves Raymond, and recurring roles on Gilmore Girls and Malcolm in the Middle. In addition, she was a series regular on Emeril (NBC) and That Was Then (ABC).
Her film work includes Outside Sales and Weather Girl, for which she also served as a producer. Tricia also designs a line of greeting cards that is distributed by Recycled Paper Greetings. "Heartsongs" can be found in Target, Cost Plus World Market, and other outlets worldwide where RPG cards are sold. She currently lives in Los Angeles with her husband Adam and their two daughters.
Jason Antoon (PMC Podcast Ep 125 – click HERE):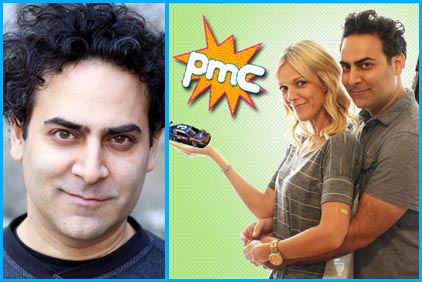 After growing up in sunny California (Pacific Palisades and Sherman Oaks), Jason Antoon headed for the East in 1990 to attend the country's oldest acting conservatory program Carnegie Mellon University, where he received a BFA in Drama. Straight to New York in 1994, he spent most of his stage life as an understudy, most notably in Steve Martin's Picasso at the Lapin Agile.
His big break came when he got cast in his Broadway debut, the 2000 TONY award-winning musical Contact. For his performance he received a Drama Desk Nomination for Best Supporting Actor in a Musical. He currently stars in the hit web series Bitter, Party of 5. TV and film work includes No Ordinary Family, Minority Report, Electric City, Celeste & Jesse Forever, Vamped Out, Modern Family, Kings, Lipstick Jungle, Cashmere Mafia, The Ten, Law & Order, The Producers, Two Weeks Notice, Little Black Book, Sex and The City, Ed and Spin City.
Luke Edwards (PMC Podcast Ep 124 – click HERE):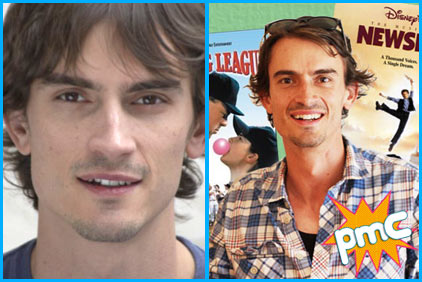 Luke Edwards began taking acting lessons for fun on his mother's suggestion and landed his first television role in 1988 on an ABC Afterschool Special episode.  Luke starred as video game whiz Jimmy in the Nintendo flick The Wizard; sudden kid owner of the Minnesota Twins Billy Heywood in Little Big League; young paperboy Les in Newsies, and the eldest son in the Jamie Lee Curtis thriller Mother's Boys. Other film roles include Guilty By Suspicion, American Pie 2, Jeepers Creepers 2, Debating Robert Lee, Graphic, Turn Me On, Dead Man, and Disarmed.
He has had varied success with television, with guest appearances on Roseanne, 21 Jump Street, Molloy (with Mayim Bialik), Parker Lewis Can't Lose, Not of This World, Davis Rules, Human Target, Strange World, Undressed, Night Visions, Without a Trace, Close to Home, and Privileged. He was also in made-for-television movies I Know My First Name is Steven, The Yarn Princess, The Little Riders, Cheaters, Shadow Realm, and Devil's Run. He continues to act professionally, and is set to film Jeepers Creepers 3.
Melissa Claire Egan (PMC Podcast Ep 123 – click HERE):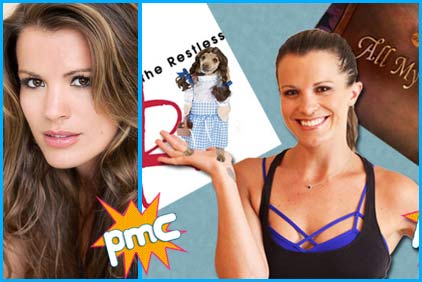 Originally from Bedford, New York, Melissa Claire Egan grew up with an extensive background in musical theatre, singing and dancing, taking a multitude of classes in New York City as a child. While still a child, she began booking national television commercials and was signed by the Ford Modeling Agency.
Melissa graduated from the University of North Carolina at Chapel Hill with a BA in Dramatic Arts. During college she appeared in many plays including Marvin's Room, How I Learned to Drive, The Birthday Party and Pippin. She also studies Shakespeare at the British American Drama Academy at Oxford, England.
Upon graduating college, Egan began acting professionally. In June, 2006, she booked the role of Annie McDermott on All My Children. Her television credits include Bone, Men at Work, Criminal Minds, One Tree Hill and Dawson's Creek, and she starred in the independent film Wrestling. Melissa is currently a series regular on the #1 daytime drama The Young and the Restless, playing Chelsea Newman.
Melissa was nominated for a Daytime Emmy in the Best Supporting Actress category in 2009, 2011, 2012 and 2013.
Mel Harris (PMC Podcast Ep 121 – click HERE):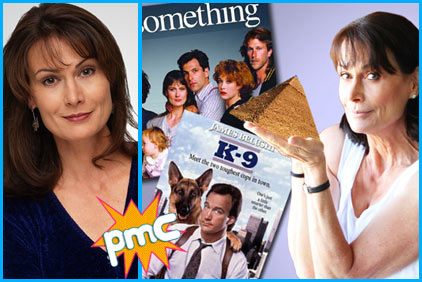 A dark, striking leading lady of TV, Mel Harris is a former model who lent an understated sincerity and authority to the role of Hope, a woman attempting to juggle marriage, children and a career, in ABC's acclaimed, not-for-yuppies-only serial Thirtysomething.
Harris tried a change of pace with her next series, the sitcom Something So Right (NBC, 1996-97; ABC, 1997-1998), in which she played a thrice-married woman coping with her new husband and their respective children, opposite Jere Burns. She played divine goddess Oma Desala on Stargate SG-1, and starred in the series Saints & Sinners. Film work includes K-9, Raising Cain, The Pagemaster, Suture, Wanted: Dead or Alive, The Retrievers and Imagine That.
Timm Sharp (PMC Podcast Ep 120 – click HERE):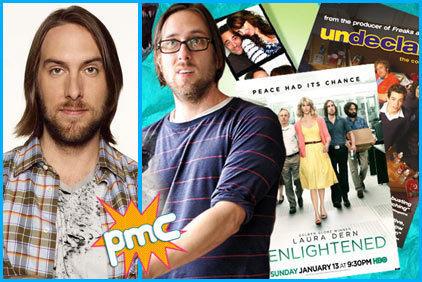 A native of Fargo, North Dakota, Timm Sharp graduated from the Trollwood Performing Arts School. He first gained prominence as part of the regular cast of Judd Apatow's college comedy series Undeclared, in which he played Marshall. He also gained notice through recurring roles first on Six Feet Under and 'Til Death, in addition to guest appearances on other shows.
Timm starred as Dougie on the acclaimed HBO series Enlightened for two seasons opposite Laura Dern, Luke Wilson and actor/writer Mike White. Other film and TV work includes Go On, Imagine That, Friends With Money, Fun with Dick and Jane, Malcolm in the Middle and Spin City.
Mike Lawrence (PMC Podcast Ep 119 – click HERE):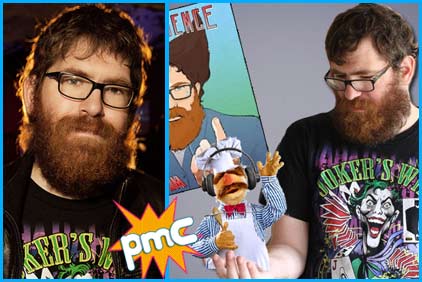 A New York City based comedian, Mike Lawrence has been featured as a stand-up on such notable national brands as TBS' Conan,  Marc Maron's WTF  Podcast, Paul Provenza's Setlist, and John Oliver's New York Stand Up Show.   Mike's Comedy Central Half Hour premiered on the network May 2013, the same week he released his outstanding debut comedy album Sadamantium on Comedy Central Records.  The album went to #5 on the Billboard Current Comedy chart (releases that came out in the past year and a half) and #13 on the overall Billboard Comedy Chart (includes all comedy albums)..  Hear a track HERE.
When he's not working in NYC's best clubs or headlining on the road he can be seen featuring for the likes of John Oliver, Marc Maron and Tom Papa, who shortly thereafter hired Mike as a writer for his pilot. Mike was one of the "New Faces" at the 2010 Montreal Just For Laughs Comedy Festival and was back with JFL in 2012 doing their Festivals in both Chicago and Montreal, and recording for HBO Canada's Funny as Hell. Mike also performed at Moontower Comedy Festival in Austin 2013.
"Mike Lawrence—who nailed his appearance on Conan and even got his own episode of WTF—just gets better and better, doing dorky, dark, dirty and topical material with aplomb" –  "Break Out" Award, Best Comedy of 2012, Time Out NY
Mike performs on Conan [link]
Modern Comedian Video [link]
ABC News "Working at a McDonald's Drive-thru Gave Comedian Confidence" Video [link]
TheLaughButton "Comedian To Watch"  [link]
Time Out NY "Break Out" Award, Best Comedy of 2012 [link]
Splitsider- "Top 10 Up and Coming Comedians" [link]
The Marvel Life: Intvw with Mike Lawrence [link]
Nerd of Mouth podcast [link]
Official Website [link]
Press Inquiries to Sheila Kenny at Right On! PR // 512-487-5005
Missi Pyle (PMC Podcast Ep 118 – click HERE):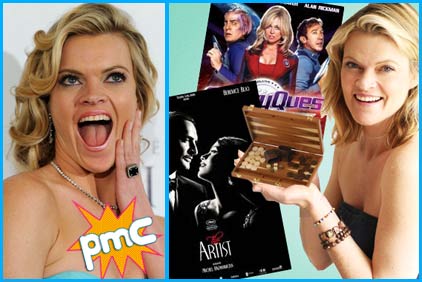 Born in Texas and raised in Tennessee, Pyle developed a passion for acting and comedy at the prestigious North Carolina School of the Arts, and after graduation, she moved to New York to pursue a theater career. One of her first roles was opposite John Malkovich in Steppenwolf Theater Company's The Libertine.
After moving to Los Angeles, Pyle guest starred on television shows such as Mad About You, The Drew Carey Show and Friends, and then she landed a featured role in the film As Good as It Gets. In 1999, Pyle played the comic role of the Thermian Laliari in the sleeper hit Galaxy Quest opposite Tim Allen, Sigourney Weaver and Tony Shalhoub. She also starred in Snow Days before landing the role of the scheming villain Alexandra Cabot in Josie and the Pussycats in 2001. Other films work includes Bringing Down The House (for which she and Queen Latifah received an MTV Movie Award nomination for Best Fight),  Dodgeball: A True Underdog Story, Big Fish, Along Came Polly, Charlie and the Chocolate Factory, 50 First Dates, Soul Plane, Alex Rider Stormbreaker, Harold and Kumar Escape from Guantanamo Bay, Lawless, Spring Breakdown and the Best Picture winning film The Artist.
She was a series regular on the ABC variety show, The Wayne Brady Show and has guest starred on Ally MCBeal, Roswell, Philly, Frasier, The Tick, Roswell, Heroes, Grey's Anatomy, Numb3rs, The Mentalist, Pushing Daisies, 2 Broke Girls, Rizzoli & Isles, Don't Trust the B in Apt 23, American Dad and Warehouse 13.
Will McRobb and Chris Viscardi (PMC Podcast Ep 117 – click HERE):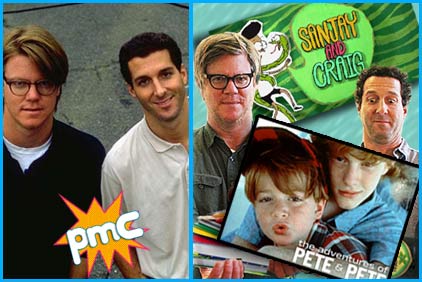 Will McRobb and Chris Viscardi are celebrated, award-winning writers and producers of television and film.
Will and Chris wrote the feature films Alvin and the Chipmunks, The Tale of Despereaux, Angus Thongs and Perfect Snogging and Snow Day. They have written screenplays for Fox Animation/Blue Sky Studios, Dreamworks Animation, Universal Pictures, Miramax Films and Warner Brothers. Their unproduced screenplays include The Cricket in Times Square, Artemis Fowl, Dinosaur Bob, Thomas The Tank Engine and Measle and the Wrathmonk.
Will and Chris created the television series The Adventures of Pete and Pete, an award-winning series for Nickelodeon that ran from 1991-1995. In 2005, the Los Angeles Times proclaimed, "…it is as good as television has ever been and great in ways few shows ever attempt."
Will and Chris co-created Kablam! a groundbreaking alternative animation series for Nickelodeon that ran for five seasons. They co-created and produced the television comedies The War Next Door for USA Television and The Assistants for Teen Nick. They served as consulting producers and writers for the USA Television series Necessary Roughness and they have written episodic television for Ed, Brutally Normal and The Naked Brothers.
Currently, Will and Chris are executive producers of Sanjay and Craig, a new animated series for Nickelodeon set to premiere in the fall of 2013. They are also Executive Producers of Bravest Warriors, an animated short-form web series from Adventure Time creator Pendleton Ward.
Dana Gould (PMC Podcast Ep 116 – click HERE):
Massachusetts native Dana Gould began his professional stand up career at the tender age of 17, cutting his teeth in the comedy boom of the 1980's. He arrived in Los Angeles in the early 90's, where he became one of the founding fathers of the alternative comedy movement. After starring in the TV series Working and guesting on such shows as The Ben Stiller Show and Seinfeld, Dana joined the writing staff of The Simpsons, eventually becoming executive producer of the legendary show.
Dana left the show and rededicated himself to his stand-up career. In addition to numerous HBO specials and the CD, Funhouse, Dana recently completed the one-hour special Let Me Put My Thoughts In You, directed by fellow Ben Stiller Show alum Bob Odenkirk.
Dana wrote, produced and starred in the pilot Nolan Knows Best for ABC and, in addition to his podcast, The Dana Gould Hour, which premieres in February 2012, is currently developing, along with the Foo Fighters' Dave Grohl, a new pilot for F/X, Rock Bottom.
Arye Gross (PMC Podcast Ep 115 – click HERE):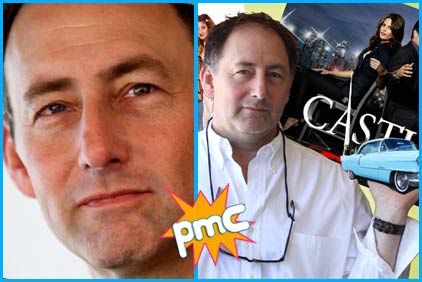 Citing Danny Kaye as one of his foremost idols, Arye Gross has done well for himself in a variety of supporting roles in television and film. Like Kaye, he shows a particular talent for playing affable, if quirkly, young men. His early film work includes House II: The Second Story, Soul Man, The Experts, The Couch Trip, Coupe de Ville, For The Boys and Hexed. He was part of the ensemble in the terrific war drama A Midnight Clear, and later had roles in Mother Night, Big Eden, Seven Girlfriends, Burning Down the House and Speilberg's sci-fi hit Minority Report.
In 1994, he was cast as the good-hearted but somewhat hapless Adam Green on the award-winning sitcom Ellen, in which he starred for the first three seasons of the show.  He has guest starred in a ton of shows since, including Fringe, Six Feet Under, CSI, The Protector, Lie to Me, The Mentalist, Dollhouse, The Ghost Whisperer, Cold Case, Burn Notice, The Riches, CSI: NY, Numb3rs, Grey's Anatomy, Wildfire, Without a Trace, The Guardian, Judging Amy, The West Wing, The Practice, ER, The X-Files and countless others. He currently recurs as the cranky medical examiner Sidney Perlmutter on ABC's hit show Castle.
Jodie Sweetin (PMC Podcast Ep 114 – click HERE):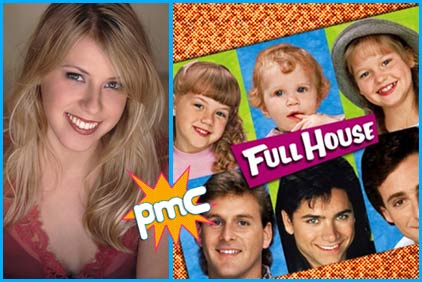 Jodie Sweetin played precocious middle child Stephanie Tanner for eight seasons on the hit ABC family sitcom Full House. Her catch phrase, "How Rude!," is still requested daily by fans.
She got her start in show business in an Oscar Mayer hot dog commercial when she was four years old, and soon got a guest starring role on The Hogan Family before she was cast on Full House. She hosted the short-lived FUSE show Pants-Off Dance-Off , and has appeared on the big screen in Small Bits of Happiness and Redefining Love.
Ian Brennan (PMC Podcast Ep 113 – click HERE):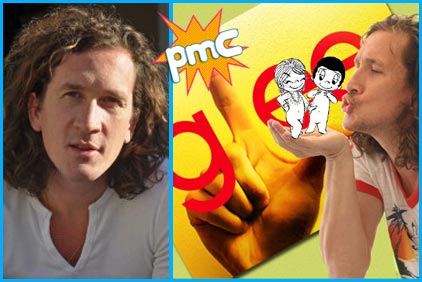 Ian Brennan
is a writer, narrator and co-creator of the hit FOX show Glee.
Glee marked Ian Brennan's first foray into television writing. Brennan began his acting career in Chicago working with the prestigious Steppenwolf and Goodman Theatres.
He later moved to New York to pursue other opportunities in television and film, and has been involved with off-Broadway plays at the Vineyard, Playwrights Horizons and MCC Theatres. Brennan is a graduate of Loyola University Chicago. He was inspired to write Glee after participating in his high school's show choir that never won anything and whose director later spent time in prison.
Brent Weinbach (PMC Podcast Ep 112 – click HERE):
Brent Weinbach is a stand-up comedian.  He was a winner and recipient of the Andy Kaufman Award, which is given out once a year to recognize innovation in stand-up comedy.  He has appeared on Conan, Lopez Tonight, Comedy Central, HBO, and toured with the Comedians of Comedy. He's the co-host of The Legacy Music Hour podcast, which celebrates the best music from 8-bit and 16-bit era video games. Check him out on brentweinbach.com and his videos on youtube.com/brentweinbach.
Ari Shaffir (PMC Podcast Ep 111 – click HERE):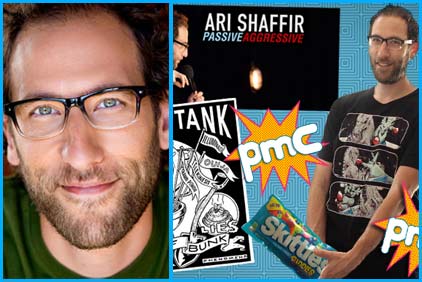 Standup comedian and actor Ari Shaffir describes his comedy as a puppet show, but way filthier and without the puppets.  He hosts the hit podcast Ari Shaffir's Skeptic Tank. He was a featured standup on the HBO comedy series Down and Dirty with Jim Norton and performed at this year's Just for Laughs Comedy Festival in Montreal.  Shaffir's satirical shorts "The Amazing Racist" for National Lampoon went viral on the internet with millions of views.  Additionally, he has appeared on TBS's Minding the Store, ESPN Classic's Cheap Seats, and dozens of national commercials.
Shaffir resides in Los Angeles where he is a regular at The Comedy Store, The Improv, and The Laugh Factory.  He also headlines around the country and frequently tours with Joe Rogan.
Lamorne Morris (PMC Podcast Ep 110 – click HERE):
Lamorne Morris plays Winston Bishop on the hit FOX comedy New Girl. He hails from Chicago and attended the College of DuPage in Illinois, where he studied acting on a Chris Farley Memorial Scholarship. In 2003, he started performing at The Second City and Improv Olympic. In 2006, he moved to New York to work for BET and performed at the Upright Citizens Brigade Theater and The Pit.
He moved to Los Angeles in 2008 to pursue film and television. His credits include The Assistants and The Middle, as well as numerous national commercials.
Carla Gallo (PMC Podcast Ep 109 – click HERE):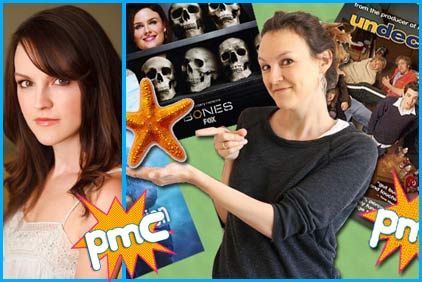 Carla Gallo starred as Lizzie in the Judd Apatow series Undeclared and as Libbie on HBO's Carnivale. She played Daisy on Bones, Annie on Men of a Certain Age, and has also appeared on Burn Notice, Franklin & Bash, Workaholics, 2 Broke Girls, Key and Peele, Mad Men, Outsourced, House M.D., Crossing Jordan and Californication.
She got her start in David O. Russell's indie comedy Spanking the Monkey, and has appeared in the films Forgetting Sarah Marshall, Superbad, The 40 Year Old Virgin, Funny People, The Slammin' Salmon, The 24 Hour Woman and Cameron Crowe's We Bought A Zoo. She starred as the blind girl Tamara P. on the hit Yahoo! Web series Burning Love.
David Wain (PMC Podcast Ep 108 – click HERE):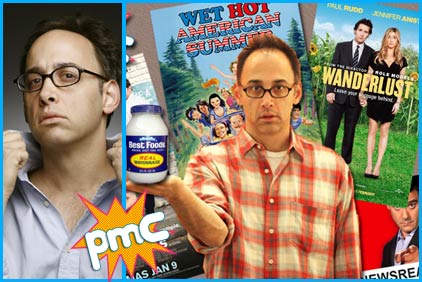 David Wain is the director and co-writer of the feature films Wet Hot American Summer, The Ten, Role Models and the upcoming Wanderlust, starring Paul Rudd and Jennifer Aniston.
On television, he co-created and co-starred in The State on MTV and Stella on Comedy Central. His current series Childrens Hospital, is now its 4th season on Adult Swim.
On the web, David's (slightly) fictionalized romantic adventures are chronicled on the ongoing series Wainy Days. Wain is a native of Shaker Heights, Ohio, and currently lives in Manhattan with his wife, the actress Zandy Hartig, and their two sons.
More info at davidwain.com
Erinn Hayes (PMC Podcast Ep 107 – click HERE):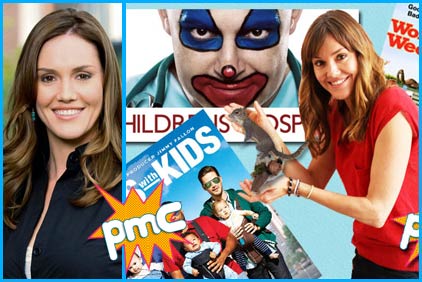 Comedic actress Erinn Hayes currently stars as Dr. Lola Spratt on the Adult Swim medical comedy Childrens Hospital. She played Melanie Clayton on the CBS series Worst Week; portrayed Alison McKeller on FOX's The Winner; and played Becky Sharp on the short-lived Kitchen Confidential.
Other TV appearances include How to Be A Gentleman, Desperate Housewives, Two and a Half Men, Royal Pains, Hawthorne, Parenthood, Romantically Challenged, Grey's Anatomy and Wainy Days. She'll soon be seen in the film It's A Disaster, also starring Julia Stiles, David Cross and America Ferrera.
Rachel Dratch (PMC Podcast Ep 106 – click HERE):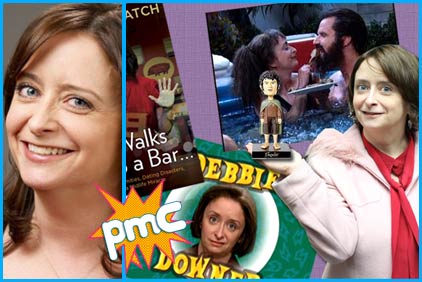 Rachel Dratch was a cast member on Saturday Night Live for 7 years. Before that she was on the Mainstage of Second City Chicago for four years, where she wrote and performed with Adam McKay, Scott Adsit, and Tina Fey. She appeared in a bunch of TV shows, including King of Queens where she had a recurring role as Patton Oswalt's girlfriend. She's been in a bunch of movies, most of which are with Adam Sandler. Rachel is really into name-dropping.
Her book, Girl Walks into a Bar was published by Gotham in March of this year. Thank you, and have a wonderful day.
Stephen Tobolowski (PMC Podcast Ep 105 – click HERE):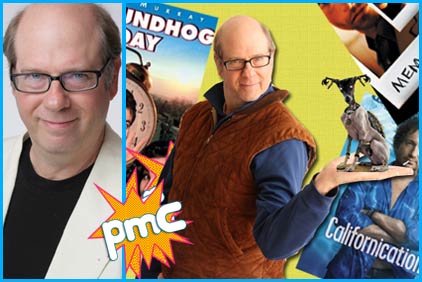 Stephen Tobolowsky, is one of the leading character actors in film today. USA Today listed Stephen as the 9th most frequently seen actor in movies.  He has appeared over 200 movies and television shows.  He is best known for playing Ned Ryerson in Groundhog Day, Sammy Jankis in Memento, Werner Brandes in Sneakers, Happy Chapman in Garfield, and Mr. Bates in Freaky Friday.  On television, he has played Tor Ekland on Seinfeld, Hugo Jarry on Deadwood, Bob Bishop on Heroes, and is currently seen as Sandy Ryerson on Glee and Stu Beggs on Californication.
He wrote and performed Stephen Tobolowsky's Birthday Party that premiered at the HBO Comedy Festival in Aspen. He wrote True Stories with David Byrne and Beth Henley. He has written and performed his stories on the "The Tobolowsky Files" for Slashfilm.com and on iTunes.  They are also broadcast weekly on KUOW in Seattle and on WFPL in Louisville.
PRI (Public Radio International) is now producing broadcasts of his stories to air on stations across the country. His first book of stories, The Dangerous Animals Club, has been published by Simon and Schuster in September 2012.
Fun Fact: He performed with Stevie Ray Vaughn when Stevie was 14 and cut the first songs Stevie every performed.
Dan Harmon (PMC Podcast Ep 101 – click HERE):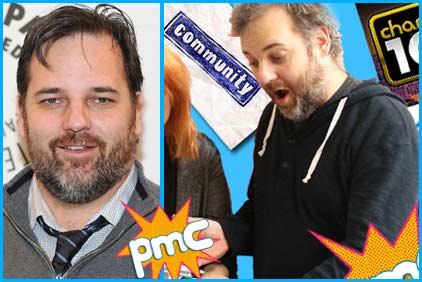 Dan Harmon served as creator/executive producer of the beloved NBC comedy series Community for seasons 1-3.
Harmon's pursuit of minimal work for maximum reward took him from stand-up to improv to sketch comedy, then finally to Los Angeles, where he began writing feature screenplays with fellow Milwaukeean Rob Schrab. Their first deal was with Robert Zemeckis at Imagemovers, for whom they wrote Monster House. They then wrote the Ben Stiller directed pilot Heat Vision and Jack, starring Jack Black and Owen Wilson.
Disillusioned by the legitimate industry, Harmon and Schrab retreated underground, during which time Harmon attended classes at nearby Glendale Community College. It was also during this time that Harmon and Schrab founded Channel 101, an untelevised non-profit audience-controlled network for undiscovered filmmakers, many of whom used it to launch mainstream careers, including the boys behind SNL's Digital Shorts. Harmon and Schrab then partnered with Sarah Silverman to create her series for Comedy Central, The Sarah Silverman Program. Harmon served as head writer for multiple episodes.
Harmon then created, wrote and performed in a sketch series for VH1 called Acceptable TV, but the series was short-lived. Then, as part of a blind deal with Sony and inspired by his experience as a community college student, Harmon pitched Community to various network executives and NBC picked up the show immediately. Community marked Harmon's first network series.
Harmon is working on the stop-motion animated film Anomalisa, scripted by Charlie Kaufman. The two raised the money to independently produce the film through Kickstarter. Harmon is returning to TV in 2013 with Adult Swim's animated series Rick & Morty.
Harmon is a native of Milwaukee, Wisc. He's 38; he has chronic heartburn and a cat with no teeth. Wish him luck on this new adventure in life.
Erin McGathy (PMC Podcast Ep 101 – click HERE):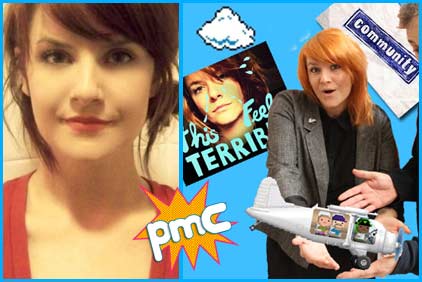 Erin McGathy is a comedian, writer and mediocre painter who has been performing at the Upright Citizen's Brigade Theatre Los Angeles since 2007. She is a proud member of the retired Harold team, Hey! Uncle Gary! and the current Maude Team Bonafide. Other UCB credits include The UCB Magical Magic Show!, Comedy Death Ray Sketch, F'ed Up and Illegal Videos, Sketch Cram, Regifted, The Attack! and many others.
Erin co-created and hosts "This Feels Terrible: The Love Show" with Megan Ganz in which brave comedians spill their most terrible relationship stories for UCB audiences. The live show became the hit podcast of the same name, available on iTunes and the Feral Audio Network. She loves kites, bugs, train sets and studying Gauguin's Tahitian period.
"Weird Al" Yankovic (PMC Podcast Ep 100 – click HERE):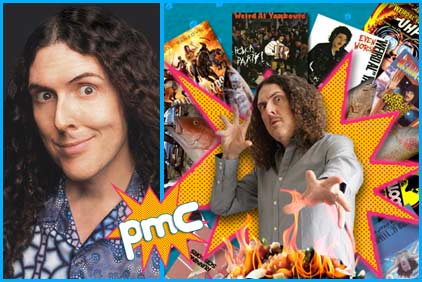 "Weird Al" Yankovic, the undisputed king of pop culture parody, has sold more comedy recordings than any other artist in history.  In a career spanning nearly three decades, he has amassed 28 Gold and Platinum albums, 7 Gold and Platinum-certified home videos and 3 Grammy Awards (with 12 nominations).
Few would have guessed that Yankovic, who as an awkward, accordion-playing teenager got his start sending in homemade tapes to the Dr. Demento Radio Show, would go on to enjoy a varied and successful career that is now entering its fourth decade. He's won countless awards and accolades for Weird Al classics like "Eat It," "Like a Surgeon," "Fat," "Smells Like Nirvana," "Amish Paradise" and "The Saga Begins." Yankovic is also well-known for his cult-hit feature film UHF (1989), his late '90s CBS Saturday morning series The Weird Al Show and the numerous AL-TV specials that he's made for MTV and VH1 over the years. He released his 13th full-length studio album "Alpocalypse" earlier this year, which includes the hit Lady Gaga send-up "Peform This Way." His previous album "Straight Outta Lynwood" (2006), the highest-charting of his career, spawned the Billboard Top 10 single "White & Nerdy," the video of which spent two months at #1 on iTunes and garnered over 100 million hits on the Internet.
Since then, Yankovic has performed 240 concerts throughout North America, Australia and Europe, including England's All Tomorrow's Parties Festival. He released his greatest hits package "The Essential "Weird Al" Yankovic" (Legacy), directed the themed attraction "Al's Brain: A 3-D Journey through the Human Brain" (featuring cameos by everybody from Fabio to Paul McCartney) and accumulated over 2 million followers on Twitter. And with the recent release of his children's book When I Grow Up (HarperCollins), Al now adds "New York Times Bestselling Author" to his resume. An app version of the book will be available for the iPhone and iPad soon.
An accomplished director, Al has helmed many of his own award-winning music videos as well as clips for Ben Folds, Jeff Foxworthy, The Jon Spencer Blues Explosion, Hanson and The Black Crowes.  His video for "Smells Like Nirvana," nominated for an MTV Video Music Award in 1992, was chosen by Rolling Stone as one of the "Top 100 Music Videos Of All Time."  Al also created the critically acclaimed title sequence for the Leslie Nielsen feature film Spy Hard. Al has been featured on numerous TV shows and specials, and his profile on VH-1's Behind the Music remains one of the most popular installments in the history of the series.  His "Biography" profile (2007) was the single highest-rated debut in the channel's history.
Visit him at www.weirdal.com and follow him on twitter @alyankovic
Deborah Ann Woll (PMC Podcast Ep 99 – click HERE):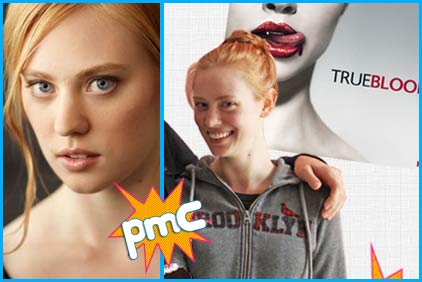 Deborah Ann Woll currently stars on the highly acclaimed HBO vampire drama True Blood (2008) as the young and fierce vampire girl, Jessica Hamby.  She's had roles in such films as Mother's Day (2010), Seven Days in Utopia (2011), Someday This Pain Will Be Useful to You (2011), Catch .44 (2011) opposite Bruce Willis and Forest Whitaker and Ruby Sparks (2012). TV roles include guests spots on Life, CSI, ER, My Name is Earl and The Mentalist. Deborah was born in 1985, in Brooklyn, New York, from Irish and German heritage.
She took acting, piano and dance classes. She went to high school in Packer Collegiate Institute and graduated from the BFA program at the USC School of Theatre at the University of Southern California – and she's an original card-carrying Mistie (Mystery Science Theater 3000 fan!) Follow her on Twitter: @deborah_annwoll
EJ Scott (PMC Podcast Ep 99 – click HERE):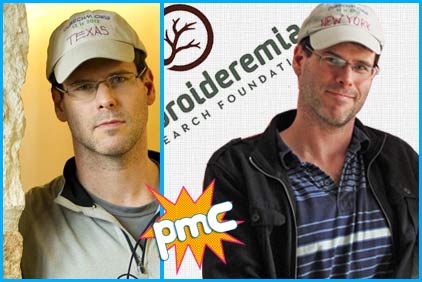 E.J. Scott lives his life by a simple mantra: "What if." What if he was able to run 12 marathons in 12 states in 12 months? What if he could raise $12,000 per race?
But there was a problem. When Scott, now 36, was 27 years old, he was diagnosed with a genetic disorder called choroideremia, a disease that would eventually make him completely blind. Doctors told him the long-term exposure to the sunlight during a race would further damage his eyes. His solution: What if he ran them all blindfolded?
An improv comic by trade, Scott used the LA comedy circuit for charity shows and raised $14,000 from people sponsoring his weight loss. He originally weighed about 267 pounds, but now comes in around 210. (That's around $200 per pound.) He began his 12 marathons at the start of 2012 – and will finish last one on December 2nd in Las Vegas, NV. A goal of $144,000, he's around $100,000 now – and needs your help to reach his fundraising aspirations and fund choroideremia research.
Visit him at ejscott.com and see what you can do to help – and follow him on Twitter @ejscott.
Retta (PMC Podcast Ep 98 – click HERE):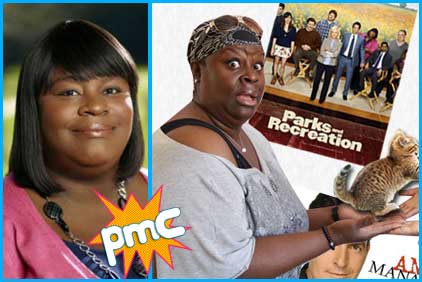 Retta stars as fun-loving office mate Donna Meagle on NBC's critically acclaimed comedy Parks and Recreation.
Retta, born Marietta Sirleaf to immigrant parents from Liberia (yes, she is related to Liberia's first female president Ellen Johnson-Sirleaf), grew up in New Jersey. An honor student with memberships in every academic club and student government group she could get her hands on, Retta was well on her way to becoming a cliché.
But upon graduating pre-med from Duke University with a degree in Sociology, Retta decided to take a year off before medical school and worked as a contract chemist for GlaxoSmithKline. While working on the drug Combivir, she decided drugs/medicine wasn't her calling. She wanted her own sitcom. Realizing there were several sitcom stars that started as comedians (Roseanne, Drew Carrey, Tim Allen, Brett Butler) she began doing stand-up at Charlie Goodnights in Raleigh NC. Having tasted some comedy success and coming to grips with the fact that there were no sitcoms to be had in North Carolina, she decided to move to LA.
Retta started performing at open mics all over the Los Angeles and eventually started showcasing for NACA (National Association for Campus Activities). She became a must-see act on the college circuit and soon was nominated for female comedian of the year by Campus Activities Magazine. She was Comedy Central's first winner of their Laugh Riots Stand-Up Competition, which led to an appearance on the New Faces Showcase at Montreal's "Just For Laughs" Comedy Festival. This performance led to a development deal with ABC/Disney. Retta was also featured in Essence Magazine's as one of 2005 Class Clowns alongside Sherri Shepherd, Niecy Nash and Tony Rock.
Retta's television appearances include It's Always Sunny In Philadelphia, Jimmy Kimmel Live, Freddie, Comics Unleashed, The Soup, Premium Blend and Comedy Central Presents . . . Retta. Her film credits include Fracture with Anthony Hopkins, First Sunday with Ice Cube and Katt Williams, Sex & Death 101 with Simon Baker, and Dickie Roberts: Former Child Star with David Spade.
Follow her on twitter: @unfoRETTAble
Matt Walsh (PMC Podcast Ep 97 – click HERE):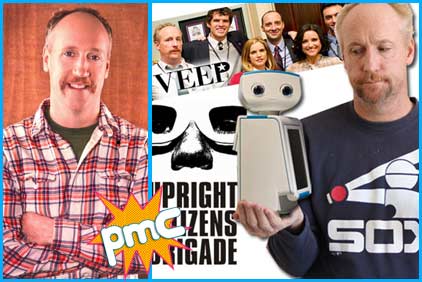 Matt Walsh is a founding member of the Upright Citizens Brigade where he continues to perform and teach today. Credits for Walsh include starring in Comedy Central's critically acclaimed Dog Bites Man, acting as a correspondent for The Daily Show with Jon Stewart from 2001-2002, and regular appearances in MTV's Human Giant. He has appeared in such movies as Semi-Pro, Old School, Bad Santa, Road Trip, and Elf. He also wrote and starred in the cult indie-comedy Martin & Orloff. More recently, Matt has appeared in The Hangover opposite Bradley Cooper, Ed Helms, and Zach Galifianakis for Warner Bros, David Wain's Role Models opposite Paul Rudd for Universal, Adam McKay's Step Brothers opposite Will Ferrel for Columbia, Cyrus opposite Marisa Tomei, John C. Reilly, and Jonah Hill, and Due Date with Robert Downey Jr., and Jamie Fox. Walsh consulted on the 2009  comedy Bruno starring Sacha Baron Cohen. Matt can next be seen recurring on HBO's Hung and recently on the NBC series Outsourced and guest starred on NBC's Community.
His directorial debut, which he also co-wrote is entitled High Road starring Abby Elliott, Rob Riggle, and Lizzy Caplan. His 1/2 hour comedy series Players premiered last year for Spike TV, which Matt created, executive produced, wrote, and starred in. He is currently shooting a series regular role in the HBO television series VEEP, opposite Julia Louis-Dreyfus. He will also soon appear in Queens of Country, opposite Lizzy Caplan and Ron Livingston and in TED, directed by Seth MacFarlane for Universal.
Layla Kayleigh (PMC Podcast Ep 96 – click HERE):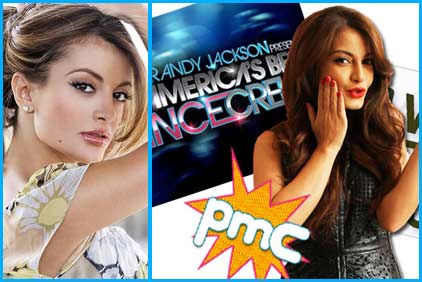 Layla Kayleigh is a presence, and that's precisely why she's such a magnetic and masterful TV host. Co-hosting Randy Jackson Presents America's Best Dance Crew with Mario Lopez, Layla magnanimously coaches contestants, while never missing a beat for a joke. She's stunning, sharp, smart and savvy. For Layla, hosting is more than simply standing in front of a camera; it's about creating a memorable experience for the viewer that can inspire as it entertains.
Growing up in London, Layla's been determined to host a TV show since she was a kid. "I always knew I wanted to be a host; there was never any doubt," she says. "I even used to make videos of myself doing fake interviews and fake radio shows!" However, it took a little inspiration from the most unexpected avenue. She set out for Los Angeles at 18 and instantly immersed herself in Hollywood culture. Layla's vibrant personality and unforgettable charm landed her a spot as an extra on Friends and opened up the door to modeling.
After a stint on Al Gore's Emmy-Winning Current TV, Layla became a correspondent on G4's massively popular Attack of the Show in 2006. Writing and producing her own segments, she soon became a favorite host on the channel. Her multi-dimensional talents and prominence on G4 led to segments on Fox Sports Best Damn Sports Show Period and The World Poker Tour. Her resume soon ensured she wouldn't have to steal letterhead anymore, and then MTV came calling.
Having grown up watching Daisy Fuentes and Down Town Julie Brown on MTV, one call from the channel brought everything full circle for Layla. After meeting with an executive two years prior, MTV hired Layla to co-host Randy Jackson Presents America's Best Dance Crew in 2008.
Follow her on twitter: @laylakayleigh
Jim O'Heir (PMC Podcast Ep 95 – click HERE):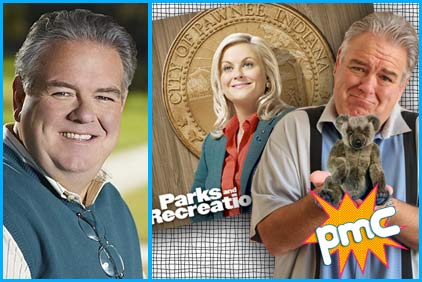 Jim O'Heir stars as Associate Director Jerry Gergich in NBC's critically acclaimed comedy Parks and Recreation.
 A Chicago native, O'Heir has worked successfully in every medium as a well-known character actor. His ability to move easily between drama and comedy in role after role is a testament to his skill and adeptness.
Upon moving to Los Angeles in the late 90's, he got rave reviews on stage in the cult classic Stumpy's Gang which garnered him a Dramalogue Best Actor Award.
With his love for theater, he always made sure he continued his passion while on camera as well. But his work in TV and film kept him busy, as he's worked in over 60 different series, movies of the week and feature films.  Having been cast in numerous pilots, he also worked as a regular character on two Comedy Central series, Strip Mall & Knee High P.I.  Other memorable portrayals were in Raising the Bar, Boston Legal, Without a Trace, Cold Case, and Friends. O'Heir has been involved in many animal charities and believes animals should be adopted from rescue organizations. Follow him on Twitter: @jimoheir
Ryan O'Nan (PMC Podcast Ep 94 – click HERE):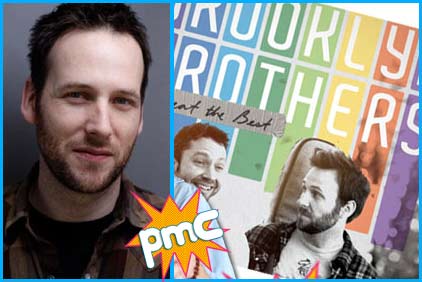 Ryan O'Nan is an award-winning actor, screenwriter and playwright with a diverse array of credits.  Brooklyn Brothers Beat The Best is his feature film directorial debut; he also wrote the film and stars as Alex.
As an actor, O'Nan recently finished filming a lead role in the 2012 release Freelancers, opposite Robert De Niro, Forest Whitaker, Dana Delaney and 50 Cent, and 513, opposite Taryn Manning, Tom Sizemore and Michael Madsen. Other notable film credits include the lead role in The Dry Land (Official Sundance Film Festival 2010 Selection) starring America Ferrera, Melissa Leo, Jason Ritter and Wilmer Valdarrama, You've Got Male, which won him the award for Best Actor at the Asian American Film Festival, as well as Eat Pray Love, starring Julia Roberts and Watching TV with the Red Chinese, based on the critically acclaimed novel, starring Gillian Jacobs and Leo Nam.  His television work includes ABC's The Unusuals opposite Jeremy Renner, Adam Goldberg and Amber Tamblyn.
O'Nan spent the last year as a writer on the MTV hit series Skins, based off the award-winning UK series.  His feature screenplay Chu and Blossom took the Grand Prize for Best Feature at The Expo Screenwriting Conference. His comedic play Animals, which premiered at the 2007 International New York Fringe Festival, has been produced on both coasts, and his latest play Under a Full Pink Moon: Chronicles of a Gay Werewolf, has received a public reading at The Atlantic Theater Company in New York.  Other produced works written by O'Nan include: I Love You More Than Brains: A Zombie Musical (book/lyrics/music) at the George Street Playhouse, and 1984 and the Little Prince at the 2011 Humana Festival.
In addition to writing and directing theater, O'Nan has appeared on stage in New York, where he starred as Konstantin in Chekhov's The Seagull, alongside Dianne Wiest, Alan Cumming, Annette O'Toole and Kelli Garner.  Born and raised in San Diego, California, O'Nan now resides in New York.
Michael Weston (PMC Podcast Ep 94 – click HERE):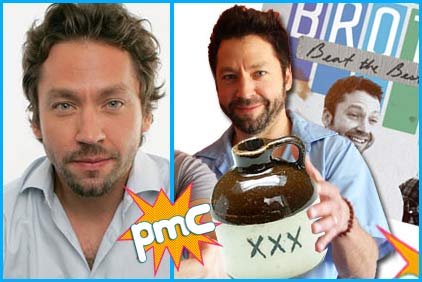 Michael Weston garnered much recognition for his pivotal role as "Jake" in HBO's acclaimed series, Six Feet Under and also for his recurring role on the Fox's House, opposite Hugh Laurie. Among his several film credits are The Last Kiss, in which he starred opposite Zach Braff, State of Play for director Kevin McDonald, Garden State directed by Zach Braff, Dukes of Hazzard and Hart's War. He recently completed production on Love, Wedding, Marriage directed by Dermot Mulroney, Brooklyn Brothers Beat the Best, directed by Ryan O' Nan, Right Angle directed by Michael Uppendahl and Liberal Arts directed by Josh Radnor.  He is currently in production on the independent feature, Gus for director Jessic McCormack and starring Radha Mitchell and Michelle Monaghan.
Weston's other television credits include The Good Guys, Psych, Burn Notice and Saved, and recurring roles on the hit shows Scrubs and Law and Order:SVU.
Weston's theatre credits include Extinction (off-broadway), Snakebit (off-broadway), The Grapes of Wrath (LA Theatre Works), Kenny Lonnergan's The Waverly Gallery (Pasadena Playhouse), and several plays at the Williamstown theater festival.
Born and raised in New York City, Weston is a graduate of Northwestern University.
Cree Summer (PMC Podcast Ep 93 – click HERE):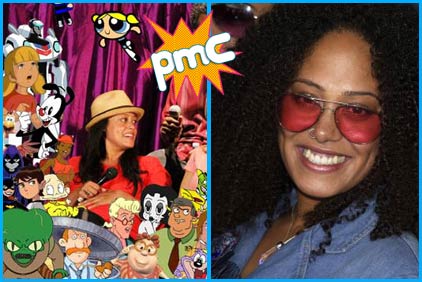 Cree Summer is a Canadian American actress, musician and voice actress. She is perhaps best known for her role as college student Winifred "Freddie" Brooks on the NBC sitcom A Different World. As a voice actress, Summer is best known for voicing Susie Carmichael on Rugrats, and All Grown Up, Elmyra Duff on Tiny Toon Adventures, Princess Kida in Atlantis: The Lost Empire, Valerie Gray in Danny Phantom, Foxxy Love in Drawn Together, and Numbuh 5 in Codename: Kids Next Door.
Summer's career began in 1983 when she was cast as the voice of niece Penny on the original cartoon version of Inspector Gadget. Her unique, throaty voice was instantly recognizable to casting agents (as well as viewers even today), who began frequently casting her in animated programs. Many of these were part of cult franchises, like The Care Bears Movie (1985) and Ewoks (1985, part of the Star Wars franchise).
Audiences finally had a chance to put Summer's voice to a face when she was cast as Winifred "Freddie" Brooks in The Cosby Show spin-off A Different World. She remained a regular cast member of the show from 1988 through its end in 1993.
In all, Summer has voiced over 100 animated characters, many of them African-American girls. These have spanned the realm of video games, cartoon television series, animated films and commercials. Other voice work includes Mary Melody, Aka Pella in Histeria!, Dulcy the dragon in Sonic the Hedgehog,  Cree Lincoln in Codename: Kids Next Door, Penelope in Barbie As Rapunzel, Miranda from As Told by Ginger, Tiff on My Life as a Teenage Robot, octogenerian villain Granny May on WordGirl and Blackarachnia in Transformers Animated (2008).
Summer is a frequent co-star of Canadian-American actress Tara Strong: the two are childhood friends, both having grown up in Toronto, Ontario.
Follow her on twitter: @iamcreesummer
Maurice LaMarche (PMC Podcast Ep 93 – click HERE):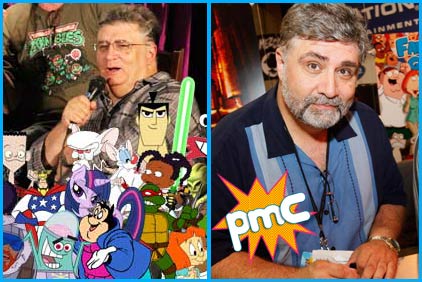 Maurice LaMarche is an Emmy Award winning Canadian voice actor and former stand up comedian. He is best known for his voicework in Futurama as Kif Kroker, as Egon Spengler in The Real Ghostbusters, Verminous Skumm and Duke Nukem in Captain Planet and the Planeteers, Big Bob Pataki in Hey Arnold!, Dizzy Devil in Tiny Toons, The Brain in Animaniacs and Pinky and The Brain, and his portrayal of Mr. Freeze in Batman: Arkham City.
His extensive resumes also includes voice work on The Critic, GI Joe, Freakazoid!, The Tick, Taz-Mania, Talespin, The Littler Mermaid, King of the Hill, Sonic Underground, Disney's House of Mouse, Mickey Mouse Works, and Inspector Gadget. He also dubbed the voice of Orson Welles over Vincent D'Onofrio's on-camera performance in Ed Wood. Follow him on twitter: @mauricelamarche.
Tara Strong (PMC Podcast Ep 93 – click HERE):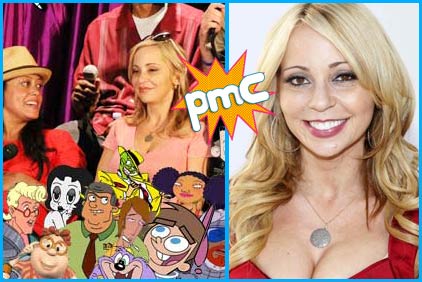 At age thirteen, she landed the title role in Hello Kitty's Furry Tale Theater and starred in the short-lived CBC Television sitcom Mosquito Lake. Strong is the voice behind a multitude of North American animated characters, including main roles in The Fairly OddParents as Timmy Turner and Poof; The New Batman Adventures as Batgirl; Fillmore! as Ingrid Third; Rugrats and All Grown Up! as Dil Pickles; The Powerpuff Girls as Bubbles; Ben 10 as Ben Tennyson, Upgrade, Benwolf, and Buzzshock; Xiaolin Showdown as Omi; Teen Titans as Raven; Drawn Together as Princess Clara and Toot Braunstein; The Adventures of Super Mario Bros. 3 and Super Mario World as Hip/Lemmy and Hop/Iggy Koopa; Foster's Home for Imaginary Friends as Terrence; Transformers Animated as Sari Sumdac, Slipstream, Slo-Mo, Strika, Red Alert, Mayor Edsel's press secretary, and additional voices; Sym-Bionic Titan as Ilana Lunas; Chowder as Truffles; the singing voice of Meg Griffin and additional voices on Family Guy; 101 Dalmatians: The Series as Spot/Two-Tone; My Little Pony: Friendship Is Magic as Twilight Sparkle; and currently voices Betty Boop in commercials with Tress MacNeille.
She has also lent her voice to English-language localizations of Japanese anime such as Spirited Away and Princess Mononoke, as well as several video games, including her work as Elisa and Ursula in Metal Gear Solid: Portable Ops; Paz Ortega Andrade in Metal Gear Solid: Peace Walker; Seth Balmore in Lost Odyssey; Rikku in Final Fantasy X, its sequel Final Fantasy X-2, and Kingdom Hearts II; Norma Beatty in Tales of Legendia; Talwyn Apogee in Ratchet & Clank Future: Tools of Destruction and its sequel, Ratchet & Clank Future: Quest for Booty (both of which reunite her with her Final Fantasy X and Drawn Together co-star James Arnold Taylor) and Harley Quinn in Batman: Arkham City. In June 2012, she voiced the main character "Juliet Starling" of Lollipop Chainsaw.
Follow her on twitter: @tarastrong
Arden Myrin (PMC Podcast Ep 92 – click HERE):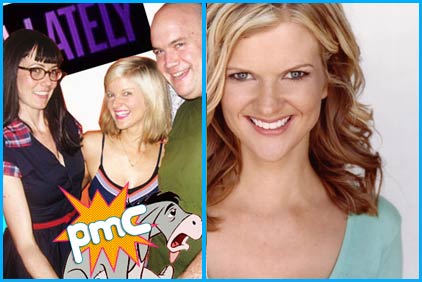 Comedian and actress Arden Myrin has made over 70 appearances on Chelsea Lately and was a cast member on MadTV for four years.  The Boston Globe said of her "Arden mostly reminds us of Amy Poehler…but funnier."   She now wants to marry The Boston Globe.  Arden's acting credits Hung, Suburgatory, Reno 911, Party Down, Delocated, Friends, Gilmore Girls, Hot In Cleveland, Morning Glory, Kinsey, The Lucky Ones, Deconstructing Harry, Bubble Boy, and the upcoming movie The Bachelorette produced by Will Ferrell. Arden recently sold a pilot to MTV called The Bottomfeeders that she will co-write, executive produce and star.
Arden's television appearances as a guest and a comedy panelist include Chelsea Lately, Late Night With Conan O'Brian, The Howard Stern Show, Loveline, RuPaul Drag Race, Good Day LA (where Ryan Seacrest called in and said he "Couldn't get anything done because she was the funniest thing he had ever seen.") Good Day NY, Good Day Chicago, Good Day Boston, Redeye, It's On with Alexa Chung, The Nate Berkus Show, and the upcoming FOX show Tonightly with Kevin Smith.  She was also on the FOX show That's So Hollywood for which she was nominated for an Emmy.
Arden has performed comedy all over the country as both a stand-up and an improviser.  She hosts a monthly show at Union Hall in Brooklyn, NY called The Party Machine that has featured such performers as Zach Galifianakis, Louis CK and Jason Sudeikis.  She studied improvisation with improv Guru Del Close and Charna Halpern in Chicago at ImporvOlympic, and at UCB and the Groundlings in Los Angeles, and regularly still performs at UCB and IOWest.
Arden grew up in Little Compton, Rhode Island.  Unlike the cooler Compton there were no gang members, only pink men in pink pants, a general store and an illiterate chief of police.   Arden attended Colorado College where she was voted Valedictorian by her classmates.  Most of them were probably stoned when they voted.
Currently, Arden lives in New York City and on JetBlue planes to Los Angeles where she is an actress, writer, and stand-up comedian.  Mostly, Arden is just a very, very, very silly girl.
April Richardson (PMC Podcast Ep 92 – click HERE):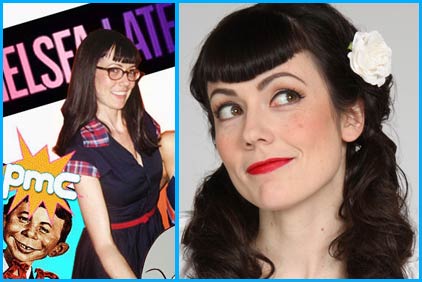 Hey! I'm April Richardson — I grew up in Atlanta, Georgia, and now reside in Los Angeles. I really, really enjoy performing stand-up comedy and have done so at places like Comedy Death-Ray, Portland's Bridgetown Comedy Festival, Seattle's Bumbershoot Music & Arts Festival, and more fancy names that may (or may not?) impress you. (I also made Glenn Danzig laugh once — true story — so I'M LEGIT.)
I've written things for MTV and been published in various magazines and books (remember those?), so that's pretty cool, right? I spend my days working on E!'s hit show Chelsea Lately, and my nights watching Food Network.
Guy Branum (PMC Podcast Ep 92 – click HERE):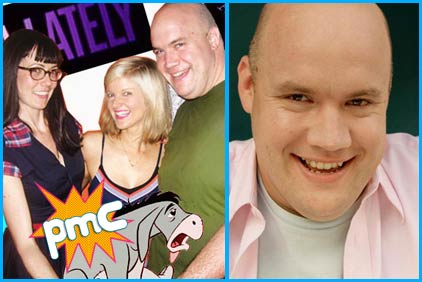 Guy Branum is a writer and comedian best known for serving as "Staff Homosexual" on Chelsea Lately and his performance as Natalie Portman's sassy gay friend in No Strings Attached. Noticing a trend? He's appeared on E!, MTV, G4, CurrentTV and lots of other channels you'd need to upgrade your cable to watch.
He's also a writer for the new season of Punk'd on MTV and Fashion Police on E!. That means he's watched the Grammys at Joan Rivers's house. Jealous? Guy also writes for the "Gay Voices" section of The Huffington Post and occasionally makes web videos where he dances around without his shirt on. But mostly, Guy is very, very beautiful and good at having sex.
Iain Morris (PMC Podcast Ep 91 – click HERE):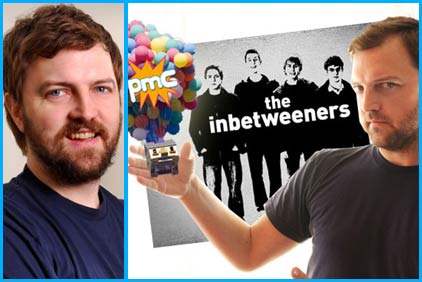 English writer and producer Iain Morris is best known as the co-creator and co-writer of the smash UK series The InBetweeners, and its big screen counterpart The InBetweeners Movie, which owns the distinction of being the most successful comedy of all time at the British box office. He's also written for The Flight of the Conchords, and Swinging, and served as executive producer on The Persuasionists, Free Agents and Meet Ricky Gervais.
He was also the long-time host of a show on the London radio station XFM along with comedian Jimmy Carr. He is currently executive producing the American MTV series remake of The InBetweeners.
Jesse Thorn (PMC Podcast Ep 90 – click HERE):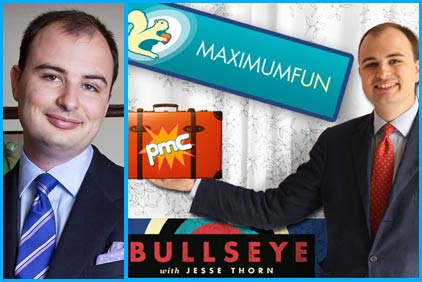 Jesse Thorn is the host and producer of Bullseye and Jordan, Jesse, Go!, and the co-host and producer of Judge John Hodgman. He's also the proprietor of MaximumFun.org.
He founded The Sound of Young America in 2000, while a student at the University of California at Santa Cruz. In 2007, the show began to be distributed by Public Radio International, making Jesse the youngest national host in public radio history. The show became Bullseye in 2012. In addition to his work at MaximumFun.org, he hosts and helps produce Put This On, a video series and blog about men's style. He also hosted The Grid, a culture recommendation program on IFC.
A native of San Francisco's Mission District, Jesse lives in Los Angeles with his wife, son Simon and two dogs.
Lake Bell (PMC Podcast Ep 89 – click HERE):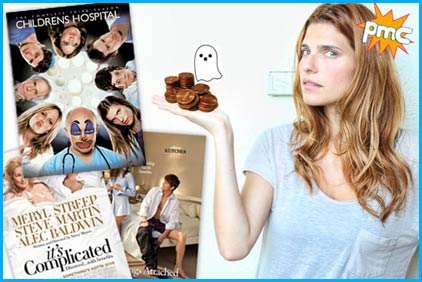 Gorgeous, witty, and a woman with impeccable comedic timing, Lake Bell is a talented actress, writer, and director.
Bell has been busy writing, producing, directing and starring in her film, In A World…, a father-daughter competition comedy about a two-bit vocal coach, Carol Solomon, who gets pitted against her father, the patriarch of the voice over industry. Bell was also recently seen at this year's Sundance Film Festival in the film Black Rock, directed by Katie Aselton. At the 2011 Sundance Film Festival, Bell was proud to have her first short film accepted. She wrote and directed the film, Worst Enemy, which is a comedy about a female misanthrope (Michaela Watkins) who gets herself stuck in a full body girdle. It also played at the 2011 Nantucket Film Festival and she was awarded The Showtime Tony Cox Award for Screenwriting in a Short Film.
She also starred in A Good Old Fashioned Orgy, which made its debut at the 2011 Tribeca Film Festival. The plot centers around a group of 30-year-olds who have been friends since high school who attempt to throw an end-of-summer orgy. She stars opposite Jason Sudeikis, Will Forte, Nick Kroll and Tyler Labine. Prior to that, she starred in Paramount's hit comedy No Strings Attached, opposite Natalie Portman, Ashton Kutcher, and Kevin Kline.
For the small screen, Bell recently wrapped production on the fourth season of the critically acclaimed Adult Swim series Children's Hospital, created by Rob Corddry, which will air this fall. She also recently starred in season 2 of HBO's How to Make It in America opposite Bryan Greenberg and Victor Rasuk.
Bell is The Hollywood Reporter's Automotive Contributing Editor where she pens her "Test Drive" column, which covers the glamorous wheels and auto-trends of Hollywood. She has reviewed the Maserati Gran Turismo, the Porsche Panerma 4S, the Jaguar XXR Coupe, the Cadillac CTS-V Coupe, Fiat 500, Porsche 911S, and the Lamborghini Gallardo LP 550-2 Spyder.
Past film credits include Nancy Meyer's It's Complicated,  starring opposite Meryl Streep, Alec Baldwin and Steve Martin, What Happens in Vegas opposite Cameron Diaz and Ashton Kutcher, Pride and Glory opposite Colin Farrell, Over Her Dead Body opposite Paul Rudd, Christopher Landon's Burning Palms with Zoe Saldana, Little Murder opposite Terrence Howard and Josh Lucas, and the independent film Under Still Waters, for which she received the Newport Beach Film Festival award for "Outstanding Performance in Acting."
Past television credits include NBC's Surface, ABC's critically acclaimed drama Boston Legal opposite James Spader and William Shatner, and NBC's Miss Match opposite Alicia Silverstone. Additionally, Bell starred opposite Jeff Goldblum in the NBC telefilm War Stories which followed journalists covering the civil war in Uzbekistan in the wake of the U.S. campaign in Afghanistan.
Bell completed her four years of drama conservatory training in London at The Rose Bruford College of Speech and Drama. She also received certification from the British Academy of Dramatic Combat for sword, dagger, and rapier. Her conservatory theatre credits include The Seagull, Six Degrees of Separation, The Children's Hour and The Pentecost.
Bell was born in New York City and currently splits her time between New York and Los Angeles.
Ian Edwards (PMC Podcast Ep 88 – click HERE):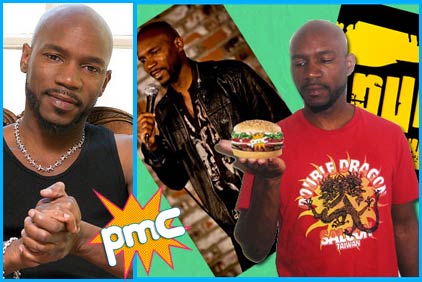 Ian Edwards was born in England and raised in Jamaica. His family moved to NY when he was 17.  The United States is a great place to live, but not when you have a third world accent and are friendless.  While he was literally slanging burgers at Burger King in East Meadow, Long Island, he turned to see his co-workers laughing.  Another employee Greg Ellis had them on the floor in stitches.  Everyone loved Greg, because he was funny, and when you worked with him, he made an 8-hour shift fly by.  That's when it hit Ian.  He needed to tap into his funny side. In England and Jamaica he was a funny kid, but somehow he'd forgotten that part of him. From then on he became the second funniest person at Burger King.  He even made the prince, Greg laugh. One day a customer whose order he'd taken at the drive thru, told him he was funny, and should try stand up. He was 21, and needed to do something with his life.  Ian went down to Governors Comedy Club and bombed his ass off. He put on a clinic of, what not to do. Only one joke worked, because he managed to say it right. So Ian figured, once he controlled his nerves, he'd be all right.
Since then, Ian has obtained some of the most prestigious credits such as SNL (writer), MTV's hit show Punk'd (regular cast member) and HBO's Def Comedy Jam (performer).  Most recently, Ian was a writer on Fox's In The Flow (sketch comedy show Executive Produced by Jamie Foxx) and wrote on the 2011 BET Awards.  He also performed on both Conan and Lopez Tonight in 2011, and is slated to appear as a performer on Comedy Central's Russell Simmons Presents the Ruckus in 2012.
Ian has also been invited and is set to perform at The Vancouver Comedy Festival in 2012, and in years past has performed at Montreal and Chicago Just for Laughs Comedy Festival, Edinburgh Fringe Festival, HBO's Comedy and Arts Festival in Aspen and Bridgetown's Comedy Festival.  In previous years, Ian was a writer on MTV's The Lyricist Lounge, Comedy Central's Chocolate News, ABC's My Wife and Kids, ESPN's Mohr Sports and The Cartoon Network's The Boondocks.  In addition, Ian has performed on Comedy Central's Live at Gotham, HBO's Bad Boys of Comedy, Showtime's Live Nude Comedy and The BBC's The World Stands Up.
Website: www.ianedwardscomedian.com
Twitter:@ianedwardscomic
Barry Bostwick (PMC Podcast Ep 87 – click HERE):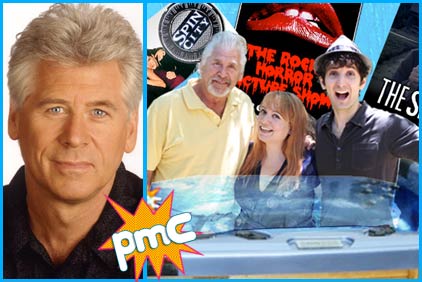 From his portrayal of the quintessential all American Brad Majors in The Rocky Horror Picture Show to the hilarious Mayor Randall Winston on ABC's Spin City, Barry Bostwick has had quite a career spanning all genres and mediums of show business.
Barry has had starring roles in many highly acclaimed television film and miniseries. He portrayed George Washington in the two part Peabody award winning CBS miniseries epic George Washington and won a Golden Globe for his performance as Lieutenant "Lady" Aster in ABC's thirty-hour presentation of War and Remembrance. He also starred in Moviola, Deceptions, A Woman of Substance, Murder by Natural Causes, Betrayed by Innocence, The Chadwicks, You Can't Take it With You, Once Upon a Family, Red Flag, Uncommon Love, Body of Evidence, Addicted to Love, Parent Trap III, Hawaiian Holiday, The Great Air Race, Captive, Challenger, three adaptations of Judith Krantz novels: I'll Take Manhattan, Scruples, and 'Til We Meet Again, as well as Danielle Steele's miniseries Once in a Lifetime.  He starred in the ABC series Foul Play, and Dads, the Lifetime Special Santa and Me and the science fiction thriller Tales from a Parallel Universe for The Movie Channel. Aside from George Washington, he also played another President in Men in White, National Lampoon's spoof of Men in Black for the Fox Family Channel.
Additionally, Barry has appeared in several television musical specials for PBS including Broadway Plays Washington, The Best of Broadway, In Performance at the White House, Irving Berlin's 100th Birthday Celebration at Carnegie Hall, and an adaptation of the Broadway hit Working.  He has hosted the Great American History Quiz on the History Channel and he hosted the Disney California Adventure Special, which celebrated the opening of Disney's newest theme park. He also hosted the NBC television special celebrating the grand re-opening of Radio City Music Hall.  He has hosted A Capital Fourth, the PBS Fourth of July Special, live from the steps of the U.S. Capital six years in a row, in addition to hosting Saturday Night Live and dancing and singing with Carol Burnett in her special Men, Movies and Carol on CBS.  Barry also is a reader for audio books.
Barry made his professional stage debut when he was a sophomore at San Diego's    U.S.I.U. School of Performing Arts in the summer stock production of Take Her, She's Mine, with Walter Pidgeon.  He attended NYU's Graduate School of the Arts and made his Broadway debut soon thereafter with the APA Phoenix Repertory Company in the title role in Sean O'Casey's Cock-a-Doodle-Dandy. He was in the American premiere of Jean Genet's The Screens. His first Tony nomination was for his characterization of  "Danny Zuko" in Grease. his second nomination was for his portrayal of "Joey" in They Knew What They Wanted for the Phoenix Theater. Barry won the coveted Tony for "Best Actor in a Musical" for his portrayal of The Robber Bridegroom, a role he originally created at the Mark Taper Forum in Los Angeles.  He performed in the all-star revival of She Loves Me at Town Hall and appeared at Lincoln Center in the New York City Opera Production of L'Histoire du Soldat. He was the "Pirate King" in the Joseph Papp productions of The Pirates of Penzance in Los Angeles and Toronto.  In 1991, he returned to Broadway to star in Nick and Nora.
Barry's recent film credits include the upcoming, Finding Joy, FDR: American Badass, Home Run Showdown, The Selling, Some Guy Who Kills People, and Moby Dick: 2010. He has also recently appeared in Bedrooms, Miss Nobody, Destiny's Stand and Hannah Montana: The Movie with Miley Cyrus. His other film credits include Evening with Meryl Streep, Nancy Drew, Skulls III for Universal, the independent feature Swing, Disney's animated 101 Dalmatians Part 2, Chestnut-Hero of Central Park, Weekend at Bernie's 2, Stanley Donen's Movie, Movie, Spy Hard with Leslie Nielson, 800 Leagues Down the Amazon, and, of course, The Rocky Horror Picture Show. In the television world, Barry has recently recurred on several hit television series including Cougar Town and Ugly Betty, and has guest starred on Supernatural, Ghost Whisperer, and Glee.
Gabriel Diani & Etta Devine (PMC Podcast Ep 87 – click HERE):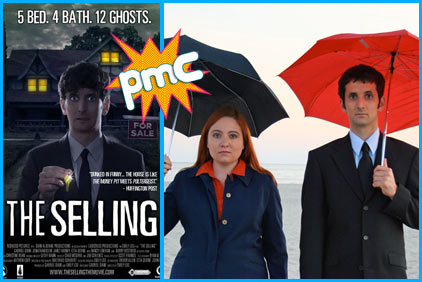 Diani & Devine (Gabriel Diani & Etta Devine) are an award-winning comedy duo who are often compared with classic comedy teams like Nichols and May and Burns and Allen. Admiring the groundbreaking comedians of the 50′s and 60′s like Nichols and May, Bill Cosby, and Bob Newhart, they set out to create an act that was smart, funny, and (relatively) clean. They performed at comedy festivals all over the country before refocusing their energy on creating film and internet content such as their feature film The Selling which premiered at the San Francisco International Film Festival and is launching on DVD/VOD later this year, their $30k+ fundraising campaign on Kickstarter to replace the "n-word" with "robot" in Mark Twain's Adventures of Huckleberry Finn (satirically, of course), and their web series Mary Olson which has over 1.3 million hits on Youtube.
They are currently recording an audio book version of Adventures of Huckleberry Finn [Robotic Edition], prepping a second season of Mary Olson, and developing several feature film screenplays.
Kathleen Rose Perkins (PMC Podcast Ep 85 – click HERE):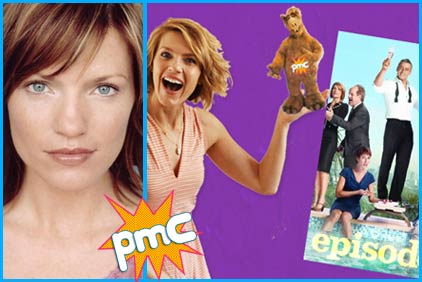 Kathleen Rose Perkins stars as network yes-woman Carol Rance on Showtime's fab series Episodes. She grew up in New Baltimore, Michigan, a small town just outside of Detroit. The sister of four older brothers, she enjoyed her alone time making up plays and putting them on for people in the neighborhood. This inevitably led to a high school career in which she was very involved with the school's drama and choir program. Kathleen attended Western Michigan University, and in just over three years she acquired a BFA in Musical Theatre. After traveling parts of the Midwest performing in various regional theatres, Kathleen made her way to Los Angeles. She spent a few years in odd jobs and acting classes, then started working with a management company she could trust.
Since then, Kathleen has worked solely as an actress in film and television. She's collaborated with such performers as Chris O'Donnell, Courteney Cox, Christina Applegate, as well as many other fine actors. Credits include Miss Duffy on 'Til Death, Amy on Trust Me, and roles on Without a Trace, How I Met Your Mother, Suzanne's Diary for Nicholas,  HBO's Tell Me You Love Me and Michael Bay's The Island. She plays a Vegas hooker in Diablo Cody's still-untitled new film, set for release in early 2013. She has also devoted time to projects personally important to her, such as an award-winning short film she wrote and starred in, a documentary about her family, and a black belt in tae kwon do. Follow her on twitter @kroseperkins.
Jake Fogelnest (PMC Podcast Ep 84 – click HERE):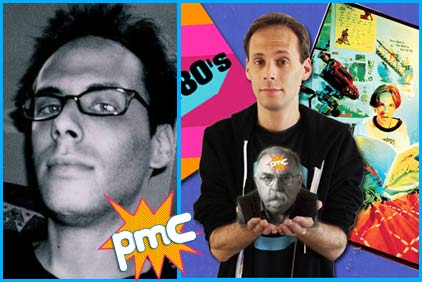 Jake Fogelnest is a comedian, producer, writer and director, who started a television show, Squirt TV, from his New York City bedroom when he was 14 years old. Squirt TV made its debut in January 1994 on Manhattan Public Access Cable Television. The show, which Fogelnest wrote, produced, and directed, featured his opinions on music, film and television. The one-man show quickly became a cult success in Manhattan, attracting with its quirky style, sense of humor and edgy commentary a base of night owls, including Beastie Boys, Janeane Garofalo, and Eric Bogosian.
It soon moved from public-access television to MTV (a trajectory that echoed the movie Wayne's World,  released in 1992). Still recorded from Fogelnest's bedroom, the show featured more celebrity guests, including Adam Sandler, Beck, and The Kids in the Hall–some of whom had appeared on Squirt TV in its original public-access television incarnation.
Fogelnest is a regular commentator on VH1's I Love the… series. Other television credits include a special for Comedy Central, MTV's 12 Angry Viewers, Upright Citizens Brigade and guest appearances on The Jon Stewart Show, Howard Stern and Red Eye with Greg Grutfield.  In 2005, Fogelnest created Ten Years Later for MTV, a fictional documentary which followed Jake's life if he "never grew out of 'Squirt TV.'"
Fogelnest had a cameo in the film Wet Hot American Summer and is interviewed in Gigantic: A Tale Of Two Johns, a documentary on the band They Might Be Giants. He also appears as himself in the Amy Heckerling film Vamps.
In 2004, he won a New York City A.I.R. Award for hosting the "Top 92 Worst Xmas Songs of All-Time" on the former WXRK, where he worked as a DJ before the station changed formats and became WFNY-FM. He formerly hosted a radio show with Jackie Clarke called Jake and Jackie on WFNY-FM in New York (92.3 Free FM, formerly known as WXRK K-Rock). The show was a combination of pop culture discussion and radio sketch comedy. The show also featured many frequent guests, including Penn Jillette, Michael Musto, Tom Scharpling,  Fred Armisen, Horatio Sanz, Rob Huebel, Chuck Nice, John Gemberling, Curtis Gwinn, Andy Rocco, Jawnee Conroy, Bobby Moynihan, James Eason, and Paul Scheer (the show's Hollywood correspondent).
Currently, he has a show on Sirius XM's College rock/Indie rock channel, Sirius XMU, every day from 6 am to noon ET. He can also be heard from Noon to 6 pm on Sirius XM Alt Nation. Fogelnest also does live webcasts on Stickam. Follow him on twitter @jakefogelnest and on his website, jakefogelnest.com.
Elizabeth Laime (PMC Podcast Ep 83 – click HERE):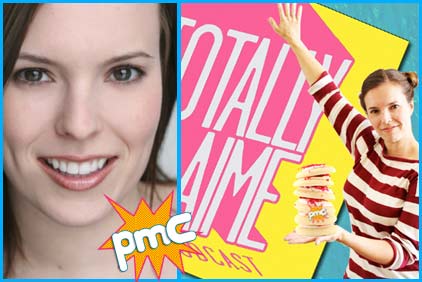 Elizabeth Laime is a comedy writer and performer living in Los Angeles. She's the host of the popular podcast Totally Laime, which was the winner of the first-ever reality podcast competition on Earwolf. Her funny stuff has been seen on stage (The Comedy Store, The Laugh Factory, The Groundlings, The National Comedy Theatre, and the Upright Citizens Brigade Theatre,) on the tele (Saturday Night Live,) and in Independent Films (Bachelor Man and Apple Pie.) She was a proud member of an original UCB sketch Maude team, "Gunderson!" and had a superfun run of her one woman show, "Dear Diary," a Time Out New York's critic's pick, at UCB in New York and LA. Her comical story of a failed athletic endeavor, "Swim Team 1996" was recently published in the hilarious book, "Rejected," edited by UCB's Jon Friedman.
If none of this impresses you, this should do the trick: she narrated the 1998 VHS unauthorized documentary of Leonardo DiCaprio, Hangin' With Leo, which can now be bought on EBay for about two bucks. It's amazing that she is still so down to earth! In her free time she enjoys playing with her dog, Ruby, and attempting to be an uber cool Silver Lake hipster but fails miserably because everything about her screams wholesome Midwesterner and she should just accept it.
Joe Dante (PMC Podcast Ep 82 – click HERE):
Joe Dante began his filmmaking career with an apprenticeship in 1974 as a trailer editor for Roger Corman's New World Pictures. He made his directorial debut in 1976 with Hollywood Boulevard (co-directed with Allan Arkush), a thinly disguised spoof of New World exploitation pictures, shot in ten days for $60,000. In 1977 Dante made his solo debut as a film director with Piranha, which went on to become one of the company's biggest hits and was distributed throughout the rest of the world by United Artists. During his tenure at New World, Dante edited Ron Howard's directorial debut Grand Theft Auto and co-wrote the original story for Rock n Roll High School. For Avco-Embassy Dante next directed the highly praised werewolf thriller The Howling (1981), followed by the It's a Good Life segment of the episodic Twilight Zone: The Movie (1983).
Having worked with Steven Spielberg on Twilight Zone, Dante was chosen to helm one of the first Amblin Productions for Warner Bros. Gremlins (1984) became a runaway hit and grossed more than $200 million worldwide. Dante followed up with Explorers for Paramount, a sci-fi fantasy about three kids who build their own spaceship, and then Innerspace (1987) for Guber/Peters, Amblin and Warner Bros., an action comedy in which miniaturized test pilot Dennis Quaid is injected into the body of supermarket clerk Martin Short. Tom Hanks starred in Dante's next film for Imagine/Universal, The 'Burbs (1989), which was followed by Gremlins 2: The New Batch for Warner Bros. in 1990. Matinee featuring John Goodman as a huckster showman premiering his new horror film during the Cuban Missile Crisis, was a production of Dante and partner Mike Finnell's Renfield Productions for Universal in 1993. Dreamworks/Universal's Small Soldiers was released in 1998, followed in 2003 by Warner Bros. Looney Tunes: Back in Action featuring one of Dante's favorite actors, Bugs Bunny. Dante's Homecoming, an episode of Showtime's Masters of Horror series, debuted in December 2005 to rave reviews from critics and audiences alike and was named to numerous "Top 10" critics lists. The Sitges and Brussels International Film Festivals both honored Homecoming with Special Jury Recognition Awards, and the New Yorker called it the best political film of 2005. More recent work includes The Screwfly Solution, also an episode of Masters of Horror, and the Halloween 2007 episode of CSI: New York. His new 3D thriller, The Hole, for Bold Films recently premiered at the Venice Film Festival where it garnered the first-ever award for Best 3D Feature. Dante also produces the critically-acclaimed webisode/mobile phone series, Trailers from Hell. Along the way Dante contributed several comedy segments to the multi-part Amazon Women on the Moon (1987) spoof produced by John Landis, and directed various episodes of the tv series Amazing Stories, Twilight Zone, Police Squad!, Night Visions and Picture Windows. He also directed the network pilots for Caleb Carr's The Osiris Chronicles (1995) and the NBC series Eerie, Indiana, on which he was creative consultant throughout its run. Dante received Cable Ace nominations for his direction of Showtime's Runaway Daughters (1994) and HBO's The Second Civil War (1997).
Mary Lynn Rajskub (PMC Podcast Ep 81 – click HERE):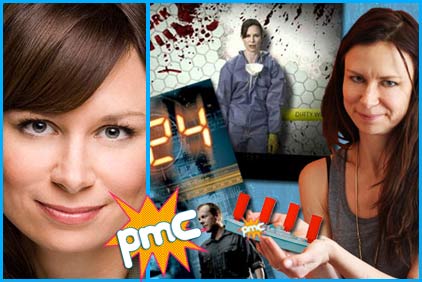 An original cast member of HBO's Mr. Show, Mary Lynn became wildly popular portraying CTU analyst "Chloe O'Brien" on FOX's 24. Other TV roles include appearances on The Larry Sanders Show, Veronica's Closet, Modern Family, Royal Pains, Kelsey Grammer Presents The Sketch Show, Newsradio, and King of Queens. On the big screen she can be seen in Sunshine Cleaning, Little Miss Sunshine, Dude, Where's My Car?, Punch-Drunk Love, and The Anniversary Party.  She plays Roxie in the new interactive web series Dirty Work, in which viewers can click on side options like phone calls, texts and additional videos, which is available on Ride.tv. She also portays the title character on the My Damn Channel series Dicki, following a quirky 40-year-old who still lives with her parents. An avid painter, she also performs stand-up and has done a few solo shows at clubs and theaters throughout the country.
Ken Marino (PMC Podcast Ep 80 – click HERE):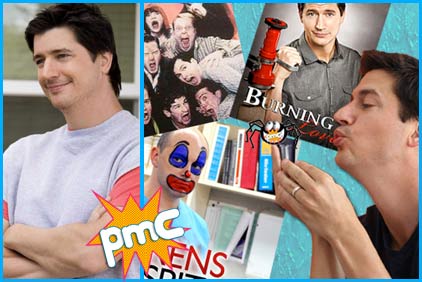 Ken Marino was a cast member on MTV's The State and on the Starz comedy Party Down. He currently co-stars on the Adult Swim series Childrens Hospital.
Ken Marino was born in West Islip, New York to an Italian family. He studied at the Lee Strasberg Institute and Tisch School of the Arts at New York University. He had early success on television as a member of a comedy troupe on the MTV sketch comedy series The State in 1993, of which he was also a founding member. Marino co-starred with Rob Schneider in the second season of Men Behaving Badly. He had a recurring role as Prof. Wilder on the TV series Dawson's Creek  and in You Wrote It, You Watch It. He made multiple appearances on Charmed and Rock Me Baby, and appeared in three seasons of Veronica Mars as private detective Vinnie Van Lowe. He was a cast member in the beloved but short-lived Starz original series Party Down. He also starred as a gay demon on the TV series Reaper. He currently plays Dr. Glenn Richie in the satirical television series Childrens Hospital.
Marino also made guest appearances in Will & Grace, Angel, Reno 911!, Stella, Grey's Anatomy, Monk and Private Practice. Film work includes Wet Hot American Summer, The Ten and Role Models, and had a cameo in the end of The Baxter. He also starred in the Hallmark Channel movie Falling in Love with the Girl Next Door. Marino wrote the screenplay for Diggers, a coming-of-age film set in mid-1970s Long Island, as well as and co-writing/producing The Ten and Role Models with David Wain. Marino and Wain most recently wrote the screenplay for the recently released Wanderlust starring Paul Rudd and Jennifer Aniston. Look for his new web series, Burning Love, a fun take on The Bachelor, coming soon!
Jenny Mollen (PMC Podcast Ep 79 – click HERE):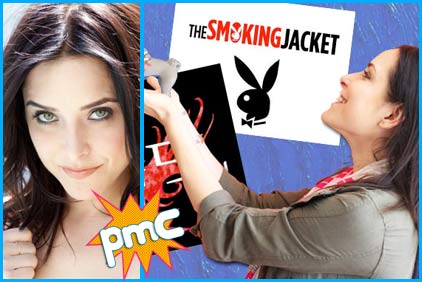 Actress/writer/artist/Twitter champ Jenny Mollen was recently named one of the 18 funniest females on Twitter (where you can follow her as @jennyandteets).  She also has a long-standing blog called The Smoking Jacket on Playboy.com. As an actress, she recurred as werewolf/love interest Nina Ash on Angel, and had roles on the shows Crash, Viva Laughlin, Suits, CSI:NY, Law & Order: LA, and Medium.
Film work includes Crazy, Stupid Love, D.E.B.S., Return of the Living Dead: Rave to the Grave, National Lampoon's Cattle Call, My Best Friend's Girl and Life Happens. In addition to a ton of theater work for places like The Old Globe and the Oregon Shakespeare Festival, she's also an accomplished artist, exhibiting and selling pieces in New York, Arizona, San Diego, Los Angeles and London. She is married to actor Jason Biggs.
Damien Fahey (PMC Podcast Ep 78 – click HERE):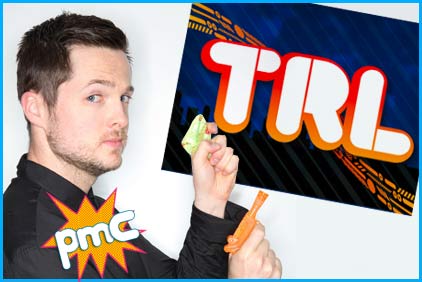 Damien's hosting resume starts with having been the longtime host of MTV's flagship program TRL. He took over for Carson Daly on TRL in 2002 and in 2004 was hand picked by David Letterman as one of the four TV personalities to take over The Late Late Show on CBS. Since then he has also sat in for Regis Philbin on LIVE! with Regis and Kelly numerous times and co-hosted I'm A Celebrity, Get Me Out of Here on NBC. Damien also covered The Grammy awards for CBS' The Early Show doing backstage interviews with this year's Grammy winners. Damien lent his voice to two episodes of Family Guy called, "Peter's Daughter", & "I Dream of Jesus". Fahey's voice can also be heard in the animated movie, Robots. On the radio front, he currently hosts a weekly syndicated radio show, which airs on over 80 radio stations, called The MTV Weekend Countdown. Whether appearing on radio, daytime TV or late-night TV, Damien Fahey's confidence, humor and ease enable him to pull off any hosting job.
Since joining TRL in 2002, he has interviewed countless celebrities, including Madonna, Johnny Depp, Bono, Brad Pitt, Tom Cruise, Beyoncé, Justin Timberlake, Harrison Ford, Janet Jackson, Jay Z and The Dave Matthews Band.
Born on June 1, 1980, in Massachusetts, Damien Fahey's obsession with radio started when, at age 14, he emptied his savings account and built a "radio studio" in his bedroom. At 15, he got an internship and on-air DJ position playing adult contemporary hits at 94.7 FM WMAS. He worked his way up the ranks and eventually nabbed a coveted DJ position at Boston's legendary KISS 108 FM at age 19. Damien worked at KISS 108 for three years before hearing of an MTV casting call in Boston. After nailing his MTV audition, he moved to New York City to take over for Carson Daly on TRL, a daily show he helmed for seven straight years. Damien is a total "drum-nerd" and music lover. He played the drums in a band called, The Classic Futures, which released a music video and CD in 2008. The Classic Futures played live on TRL on MTV in July of 2008. Damien's favorite bands are Fleetwood Mac, Bruce Springsteen, Tom Petty and U2.
Daniel O'Brien (PMC Podcast Ep 77 –(click HERE):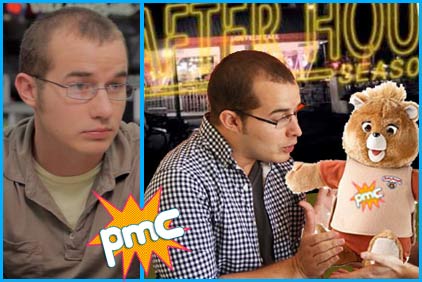 A seasoned comedy writer, Senior Columnist Dan O'Brien has played an instrumental role in the successful expansion of Cracked.com, America's Only Humor & Video Site. He regularly flexes his creative muscles in his column, 'Dan Dan Revolution' and as the co-creator for 'Agents of Cracked,' the web comedy series that earned the website an 'Audience Choice' Streamy Award. Dan also stars alongside Michael Swaim, Soren Bowie and Katie Willert, in Cracked.com's 'After Hours' web series that is best known for its funny, four-way, no-holds barred analysis of movie myths and famous plotlines.
As a long-time fan of the website, O'Brien was attending Rutgers University to study English with a concentration on creative writing and a minor in music, when he took a chance and submitted an unsolicited article to the editors during his senior year. Although Cracked.com was not accepting submissions at the time, the editors were so impressed by his talent, they began hiring him as a freelancer to edit and add original jokes to articles and other content. His quick wit was called upon regularly to punch up article submissions and web series scripts to include the Cracked voice we know and love today, Dan took the role of Contributing Editor of Cracked.com soon after.
Soren Bowie (PMC Podcast Ep 77 –(click HERE):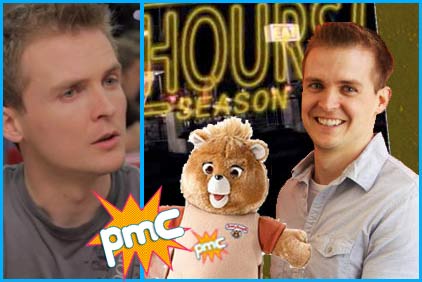 O'Brien was born and raised in Hazlet, New Jersey. He now lives in Los Angeles where performs standup comedy. For 'You Might Be A Zombie And Other Bad News', Dan helped edit the book and contributed two articles including 'The Four Most Badass Presidents of All Times'.
Jane Espenson (PMC Podcast Ep 76 – click HERE):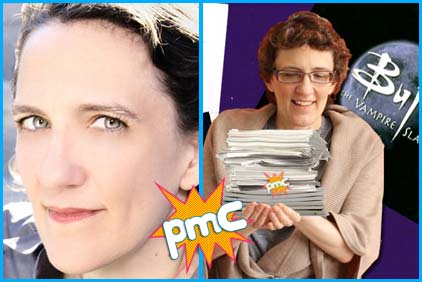 Jane Espenson grew up in Ames, Iowa where she watched too much television. At age 13 she attempted to write an episode of M*A*S*H. It didn't work out. She attended college at UC Berkeley, studying linguistics as an undergrad and graduate student. While in grad school she submitted spec episodes of Star Trek: The Next Generation, and got her tiny foot wedged in the last open door of show business. After winning a spot in the Walt Disney writers' fellowship, she worked in sitcoms for a number years, including Dinosaurs, Monty and Ellen.
Her first staff job at a drama was her job at Buffy the Vampire Slayer (where she penned 23 episodes, winning a Hugo Award for the episode "Conversations with Dead People"), followed by a year as Co-Executive Producer at Gilmore Girls, and brief stints as Co-Executive Producer of the cancelled FOX dramas Tru Calling and The Inside.  She has produced and written for Jake In Progress, Dollhouse, Battlestar Gallactica, Andy Barker P.I., Warehouse 13 and Once Upon a Time, and has also written memorable episodes of Game of Throwns and Firefly. Her web-series Husbands is about to start production on a second season—check it out at husbandstheseries.com.
She often tells people she has the best job in the world.