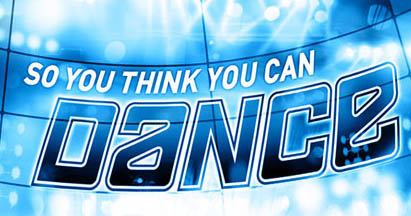 Hello! It's Cole! This is the first of my weekly, hopefully humorous, recaps of the fantastic FOX reality competition, So You Think You Can Dance. It begins….now…
Ah, yes, it must be summer, 'cuz So You Think You Can Dance is back, and in a big way! We quickly breezed through the audition rounds (Lots of memorable routines! Lots of memorable crazies! Like the "real" Ringo Starr!), had fun in Vegas, and last week met our top 20. Tonight the season really got going as they took the stage for ten great distinct pieces. But I get ahead of myself…
Cat Deeley is a welcome sight (always) in a small black sparkly dress, and she gets the show off to a quick start as she introduces the dancers. Lithuanian ballroom champ Iveta is wearing a weird gold spandexy thing. Robert, the Wooooo man, looks like he burst out of the San Diego Chicken in a tattered yellow shirt and cap. Everyone does a quick move or two in their signature style, and then it's up to Cat to utter her catch phrase, which she never actually utters anymore, making it possibly the world's only non-phrased catch-phrase. "Ladies and gentlemen, here are your…" The crowd finishes her sentence with a hearty "Judges!" and we meet executive producer Nigel Lythgoe, ballroom expert and resident car alarm Mary Murphy, and guest judge Megan Mullally. Megan Mullally? But isn't she…a comedian? Turns out she's done several Broadway shows and trained in ballet. So hush up, skeptic recap writer.
We're informed that Mitchell, a dancer that quite frankly we barely saw in the Vegas and audition rounds and know little about and aren't yet invested in, injured his elbow and won't be dancing this evening on doctors orders. He is allowed to shed a single tear and watch from the audience, and doesn't have to be home getting plenty of rest and drinking fluids or anything. It's time for our first couple of the night, and before Cat kicks to the pre-taped package she tells us that each of the dancers will have 8 seconds (not a tie in for the 1994 Luke Perry rodeo movie, sadly) to tell us everything we need to know about them, setting them up for HILARIOUS beat-the-clock moments! Shoot. Forgot to put quotes around HILARIOUS. "HILARIOUS." There. Better.
Time to learn about Jordan and Tadd! Jordan is 19 (it's her birthday!), she really wants to be a Pussycat Doll (who doesn't!?), she's a foodie, and her favorite color is blue. She also dances really sexy, which they made sure we learned in the early rounds. Her partner, Tadd, is a 25-year-old Bboy, he once played a dancing taco, almost got killed by Bollywood, has identity issues, and wants world peace. Fine, but what's your favorite color, Tadd? They draw "Jazz" and are given an African Jazz routine by buff choreographer Sean Cheesman (The Cheeseman, as he shall now be called, 'cuz how cool of a nickname is that?!). Jordan is surprised to discover that African Jazz isn't just African People in African Outfits. She AfriCAN do the choreography, as can Tadd, and the routine, set to Afro Celt System's "Riding the Waves" is solid, if not a bit forgettable. Unforgettable? Tadd's Rufio meets Rockadoodle look. It really works for him. Nigel thought they exploded on stage, in a good way. Mary, kooky ol' Mary, thought the whole studio was shaking ("Did you feel the floor?"). Megan, oddly, is the first to offer any real technique critique, noting Tadd's great strength and Jordan's beautiful extensions.
Next up, it's Sasha and Alexander! Sasha is 23, but often forgets her age (this piece took 58 takes!), and her favorite color is purple. We already know quite a bit about her, as she was a standout (along with her sister) in Vegas. Alexander, 20, is from Alhambra, California and sort of speaks Spanish. They draw "Contemporary" and get to try on a Travis Wall routine, which means you are set up to do well, as he's the show's golden child choreographer and consistently does great work. Travis explains that it's about Alexander's conscious coming back, or something. No matter, 'cuz we're treated to a montage of Sasha beating the crap out of Alexander. Yay Pain! The routine is set to a remixed Sarah McLachlan track, and I must say it's refreshing to hear her music set to something other than a manipulative animal shelter commercial (Which. Gets. Me. Every. Time.) The piece is full of strong precise movement, and they dance it well. Cat remarks that Alexander looks like Rambo, although he's wearing grey tattered clothing and doesn't blow anything up. Mary thinks it was a SLAM DUNK BAM. She uses other Batmanesque onomatopoeia to describe it. She also compliments Sasha, saying she's strong and dynamic with great stage presence and technique. Alexander was strong, but she thought the two were disconnected. This was echoed by both Nigel and Megan. Nigel also likens Sasha's right hand to that of Mike Tyson. Here's hoping she doesn't bite poor Alexander's ear off next week.
Let's meet Clarice and Jess. Clarice is 19, her eyes change color, she's shy, but then she's fun! Jess (male), is the broadway wunderkid from Vegas who's like Evan from the previous seasons, except incredibly socially awkward. He's 18, loves to sing and dance and make noises like "Poopie!" He's also incredible at what he does, and low and behold, they draw "Broadway," and its time for—shit, Tyce Diorio. I'll be upfront and say that I don't care for him. If I had a walnut allergy, he'd be my Waldorf salad. Anyhoo, he promises a celebration of dance, character and style. The piece is set to Liza Minelli's "Me and My Baby," and while Clarice holds her own, Jess destroys it. But how do Cat's favorite "pocket-sized couple" fare with the judges? Megan loves it! It's pure joy on a platter! Nigel enjoyed it, but thinks Clarice will have to do a lot of work to keep up with others in the competition. Mary thinks Clarice isn't in any danger, but that Jess was perfection.
On to Ryan and Ricky! Ryan nearly made the show last season but was told no, albeit eloquently, by Lil C in front of her family and friends! What a night! She's here now, she's a 19 year old Sagittarius who loves Mexican food and Law and Order SVU SO MUCH! Also 19, Ricky…loves cheer music. They draw "Lyrical Hip Hop" and choreographer Chris Scott, who did some memorable mash-up routines in last week's intro episode. This time, it's a concept piece where they are in love, but Ryan is gone, see, and so Ricky is dancing with her, but not with her, so she isn't actually there, but she is, and she's smiling, but should she be, and, wait, what? Set to a cover of "Ain't No Sunshine" by Lighthouse Family, it's fluid and interesting and very well danced. Nigel loved the rhythmic feel of the piece, but was confused by the emotions, as were Mary and Megan. Ryan is quick to defend her grinning choice, saying it's a happy memory, and then an affair between Cat and Ricky is awkwardly alluded to, and we all have a good laugh, I suppose.
Next up—Caitlynn and Mitchell. Caitlynn is 18, a small-town high school Senior who loves Disney movies and the color green and seems as young as she sounds. Mitchell, 20, is allergic to onions, loves chocolate, childhood movies and the color orange and is, oh yes, injured as we learned at the start of the show, so let's just skip ahead to where Caitlynn does the routine with season seven's Robert to La Roux's "In For the Kill."  It's full of all sorts of strong, defiant, powerful poses, because it's a jazz piece choreographed by Sonya Tayeh, about "what we can accomplish without fear."  Mary thinks Caitlynn suuuuuure was in it for the kill and that they were lucky to have Sonya. Everyone was impressed by Caitlynn strength and movement, and Nigel gives it tens across the board!
Oh boy. Miranda and Robert. Miranda is 19, from Pittsburgh, loves her family and spicy food and still sleeps with a nightlight. Robert, known as the woooo man, is from Brooklyn, loves to cook fried chicken, plays video games, is super into professional wrestling, and loves dogs and cats. Their card says "Latin," and that somehow means a jive routine by Jason Gilkerson. Miranda is an unapproachable girl and Robert is a nerd who is gonna go after her anyway. Robert uses a funny character voice and makes a bunch of "wooooooos" and cat and dog noises in his confessional cam, cementing him as this generations Michael Winslow and reminding me that I have a lot of Police Academy fan fiction still to write. The piece itself, set to "Runaway Baby" by Bruno Mars, is energetic, with Miranda dressed like a sexy '60s go-go dancer, and Robert wearing sparkly Urkel glasses. The judges eat it up, saying Robert has the most personality on the show, though Nigel thinks he needs to work on his technique and that Miranda needs to be more confident. Robert woooooooos at Mary, Mary screams back at him, and I claw my face off.
Four to go! It's Missy and Wadi! Missy we only met briefly in Vegas, she was concerned her sexy dancing would make it hard for her to make the show since Jordan also specializes in sexy dancing, but do not fret, sexy ones! There's plenty of room! Missy likes yoga, lipstick, the fridge, talking in a Jamaican accent, wants to marry an Australian and loves her family. Breaker Wadi got a ton of camera time in the audition rounds and has to be considered an early favorite. He's 24, born in Jamaica but raised in the U.S., and loves Japanese culture. It's time for Jazz again, and The Cheeseman returns! The concept is a doozy—see, they've opened Pandora's Box, and unleased demons. But don't worry, Missy. He wants them to be SEXY demons! So you're all set! As "Judas" by Lady GaGa starts, the two dancers emerge out of a giant cube and red smoke. The piece itself didn't do much for me, save for a strobe-lighted section towards the end, but the dancers nailed their choreography. Nigel thinks it's one of The Cheeseman's best pieces, and calls Missy one of the beasts of the girls. Girls just LOVE being called beasts, Nigel! He does think she's the complete package and tells her so. All are impressed with Wadi's partnering skills, as it's completely new to him.
And on to the routine of the night! It's Melanie and Marko! Melanie, the adorable pixie who lost her father a few years back and charmed her way through Vegas with her stunning movement, is a 19-year-old southern belle who used to wear a helmet because she was narcoleptic. Marko, 22, is that guy who still has a bullet lodged in his shoulder from a botched robbery attempt. He's 22, and doesn't have a sore throat, it's just how he always sounds. They get "Contemporary" and we're treated to another Travis Wall routine, about statues who come to life at night. Part of me was kind of hoping it would be a nod to Mannequin and we'd hear "Nothing's Gonna Stop Us Now" by Starship, but instead it was to Ingrid Michaelson's "Turn to Stone." Painted white to look like marble, the two partner brilliantly, and dance it to perfection. The judges give their first standing ovation of the night, and Nigel comments that it could be the first Emmy-nominated routine of the season. Mary is completed choked up and points out how magical the piece was. Megan agrees.
Ashley is 22 and likes waffles, peanut butter toast with BBQ chips and orange soda, and probably indigestion. Her fave color is magenta, she loves Ugg boots, and has swag, evidently. Chris, 21, is from Dallas and is part of a big family. He's the last of the Bboys. They get "Hip Hop" and Chris Scott, and the routine is about cheating—they are both cheating on each other and find out at the same time! Chris has a hard time with it as it hits a bit too close to home, but he works it out. It's set to Cee Lo Green's "Forget You," a once-great song that that movie The Dilemma ruined for me by associating it with its preview. A pet peeve here—in order to establish their young high school ages in the piece, Chris is wearing—get this—a letter jacket! This happens more often than I would like on this show. It's a fun, but light, routine, and the judges wonder if people are going to vote for the emotionally charged pieces or the goofy ones this season. These two could be in trouble going into the results show.
One more! It's Iveta, the 30 year old quickstep champion from NYC via Lithuania, who'd love to have a monkey but the big apple won't allow it. She's paired with Nick, the tapper who has a really fun personality! (or so he says, in what I think was kind of an inspired bit to fill up his eight seconds). They draw the dreaded quickstep, which is usually the kiss of death on the show. It's choreographed by Jason Gilkerson, and set to Sweet's "Ballroom Bliss." And, surprisingly, it WORKS. It's energetic and hypnotic, and the two of them partner very well. Another standing-O from the judges, who of course praise Iveta (who is the best in, um, THE WORLD at this genre) but also have incredible things to say about Nick, who has a terrific carriage and holds his own with the best, prompting Nigel to shout, "TAPDANCERS RULE!"
Cat recaps the numbers to call, and sends us to the phones. Two hours down, and another fantastic season of television's greatest reality show is truly on!