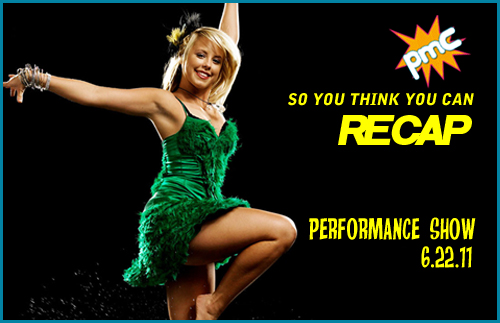 The Top 20 took the stage for the first time since…last week…and we're quickly reminded via fuzzy flashback (though it's nice to see Nigel lit like Norma Desmond) that two couples will be going home on tomorrow night's results show. After the opening credits, Cat Deeley appears, wearing a doily-covered bright yellow dress—with her height, it reads very Big Bird-ish, and I don't mean that as an insult. The couples come out for their introductory five second dance flashes, and then it's time to meet your—JUDGES! Wait—she said it! CAT SAID JUDGES! Did she read my recap last week? I feel somehow responsible. You're welcome, America. There's Nigel! And…orange you glad Mary Murphy is here? Then comes the first genuine surprise of the night—joining the panel is film and dance legend Debbie Reynolds! They show a quick clip from Singin' In The Rain, and Debbie says "It's fantastic to be alive!"  She really is a treasure, and her sound bites only got better as the night went on.
Let the dancing begin! Cat informs us that the couples will be dishing embarrassing dirt on each other in order to help fill the two hour run time. First up is Ricky and Ryan. Ryan's leg hairs grow really fast, so I guess that makes her dancing's Robin Williams. Ricky's real name is Roderick! What an asshole! Not really. They're given a Mandy Moore jazz routine, described by the choreographer as "sexy, powerful and tension filled." I wish it was "crazy, sexy, cool" and set to a TLC song. Instead it's danced to "Addicted to Love" by Robert Palmer, and there's no models in tight black dresses anywhere! Ryan is dressed like a wild west saloon girl, and Ricky appears to be an extra in a Mad Max film. They dance it extremely well, and the judges gush about it. Nigel thinks it's sensational, and says he can feel the sexual tension between them, much like himself and Mary Murphy, causing this recap and millions of viewers at home to audible shudder. Mary, master of wordplay, says she's addicted to the two of them! Debbie says she's never seen anyone dance sexier! Which means she hasn't seen Selma Hayek in From Dusk Til Dawn.
Caitlynn has nasty, blue-toned feet. Thanks for that, High Definition Television! Mitchell wears a zebra print snuggie often, or as I like to call it, a backwards bathrobe. It's a Stacey Tookey contemporary routine about a relationship gone wrong, set to Adele's "Turning Tables." There's two leather easy chairs onstage, and because of their placement, it heavily features Caitlynn in the foreground for a lot of the piece. It's pretty powerful, though, and the show is shaping up to be fantastic. Caitlynn is in tears, not because of the emotions, but because Mitchell accidentally punched her, making this the most violent dance show since the Solid Gold Massacre of '81. Mary thinks it's amazing! Flawless! Gravity-defying! Debbie thinks it was beautiful and dramatic ("You bled for us!") and Nigel thought it was remarkable, considering it was the first time they've actually danced together after his injury last week.
Wadi uses ladies hair removal cream on his chest hairs (I think we've all been there, right fellas?) and Missy has a staccato laugh (Can you imagine? How does she live with herself?!) They've snagged a cha-cha routine from the French Bruno Kirby, Jean Marc Genereux, which he claims is the most difficult routine he's ever choreographed for the show. Making it more difficult? Having to listen to Ke$ha's "Cannibal." I'm $orry, I ju$t don't like her $hitty mu$ic. There's a lot of energy to the routine, but it's clear that Wadi is a bit out of his element here. Debbie thinks it's muy bueno, and offers to take Wadi home with her. Nigel thinks Wadi's technique was lacking but that his partnering skills were great, and Missy was spicy and hot. More rave reviews for Missy from Mary, but she compares it to television rival Dancing With the Stars, with Wadi as the student. These two could be in trouble come results time tomorrow.
Ivetta talks to herself in the mirror, but thankfully never says Candyman three times. Nick—ALWAYS WEARS SHORTS! It's this kind of revealing expose that they usually save for sweeps! It's the return of Bollywood with Nakul Dev Mahajan, with a lightning fast routine to "Baawre" from the Luck By Chance soundtrack. They dance it super well, even though Nick looks like Aladdin and Ivetta resembles a maypole thanks to their outfits. Nigel thinks its entertaining, Mary loves their chemisty, and Debbie's just excited to be here!
Robert, aka "The Wooooo Man," aka "Obnoxious City," thinks he's a pro-wrestler. Miranda has a crush on Tadd! And our first budding romance is in the works! Look! It's Nappy Tabs! Always a treat to see Napoleon and Tabitha, who've whipped up a hip hop routine about…woodpeckers. It's to "Break Ya Neck" by Busta Rhymes, and the two perform with a lot of energy and precision. Mary loves it, Nigel remarks that Miranda is the best contemporary dancer he's seen do hip hop, and Debbie does a spot-on Woody Woodpecker impression, and gives me my first "Wait…I didn't smoke peyote before watching this tonight, did I?" moment of the night. Oh, and Robert does not "Woooo" this time, and Nigel comments on his restraint.
Clarice sleeps with her eyes open, which is super creepy, but maybe not as odd as Jess' passion for drawing stick figure orchestras. It's another Stacey Tookey contemporary routine, this time set to "Cathedrals" by Jump Little Children. It's a love story between a prince and a princess, and has a lot of hard lifts in it. It's kinda off-putting that Jess isn't wearing any shoes in his uniform—it's sort of Prince William meets Jack Johnson. The piece touches Debbie's heart, and again offers to take them home with her, to add to her little dancer glass menagerie. Nigel enjoyed parts of it, but thought the promenades were a bit uncomfortable and is worried they'll be in the bottom three. Mary thinks Jess portrayed the emotions of the routine well, and calls Clarice "Ms. Legs," 'cuz they go on for days and days!
In addition to being the "sexy" one on the show, Jordan may also not be the brightest bulb, as she confesses that she thought the show had it's own airline and flew everyone on one big plane to Vegas. She also wonders if she can tend to them rabbits, George. Tadd is super OCD—he color-coordinates his clothes when he packs them, in Ziploc baggies! Oh no, it's the dredded Viennese Waltz from Jean Marc Genereux, set to "Fade Into Me" by American Idol winner David Cook. It's all about the spacing, and they do surprisingly well with it. Oh, and there's a stray bench onstage. Nigel is super impressed! He thinks the piece flows amazingly well, and is particularly thrilled with Bboy Tadd's performance. Mary agrees, noting that Tadd is the biggest surprise for her this season. They both think Jordan is incredibly strong as well. Debbie pays her biggest compliment of the night, asking if they've heard of Gene Kelly, Fred Astaire and Cid Charisse, and saying they are just as beautiful as them!
You better not touch Melanie's ears, CUZ SHE HATES THAT. Marko is super into romance novels, 'cuz he's a big softie. It's a Mandy Moore jazz routine to "Sing With a Swing" by DKS. It features a lot of bowler hat play, and gives me the opportunity to type the phrase "bowler hat play." As expected, these frontrunners nail it, save for one dropped hat moment by Marko, who fixes it just in time to catch Melanie and avoid our first So You Think You Can Cheat Death fatality. All three judges gush and gush.
Sasha sweats like a dude, and according to her partner, "the girl is a waterslide." Alexander loves to look at himself in the mirror. Maybe Ivetta and he would have been perfect partners. It's the second Nappy Tabs routine of the night, a super-emotional hip hop piece about a soldier returning from Afghanistan and seeing his wife for the first time, set to Diddy-Dirty Money P.Diddy Puff Daddy Sean Combs the Artist Formerly Known as Puffy Blah Blah etcetera's "Coming Home." The two tap into it brilliantly, bringing tears from the panel. Mary's spray tan looks all the more obnoxious when wet. The piece is one of the highlights of the night.
Chris has a creepy smile when he's nervous. Ashley thinks she has swag, but she doesn't! Or does she? EYE OF THE BEHOLDER! For the final routine of the night, it's a Broadway routine from Spencer Liff, set to "Please, Mr. Jailer" by Rachel Sweet. It's unique in that it's danced with the two of them on opposite sides of a set of bars. Lots of leg lifts, kicks and pole dancing. I'm sure there's a stripper analogy here, but I'm too lazy to find it. Nigel congratulates Spencer, and is impressed with Chris and Ashley's ability to step outside their usual genres. Debbie thinks it's just wonderful! And Mary talks about 211 degrees, then 212 degrees, then steam shoots out of her ears and she puts them on the HOT TAMALE TRAIN, which, at this point, is the Austin Powers impression of this show. Or Borat. You choose.
We're done! A quick recap and the numbers to call, and a reminder that tomorrow THERE. WILL. BE. BLOOD!
–Cole
*Note: I'm in Vegas for the night and won't be able to recap the results show. Attempting to coerce Vanessa into picking up my slack!