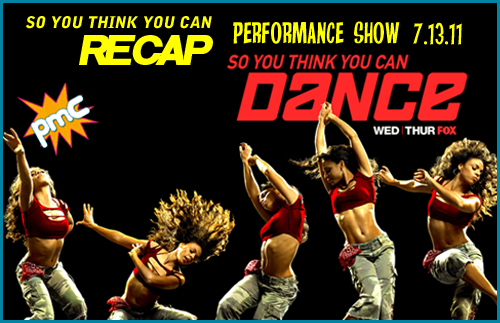 Ok, ok, Cole here. I know I missed the results show recap last week, and I'll endeavor to do it tonight, but for the business at hand—it's the last performance show for the top six couples! After this week, they'll be split up and paired with SYTYCD All-Stars. Cat Deely, in a silvery dress with what appears to be ostrich feathers looks lovely as always (I exclaimed, out loud, to no one, "Oooh! A sparkly!" a la Jeremy the crow in Secret of Nimh when she appeared) intros all of the dancers, and then it's time to meet our judges (Cat goes back to letting the audience fill in her catch phrase again, thus officially starting the "Will she say or won't she say it?" Cat Deely drinking game). It's special guest Jesse Tyler Ferguson from one of the best comedies on television Modern Family! He's a big fan of the show and seems super tickled to be there. Next is intense choreographer Sonya Tayeh, wearing her usual Mad Max casual. Mary Murphy and Nigel Lythgoe are there as always, and are about to lock lips when Cat stops them. I only wish Cat had stopped several of the contestants and choreographers, who once again are obsessed with osculation!
We're told that there will be * gulp * TWELVE routines this week, a delightful surprise for viewers and a nightmarish scenario for a recapper. First up are Sasha and Alexander, who get a Tony Meredith and Melanie Lapatin Paso Doble routine. It's not your everyday Paso Doble, says Melanie, but more of a battle dance (kinda like in the movie Strictly Ballroom, am I right?), set to that classic tune, "Alley Dash/March of the Trolls." Which version? The Taylor Long/Rick Powell original, of course! They're both wearing silver-bedazzled black outfits, and dance it pretty well, ending with an aggressive, perhaps impromptu, kiss from Sasha. Nigel thinks some of it was a little sloppy but otherwise thinks it is great. Mary asks the audience for an OLE 'cuz they've earned it (maybe if there's a Latin routine in a library next week, she can elicit a BIBLIOTECA from the crowd) and rattles off a list of words that sounds like she's describing Pace Picante sauce instead of choreography. She says Sasha could be a bull, a matador, a Spanish dancer, or a cape, but leaves off other questionable career choices like paint, a jockey, or a fire hydrant. Jesse thinks it was highly dramatical and loved it, and Sonya thinks it was amazing, and admires Sasha's strength, but doesn't always trust Alexander's partnering. Alexander is quick to point out that the routine is dedicated to Tony and Melanie's friend who is battling cancer.
Jordan and Tadd get to work with Travis Wall, which is always a sign that you'll do well. It's a contemporary routine that's a metaphor for women who take advantage of weak men, with Tadd as a lost traveler and Jordan as a sexy vulture, set to "Brotsjor" by Olafur Arnalds (say that five times fast). As usual, it's an extraordinary piece of choreography and they nail it, ending with that ol' dance favorite, simulated neck breaking! White Swan, Tadd and Black Swan face the judges and its high marks all around! Mary thinks it was beautiful and dark, Jesse pokes fun at Randy Jackson (the guys are in it to win it!), Sonya loves the true artistry and wishes she could swear, and Nigel thinks it was remarkable, particularly Tadd's flip jump. Seems that Jordan and Tadd are a lock for the top ten…until later…
Ryan and Ricky get to get their jazz hands on with a Spencer Liff Broadway routine! Ricky is a dude waiting outside a movie theater and the movie poster comes to life! No,  it's not a Transformer or the Zookeeper he gets to cut a rug with, but Ryan in her best Audrey Hepburn garb. Set to Frank Sinatra's "All I Need Is the Girl", it starts promisingly enough, but there just isn't much to it, and the judges jump all over it. Jesse is a big fan, but thinks the routine had a glass ceiling on it and didn't allow them to reach their true potential. Sonya feels they were questioning it and just let it simmer, and they two of them receive their first boos of the season, and hate it. Nigel and Mary agree, remarking that it's all about the style and that they didn't quite capture it.
Caitlynn and Mitchell are up next for the most muddled and misguided routine of the night, a Christopher Scott hip-hop routine that is suppose to shed a light on the children in Uganda and Congo being used to fight wars. How better to bring attention to this serious plight than sloppy execution and blunt tanktops with "Invisible Children" scrawled across them! It's disaster from the get go, even with a strong Lupe Fiasco tune to dance to. The audience gives a sluggish standing ovation, because they feel like they are supposed to given the subject matter. Sonya loves Chris Scott, but didn't feel the kinetic energy the piece was supposed to have. Nigel thinks the piece needed harder work, and didn't understand what it had to do with abductees in the Congo. Mary thinks it was still pretty strong and demanded attention, and Jesse agree with all but thinks they both have a mack truck-load of intensity.
Melanie and Marko are up next, and promise to cleanse our soured palates with a tango from Louie Van Amstel Light (seriously, that's a promotional angle you need to take advantage of, Louie!) He says there is no storyline, but given that last "important" dance, I feel like I need to give it and all the routines that follow one, so let's say it's about the injustice of Terriers not being renewed for a second season. It's a sexy lil' number set to "Triptico" by Gotan Project, and Melanie is breathtaking in a backless red doily dress. It ends with a killer lift, which the judges are in awe of. Nigel remarks that they haven't really been challenged until now, but thought they took some Limitless pills and crushed it! List-making Mary tells us about all the different kinds of tangos, then says that they pulled it off despite a few awkward shapes. Jesse is a gigantic fan and thinks they have a great spark—he also makes a joke about Mary being a lost Osmond, which is pretty dead on. Sonya pays a high compliment by saying she loses her breath every time she sees them dance.
Jess and Clarice are the last of the top six couples to take the stage, and they get a lyrical hip hop routine from Chris Scott, about women's insecurities, and not the Triangle Factory Fire of 1911. It's got a lot of precise and fast tutting, which has Jess worried. It's that famous Bruno Mars track "Just the Way You Are," but covered by a band called "Boyce Avenue,"  and starts with a prop dressing table. WHAT'S THIS? JESS IS WEARING SHOES! QUICK! EVERYONE MAKE SURE THE TIME SPACE CONTINUM IS UNCHANGED! DO YOU ALL STILL HAVE YOUR LIMBS? WHO IS PRESIDENT? Ok, I think nothing was affected, and the routine is sweet and fun, despite the creepy dripping portrait revealed at the end. Jess soaks up the applause and makes some Broadway gang signs. Mary thinks it was cute and amazing, and drops the term "swag," which people need to stop throwing around like Rip Taylor confetti. Jesse didn't care for it—HAPPY OPPOSITE DAY—and loves it! He asks if Clarice has a boyfriend (she does, he does too) but suggests they get married 'cuz she makes him so happy. Sonya thinks they slayed it, and Nigel loves the simple story and bounce on the choruses.
Round two! Fight!
Sasha and Alexander return for a—oh f&%# me—Tyce DiOrio routine. Tyce and his "facial hair" inform us that it's a dance ABOUT LIFE, you guys! And about, um, err, the discontinuation of New Coke in 1986. "That's Life", Aretha Franklin version, starts, and despite a good amount of prop lamppost humping, it's actually well choreographed and danced, and Tyce receives a pass from me for the rest of the night (you've won this round, DiOrio!) There's some sort of weird screw up at the end and Sasha just remarks "That's life!" and all is forgiven. It's Jesse's favorite number of the night! Sonya wants to swear again, and then sort of cusses by saying that Tyce is a diverse choreographer. I mean, he does Broadway, and jazz, and jazz-Broadway, and Jazzway, and Brazz! Nigel decides to keep it real, and points out that Sasha has been carrying Alexander all season, but that tonight is his breakthrough, which everyone agrees with. Mary loves the freedom he danced with, and is thrilled.
It's time for another Broadway routine from Spencer Liff, with Jordan and Tadd—it's a story about a princess who has been sleeping for a century, awaiting a Prince to wake her up with a…well, you know the drill. It's also about The Air Up There not being available on DVD.  "Out Tonight" from the Rent Broadway Cast plays while Tadd, wearing a steampunk meets West Hollywood Prince outfit, and Jordan, in multi-colored tutu, do their best to get through this hodge-podge, unmemorable routine. The judges ain't havin' it! Sonya is underwhelmed, Nigel thinks it could have been quirkier, Mary thinks it was like cotton candy, and Jesse thinks they'll be ok since their first number was so strong.
Ryan and Ricky return for Louie Von Amstel's Cha Cha. It's a dance of fire, and Louie promises they won't be in the bottom three again (they will). It's also a dance of earth, water, and wind, and is sponsored by M. Night Symalan's Avatar II: Attack of Little Baldy (not true). Ricky hints that it will be Hot Tamale Train-able, and he's sort of right. Sort of it. It's to Enrique Inglesias' "Tonight (I'm Lovin' You)" and the whole thing comes off a bit frazzled, but good in spots. High marks for Ricky from everyone, but they all agree that Ryan was a bit sloppy. Mary puts Ricky on the Hot Tamale Train, but leaves Ryan off, so she'll have to travel much more sensibly on Amtrak. They are in trouble going into the results show tonight.
Take two from Travis Wall, a contemporary piece with Caitlynn and Mitchell, about a rock star who finds out her lover is married (and the rising prices of bacon this summer). That. Will. Not. Stand! So she gets back at him by dancin' in lingerie to Janis Joplin's "Piece of My Heart."  They nail it, and Mary loves the intensity and naughtiness of it. Jesse makes a Smokey the Bear joke which falls flat, but I liked it, and he likes the routine. Sonya thinks it was really, really hot, and thinks its disturbing how smokin' Caitlynn is, especially considering her age. Nigel agrees, and doesn't want to say anything else for fear of incriminating himself as a dirty old man (which is has already done time and time again, with a pervosity needle at 11).
Melanie and Marko are back, this time with a contemporary routine from Dee Caspary about a couple slipping in and out of the light. See, he's in a dark place, and he isn't sure he should go towards the light, and Melanie is trying to make him, and poor little Carol Ann is still stuck in the television set unsure of where to run. The song is "Skin &Bones" by David J. Roch, and it starts what is now to be known as "The Moth Routine." There's a single hanging lightbulb onstage and two bright follow spots, and although the piece is well danced and well choreographed, I couldn't help but wonder how much cooler it could have been if that lightbulb was the only illumination. Jesse's mind has been blown! Sonya is grateful that this is the future of dance and thanks them. Nigel is excited about breaking up the couples on next week's show, but sad that their partnership has to come to an end, as they are magic dancing together. Mary thinks it is flawless!
One to go! It's Jess and Clarice, doing a jive from Tony and Melanie, about the healing powers of cilantro, er, Rock n' Roll! It promises to be fast, fast, fast, and sort of is, is, is. Robert Randolph's "Ain't Nothing Wrong With That" scores the routine, with Jess wearing shoes yet again! Is this the start of the Jess footwear revolution? The dancers lose steam a bit towards the end but pull it off, and the judges are losing steam as well (not to mention time), so Sonya rattles off "Adorable perfect amazing!" Nigel thinks it was very good, with great kicks, but thinks the lifts looked a little uncomfortable. Mary thought the spirit of the jive was lacking a bit, as was the animation on Jess' face. Jesse doesn't own the keys to broadway, Neil Patrick Harris does, but wishes he could give them to Jess. Jesse also points out that Emmy nominations are coming tomorrow and singles out Cat Deely as deserving (and, as it turns out, she scored her first nomination this morning!)
Cat is a bit choked up by the sentiment, and throws to the numbers and routine recaps for the night. With a few moments left, Nigel urges everyone to vote, and reminds us that the couples will be no more and that the So You Think You Can Dance All-Stars will be announced soon. Somehow, I think it will end up being a bunch of New York Yankees.