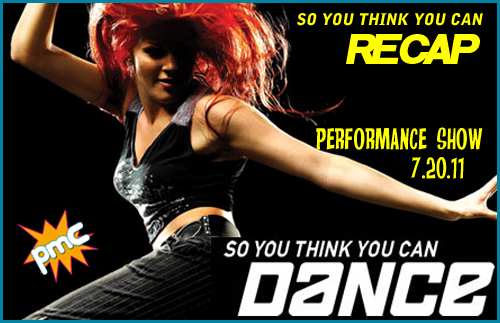 Cole here! On my command—release the All-Stars! It's time for the top ten dancers to be matched up with some of the best and most dynamic dancers the show ever saw! After their brief individual dance intros, Cat Deely appears in a tight shiny black dress with gold details (with echoes of those Egyptian dancers from that Michael Jackson "Black or White" video) and sets the stage—in addition to their routines, each dancer will be doing a solo. It's time to meet our—JUDGES! (Audience 1, Cat 0) and, lo and behold, it's Neil Patrick Harris, looking dapper in a striped suit! It's Mary Murphy, looking more and more like Chester Cheetah every time we see her. It's executive producer Nigel Lythgoe, who evidently put on his yuk-yuk cummerbund tonight as he attempted to plant zingers throughout the show. Nigel announces the on sale date for the summer tour (July 29th, for those of you interested in trying to land some sweet seats), and Neil congratulates Nigel on the success of the show and its impact on dance. To the routines!
First up is our favorite bullet-ridden boy Marko! He's paired with Season 4's Chelsea Hightower (no relation to the character from the  Police Academy series) and they're doing a Jason Gilkerson samba. It's about a photographer and his muse, and features a strategically placed chez lounge and loud camera shutter sound effects, set to a Kate Hudson (yes, THAT Kate Hudson) song from what I am assuming is the musical movie Nine (I didn't see it, did anyone?). Marko looks sharp in a suit and pairs well with Chelsea, and the judges are impressed! Neil is the first to comment, and thinks it's an amazing way to start the show and that Marko is the guy to beat in the competition. Mary says she's going to get a little crazy and starts flinging jewelry off of her Cheeto skin. She thinks Marko is the real deal, and looking at the white tan-line goggles around her eyes I believe her. Nigel applauds him for pulling off the routine seamlessly, especially after seeing how many times Chelsea accidently kicked him in the face in rehearsal. It's a strong opening for one of the frontrunners.
The first solo routine of the evening belongs to Sasha, who tumbles to Duffy's "Syrup and Honey." No feedback from the judges on the solos tonight, but the camera catches Nigel giving her an enthusiastic thumbs up!
The next pairing is our resident tiny sex kitten Jordan, who is paired with Season 6's Brandon, who is still allergic to shirts but not muscle definition. It's a contemporary routine from Desmond Richardson and Dwight Rhoden about love, to a live acoustic version of Jessie J's "Who You Are." It's a pretty dynamic piece, and Jordan holds her own despite sharing the stage with one of the strongest dancers to ever come on the show. Mary praises Brandon and the choreographers, and thinks Jordan was fierce tonight. Nigel remarks that they are two of the best contemporary choreographers in the world, and that Jordan is more than able to do everything that was asked from her in a difficult routine. NPH thinks it's breathtaking, and even though Brandon is magnificent, his eyes kept returning to Jordan. Jess is next up for a solo routine, to Harry Connick Jr.'s "Come By Me." He's wearing an argyle sweater and jazz shoes, and it's a fairly casual piece, memorable only to me because of his choice of actual footwear.
It's time for a Chuck Maldonado hip hop routine for the show's only remaining B Boy, Tadd, and All-Star Comfort. It's some combination of Gutter Sexy/Ghetto Fabulous, but Comfort doesn't believe Tadd has much swag, until the camera dotes on his abs and commits to a comedic Cujo dog camera effect. The show does dancing great. Comedy, not so much. It's set to Chris Brown's "Look At Me Now," heavily featuring the bits Busta Rhymes guests on, which makes sense as the routine is fast and furious. Nigel thinks is very very very very very very very fast, like listening to Mary Murphy talking! (Touche, you British Bulldog, you!) He thinks it was great fun, and that Tadd outdanced Comfort on it! Neil thinks it is amazing, and comments on an upcoming Spencer Liff hip hop routine on an episode of How I Met Your Mother. Nigel asks if Neil dances in the Smurfs movie, and Neil is quick to change the subject (for the record, he does some air guitar). Mary can't believe Nigel is on her case tonight! She thinks Tadd knocked it out of the park, fired it out of a canon, and other mixed metaphors. Melanie's solo is next, danced to a fun slow cover of Grease's "You're The One That I Want" by Angus & Julia Stone. It's strong, as usual.
Mitchell and Season 1's Melody (who? There was a show back then?) are paired for a Tyce Diorio Broadway routine! Remember how all the numbers up to this point were good? Well, get ready for that buttered popcorn Jelly Belly you weren't ready for, 'cuz this one is just terrible! It's about FLYING! You know, the idea of flight, the mechanics, the take off, the landing, the tiny bathroom with blue water, the cashless cabin, the crying babies, the seats as floatation devices, the tiny bags of peanuts and pretzels, the in-flight presentation of Daredevil or something with Gerard Butler and/or Katherine Heigl…FLYING! It's set to "Take Off With Us" from All That Jazz, and has Mitchell in a Captain's shirt and tie, and Melody in…just a dance outfit. The routine is half-assed, danced well-enough, but really lackluster and unmemorable. Neil is first to comment, and tears Tyce a new one, much to my delight. He didn't get the routine at all, and thinks it was disjointed and not well thought out. Mary thinks the number was fun, but overbaked, with too much mugging. Nigel agrees, thinking that Mitchell "over egged the pudding." Here's hoping there's more quintessential English sayings upcoming from Mr. Lythgoe! "That was a bit of bangers and mash, pip pip, like a bird in a lorry on her way to University, Mitchell!," or something. Solo time for Ricky, who showcases his leg extension to "Daylight Breaks" by Cassidy Haley. He scurries off the stage, and Cat has to plead for him to return so she can read off his call-in numbers.
That brings us to another solo, this time by Clarice, to "Royal T" by Crookers featuring Roisin Murphy. There's lots of leg lifts, and an odd red sash thingy on her right hip. Sometimes I think these dancers either lost a bet or are being dressed by vindictive pre-schoolers. The next couple to dance are Caitlynn and Season 3 hunk Pasha, who get to do a stylish tango from choreographers Miriam Larici and Leonardo Barrionuevo. They are a disconnected couple who are brought back together by the dance, and it starts with Pasha playing a phonograph. It's an elegant routine of a by-gone era, and Clarice excels and partners great with him. Mary gives it a standing ovation! It's the first Argentine Tango of the season, and she thinks it was well worth the wait. Both Mary and Nigel are impressed at Clarice's maturity in the piece, thinking she's turned a corner with that routine. Neil thinks it started a bit slow, but was then mesmerized by it, and now would like to learn the Argentine Tango! Mitchell's solo is next, to John Legend's "This Time." He's only wearing white shorts, which bunch a bit and make it look like he's dancing in a giant diaper. Still, he's got some serious skills, if not unpredictable bowel behavior.
Sasha and Twitch, the uber-popular Season 4 contestant who also appeared in the flick Step Up 3D (which is actually quite a lot of fun), get together for a Christopher Scott hip hop routine about a relationship regaining its spark over the breakfast table. It's got a serious 70s soul vibe (and is set to a great song—"Misty Blue" by Dorothy Moore) and these two SLAY it. It's one of the best routines of the season and the best of the night by far. The audience goes nuts for it, and Nigel jokes that all he got for breakfast was Corn Flakes. Nigel thinks it was a super memorable routine, and that this is the first time Sasha has had real chemistry with her partner. Neil thinks it's the best routine of the night and hopes they do it on the tour and the finale, and Mary thinks they need to call in the Sheriff, Fire Department and Paramedics, mostly because she likes to waste our tax dollars. Jordan's solo is to Lykke Li's "Tonight," (great choice), and she tumbles a bunch in a black dance negligee.
Jess and Season 6's Kathryn draw a Stacey Tookey contemporary routine chock full of lifts, Jess' personal Professor Moriarty. Although the piece itself doesn't have a lot going on, story-wise, it's full of some powerful movements that match the emotion of the song ("The Lonely" by Christina Perri), and Jess performs the lifts admirably, despite returning to his barefeet and his Shoeless Jess Jackson nickname I just coined for him. Neil thinks he can be too muggy, but that he toned that down and danced this routine well. It's also Mary's favorite Jess routine to date. Nigel thinks the piece has more lifts than Joan Rivers face (ZING! SQUIRTING FLOWER! HAND BUZZER! WOCKA WOCKA WOCKA) and admires Jess in the piece. Next up, Tadd dances a solo littered with floor work and a stage hang set to Robin Thicke's "Everything I Can't Have." It is refreshing to still have a dancer in the competition who can do some tricks.
Overall favorite Melanie pairs with Pasha for a Viennese Waltz, and I cross my fingers hoping it's an interesting piece, as these can be the kiss of death of many competitors. Thankfully, Jason Gilkerson put together a lovely routine, and Melanie looks jaw-droppingly beautiful in a flowing white gown, gliding to a cover of R.E.M.'s "Everybody Hurts" by Tina Arena. Mary thinks the transitions were perfect, and is in awe of Melanie's ability to move in and out of lifts without looking like she ever touches the floor. Nigel thinks it is a masterclass in lift technique, and Neil says that she is easily his favorite dancer on the show. Another strong outing for Melanie, who looks to walk away with this competition if she keeps it up! Caitlynn's solo is to "Cosmic Love" by Florence and the Machine, and she's got another strange apparition around her waist, making me wonder if there is a side program being filmed called So You Think You Can Sash.
Ricky and the lovely Allison from Season 2 (one of my all-time faves on the show) get paired with Tyce Diorio, who looks to redeem himself with a jazz routine to "Precious Things" by Tori Amos. It's a dark piece that's supposed to be like a bad dream, and thankfully it's well thought out and danced by the pair of them. Nigel congratulates Tyce on the routine, and says Ricky held his own with the tremendous Allison. Neil is impressed, too, and thinks it was a bold choice of Tyce to give this piece to Ricky, who usually dances pretty young. It's apparent from the look on Tyce's face that he's still stewing over Neil's early comments on his abominable Broadway flying routine. Mary normally calls Tyce Dr. Feelgood (…cuz, um, he's the one that makes you feel all right?) and admires the twistedness of the routine, and singles out Ricky's powerful single arm lift.
Two routines to go, one solo and one paired! The last solo belongs to Marko, who takes the stage to Gavin DeGraw's "More Than Anyone." It's pretty strong. The last couple is Clarice and Season 7's Robert, who close the show with a Bollywood routine from Nakul Dev Mahajan, set to "Aila Re Aila" from the Khatta Meetha soundtrack (which I'm assuming is a movie that will soon be remade in America with Jaden Smith or something). It's super fast and precise like all of his previous Bollywood numbers, and the two of them put their all into it, wearing glittery sequined outfits that would make Liberace blush. Neil loved it, and is happy that he finally connected with Clarice (I guess you just need to be there sitting across from her!). Mary starts her review with "From Bollywood to Hollywood…" doing her best Gene Shalit impression. She found it to be exhilarating and a lot of fun. Nigel thinks it's a great way to close the show and loves the style of it.
Cat rattles off the numbers and turns it over to you, America! So vote now and vote often!*
*voting is probably closed by the time I post this. Why? It takes a long time to write these and I'm a little hungover. Leave me alone!