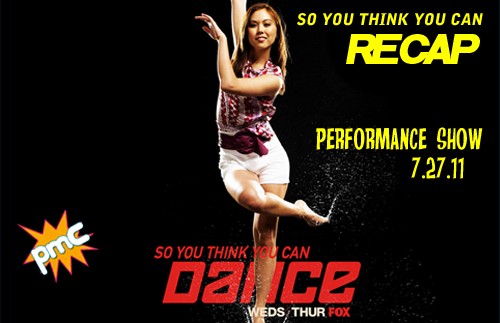 Cole here! It's the Top 8! It's new(ish) All-Stars! It's a recap! Here we go…
After the usual quick dancer intros, Cat Deely appears in a tight fitting white placemat dress and quickly introduces our JUHs (this time she took on the first syllable and let the audience fill in the rest, like that thing on Sesame Street or Electric Company or whatever it was—"Juh" "Jez"…"Juh"…"Jez"…"Juhjez!"). And my, what a colorful panel it 'twas! Rob Marshall, director of Chicago and the fourth Pirates of the Caribbean flick, is so brightly orange he makes Mary Murphy look like Edward Cullen. Lady GaGa is here! She's dressed like a Sgt. Pepper carnival nightmare, with giant red stilty shoes, round sunglasses, minty green hair and a red leather Captain's cap. Mary and Nigel are there per usual as well. We learn that there are going to be twelve routines (oh lordy), each dancer with an All-Star and then paired together.
Sasha and Pasha are up first, doing a Jonathan Roberts quickstep. The choreographer preps it as a bizarre, alternate reality routine, set to "Puttin' on the Ritz" by Terry Snyder. Sasha is wearing a headband made out of Father Christmas, and Pasha a suit with a bedazzled tie. THIS is supposed to be bizarre? It makes Must Love Dogs look like Mulholland Drive. It's your typical well-danced but not terribly exciting quickstep, which should do Sasha no favors come elimination time. The judges are impressed, however; Rob thinks Sasha is astonishing and classy, and dances with meaning. Mary thinks she pulled it off, with an amazing upper body but that she needs to get her knees softer. Nigel admits that Sasha is his favorite dancer in the competition, but thought she was a bit too stiff. GaGa disagrees! She thinks Sasha nailed it, and is shiny in and out, which I guess makes her this program's pyrite.
Next up is a Marty Kudelka hip hop routine for Caitlynn and Ivan. She's fed up with her man, and Ivan shows up and wins her over, with the assistance of "Let Me Love You" by Mario. It starts with that favorite of dance props, a park bench, but quickly abandons it for a lyrical routine that's danced fairly well. Bonus points to Ivan, who wears a fedora that makes him look like Hat Damon from The Adjustment Bureau. Mary thinks it was good, but wasn't brilliant, though she can't get enough of Ivan, and starts aggressively ovulating. Nigel thinks Caitlynn needs to get a firmer base and get down into it a little more, prompting GaGa to crack that of course he wants her to open her legs a little bit more. Cat then says a sentence that she probably never thought she'd get to utter: "What do YOU think, Lady GaGa?" GaGa is GoGo for CayCay! She thinks she is extremely sexy and starts aggressively ovulating. Rob thinks it was great, but that Caitlynn needs to lose herself a bit more in the dance.
Jordan and good ol' Ade take the stage for a jazz routine from Tyce "Why does Cole hate me so much and always write crappy things about me?" Diorio! They're supposed to be bad asses at a secret rendezvous, dancing to that traditional spy anthemn, "Nutbush City Limits" by Tina Turner. It's mostly Ade throwing Jordan around the stage a lot, which reminds me of that scene in Daredevil where Michael Clarke "Kingpin" Duncan hucks Ben Affleck around his office. Anyhoo, they do nail it, and it's not bad for a Tyce routine, so take that as you will, Diorio. Nigel remarks, "Is there anything that little body can't do?" and starts aggressively ovulating (British men can do that, btw). GaGa can't stop staring at Jordan's legs, and loved when she looked right into camera to show her star power. Rob compliments Tyce (see, he used to dance for him) and loves how Jordan dances with abandon. Mary can't believe Jordan's amazing extensions, and is super impressed.
Melanie, who is going to win this whole thing, is up next with all-star Neil, doing a Mandy Moore contemporary routine. It's an extremely athletic piece about a relationship at a crossroads, working things out to Bonnie Tyler's "Total Eclipse of the Heart." Melanie sports a white nightgown and Neil white PJ pants sans shirt (there must be a lot of cotton allergies in the dance world), and they absolutely slaughter a routine full of crazy lifts, dramatic elegant movement, and the most impressive trust dive ever seen on this show! They get a much-deserved standing ovation from the judges, and with GaGa in her ridiculous lifts, she looks like Peter Mayhew* towering over everyone else. Melanie is GaGa's favorite dance and would hire her tomorrow, which sends Melanie into a giggling spiral. Rob thinks she is so poetic and has flawless technique, and loved that she let go of the dance in the final moments of the routine and became an actress. Mary can't believe how brave Melanie was to do that ridiculous leap into Neil's arms, and will be surprised if this routine isn't up for an Emmy. Nigel changes his mind—Melanie is NOW his favorite dancer too! He name checks Ellen DeGeneres, who is in the crowd, wearing lumberjack casual. Cat gives the number information, and Melanie leaps into Neil's arms again, and we all start dialing frantically.
Ricky is paired with ballroom queen Anya, which should bode well for a jive routine from Jason Gilkerson. There's no story—it's just two people having a giant celebration of dance. We all, however, have to attend a funeral of music as our ears must tolerate Celine Dion's cover of "River Deep, Mountain High." Ricky is dressed as a server from The Olive Garden and Anya as gold car wash curtains. They begin to dance, and then pull off the greatest statue impression I've ever seen! It lasts twenty minutes! THANKS SO MUCH DIRECTV! Evidently, my DVR wasn't the only one to go on the fritz, and when the show picks back up, Jess is getting his feedback for his routine. So I venture online to try to find the missing pieces much like Guy Pierce in Memento (in retrospect, I shouldn't have tattooed a bunch of SYTYCD facts all over my body)…and don't find much! The Ricky and Anya routine is ok, with some nice lifts and some really awkward ones. I can't find the judges responses, so I'm just going to make them up: GaGa is crazy about Anya and says she'd like to bronze her and put her on her mantle as a human trophy! Nigel pants hard and says something pervy! Mary screams and then critizes Ricky's carriage. Rob is drinking a slurpee and says something about shiny stars.
So we move on to Jess and Lauren G., doing a Nappy Tabs hip hop routine to Rhianna's "Take A Bow." There's a prop flower involved! It's a nice, lyrical smooth routine, and Jess dances it surprisingly well (could it be the sweet sneakers he's wearing? I say yes!). Again, I can't find the judging online, so I've just decided that they all sort of liked it and do a lot of high-fiving. Moving on
The last standing B Boy, Tadd, partners with Lauren for a Mandy Moore piece set to Queen's "Another One Bites the Dust." Tadd is channeling Moonwalker-era M.J., but doesn't use his hat at all to defeat bad guys. In fact, he loses it halfway through the routine but carries on anyway, pantomiming his hat work. Nigel thinks the style suits Tadd great, and won't be "biting the dust at all this week!" (Wocka wocka wocka!) GaGa loves the styling and is amazing that Tadd can change styles so well, and Rob thinks it's the mark of a real pro that Tadd went on despite losing his chapeau and getting smacked in the face by Lauren (hey, she won last year, so she's earned some pain-distribution!). Mary thinks he put the C in Cool tonight, and that when he swags, it's not like anyone else on show. She predicts finale for him!
It's the last of the all-star pairings, with Allison joining Marko for a Sonya Tayeh piece to "I Know It's Over" by Jeff Buckley (who left us far too young. Man, that guy was amazing). Marko and Allison attack the strong movement that's Sonya's calling card, and the judges are swept away with it, giving the second standing ovation of the night! GaGa is sobbing uncontrollably (I guess she was just born that way), and she is so proud of Marko. His mom is in the audience, and Marko apologizes for being a punk kid and professes his love for her, adding fuel to the panel and audience-wide waterworks. Rob thinks Allison is amazing, and that the two have an incredible partnership. Mary is amazed by the routine, loving its honesty, and calls out Marko as her favorite dancer! Despite running low on time, Nigel can't be quick with the comments, savoring this ratings-getting moment, tell us all to tell our mothers we love them. Mine just happens to be sitting next to me, visiting from Northern California, creating a truly surreal moment for me personally.
We transition to the contestant on contestant dance numbers, starting with Caitlynn and Tadd, and their Jonathan Roberts foxtrot. Oh, the foxtrot, also usually known as the bathroom break routine. It's classic Fred & Ginger, set to "Top Hat, White Tie and Tails" by Ella Fitzgerald. Caitlynn looks exquisite in a flowing white ballroom gown, and Tadd classy in a tux with tails. Rob thinks it sparkled from beginning to end, with the style suiting Caitlynn and Tadd being surprisingly good at it. Mary thinks they did well, but that the routine wasn't very memorable. Nigel was in heaven watching the two of them. GaGa loves it, and then makes some weird comment about Caitlynn seeming like she's won a bunch of competitions and that GaGa takes her platinum records off the wall to inspire herself to do it all again.
Marko and Ricky team up for a Nappy Tabs hip hop routine where they play waste management engineers, er, garbagemen in a piece obviously inspired by the Emilio Estevez/Charlie Sheen reggae-tinged movie Men At Work. There's a lot of broom work (and some dance air guitar!) and they attack it. Ricky, being so tall and skinny, isn't as comfortable as Marko out there but still holds his own. Oh, and it's set to P Diddy's "Bad Boy For Life." Mary loves it and shows her approval by sheirking and piercing our collective ear drums. They "had the vibe and kept it right and tight," said Mary, doing her best Don King impression. She also says they really "cleaned up!" The sanitation puns come fast and furious, with Nigel unable to avoid the temptation as well. He does predict that Ricky might be in the bottom. GaGa liked them, but didn't love the routine, mentioned her childhood love of Stomp and her disapproval of the props in the piece. Rob is astonished by their range, and continues to change hue like a musical chameleon.
Two to go! Jordan and Jess bring their J's together for Jason Gilkerson rumba. It's about a woman who is stuck in a controlling relationship (why are almost all these routines about dysfunctional couples?) and it's to the great Adele track "Set Fire to the Rain." Jess continues his run of shoes wearing, and Jordan looks like Spiderman went through an office shredder. Nigel is impressed with the lifts, but doesn't feel they had chemistry. GaGa thought there was nothing wrong with it and that it had moments, but wasn't great, and didn't like Gilkerson's interpretation of the song. Rob thinks they brought the best out in each other! Mary also thinks their chemistry was lacking, but thought one back lift was the best lift of the season.
Finally, Sasha and Melanie team up for a Sonya Tayeh futuristic robot warrior faux hawk dansterpiece, to "Game On" by District 78. Bathed in green light, they do a lot of precise weird movement (and an extended crab walk sequence) and bring the house down. The ovation goes on an on, and the judges flip out! (Honestly, I love them both, but I thought the routine was good, but not quite up to the accolades bestowed on them). Rob thinks its unbelievable and talks about the Emmys won on the show. Mary thinks its the best piece of the night and the best piece Sonya has ever choreographed! Nigel thinks its fantastic and thinks Beyonce must have modeled her Sasha Fierce character after her. He starts to make a reference to the Bond flick Diamonds are Forever, but is upstaged by GaGa throwing her platform shoe to them. He predicts that one of them could win it all! (Ya think?)
Cat gives out the numbers, and we're done! Hooray!
*He was Chewbacca. So, you know, you get the reference.