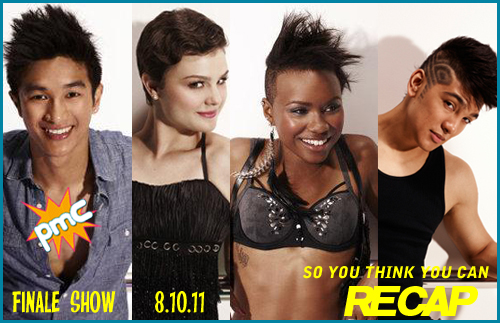 It's Cole, and Ladies and Gentlemen, it's the So You Think You Can Dance finale(ish!) Yep, it's the last time the Fantastic Four are going to take the stage – there's Mr. Fantastic Marko, who's rubbery physique allows bullets to bounce right off of him; the Invisible Woman Melanie, with a complexion so fair she'd fit right in with the Cullens; the Human Torch Sasha, who's strong moves have her constantly on fire in the competition; and Tadd, the Thing with the crazy floor moves and abs made of bricks. (See what I did there? I could have also done analogies to Power Pack and Guardians of the Galaxy, but no one would want them, true believers!)
Cat, who should have gotten an Emmy nomination on her lovely wardrobe every week alone, intros them and then our judges (she doesn't say it—drink up!) In addition to show staples Nigel Lythgoe and Mary Murphy are guests Kenny Ortega (cashing in on Dirty Dancing next year! Start your weeping!) and Katie Holmes (no Suri, so she's in no hurry!) We're informed that they'll be dancing solos, with all-stars, and with each other, so we've got a looooooong night of twirling ahead of us.
Marko & Melanie team up first for a Doriana Sanchez disco routine! Hey, we haven't seen disco all year! Oh….that's why. Marko is dressed Miami Nice in a stark white suit with a pink shirt, and Melanie is wearing some sparkly napkins, and they struggle to Donna Summer's "I Feel Love (12" Version)." The disco ball on the ceiling sprays color everywhere, but the two don't look comfortable in the style. It's the first time I've really seen Melanie out of her element and not adapting well, but we have eighty thousand more routines to go, so I'm sure she'll bounce back (she does). The judges (sorta) like it! Kenny was all, like, "WOW! You guys jumped off the screen of Saturday Night Fever!" He never invites them to jump back on. Katie offers the first of her bland, non-helpful, non-critiques by basically echoing Kenny, then adding that she believed the story they were telling, which I guess is a story about two dancers forced to soldier through a crappy disco routine. Mary and Nigel both point out that they felt it was a bit of struggle, but expect to see better from them as the night goes on.
Sasha is teamed up with all-star Mark for a Sonya Tayeh contemporary routine to Deadmau5's "Raise Your Weapon." It's Mohawks galore! Lots of crazy strong movement that you'd expect from a Sonya routine, and they attack it convincingly. Katie Cruise thinks it was strong and powerful! (Is that what Tom's image team programmed her to say?) Mary has to say WOOOOOOOOOOOO! (I feel sorry for anyone with a 3D television, who probably just had their screens shattered). She then strings along a series of motivational words that don't necessarily fit together to praise her ("You had determination, and when you slappedown you wanted to be a champion and a star 'cuz that's what you are!") Nigel thinks she's thrown down the gauntlet to her competitors and is the one to beat so far. Kenny praises Sonya's innovation and her consideration to her dancers. Two routines in, and Sasha's pulling in front!
Bboy Tadd pairs up with the champ of Season 4, Joshua for a Lil C hip hop routine that is all about the hustle and using N.O.S. (you know, Nitrous Oxide, like they use in The Fast and the Furious to speed past the holes in the screenplay). It's to "Hustle Hard" by Ace Hood, and the two of them look pretty McFly in their Back to the Future vests and red sneakers. Tadd does pretty well, but Joshua is just sick in this style, hitting everything so hard its almost comical. Mary says that this is hard for Tadd because of his sweetie-pie persona, but that he did well. Nigel pokes fun at Lil C's ridiculous vernacular and tosses out a bunch of 50 point Scrabble words, but that Tadd didn't hit it as hard as he would have liked. Kenny wants to be hooked up with a pair of those red shoes! Cat is quick to chime in that it's as if "Dorothy was in the hood!" EMMY NOMINATION! Kenny also compliments the all-stars and says they elevate the show, and that Joshua and Tadd made a great pairing. Katie Holmes is busy making brunch plans with Xenu, but thinks Tadd's sweetness is refreshing.
Melanie & all-star Robert draw a Stacey Tookey contemporary routine about unrequited love (NEW GROUND ON THE SHOW!) to Sinead O'Connor's "Sacrifice." This is right in Melanie's wheelhouse, and she has fantastic chemistry with Robert, so it's a home run! Nigel thinks it was  a beautiful routine, and although he's not sure she has captured America's heart, she certainly has captured his. Kenny praises Robert's partnering contribution, and says he would push himself to the front of the line to work with Melanie! Katiebot 3000 was blown-away! Mary then says the weirdest thing I've ever heard on the show: "Your face must have looked like Yogi Bear when he gets a picnic basket when you drew that routine." Women LOVE being compared facially to bears! Seriously, tell your lady she looks grizzly and get ready for some loving!
It's time for Broadway! GOOD NEWS! Tyce Diorio is no where in sight! Instead, it's a piece by Spencer Liff set to "Whatever Lola Wants" by Ella Fitzgerald. The story concerns a waiter (Marko, hamming it up in character glasses) and an upscale lady (Sasha, looking like Grace Jones on a night on the town) who wants to order something "off the menu." That's Marko. The waiter. For sexual purposes. In case it wasn't clear. It's a fun, vampy routine that the judges love (except for Nigel, we'll get to that). Kenny thinks it was great fun, and didn't even recognize Marko at first since he was so into character! (He's the Daniel Day Lewis of this show!). Katie loved it. Incredible! Way to go! Powering down now. Mary thinks that comedy isn't easy (she should know) and that adding it to a dance routine makes it even harder, but that Marko nailed it. Nigel, however, is unimpressed. He thought the characters weren't strong enough. He lets out a loud HARUMPH and drinks his Earl Grey in silence.
And now for some filler! Cat sat down with each of the final four for an Inside the Dancer's Studio thang where she chats with them about their experience on the show. Melanie is up first. Her favorite routine was with Neil where she leapt into his arms, she was closest with Ricky (and now Marko, by default), she talks about kissing on the show, and that she draws on her deceased dad when the piece is darker, and thinks he would be proud of her. It transitions into the first solo of the evening, with Melanie dancing to "Song for Viola" by Peter Bradley Adams. It's lovely. I hope she wins.
Marko is the next to be interviewed and dance solo. The whole thing is surreal to him; he's from Guam and watched previous seasons on the internet and used to mimic the performers. His fave routine was the Turn to Stone one with Melanie, since it was the first and showed he could really to it. He talks about his mom being there, and surviving the gunshot wound. "If you have a reason to live, you don't have a reason to quit." Nice words, Marko. His solo is to "The Fear You Won't Fall" by Joshua Radin. We also meet his Dad, who is there for the first time!
Sasha & Tadd are up next with a Mark Ballas Cha-Cha routine, which is definitely the biggest train wreck of the season. Even Basement Jaxx's "Raindrops" can't save this sloppy, awful mess—there's all sorts of missed handholds and haphazard lifts. They look exhausted and well out of their elements, and the judges don't hold back (save for Katie, who I guess isn't allowed to say a single disparaging word). Katie: Thank you. You are both strong dancers. End of comment. Rinse. Repeat. Mary loves them too, but thinks it didn't work at all, and that Sasha fared a little bit better than Tadd. Nigel agrees, and thinks this is the first time that Tadd really showed that he was out of his comfort zone and that it was uncomfortable to watch him. Kenny agrees, but tells them to shake it off and come back out and blow us all away!
Marko and last year's winner Lauren pair up for a contemporary routine from first time choreographer Tessandra Chavez, and thankfully it puts the show back in order. From the first notes of "Shirk" by Me'Shell N'degeocello, it's emotional and raw and really strikes a chord with the audience and the judges. Mary is a bit choked up, and thinks we can see Marko's soul when he dances, filling up every moment and nuance of the number. Nigel has been fairly disappointed with the finale thus far, but thinks Marko just entered the race a serious contender after that. Kenny thinks Lauren was a great gift for Marko, and that they were made for each other. Katie is glad she and his parents got to see it live.
Tadd is next for the Cat quiz and solo. She comments that its rare for a breaker to get this far in the competion. Tadd was most nervous the first week since he felt he needed to prove himself, and thinks America is connecting with his solos. His favorite routine was Travis Wall's Vulture Dance with him and Jordan, and we get a screen shot of a website called "Keep Your Shirt Off, Tadd." Yay America! His solo, full of his patented floor work, is set to Jessie J's "Mamma Knows Best."
Tadd and Melanie meet Ray Leeper for a silly routine about a guy getting caught cheating and his lady laying down the law. It features tear-away pants, heart boxers, and "Show Me What You're Working With" by Sister Monica. Melanie is also dressed like Sandy from Grease (the slutty Sandy at the end, not the poodle skirted one at the top). Nigel thinks the routine brought the evening to life, and loved Melanie's character, reminding him of Sweet Charity. Kenny thinks there is theatre in everything she does, and was gripped to the stage before she even started dancing due to her characterization. Katie loved this, it was so much, a breath of fresh air (Remember when Katie was on Dawson's Creek and was sexy and alive? I sure do). Mary thinks Tadd brough sexy back for sure, and that "redemption is the best medicine." (I'd opt for Revenge, or just actual medicine).
Sasha is the final dancer to get the Q&A and solo treatment. She is happy that her sister Natalia was with her the whole way. Her favorite routine was Misty Blue with Twitch, and she loved it when Lady GaGa threw her giant red shoe at her. There's talk of her emotional wall routine from last week's show. Her solo is to "Be Be Your Love" by Rachael Yamagata, and she is wearing a Winona Ryder Reality Bites doily top.
Two routines to go! There's a quick pimp out for the upcoming tour, and then its time for Sasha and Melanie to team up for a Stacey Tookey routine about a couple of housewives in the 50s trying to break away together from their humdrum life. There's picket fences and benches on opposite sides of the stage, and the two wear appropriate dresses and dance it well. Oh, and it's to "Heart Asks Pleasure First" by Ahn Trio. The judges eat it up—Kenny loves that they are two actresses that can dance, Katie loves seeing the two dance together and this exploration of friendship, Mary thinks they are beautiful together and loves the musicality of the routine, and Nigel loves their comraderie and encourages them to join dance troupes when this is over.
Last one! And of course…it's a Gumboots routine! It comes from South Africa and is how miners communicate underground. Duh. It's choreographed by Chuck Maldonado, and it finds Tadd and Marko in full on miner outfits, stomping around to "B.O.B." by Outkast. It seems a little sloppy to me, but the judges like it well enough. Katie loves everything they've done in this competition, Mary thinks it was solid gold and slaps Nigel a bunch. Nigel thinks it has been a great journey and that although they did pretty well, he thinks one of the ladies is going to win it. Kenny thinks they did great and wishes them luck tomorrow night!
We get a recap of the numbers, and its our turn to vote! Stay tuned for the final results…and the final recap of Season 8 of So You Think You Can Dance!