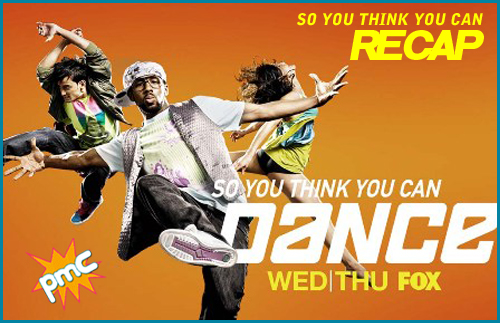 Cole here! We're getting down to the wire! It's the Top 6, pairing up with the all-stars and each other (with solos to boot!), with the top 4 making the finale next week. Cat Deeley, wearing half dress/half pearled fisherman's net, introduces each of the dancers and then turns to our judges (for those of you playing the will-she-or-won't-she-say-it drinking game, this time the word came out of her mouth!). Nigel is dapper in a suit and purple tie and hanky; Mary Murphy is sporting a sparkly-shoulder-padded dress with her—TITS AHOY!—um, ballroom boobs on display; guest judge Christina "Kelly Bundy" Applegate looks darn pretty; and the self-proclaimed king of krunk, Lil C, is there to provide us with several high-scoring plays for Words With Friends. We see video of some Dance Day submissions from Sweden and Egypt, where people all over the world shake their groove thing and tolerate that crappy LMFAO song about party starting and having a good time.
First up is complete and total frontrunner Melanie! She's paired with season 4's Twitch. They're doing a Nappy Tabbs hip hop routine about Red Riding Hood and the Big Bad Wolf, only Red gets "buck!" Yes, it's Little Red Swagging Hood, and they take the stage between several prop trees to pop and lock to Nicki Minaj's "Roman's Revenge." It's pretty awesome, and Melanie destroys it, all the more impressive since she is far out of her comfort zone. Lil C is the first to weigh in. He thinks the routine is fast moving and difficult, and despite some shakiness at the top, it soon gains super buckness (I can't believe I just typed that). Christina is blown away by Melanie, and says that she gives her hope for dance (was dance dying? What did it have? Did we use some super new experimental drug on it? If so, we better be careful, or dance will rise up and take over the planet). Mary says in all eight seasons of the show, her brother has never called her to praise a contestant, but that he thinks Melanie is truly special. They compare her to Shirley Temple, and love her commitment and versatility. Nigel agrees, says she is phenomenal and that we'll see her in the finale. I'll be shocked if we don't.
Sasha teams up with Kent, that little energy ball from Wapakoneta, for a Tyce Diorio routine that's the furthest thing from Broadway he's ever done (Jazz hands need not apply). It's about a couple that has hit a (literal) wall in their relationship—wait, I've got a bone to pick here. Why are 80% of the routines this season about a troubled relationship? Everything is like "It's about a couple at a crossroads who are trying to rekindle what they had but he/she is weak and he/she is abusive but they aren't sure who they are anymore and there's pain and hardship and longing and they have to dance to save their relationship but end up going the other way and a 5-6-7-8!" There's a lot of raw emotion in the routine (and a lot of Spiderman-esque wall climbing) in the piece, and everyone gets caught up in it, to a point of it getting kind of annoying. Christina comments that although there have been better technicians on the show, she doesn't care, it's Sasha's sheer emotion that makes her stand out. Mary thinks it was intoxicating from the start, and that it was dynamic and artistic. Nigel thinks Sasha is brilliant when she dances, really letting us into the routines, and—surprise—she's back to his favorite dancer again! Lil C chokes back tears and comments on the unfairness of life, and wishes he had had the chance to work with Sasha since he admires her so much. It looks like a two-lady race to win this whole thing.
Marko, who picks up choreography like bullets take to his shoulder, is next with all-star Janette for a Dmitry Chaplin Paso Doble! It's about a toreador and…an animal rights activist (I admit, dancing is more effective than signing petitions) who tries to save the bull from him (sadly, no prop bull or dancers in a cow outfit). It's set to "Zorongo (Traditional)" by Antonia Gomez, with Marko wearing a golden matador outfit (or Freddie Mercury Sunday casual). There's one great lift where he literally swings Janette around his shoulders like a cape. Mary makes a joke about them wearing similar outfits, and loves the style of the piece, even though he lost his footing from time to time. Nigel wanted a little more passion out of it, but thinks Marko will be fine come voting time. Lil C thought it was a pleasure to watch him and loved the dominance he had, particularly in his…crotch area. Christina admits she knows nothing about this genre, but thought he was great, but that he could have been even deeper with his…crotch area. We leave crotch chat and transition to…
A clip package of Ricky's mom! Cat informs us that we'll be checking in with the parental units of the contestants before each of their solos. After some motivational words by his mother, Ricky dances a leggy solo to "After Tonight" by Justin Nozuka. There's no judge feedback on these, so we kick to commercial and come back to our next pairing.
Tadd teams up with Elenore for a Sonya Tayeh period piece about a couple who've never touched before—and then go all horndog all over the stage! There's lots of lip locking, but even more twirling and dangling from a prop chandelier. Set to Beirut's "The Gulag Orkestra," its more Cirque du Soleil than dance piece, and although it's super interesting, the panel is pretty split on it. Nigel thinks that it was…well, just it was. He wishes there was more actual dancing involved, and struggles to find the words to describe it. He's clearly embarrassed by it. Lil C gives big ups to Sonya, and loves of she utilizes each dancer's strengths no matter what the genre. He does wish that they had lingered in the moments longer. Christina tells them to get a room and marvels at Tadd's Bboy versatility. Mary praises his ability and the fact that they utilized a dangerous prop so well.
Caitlynn's mom weighs in from the states and her pops via internet from an oil rig. They love her, they are proud, blah blah blah (they are all like this really. So why do these packages? I don't think it's news that their folks would be proud of a kid who is realizing their dream on national television). She does her solo to Katie Thompson's cover of "What's Love Got to Do With It?" Its good, but really short, so not a lot happens.
Ricky and Jaimie get a Dee Caspary contemporary routine about *sigh* a couple who's relationship is fading so he tries to stop her from leaving by…conducting her with two sticks. Now we're talking! It's to "Inside These Lines" by Trent Dabbs, and it's a lot of Ricky pushing Jaimie around the stage with his two tiny batons. One wishes there was some renegade yarn or uppity chow main noodles on the stage for him to wrangle as well. Despite the odd concept, it's danced well and the panel generally likes it. Lil C congratulates him on using a prop well, and then throws out this tongue twister: "What a magically magnificent puppeteer of physically rhythmic artistry you are." Theater companies take note: You have a new vocal warm up! Christina thinks he is a beautiful dancer, but doesn't dance with the clearest of intentions sometimes. Mary thinks it was some great free-flowing movement, with Ricky bouncing off the piano keys of the song. Nigel thinks it was a lovely routine and digs the concept, and thinks Ricky has great lines but could use a more grounded base.
We check in with Tadd's Dad, who thinks he's Rad, and doesn't want him to do Bad, and that hypercolor shirts were a Fad, but won't wear plaid. Tadd's solo is to "We Speak No Americano" by Yolanda B. Cool & Dcup, and has lots of his signature Bboy floorwork in it. On the heels of that is another solo, this time from Sasha (oh, and her parents think she is like Peter Pan), who fills the show's "must use a Lady GaGa song" contractual obligation and dances to "Teeth."
It's the last of the all-star pairings, with Caitlynn burning the floor with Pasha on a Dmitry Chaplin Samba! They challenge her to be sexy, and she is in her tattered Flamingo outfit, but mugs too much. Pasha's shirt is open which I'm sure distracts the female (and many male) viewers. Oh, and it's to "Drop it Low" by Kat DeLuna. Christina thinks she did really well, and is in awe of her body. Mary thinks she did great, and that their bodies were locked together brilliantly. Nigel agrees, praising the samba roles, but comments that she doesn't have to pull so many sexy faces. Lil C agrees with everyone, and makes a swimming pool anology (swan dive, don't cannonball!). Cat jumps on board and makes a belly flop joke. Sadly, no one tries to cap it with a Triple Lindy reference.
We see Marko's Mom in Guam, who comments with aplomb! He's the bomb! Marko's solo is to "Wonderful World" by James Morrison, and he dives onto the stage and really attacks it. Melanie is the last to do a solo, and HOLE. E. SHIT. It's PHENOMENAL. It's to "Cracks" by Freestylers, and it gets an extended (and standing) ovation from the crowd and judges.
Time for the first of the contestant pair-ups! Ricky and Sasha take to the studio to learn a Kummari Suraj WHACKING routine. Yes. Whacking. It's a lot of quick arm movements and looks like half-completed cheer moves. They dance to "Schoolin' Life" by Beyonce, and it's ok, but nothing fantastic. The judges are kind, probably to support their new choreographer (who is dressed as Miss Daisy, by the by),  though they talk about Princess Lockaroo and how superior she is at it (she was a contestant earlier in the season who got to Vegas by whacking, and then was whacked from the competition). There's lots of wordplay about the whacking lacking or slacking, and it reaches a boiling point when Christina admits that they could have "whacked it harder." Suddenly, a TV-MA appears on the screen…in my mind.
Melanie and Tadd get a Spencer Liff Broadway routine with quite a story—Tadd is an acclaimed choreographer and Melanie is his star! She's fallen for him, and he realizes it, so he plays on her emotions to get a good performance out of her but doesn't actually reciprocate the feelings. Quite a lot is packed into the routine, which includes a mirror and a chair, and the two pull it off very well. Nigel starts by praising Melanie's solo, saying it was one of the best the show has ever seen before (find it on YouTube, people. It's so worth it!). Not only is Melanie a beast, she's an incredible actress, and he's once again Nigel's favorite dancer! Tadd "didn't suck," and he means that as high praise. Lil C loves the routine and its buckness (lots of male deer in these pieces!) and also calls Melanie's solo "Beefy," and compliments Tadd on his growth. Christina compares Melanie to Donna McKechnie in A Chorus Line (only better!), and still can't believe Tadd's versatility. Mary agrees with her colleagues, and says that America has fallen for both of them.
One routine to go! It's Caitlynn and Marko and a Sonya Tayeh jazz routine set to "Heavy in Your Arms" by Florence and the Machine. It's another abusive couple thing, but they amp up the intensity and excel. "Whatever happened to Disco?" wonders Cat, commenting on all of the heavy pieces in the show. Lil C pimps out his twitter feed (@kingofkrunk, if you're wondering), explains hashtags to all of us and proclaims it to be ##buck (that's a DOUBLE hashtag! Which would do NOTHING on Twitter and get buried! So yay, you!) Christina says that Marko is a beast, with powerful aggression, and that this is Caitlynn's breakout moment, which everyone agrees with! Mary also comments that Marko is her favorite dancer!
We get the numbers and head into the final voting period before the last show! So get dialing, people!