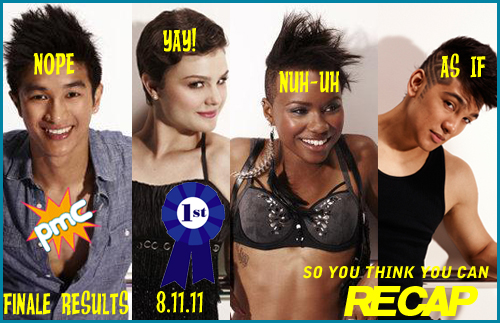 Cole here! This is it! The moment we've all been waiting for! (And really me, cuz this is the final recap I have to write and can reclaim some free time! Hooray!) The Top 20 take to the stage for a big group number set to "Wanna Get Hype" by District 78—bathed in red light and dressed in goth Rocky Horror outfits, its full of crazy energy and weird movement, which means it has to be a Sonya Tayeh routine (it is!) It's primarily the 5-20 dancers until the end when the top four appear in a stream of white light and finish off the number. It's a nice start to finale chock full of things you've seen before!
Cat struts out in a tight red sequined dress — steam billows from my ears as my eyes shoot out of their sockets and my tongue pours out like stairs. She introduces our Judges, and there are more of them than the Wayans, Baldwins and Kardashians combined. Joining Mary Murphy and Nigel Lythgoe are the king of krunk and vocab Lil C; creator of the Pussycat Dolls Robin Antin; our fave sitcom ginger Jesse Tyler Ferguson; Broadway guy with a dramtic streak and beard outline Tyce Diorio; and Mad Maxian alt choreographer Sonya Tayeh. The finalists come back out and each of the judges gives them some final words, mostly random combinations of the follow: Thank you, artistry, incredible quality, spirit, talent, amazing, glorious, stars, grateful, humble, inspiration. Nigel apologized to the boys after he said a woman was going to win and that they didn't have a chance, which both of them just kind of shake off (as the results would reflect, they didn't stand a chance and I'm pretty sure they knew it).
We then kick to a video package that's a recap of the audition process and the show in general, with a backdrop of the William Tell Overture and Coldplay's "Every Tear Drop is a Waterfall." We see bits of the following: the creepy Ringo Starr and daughter, that annoying blonde chick who thought she was all that (sans bag of chips), the Woo man, the father who danced from Texas, the dude in a speedo, the gap teethed stripper, contortionist crab walking breaker guy, Janine's sister, the Vegas rounds, Natalia going to the hospital, the Top 20 selection, Debbie Reynolds, Tyce's stupid words of wisdom, Shoeless Jess, the non elmination week, the Marko and Melanie kiss, GaGa throwing her shoe, Marko loves his mom, GaGa crying, and Nigel proclaiming the only winner will be dance!
Cat informs us that the judges will be picking their favorite routines from the season, prompting those on a DVR time delay to fast forward about an hour and 45 minutes to get to the good stuff, and the rest of us to take a trip down recent memory lane. Mary is the first to pick a piece, and she opts for the Tyce Diorio wall routine with Sasha and Kent that we saw like ten seconds ago on the show, set to "Fool of Me" by Meshell N'degeocello (I know that's not spelled correctly, but I'm lazy). Since we've seen these all before and I've already written them up, I'm not going to go into crazy in-depth descriptions. So there.
Prizes! We can't forget the prizes! In addition to like a quarter of a million bucks, the dancers get featured in a Gatorade G Series print ad. There's voting online for it. Cat kicks to another video package, this time about the budding romance between Nigel and Mary, with clips of them kissing, flirting, and teasing each other. It's like walking in on your parents doing it, and I can't get it out of my retinas. Nigel is up next, and picks a Nappy Tabs routine with Marko and Melanie to Leona Lewis' "I Got You." Marko wears an undone bow tie and Melanie is in a Footlocker cupcake dress. After the routine, Nigel and Jesse are cuddling and I wonder when the show turned into the Red Shoe Diaries.
Robin has the next pick, and goes for Tadd and Lauren's Mandy Moore routine to Queen's "Another One Bites the Dust," in which Tadd is channeling Moonwalker-era MJ. We then get another video package (see where this show is going?), this time about the weird and wonderful stories behind most of the dances. Yep, this season we've had routines about sea creatures, rock stars, waste management techs, suppressed housewives, singers in the Rat Pack, the Medieval era, the 50s, a rehearsal within a rehearsal, being hit by a car, a first date, swinging on a lightbulb, on top of a piano, the cult of fashion, woodpeckers, a vulture stalking a boy, and a princess. They fail to mention what made up the 50% of the pieces—DYSFUNCTIONAL FAILING RELATIONSHIPS.
It's Lil C's pick, and as the "adjudicator of the Hip Hop community," every once in a while he sees a routine that is so buck, you want to rip your hair out and break your neck (note: I have never ever seen a routine, buck or otherwise, that made me want to do that). He orders up Robert and Miranda's hip hop piece set to Busta Rhymes' "Break Ya Neck." It's so buck I decide to use that two minutes to get myself a Ginger Beer and tear a little bit of my hair out.
What's this? CAT gets a pick? We can't just make up the rules as we go along, people! Cat speaks about the one routine that made her cry—a circus piece with top eight dancers, choreographed by Tyce Diorio. It's just the video from the first time it was danced. Circuses often make people cry, but not because of the dancing. (I see you, clowns). After a quick pimp for the summer tour, we are treated to a new, cool tap routine featuring the winner of the UK version of the show, Matt Flint, and our two tappers Nick and Jess. They are wearing suits and tap to Michael Bubble's "Can't Buy Me Love." It made me sad for the lack of tapping on the show this year.
Mary gets another pick, this time it's Neil and Melanie being dramatic to "Total Eclipse of the Heart" by Bonnie Tyler, the piece with the big leap of faith into Neil's arms. Jesse picks next, singling out Marko and Allison's contemporary Sonya Tayeh routine to Jeff Buckley's "I Know It's Over." It's the one that made Lady GaGa tear up, and the fly on her hat as well. Tyce picks next, and it's another Sonya Tayeh routine, the top ten girls doing the Geisha routine from the first show of the season.
Finally, we get to some results! We quickly recap the Top 4's journey, and Cat pulls out an envelope. In 4th place, it's…TADD! Which we figure! So no real drama there! We see a clip package of his stuff, he gets his flowers, and he says a few words. He had the time of his life! He breaks into the sunset and we…go back to more judges' picks. Sigh. This time, Lil C opts for Chris and Ashley's "Please Mr. Jailer" routine with the jail bars. It's a reminder of how kind of boring Chris was. So…nice pick, C.
Oh boy, the promotional tie tin! The Top four think they are being given another routine when they show up at practice, but—SURPRISE! – it's Heather, Harry and Maya from Glee! They get to go to the premiere of the Glee 3D movie, whether they like it or not! After dolling up, they hit the carpet, we see footage from the ridiculous concert movie, and the four gush about it half-heartedly, while wearing 3D glasses. The things you do to become America's favorite dancer…
Five more judges' picks to go! (SERIOUSLY? GOOD LAWD!) Let's power through these, shall we? Nigel picks the Chris Scott Twitch and Sasha 70s passion breakfast to "Misty Blue" by Dorothy Moore; Sonya selects the Chris Scott Top 10 Guys doors and suits Matrix-esque piece to "Velocity" by Nathan Lanier; Jesse jumps for the Miriam and Leonardo Argentine Tango danced by Caitlynn and Pasha to "Malahunta" by  Orchestra Color Tango; and Mary moans for Melanie and Marko's Travis Wall statue thing to "Turn to Stone" by Ingrid Michaelson. And then—more results! The remaining three come out, and third place belongs to – MARKO! He's our last man standing, and it's down to a two lady race, like all of us assumed it would be. After his clip package, Marko is humble and thanks everyone, saying that money and contracts are paper, but this is their lives.
Nigel has the last pick of the night, and it's a no-brainer; the Sonya Tayeh warrior princess routine for the top two, Melanie and Sasha. It's a nice way to finish everything off, and after a commercial, it's time to crown one of these ladies top dawg. We see their journey packages, and learn that they've danced over 60 times during the show (that's a crazy number, given the brevity of the show over all). The voting numbers are staggering, too: Second place received 32% of the vote, while the winner collected a whopping 47%!
And the winner is…
MELANIE!!!!!!!
She's shocked, crying tears of joy as confetti falls and the crowd goes apeshit. Even though it seemed like a foregone conclusion weeks ago, its nice to see it play out this way, and Melanie takes it all in, signing heart shapes with her hands. She sees her Gatorade Series G ad (yeah, cuz that's important right now), and Cat gives her a giant hug from behind as she thanks the judges and viewers. Melanie is mobbed by the contestants as the credits roll, bidding adieu to Season 8 of this great, great dance show… that I'll be hard pressed to recap again unless I'm showered in Benjamins. (Money, not Button). Thanks for reading!