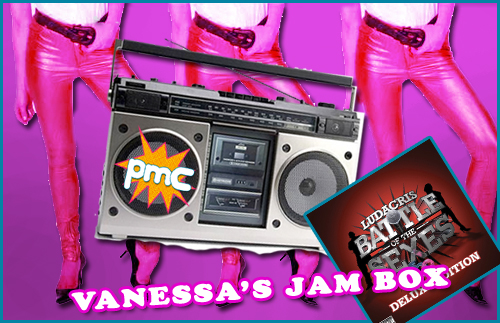 So there's this guy… he's sort up-and-coming on the underground hip-hop scene… goes by the handle "Ludacris." Heard of him?
Ok. I realize it's ridiculous but I LOVE THIS TRACK. (I even talk about it on our year in review episode.)
Why do I like Ludacris? He's funny. He's in on the joke. Even when he's saying heinous things, you can hear the smirk in his voice and sense the twinkle in his eye. He reminds me of a (hypothetical) adorable bad boy in the back of class who I might pretend to be disgusted by, but I would definitely make out with him up against a locker after school.
Sure, we're from different walks of life- I'm too whitebread for him, and he's from the other side of the tracks- but there's an undeniable chemistry- a spark that will last at least for a few weeks (until he is disgusted by my fear of authority and I am repelled by his penchant for shoplifting CDs by people he doesn't even LIKE. Sade? Really? Tyrone, I just don't GET you! Oh, you don't get *me*? No, I'm NOT going to quit playing the flute. I don't care if it doesn't have street cred- I love the sound of woodwinds. This is never going to work, is it? We're over. OVER. Don't look at me like that! Come here, you…)
Anyway. Ludacris is hilarious. And whenever I cough or clear my throat, I find myself uncontrollably blurting "LUDA!"
The beats are hot, the key-tone melody is delightful, and it's total a ear-crush, every time.
LUDACRIS / SEXTING