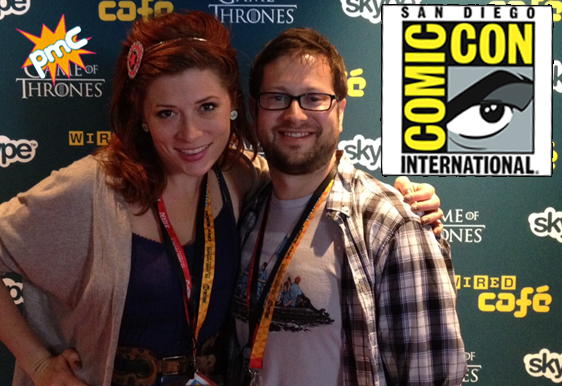 Vanessa's headband courtesy of the wonderful @dadalibrarian.
Hello Culturepoppers! (Is that what we're calling you now? PMCaesars? Pop My Culturevultures?) Vanessa and I are back and showered from the all-on media assault that is San Diego Comic Con International! This year, we attended Thursday through Saturday and this is our recap of the complete and utter madness we experienced whilst buried in Slave Leias, cranky fanboys and bible thumpers with megaphones at the Convention Center. All in all, a fabulous, yet exhausting time! My thoughts (Cole) are written in black here, while Vanessa's crazy ramblings will be in red. So, here we go, panel by panel, party by party, pizza by pizza…
Thursday, July 12th, 2012
We arrived at our cruise ship party spot and embarked on a walk longer than Mordor to pick up our credentials around noon, and trudged over to the line for Hall H, the biggest room at the con (approximately 6000 people). I shivered as memories flashed back of a 6 hour waiting culminating in the infamous pen stabbing incident that barred me from getting in there two cons ago. As the room emptied out due to the Twilight panel being over, we were relieved to get in quickly for a day full of great panels, starting with…
Walt Disney Studios: Frankenweenie, Oz the Great and Powerful, and Wreck-It Ralph
PANELISTS: Tim Burton, Sam Raimi, John C. Reilly, Sarah Silverman, Rich Moore and surprise guests Michelle Williams and Mila Kunis
MODERATOR: Chris Hardwick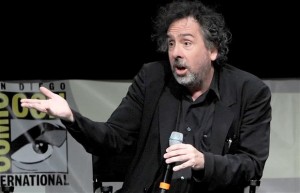 Nerdist himself, Chris Hardwick, was the moderator for all three panels, starting with a look at Tim Burton's new stop-motion family film Frankenweenie. The animation, reminiscent of his previous work on Nightmare Before Christmas and The Corpse Bride, looked fantastic in 3D and the black and white look was lovely, harkening back to his original short film he made 30 or so years ago. We also saw a clip inside of a classroom (where the kids were based on previous classmates of Burton's when he was young) and a scene where the young scientists attempt to reanimate a dead gold fish. Burton was slightly cagey in answering questions from both Hardwick and the hordes of Mad Hatters in the audience, but it was fascinating none-the-less.
And what you're all wondering: Yes, Tim Burton was having a great hair day.  FANTASTIC in fact.  The Frankenweenie claymation was beautiful- later, I walked the exhibition floor and went through his booth which was chock full of the actual critters and sets they used in the movie, and let me tell you- every thing was amazing and meticulously crafted.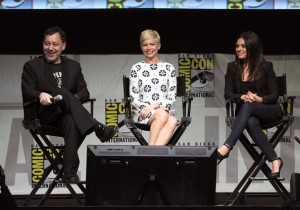 Next up was a look at Sam Raimi's look at the origins of L. Frank Baum's wonderful wizard in Oz, The Great and Powerful. The trailer was screened first, showing the young wizard (played by James Franco) as a sideshow magician, fleeing Kansas in a balloon and ending up in that mythical land. It started in black and white and in 4:3, and turned into magnificent, vibrant widescreen color as we first saw Oz. Surprise guests Michelle Williams (yum!) and Mila Kunis (double yum!) joined Raimi for a quick chat. Several of the audience questions were annoying in that they didn't seem to understand that this is an origins story, and kept asking about the emerald slippers, tin man, etc. Highlight: an enthusiastic fan in full on Mad Hatter garb, obsessed with Oscar-winning costumer Colleen Atwood, accidentally called Kunis a man, resulting in her gorgeous eyes becoming daggers. We only saw limited footage, but Raimi's films are almost always excellent and this one looks to be a winner.
Ok, yes to Cole on his above "yums."  The women looked gorgeous, and if Michelle isn't just the glowiest little glow-er in all of GlowyTown, I don't know who is!  She was also very charming and channeling her My Week With Marilyn persona; all blushy and coy and delightful.   I have to admit- while John and Cole were pretty into the trailer, and though I am a Raimi fan- I'm not on board yet.  I love all the Oz books, the '39 movie, Return To Oz, et cetera et cetera- BUT I am not totally on Team Franco on this one.  His performance in the clips we saw rubbed me the wrong way (felt like his costumes were doing the acting and he was just in charge of mugging.)  I'm sure this will be beautiful, but I don't know if I'll find it satisfying.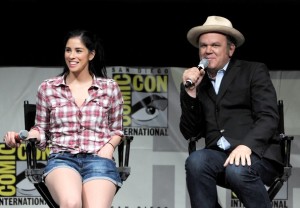 Director Rich Moore joined Hardwick for an extended look at the new animated video game comedy Wreck-It Ralph. The crowd was stoked to see ten minutes of footage for what looks to be a hilarious, meta family film that will be popular with older and younger gamers alike. Plus, it has tons of cameos from legendary video game characters like Q-Bert, Zangief, Bowser and one of the Pac-Man ghosts. John C. Reilly, who voices the title character, and Sarah Silverman joined them after the footage, and Reilly quickly stole the show, having fun with lots of the audience questions, including the strangest one of the weekend, in which a fatigued teen with a headset on asked him what it was like to "have two personalities." Reilly asked if that was his question, or if it was radioed in from his superiors.
John C. Reilly is unbelievably clever smart and charming.  I want to sit next to him at every dinner in the world.
Chinese 12 Zodiacs
PANELISTS: Jackie Chan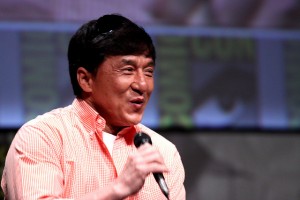 Yes, he's broken every bone in his body. It was truly thrilling to spend an hour with one of the truest actions stars in the world, Jackie Chan! We saw the trailer (twice) for his last full-on action film Chinese 12 Zodiacs. The footage itself wasn't terribly impressive but promised a lot of fun set pieces (including one fight staged completely on one dumpy sofa), and Jackie was full of so much energy and good will it was infectious. There was a bit of a language barrier with a lot of the questions being misunderstood, but Jackie still told lots of great stories, including a two-day shoot next to an active volcano ("Jackie get out of there!" "Don't worry! The rock flew that way"!)
I LOVE JAKIE CHAN! My gosh, from the moment he took the stage he was such a positive force.  He was funny, charming, humble, and overflowing with goodness.  My favorite anecdotes and answers from him were regarding the MASSIVE amount of young martial artists he has trained and those who have become part of his JC Stunt Team.  His commitment to teamwork, respect, and humility were amazing.  The world needs more Jackie Chans!  And I want to send a lot of spoiled, entitled people to JC training camp.  Can he make that happen? 
The Expendables 2
PANELISTS: Sylvester Stallone, Arnold Schwarzenegger, Terry Crews, Randy Couture and Dolph Lundgren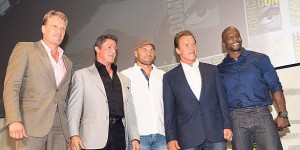 Highlight of the con for me, HANDS DOWN! It's…it's…I mean…every action star that I grew up with was there. So many summer nights spent watching mindless blow-em-ups with my buddies in junior high and high school came rushing back as Stallone took the stage and we were treated to a high-octane reel of his work, as well as the trailer for the film, which was met with lots of cheers and applause. Terry Crews came out next, striking a pose and sounding a barbaric yalp as he was beyond excited to be there. Then came Randy Couture and He-Man himself, Dolph Lundgren! Before the final guest was announced, another reel was shown, treating us to iconic images of a Terminator on a motorcycle, a Barbarian king, and a Commando breaking a promise ("Remember when I said I'd kill you last? I lied.") Arnold Schwarzenegger took the stage and my life somehow jumped the shark. The Q&A was MAGNIFICENT — Stallone and big Arnold riffed with each other like old friends, and Schwarzenegger uttered SEVERAL of his famous one-liners, including: "It's not a tumor!," "Who is your daddy and what does he do?" and "Crush your enemies, see them driven before you, and to hear the lamentation of their women!" They also showed a sequence from the film in which they take on Jean Claude Van Damme and his mercenaries in an airport and turn some of those catch phrases on their ear.
This was amazing.  It was also amazing to see the look of glee on Cole's face the whole time!  The room was electric, everyone on the panel seemed to be having a great time, Stallone was surprisingly eloquent, and my favorite part of the whole moment was a sort of psuedo-romantic conversation that went off the rails between Arnold and Terry Crews… Arnold is REALLY impressed with Terry's muscle mass and complimented him on it for literally 5 minutes.  It was like a girl gushing over another woman's handbag, only… weirder.  Way weirder.
RiffTrax Live
Panelists: Michael J. Nelson, Kevin Murphy, Bill Corbett and special guest Deborah Ann Woll (as Axecop)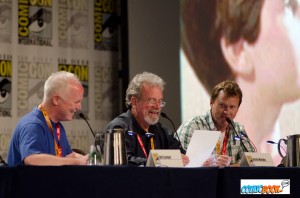 Our last panel of the day was our yearly jaunt to see Mike, Kevin and Bill riff a live short in front of a rabid crowd. In the past, they were in a room of around 600 or so, but this year they commanded the massive Indigo Ballroom (1400 seats) and packed it in pretty good. The short was a hilarious piece about safety at home with a very 70s "super hero" named Safety Woman. It played great. Usually, the guys then would take suggestions from the crowd about movies they should riff in the future, but this year they decided to switch it up and have the audience suggest FAKE movies for them to riff — this caused endless confusion at first, but eventually they got the gist of it. I lined up to suggest Freejack when I realized that it had to be something fictitious, so I pitched Being Joe Don Baker, in which the protagonist ventures inside the mind of Joe Don Baker and then chastises the crew for riffing Mitchell and his movies (this earned me Mike's used copy of Coyote Ugly!). They brought up a special guest judge, dressed as Axe Cop. It turned out to be the lovely and hilarious Deborah Ann Woll from True Blood! A fun way to close out our first day of panels.
SUPER fun panel.  Cole killed it with Being Joe Don Baker and I felt like a proud stage momma (taking pictures and trying to get him to SMILE BABY!) when he got his beloved DVD.  Deborah Ann Woll was such a treat- it's so fun to realize that people you're a fan of are also fans of entertainment!  She's a huge RiffTrax supporter, and that just makes me love her even more.  Oh Jessica, I'd coffin-cuddle with you any day!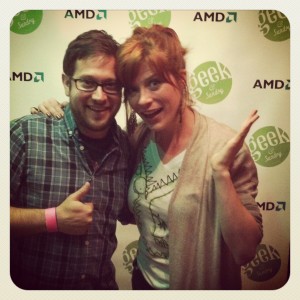 But our day wasn't over yet! Vanessa and I headed over to Felicia Day's Geek & Sundry Party for drinks and dancing (after a hilarious elevator adventure with other lost guests at the wrong entrance). We knew we were going to have a blast when the first person we saw coming through the door was none other that Pop My Culture Podcast favorite Doug Jones!
I had a lot of fun dancing and I only fell once!
Friday, July 13, 2012
Our plan to camp out once again in Hall H was thwarted early, as the line stretched to the water and was 8,000 deep. Ballroom 20 was off the table as well, as the combo of Community/Legend of Korra/Firefly reunion had people camping out. So we jumped around a lot all day and caught a variety of panels! First up: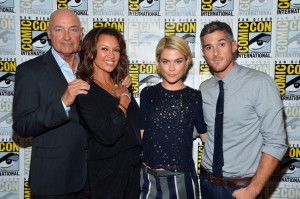 666 Park Avenue Pilot Screening and Q&A
PANELISTS: Terry O'Quinn, Vanessa Williams, Rachael Taylor, Dave Annable, Matthew Miller, David Wilcox
They screened the pilot in its entirety, which is about a high-rise apartment complex in New York on ritzy Park Avenue that isn't what it seems. O'Quinn (Locke from Lost) plays a shadowy, devil-like man who grants wishes to tenants in exchange for their souls. The concept is decent, but the show itself wasn't as involving as it should be. The crowd seems ambivalent to it as well, so it wasn't just us. The panel itself was pretty short, with just a handful of questions for each panelist. Rachael Taylor's true Aussie accent came out, which was a theme throughout the day as actor after actor on the television panels hailed from Australia or England.
Not gonna say much on this one- I don't think I'll be tuning in.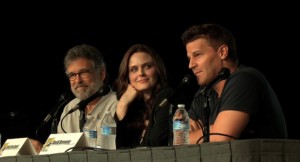 Bones
PANELISTS: Stephen Nathan, David Boreanaz, Emily Deschanel
As the Firefly reunion had emptied out, so did Ballroom 20, and after four years of Comic Con I finally saw the inside of that room! As we were crazy to see the Breaking Bad panel that night, we spent the rest of the day here. We got inside the room about halfway through the Bones panel, where David Boreanaz was holding court, joking around and answering Buffy-related questions that he probably gets every fifteen minutes of his life. As I've only seen a few stray episodes of the show, I was actually glad that we just caught the audience Q&A portion.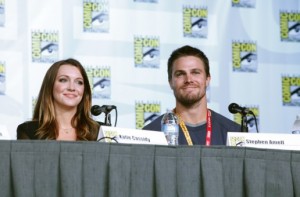 Arrow Screening and Q&A
PANELISTS: Stephen Amell, Katie Cassidy, Marc Guggenheim, Andrew Kreisberg, David Nutter
The DC comics' Green Arrow gets the small screen series treatment from the CW! I was a little skeptical at first, but the pilot was pretty strong (and pretty is key here, as all of the cast members are appropriately CW beeee-utiful!) and the crowd ate it up. Series star Stephen Amell makes a good Oliver Queen, and one particular shirtless training sequence had the ladies (and probably select gentlemen) squealing (I'm sure this includes Vanessa as well). It suuuure did.  There's a new superhero in town and mamma liiiiiike.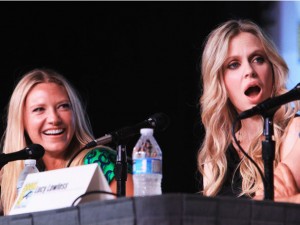 Entertainment Weekly's Powerful Women in Pop Culture
PANELISTS: Kristin Bauer van Straten, Sarah Wayne Callies, Kristin Kreuk, Nikki Reed, Anna Torv, Lucy Lawless
A fantastic collection of strong actresses made up this loose discussion, including previously unannounced panelist Lucy Lawless (XENA!). The crowd seemed particularly full of Fringe fanatics, who shouted lots of "love you!" to Anna Torv. The questions seemed tough to answer and there was a certain seriousness and somberness that I found a bit off-putting, but others around me (a.k.a MISS RAGLAND!) loved it. Right, V?
I loved this!  I didn't feel like it was somber at all- I thought this panel was smart and insightful and the panel was beautifully curated. My two panel favorites: Kristin Bauer was wry and funny just like you'd hope she'd be, Lucy Lawless is 6 feet of wonderful.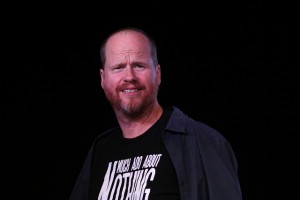 Dark Horse: Joss Whedon
Next up was an hour of Joss Whedon, solo, discussing upcoming projects (Much Ado About Nothing!), the next season of the Buffy comic, The Avengers, and much much more. The adoration by the audience was off the hook — it was truly like watching a God show himself to his devoted followers. Whedon was funny, self-deprecating and pseudo-cocky, and I kept sitting there thinking "Why haven't we had Joss on the podcast yet?" So I've got a mission to start on soon…
What Cole said!  Mr. Whedon has created a fan base that lights up whenever he's near.  He can turn the world on with his smile! He can take a nothing day, and suddenly make it all seem worth while!  He also looks a lot like Ron Howard.  His commitment to great stories above all else is a great calling card that we could use more of in this town.  Yes, Cole, get him on the show.  Kthankz.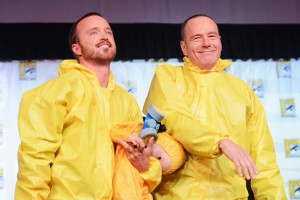 AMC's Breaking Bad
PANELISTS: Vince Gilligan, Bryan Cranston, Aaron Paul, Anna Gunn, Dean Norris, Betsy Brandt, RJ Mitte, Jonathan Banks
MODERATOR: TV Guide's Mike Schneider
Finally! As obsessive fans of the show, Vanessa and I were beyond excited for this panel (we've chatted about the show with many guests, as it seems always be on their lists of favorite shows). Just days before the Season 5 premiere, we were treated to a season preview before show creator Vince Gilligan came out, wearing a blazer with a Heisenberg shirt underneath it. The cast was then introduced, with Dean Norris (Hank) coming out in a full Xena outfit. His intro was only outdone by Cranston and Paul, who came out in full yellow cook suits to thunderous applause. The panel itself was tons of fun, with them all hinting at things to come in Season Five (including the announcement of guest stars Laura Fraser and Jesse Plemons), and Aaron Paul saying his favorite line from the season premiere (Magnets, bitch!). There's a ton of camaraderie between the cast, and they seemed genuinely touched by the big response they got from the packed house.
Cole said it all, but GOD THIS WAS GREAT.
That was our final panel from Day 2 — we decided to have an impromptu meet up with friends and podcast listeners that evening, so we ended with food and drinks at the Marriott — which included a visit from our favorite voice over artist and friend of the show Rob Paulsen!
Thanks to everyone who came out!  We had a blast drinking and chatting.  Just when you think life can't get any better, the martinis were delicious and they came with awesome olive swords too.
Saturday, July 14, 2012
We began our final day at Comic-Con exhausted but ready to take in some more great panels. Due to the Hobbit, the line for Hall H was OVER 12,000 PEOPLE, most of which arrived in the middle of the night, so we knew we weren't getting in there. We did see a bunch of great stuff though, starting with…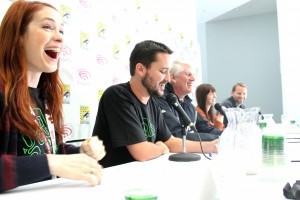 Geek & Sundry
PANELISTS: Felicia Day, Wil Wheaton, Daniel Strange, Vince Caso, Jeff Lewis, Amy Okuda, Sandeep Parkih, Robin Thorsen, Kim Evey
We started at the Indigo Ballroom with the panel celebrating the brand spanking new YouTube channel Geek & Sundry, run by past PMC guest Felicia Day. She was SO charming and intense- just what everyone loves her for. They showed some footage from their programs, including a new show called Written By A Kid (I LOVE this show!  Go to her channel now and watch it!), in which a kid narrates a story they made up and famous faces act them out (the one we saw had Joss Whedon and Kate Micucci in it). Wil Wheaton talked about potentially making a show about home beer brewing, which he does a lot on his own time. The cast of the Guild were also there — their rapport was great, but a lot of it was lost on the audience due to faulty microphones. Still, it was a fun panel and should drum up even more business for the new channel.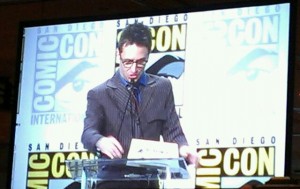 Nerdist Channel
PANELISTS: Chris Hardwick, Neil deGrasse Tyson, Gary Dell'Abate, Alison Haislip, Alex Albrecht, Chloe Dykstra, Holly Conrad, Jessica Merizan
The Nerdist himself, Chris Hardwick, ran the panel celebrating their new YouTube channel with a good mix of panelists from the various shows on it. Perhaps the most delightful was super popular scientist Neil deGrasse Tyson, who talked about the Pluto downgrade hilariously. They ran clips from the shows, including things like Bill Nye the Science Guy showing Hardwick how to tie a bow tie, and a teaser from the new season of Chris Hardwick's All-Star Bowling (um…I was on the Team Podcast episode, just FYI!) with Team Nerdist taking on…DR. WHO! It was geek pandamonium in the room. Chris is the best panel leader and host ever. Smart, quick, and wonderful at guiding a panel without over taking it.  Also, I am in love with Neil deGrasse Tyson.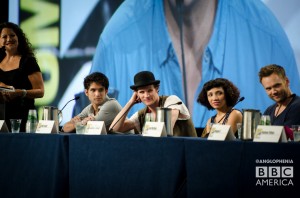 TV Guide Magazine: Fan Favorites
PANELISTS: Nathan Fillion, David Giuntoli, Joel McHale, Tyler Posey, Maggie Q, Matt Smith, Liam McIntyre, Sarah Wayne Callies
MODERATOR: Debra Birnbaum
A hodgepodge of super fun fan favorites comprised the yearly TV Guide panel, who riffed hilariously with one another, despite not being able to hear each other (I guess the monitor wasn't working or something). It was Matt Smith mania in the room, with EVERY SINGLE AUDIENCE QUESTION directed at him, which prompted Joel McHale to answer for him at one point. Everyone had super great moments — I expected Fillion and McHale to be charming (they were), but I was really surprised by Liam McIntyre (Spartacus!) who was super sharp and hilarious in his comments.  Mmmm, Sparticus.  The worst thing about the panel — and I'm sure V will write an essay here — was the moderator, the editor in chief of TV Guide Debra Birnbaum, who may very well be the very worst interviewer that there is. She started by bitching "I'm exhausted, I've been on a YACHT ALL DAY" which was met with cold stares from many people who slept on curbs waiting to get into various panels. She was hard to understand, and her questions were awful. So please PLEASE hire someone else to do this next year!
Ok, at this point, I'm unravelling.  I haven't slept much (or well.)  I've been living on poorly chosen snack packs I bought before I came (one day of Annie's fruit snacks, salted peanuts and coco-almonds? Awesome. 3 days? Nooooo.) So, I'm getting loopy at this point.  I also have anxiety issues and my nerves were basically raw- this is all a set up for my behavior.  The moderator- Debra, Debra, Debra.  Deb, maybe you are a lovely person in real life!  Maybe you were stressed out or battling stage fright?  But you were the MOST AGGRESSIVE AND WEIRD PANEL LEADER I'VE EVER SEEN.  Her voice was atonal, loud, and angry.  Her expression was a condescending smile. Her questions were versions of, "So, can you tell us exactly what happens this season?"  To which every panelist replies "No, no I can't…"  Then she would frown this little frog frown and bark into the mic some other dead-end question… "Any big surprises?" "I noticed you wear sweaters."  And there was something about the architecture of her face that made me start to go crazy.   I LOST IT.  I started laughing, just a little at first- and after some behave-yourself-elbows from John, I really felt like a kid in church with the giggles.  And I was one of those horrible, uncontrollable church laughers who no parent's elbow or head-smack can quell.  I vibrated with laughter and snorts for a good 15 minutes.
We then took a bit of a break to walk the sales floor before heading into our next panel…
You guys, at this point- I'm COMPLETELY overwhelmed.  Too many people, too many crowds, loud noises and staring at huge screens.  I love Comic Con, but my nerves can only take so much.  Also, I need to pack more snacks next time.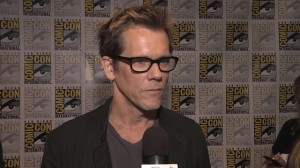 The Following Screening and Q&A
PANELISTS: Kevin Williamson, Marcos Siega, Kevin Bacon, James Purefoy
The new serial killer show from Kevin Williamson (Scream) got a bit of a mixed reception from the crowd, as it was incredibly dark and violent (in the Q&A, they said they envisioned it for cable and were surprised how much was allowed through for network). Still, having Kevin Bacon as a leading man and James Purefoy as a psychopath give the show some gravitas, and the set up is intriguing for a full season of watching. And — oh no — DEBRA BIRNBAUM is back. Thank God the Q&A session was only like 10 minutes…
Ughhh. No thanks.  Overwritten, over acted, over Edgar Allan Poe-d.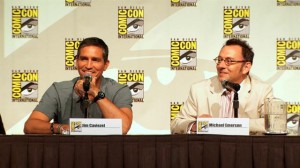 Person of Interest Screening and Q&A
PANELISTS: Jim Caviezel, Michael Emerson, Taraji P Henson, Kevin Chapman, Jonathan Nolan, Greg Plageman
Celebrating a popular and critically acclaimed first season, Person of Interest returned to the con, with a clip package and a preview of the new season. Series stars Jim Caviezel (a man of few words), Michael Emerson (Ben Linus from LOST!) and Taraji P Henson were game to answer audience questions, though the panel itself was a bit lackluster. Still, it was nice seeing Emerson and co.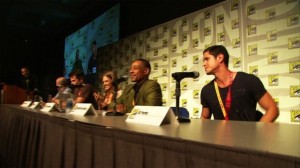 Revolution Pilot Screening and Q&A
PANELISTS: Jon Favreau, Eric Kripke, Billy Burke, Giancarlo Esposito, Tracy Spiradakos
Super excited to close out the day (and Comic Con!) with a screening of the new J.J. Abrams produced show Revolution, which my lovely wife helped to cast! Jon Favreau, who directed the pilot, showed up unannounced to introduce the screening before heading off to his Iron Man 3 panel in the impossible to get into Hall H. Of all the shows screened at Comic Con that we saw, this one resonated the most with the crowd, who were super into the "what if all the power in the world went away and never came back" concept. It's a treat to see Gus Fring himself, Giancarlo Esposito, as the heavy in the piece, and Billy Burke as its anti-hero. The show should be a genuine hit when it hits TVs this fall.
Oh, I LOVED this pilot!  Beautifully shot, well written, and makes you want to watch the whole thing. Prediction: Tracy Spiradakos is going to be a big star, folks.  As I sit at my desk and gnaw a cigar: A big stah- schee??
And….that's a wrap! We grabbed some sushi and hit the road back to Los Angeles, very satisfied with our Comic Con experience, despite missing out on things like Game of Thrones, The Walking Dead, Django Unchained, Firefly and more. It just shows you that there is always a wealth of great programming to catch, even if you can't always get inside what you had planned to see. Thanks SDCC!