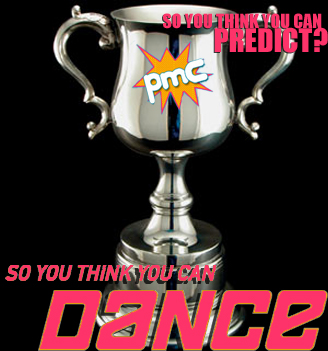 Full recap of this week's episode of SYTYCD to come tomorrow, but first, an announcement!
Studies* have shown that 42.6% of the fun in watching reality competition shows is trying to pick the eventual winner. This year, Pop My Culture is proud to further reward your brain's pleasure centers with So You Think You Can Predict!
There are two ways to claw and scratch your way to the top of the Pop My Culture heap. The show will eliminate one guy and one girl from each week of competition. Then, for the first time in the show's history, it will bestow the honor of America's Favorite Dancer to the top male AND female performer. You, dear reader/listener/person who got lost looking for cat videos on the internet, get points from correctly predicting each week's bottom two, with bonus points awarded for picking the season winners. Admit it: you're doing it anyway, so you might as well earn something for it! Protip- this philosophy also applies to supermarket reward cards and making sex tapes.  After the season finale, the So You Think You Can Predict Prize of the Century** will be presented to the victor/victoria.
Entering the dance battledome couldn't be easier! (Actually, it could, but then we would be overrun with rapid chimpanzees and faceless corpses and our insurance company frowns up that.) Post your predictions in the comments section of each week's SYTYCD recap on popmyculturepodcast.com. Points will be given for correctly naming the dancers who are eliminated on the following show (with partial credit for picking someone who is in the bottom three but is not sent home). You can earn bonus points for correctly predicting the overall season's winners. Change your answer as often as you want, but only the most recent guesses count, and the earlier you choose your favorites, the bigger the bonus point jackpot.
Are you ready to piqué a winner?
Onward, to the hot tamale train!
(*my arbitrary estimations)
(** pending, but will be more awesome than a gaggle of Gryffindors)