You watched. You predicted. And now, it's time to find out who won…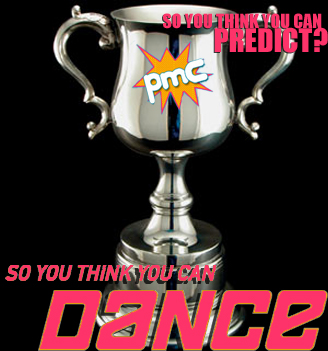 Besides the honor & glory (hole not included) of winning, our top predictor will become the proud owner of the PMC Prize Bag! Fresh from LA's celebration of National Dance Day, the winner will be receiving an Ovation channel drawstring backpack, a "A Chance to Dance" t-shirt (size medium, never worn unless you're into that kind of thing & want me to wear it on a jog in the heat of the day after forgetting to apply deodorant), a pair of promotional fan thingies/single use ping pong paddles from Ovation and Cirque de Soleil, and a collectible sheet of American choreographer USPS stamps with a First Day of Issue certificate and envelope!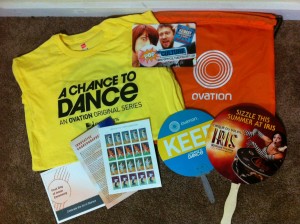 As early as the first & second live performance shows, one of you was on the mark with comments like "I feel like Eliana could go far (technique meets some edge)" and "Eliana has a Jeanine vibe… and just like that former winner, once she's not with her quirky hip-hop partner I think she will do really well." The accuracy continued as this person called plenty of eliminations and nailed the eventual co-champions well ahead of the actual finale.
Congratulations, Melissa W! You CAN predict, and you did it well! Thanks for all of your great comments throughout the season. I always looked forward to seeing what you had to say about each new episode.
But wait, there's more!
After only the 4th performance show, this comment appeared: "Who I think will make it far – Eliana, maybe Chehon?" Whaaaaaaaat! That was out of the entire Top Ten pack of dancers, by the way… and like Melissa, this viewer also had plenty of correct picks, and called the Eliana/Chehon win the week before it was announced! So… congratulations are also in order for Megan, who will be getting a brand new Pop My Culture t-shirt! Way to go, girl.
To all of you that keep me going with your lovely and hilarious comments: Melissa W, Megan, Crystal, Pete, and Darcie, thank you so much! It's nice to know that you've enjoyed reading these ridiculous recaps, and your comments provided me with precious, precious validation.
See ya 'round the internet!
PS Alex Wong 4EVA!!