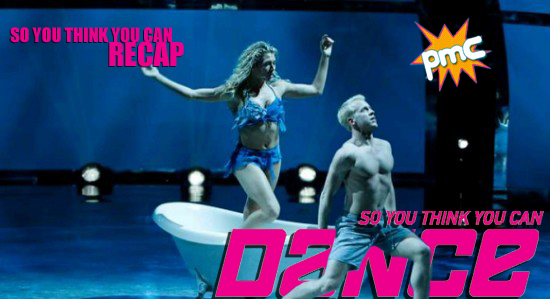 Mirror mirror on the wall, who's the creepiest SYTYCD-er of them all?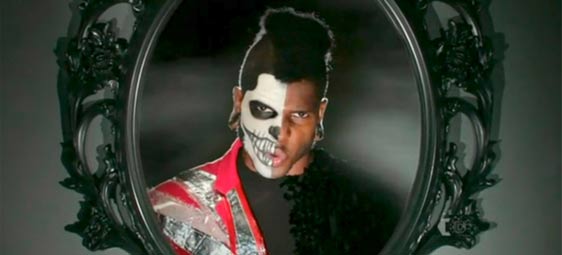 We know we're in for a cool show when this is the first thing on stage. It's exactly what you would expect if Marilyn Manson, Michael Jackson (circa Thriller), and choreographers Tabitha & Napoleon engaged in some frisky Eyes Wide Shut style copulation. There's even a gratuitous phallus!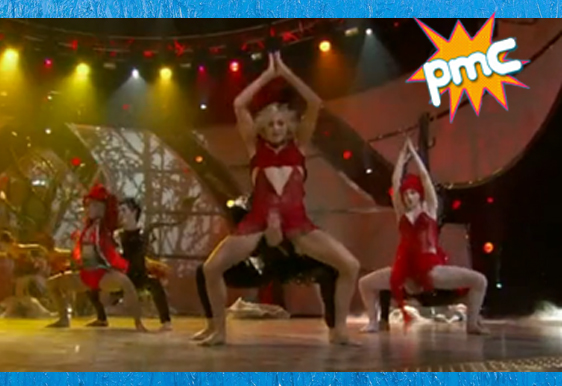 Tonight's judges are Nigel, Mary (who had her shit together last week but looks like her dress is by Hefty tonight), and Adam Shankman. We're reminded of the weird new format- the bottom dancers have already been chosen by last week's votes, but that won't be revealed until the end. Then, the judges will "save" one guy and one girl, leaving 4 dancers to pack their leotards and go.
The first dancers are Karate Cole & Lipless Lindsey, whose dental-centric routine to "Teeth" by Lady Gaga is reminiscent of Jen Aniston & Charlie Day's characters in Horrible Bosses, or perhaps the hoards of sexy cosplayers & dorky dweebs of this weekend's ComicCon. (Your very own Cole & Vanessa were also in attendance at the San Diego event, although they were costumed as badass podcast hosts.)
Amelie/Amelia and Will were given an unusually drab, safe Sonya Tayah dance. The judges loved its technical accuracy and the way the dancers "lost themselves in the movement", but I found it neither exciting nor memorable. Then, Amber and Nick did the tango. It had more drama and stunts than the previous dance, and it's a ballroom routine. It's like hearing the news that Fred Willard was arrested for masturbating at an adult theater and subsequently fired by PBS; it's wrong, but that's what happened. The judges faulted Nick for disappearing into the background. Last week he was ripped a new one by his Viennese Waltz choreographer… things aren't looking good for you, pal.
Sonya's second choreography went to Audrey and "Are You Sure That Isn't Ryan Gosling?" Matthew. It had much more of the quirk, unexpected movement, and excitement than her previous piece. Of course, the fact that Audrey and Matthew were last week's unofficial favorites (thanks to Travis Wall) didn't hurt either. Nigel praises their "stank steps", complete with extremely unnecessary impression, and the rest of the judges agree that it was brilliant…. I think. I kinda tuned out because I was mesmerized by those baby blues and painted-on abs.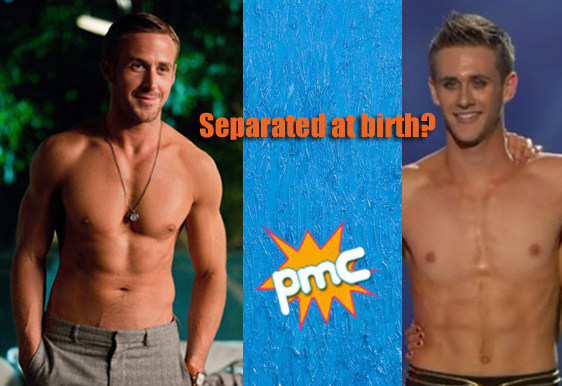 Janelle-y Belly Dancer and Dareian Donald Duck hit the stage with a sugary sweet lyrical to My Girl that ends not in Macaulay Culkin's funeral, but in a full blown kiss that stirs up the horndog in Adam and Nigel. Nevertheless, it's quite a departure from last week's jungle rave and looks more like scene from a lost episode of Leave It To Beaver. Mary describes it best: "cotton candy; light and airy."
Next is a really fun Broadway number with Janaya and Brandon dancing to music from Jekyll & Hyde, choreographed by Sean Cheesman. The scene that is portrayed- a woman reading a romance novel who tries in vain to get frisky with the dude sitting beside her on a park bench- is one that is happening with increased intensity as soft core porn erotic novel "Fifty Shades of Grey" takes the nation's collective G-spot by storm. The SYTYCD version, however, replaces vaginal steel balls and BDSM gear for high kicks and whatever this is: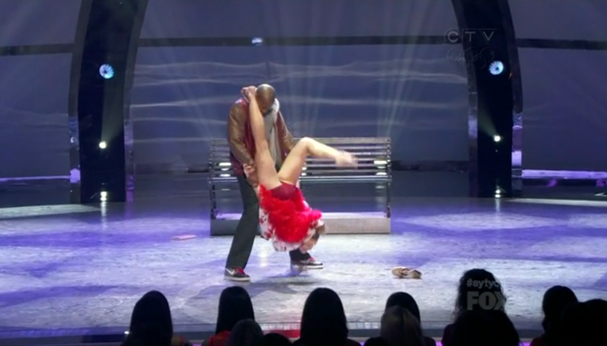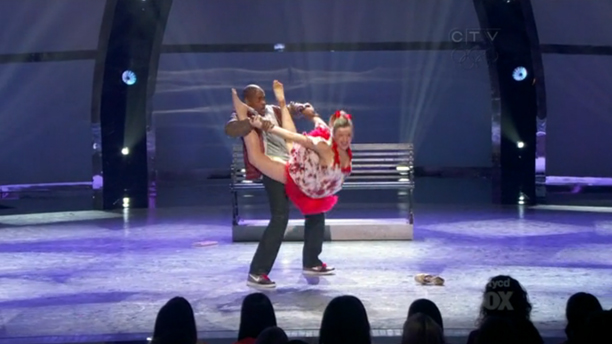 There are even a few moves that showcase Brandon's hip-hop/stepping specialty. The whole number is dynamic, thrilling, and definitely entertaining. It's the first Broadway this season, but I think it's one of the better ones in recent years of the show. Adam points out that both dancers played their characters extremely well and really committed to their roles. Sean Cheesman did the African Jazz last week, and with this one, he's quickly becoming one of those choreographers that the dancers will hope to draw.
Poor Cyrus and Eliana. They got the Jive, the Madden NFL curse of dance styles. Not only that, but Cyrus is easily the least experienced dancer on the show outside of his genre. This is the moment Cole and Vanessa predicted on the recent PMC podcast episode with Kathleen Rose Perkins, although neither of his saggy earlobes bore a bowtie. You at least gotta give the guy credit for confidently showing off his enormous black… smile. The judges gave him an A for effort and praised Eliana for her technical successes.
Daniel, the Australian ballerino by way of San Francisco, and Red Lipstick Alexa danced in and out of a bathtub to Yanni (probably a better choice of music than Whitney Houston)(too soon?). Surprisingly, given the superb technical ability of both dancers, they kind of got lost at sea (sorry). The judges didn't believe there was an emotional connection between the two of them and it was just lacking overall.
Tiffany and George, who did the tapioca pudding dance last week, end up with the foxtrot tonight. Something about it reminded me of two kids dressed up in their parents' formal wear twirling around on stage. It was very… twirly. Adam said it took him back to the 40's and MGM days- what is it with this pair and time machines? The rest of the judges loved it and were very impressed by the difficulty and blah blah blah it was another ballroom dance.
Finally, Witney and Chehon dance a Bollywood piece. Their choreographer, Nakul Dev Mahajan, said there was no storyline and it was "all about the stamina, the speed, and getting the hands right." I wonder if this guy is single, am I right ladies?!? The routine was sloppy and out of sync in parts, but given how insanely difficult it was, they did a great job. As the judges mentioned, it was certainly better than last week's samba.
Elimination time, sponsored by Activia! OK, maybe not, but I can't help but think someone's missing out on a good marketing opportunity. The bottom six are revealed to be Janaya, Alexa, and Witney (what? she was on the freakin' Hot Tamale Train!) and Nick, Daniel, and Chehon. Cat asks Nigel if they need to see anybody "re-dance"—wait, what (again)?? Apparently the judges knew who the bottom six were THIS ENTIRE TIME (very Sixth Sense/feather cat) and even consulted with choreographers to help them decide who to kick to the curb. No further dancing is needed- never something you want to hear.
The dancers are left to ruminate on their impending doom while we see a preview of the latest Step Up movie. All I need to know about it can be summed up in two names: Twitch and Travis. There are plenty of other SYTYCD alumni featured too, including Mia Michaels as both a choreographer AND an actor! Yes, please! It looks like the cast of Magic Mike doing Maureen's protest from Rent and I couldn't be more on board. Now, if the hunky lead Channing Tatum lookalike wants to take me as his date to the premier, I'll be alllll set.
Ahem, back to reality. Nigel reminds us how democracy works, and then announces that they're saving Witney and Chehon. That leaves Janaya, Alexis, Nick, and Daniel going home. Fair enough!
Who do you think will be in the bottom of this week's performances? Leave your predictions (along with any other thoughts) in the comments, along with who you think is on track to be America's Favorite Guy and Girl Dancer. Remember, your guesses could pay off in the form of a fabulous SYTYCD/PMC prize package!
Thanks for reading!