What do you get when you cross Stomp, Anything Goes (from Broadway), and The Artist?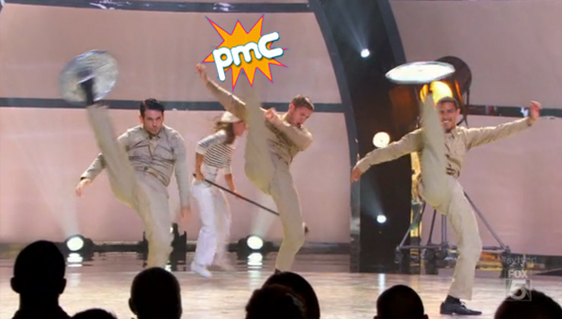 A TRIPLE TAINT ATTACK!
And yes, that IS Mr. Tyce "It's Not Spelled Like The Cookie, God Damnit" Diorio on the left. He's filling in for Karate Cole, who suffered some kind of minor injury that may or may not involve a chaffed chode.
Tonight's opening number was dedicated to Gene Kelly and his widow, who took time off from shooting her latest movie, "Basic Instinct 3: Even Basic-er" to be in the audience.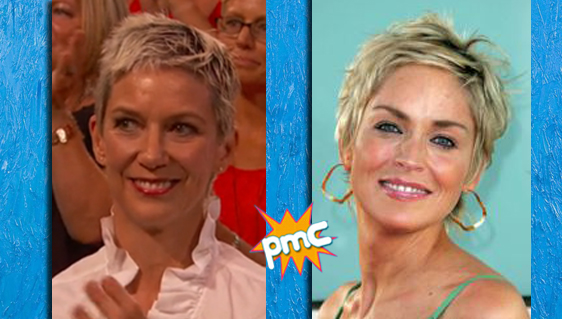 Since we're down to the Top Ten, that means it's my favorite time of year: All Star Time (or, "Let A Minor Celebrity Grab You By The Crotch Season)! Our first duo is Tiffany and chocolate nugget/Wayne Brady stunt double Brandon with a difficult disco. There are 11 tricks in all- or as Brandon tells us, "AY-LEV-EN!".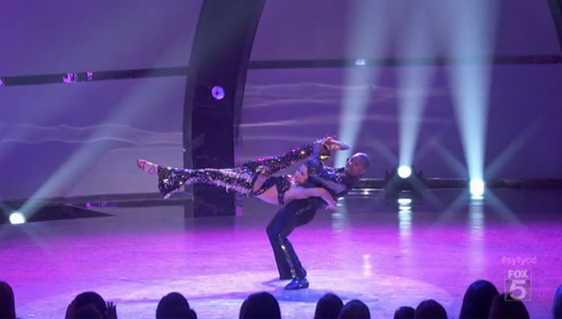 Disco isn't anyone's favorite dance genre, but when it's as exciting as these two make it, it can be a blast. He whips her around like the little spinner she is (Urban Dict' if you're unfamiliar with the phrase) and she seems to enjoy every moment of it. Plus, who WOULDN'T want to wear those sequined, crotch-breezy pants?
Witney seriously lucks out when she's matched with the unambiguously gay duo of Travis Wall and Season 1 winner Nick Lazzarini for her choreographer & partner, respectively. Things get a little weird when Nick offers to give her "sexy lessons" during rehearsal—I don't think there's much she could do short of wearing a Channing Tatum mask that would turn him on.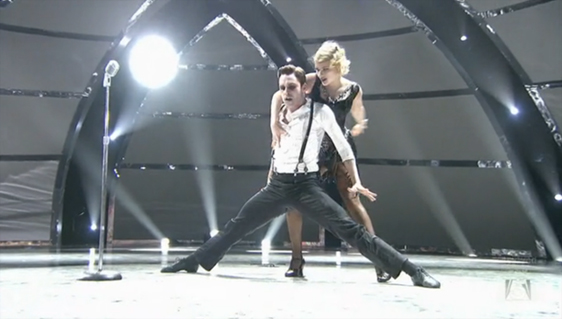 The concept is that they're ghosts dancing together when nobody is watching, but I think it's just an excuse for them to use whiteface. Also, Patrick Swayze taught us that ghosts can't interact with objects in the physical world without intense focus, yet they toss that old timey microphone around like it's a SIDS baby?? Do your research, Travis! Beyond those technicalities, the dance is well done. Guest judge Benjamin ThousandFeet (who has something to do with Black Swan… I kinda tuned out that part) pointed out the juxtaposition between tension & release, and the way time seems to stand still then jump forward. That's what made it interesting to me… although Nigel's favorite part was how Witney was "even sexy when she was breathing!" Where's that shot glass?
Cole, who is apparently magically healed, is paired with a decidedly thinner & less Russian-looking-than-when-we-last-saw-her Anya for a Cha Cha. Their choreographer is the shirtless Soviet wonder Dmitry. Do you think those two talked shit about Cole in Russian during rehearsal?
"Vat dos dees guy sink ee iss doing wiv ees armsminksis?"
"He ees such a jokislav!"
We can only dream.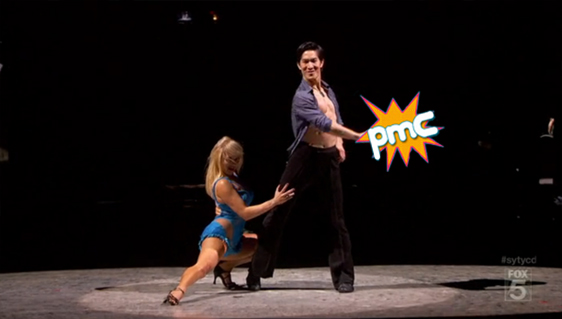 Despite the bare chested homage to his choreographer, Cole only managed to give a lukewarm performance. Mary harped on him for a lack of chemistry and sloppy balls (… of his feet, but I hear what I want to hear).  Poor Cole is left trying in vain to find Platform 9 ¾ of the Hot Tamale Train.
When Lindsay was shown with the next All Star, Jakob from Season 6, it had me asking "…who the hell was Jakob from Season 6?" After a quick Googling, I pulled up a few photos. Perhaps you recognize him now?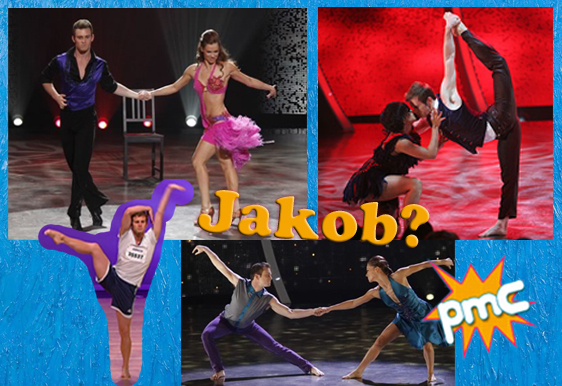 –because I don't. Sorry pal, but even though I've seen every episode of every season, you just slipped through the cracks.
They're given a Broadway routine by Spencer, and it involves some androgynous shadow dancing.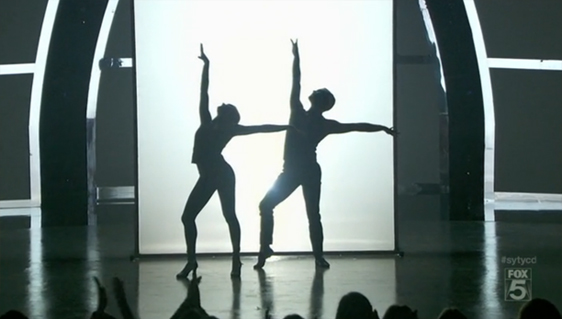 This was about as sexy and interesting as watching Honey Boo Boo's mom polish off a bag of Cheetos. Using her feet. And in case that doesn't translate to some of you chubby chasing Quentin Tarantino-esque fetishists, I didn't mean that as a compliment. The shadow gimmick in the beginning relies on perfect synchronicity, which was off. The rest of the dance had no connection or emotion from Lipless Lindsay or "Who's Up for a Sex and the City Marathon" Jakob. Nigel called Jakob a master at going "a little bit further than straight," which was either completely innocent or a hilariously Freudian choice of words.  Mary surprised me by putting Lindsay on the Train, which meshed with generally positive reviews from the judges, proving once again that my opinions can never be trusted.
Will shares with us that he's had "a lot of experience playing the flute," which should come in handy during his Bollywood number with Kathryn; her character as a snake is "the sexiest snake" Will's ever seen. I dunno, I hear Sir Mix-A- Lot's anaconda is seriously charming.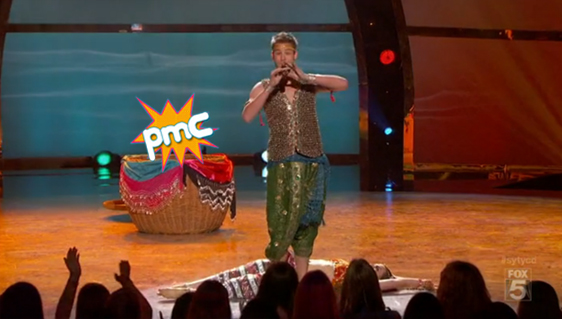 Despite the Indian costuming, music, and choreography, all I can see in this dance is how incredibly WHITE Will is. When Dave Chappelle writes a sketch involving a stereotypically Caucasian male, this is his muse. I realize how racist it is to call this kind of goofy, happy-go-lucky charisma a "white" characteristic, but seriously- watch the video again. Nigel calls it "personality" and "likeability"; I call it "whi-whi-HITEness." That's not to say he didn't dance well, but I was completely distracted by his intense grin.
The second lucky duck of the night is Cyrus- he'll be dancing with All Star Jamie to a post-apocalyptic piece by Travis.
Side note- some of you were mentioning Travis' new Oxygen show All The Right Moves, where he works with Jamie, Nick, last year's winner Melanie, past favorites Adé and Allison, and a team of other dancers and choreographers to create a dance troupe in LA. It's basically a dance-themed version of The Real World or even one of the Housewives spinoffs- interesting people mixed with a lot of egos and drama. But it certainly looks to be more respectable than its peers, and you can't deny the talent in that group. It's currently just 2 episodes in (I've only seen the first, myself) but we'll see how it affects Travis and his reputation.
Anyway, Cyrus is gonna have a lot of challenges with both the dance genre and the tough partnering work with this piece. Will he pull through?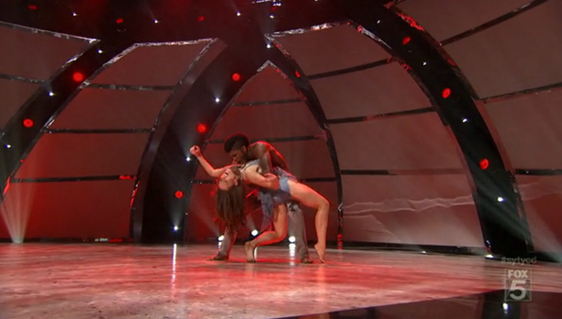 Yup. This guy has emotional depth and, as Benjamin put it, "raw energy" coming out of his saggy earlobes. As a partner, he is absolutely solid and connected. As a technical dancer, there is obviously a lot to be desired… but that doesn't take away from his overall performance. He's still a dream to watch, and not just because of his ridiculous body.
Ugh, I'd almost forgotten about the flip side of All Star week(s)- having the people come back who you thought you'd gotten rid of. And by "people," I mean Lauren Gottlieb. It's no secret to my friends and family that I haven't been able to stand her from her very first audition many years ago, and it's only gotten worse. In fact, she was prominently featured at the otherwise wonderful National Dance Day event in LA, and her obnoxiousness was out in full force. Maybe she's a lovely person, and there's no question that she's infinitely more successful than I am in dance and in life, but seeing her simply makes me cringe.
Luckily, Chehon doesn't seem to have the same hang-ups that I do, because he's going to be doing hip-hop with her. It's a complete 180 from ballet, but if Cyrus can get though his dance this week, Chehon should be fine.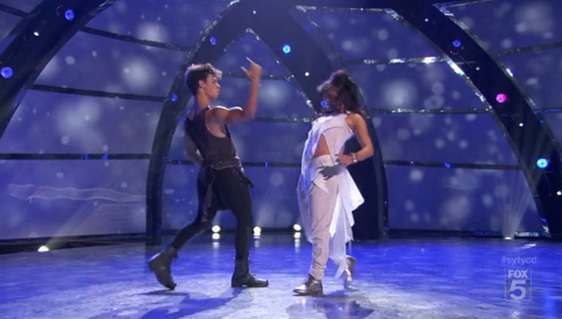 (I'm not a huge fan of violence against women, but I like this moment because it looks like he's smacking her in the face. Probably for being such a stuck up bitch.)
Chehon found his groove! Well, he's narrowed its location down to a 30 foot radius, anyway. The judges praise him for "letting go" of his rigid, controlled ballet training and feeling the music. He had some swagger, some soul, perhaps even some buckness. But most importantly, he had fun, and that's all that matters (other than the potential fame, money, respect, and skyrocketing career that's on the line… but other than that, it's important that he had fun.)
George and Allison find themselves in that age old situation- he's in Paris, trying to catch a train, but when he sees the drop dead gorgeous lady also waiting at the station, he decides his meeting can wait until after he's done letting her straddle his face. Oh, and there's a cane involved for some reason. And the railroad crossing sign is in English.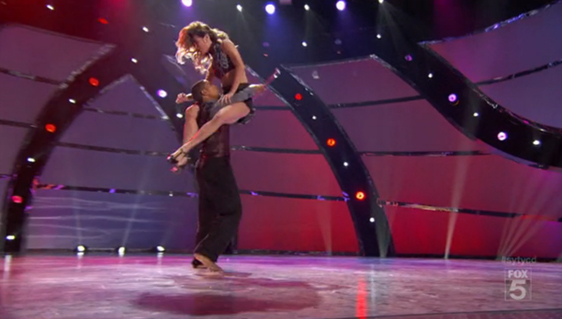 So maybe Tyce's choreography isn't the most realistic, but it's interesting and it showcases both dancers nicely. The reviews are generally complementary, although Nigel criticizes George for "not being raunchy enough" while I chug what's left of my bottle of vodka.
I can't dwell on the last dance for long, however, because not only is pointe princess Eliana next, but she's with ALEX MOTHERFUCKING I'M IN LOVE WITH HIM WONG!! You guys. When Alex tore his ACL during the show 2 years ago, I cried right along with him. I've confessed my undying love for dancing Asians on this blog before- they are to me what the Olsen twins are to Vanessa- and Alex will always have a seat reserved for him on my personal Hot Tamale Train. I'm more excited than when Jessie Spano got all hopped up on caffeine pills. Plus, with Stacey Tookey behind the… barre? you know it's gonna be good.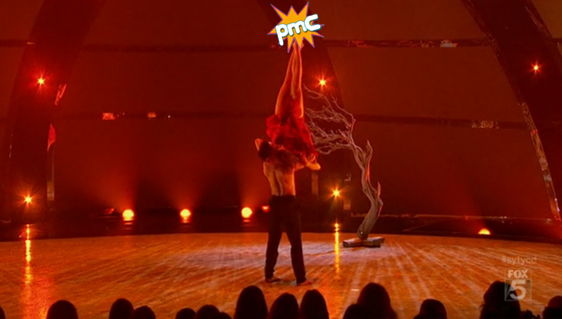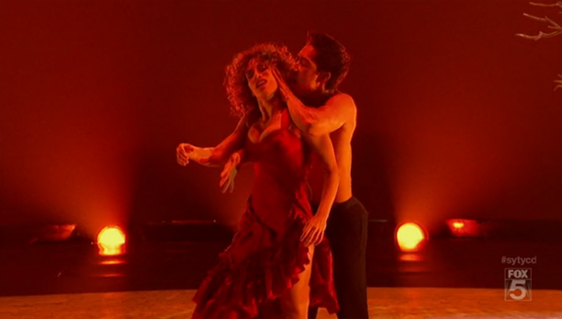 Oh. My. God.
This dance… wow. Absolutely exquisite. Complete perfection. I wish Lil' C was here to wax poetic on how remarkable that was. As soon as the lights started to come up, I felt like Tinky Winky because I wanted to watch it "again! again!" –and I did. (Shout out to the internet! Thanks, buddy!) Eliana and Alex got a much deserved standing ovation for their breathtaking work. She was the epitome of grace, control, timing, and passion. He was pure strength, finesse, and sensuality. Nigel called Eliana his favorite of the girls and the judges agreed that it was easily the dance of the night. If this doesn't get Stacey nominated for an Emmy, I'll have no choice but to make a series of empty threats (let's be honest). Seriously though- what a piece of fine art that was.
No one would want to follow that, but Audrey and Twitch are at least worth watching. With the second Dave Scott hip-hop of the show, they have the task of closing things out with a bang.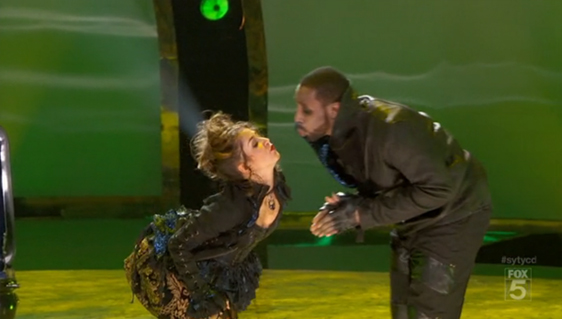 Dang, that girl can get down! Twitch tells us that he thinks Audrey is good at hip-hop, and he's not blowing smoke up her tiny ass. She manages to match him beat for beat and doesn't let his extraordinary talent steal the spotlight. It doesn't hurt that their Dracula/coffin routine is full of character stuff and personality, either. Mary is impressed with Audrey's ability to "hold her own", although Nigel & Benjamin wanted to see more from her. Hell, I can't imagine how intimidating it must be to not only have to dance with super megastar Twitch, but to have to do it on his hippity-hoppity turf AND to have Eliana and Alex go up right before you. Way to go, Audrey!
That concludes the 10 duets, so let's get to the reveal of the four bottom voted dancers from last week's Mia Michaels Movement Montage. Of the girls, it turns out Witney and Audrey are "in danger" for their versions of The Bench Dance and The Dead Dad Dance. The boys are Chehon (who was partnered with Witney) and George, who did the Assisted Run Dance. The judges will "save" one dancer of each sex, and Nigel calls for all four to do their solos. Witney does her flirty, sexy shimmy thing, and Audrey explodes with a more passionate and powerful (not to mention more difficult) series of extensions and leaps. Chehon's solo is peppered with aggressive spins and kicks, and George shows off with a backwards pushup body roll thing.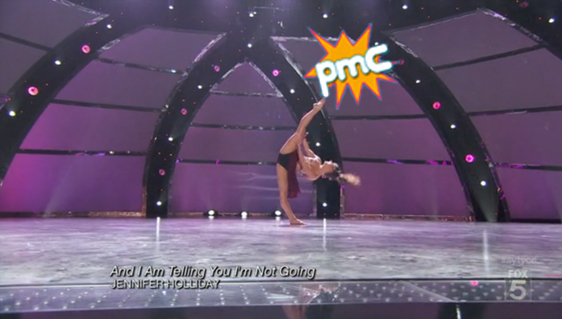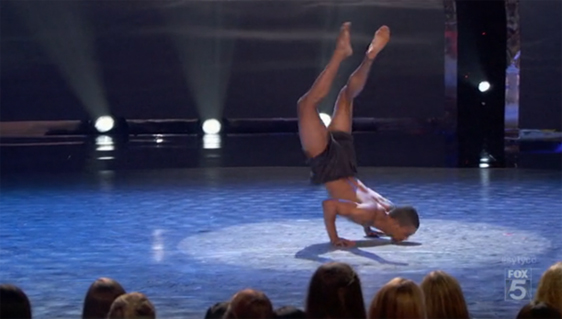 While the fates of the bottom dancers were being decided, the guest judge's dance company performed a pleasant, but slightly boring, number that reminded me of figure skating. It was fluid, cadenced, and a little too slow to hold my attention after seeing over an hour of dance.
The judges have deliberated, and they are keeping Witney and losing Audrey. I'm a little surprised because I found Audrey to be more versatile, and it's been said before but Witney and Lindsay are basically the same dancer… but I guess sex appeal wins out once again. In her clip package we are reminded that she's the neck/shoulder farter from the auditions- ah, the olden days! Nigel then tells George that his solo was his best work on the show, and even though he and Chehon both have trouble connecting with the audience, it's Chehon that "takes their breath away", leaving George to go.
Next week it's back to more All Stars, fewer dancers, and hopefully zero Lauren! Thanks for all the great comments everyone- let me know what's on your mind for this show.