Here we are, after thousands of awful auditions and passionate performances alike- the So You Think You Can Dance finalé! The final four will be competing not for some worthless NCAA Championship (or is it NAACP? I always get those two confused), but they will win the COVER of DANCE MAGAZINE!!!! Oh, and "$200,000 to share" –which I can only assume means the female winner will get 74 cents for each dollar the guy makes! Hurray!
There is no opening group dance, possibly because four people don't really count as a group. Cat introduces Nigel, Mary (who is in disguise as a gay disco ball), and director Rob Marshall, who was able to take time off from his day job as Romney's body double.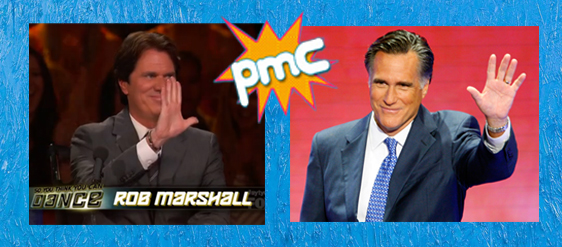 The show starts with a gender bending Paso Doble- Eliana is the matador & Cyrus is the cape, which boils down to him wearing a dress and matching red ear discs.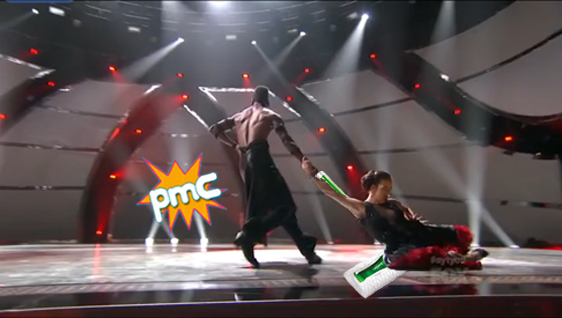 She is powerful and majestic, even through the Swiffer move across the floor. Cyrus performed the most terrible cartwheel in the show's history, but his solid partnering made up for it. Mary compared his challenges with the genre to "skinny dipping with snapping turtles" in a completely uncalled for moment of painful imagery.
Sonya Tayah is paired with Tiffany and All-Star Will (dreadlocked black guy from season 4…?) in a dance best identified by her costume's distracting weird garter belt things.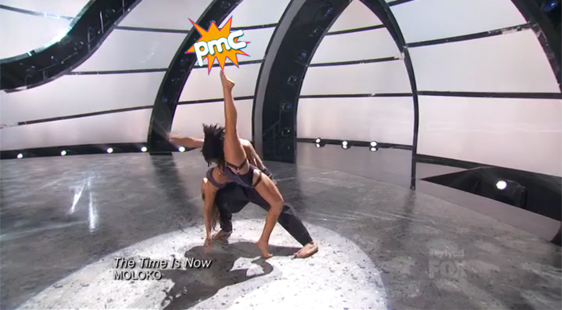 It's pretty but not memorable, and you can see Will struggling in places. Rob gives minor nod to 9/11, which was reverent and honest.
Eliana and Chehon are partnered for- ballet!!!! With a real Russian choreographer! To the Nutcracker! This is the first time real, classical ballet has been in the finalé, with two CONTESTANTS no less. It's a real shining moment in SYTYCD history.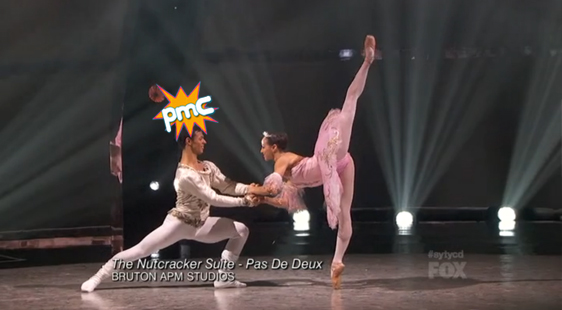 Chehon is on display in full bulge glory, and Eliana is decked out in pointe shoes, a tutu, and tiara, just like a Disney princess or fierce child pageant competitor. They are absolutely beautiful and, as Rob notes, the epitome of versatility. Chehon partners with similarly-sized Eliana much more easily than Will did with petite Tiffany. It's also a nice surprise to see both of Chehon's parents in the audience! Mary is overcome with emotion (or painkillers) and starts weeping.
Tiffany & Cyrus get hip hop with a choreographer that looks like she'd be more at home in a store selling homemade incense and healing crystals than teaching booty twerkin'.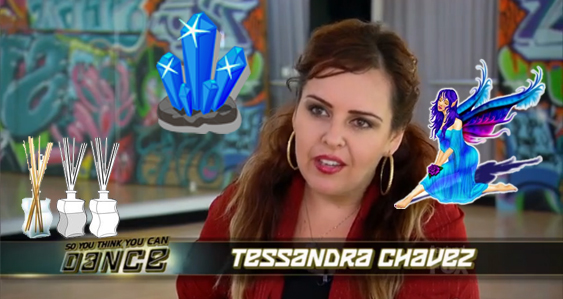 The music is from Beyonce, and even though the piece has a 90s vibe for some reason, it's very well done. Nigel notes that neither dancer has ever been in the bottom 2 or 3.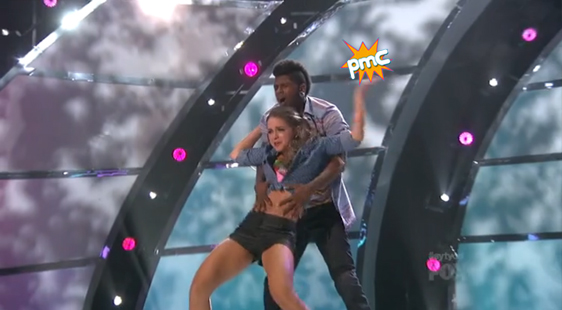 Overall, it's a fun, interesting routine & both dancers are equally strong. Cyrus manipulates Tiffany so easily that I'm beginning to think her previous partner Will should get checked out for early stages of Stephen Hawking disorder. (note- I'm not a licensed medical professional)
The Top 4 DO come together after all for a "quirky Tyce Diorio" dance, which is like saying "an action-packed Michael Bay movie" or "a shitty E! reality show." The song is (remixed) by- prepare yourselves- District 78! It starts with classical music, and the dancers perform beautiful ballet and lyrical movements… but then the music changes and it gives way to moments of jazz, hip hop, and just plain weirdness set to Star Wars noises.
The first half was intentionally mocking the serious, conservative ballet, and it came across in a very disrespectful way (in my opinion). The whole thing reminded me of Julia Stiles' character's audition piece from "Save the Last Dance" where she starts out doing ballet then switches into hip hop, but both genres were treated equally. Why couldn't you have done something like that, Tyce, you jackass?
My memory isn't great, which is just another way of saying I'm pretty dumb. That's my excuse for forgetting that Eliana was partnered with Cyrus for the first several weeks of the show. In her pre-solo clip package, she's very likable and sincere, not at all annoying, and just a consistent dancer.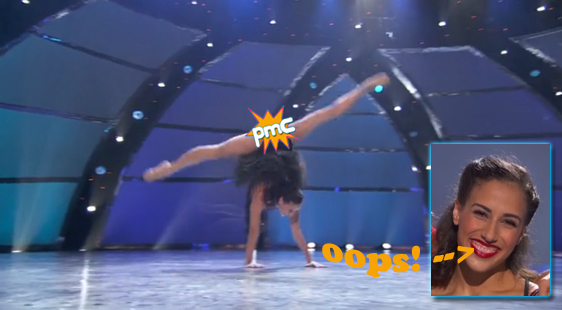 The solo itself was in textbook Eliana garb- tutu, pointe shoes, sports bra. Her front walkover thing on pointe- wow! Even with lipstick all over her teeth, she's still beautiful.
Chehon & All-Star Allison are with Stacey Tookey in a dance where he wants her to pursue her dreams (of… being a yoga teacher?) Stacey admitted that she'd "find myself gasping and screaming" while watching Chehon in rehearsal… SEX REHEARSAL. When the song info appeared- it's from "Once- A New Musical"- we know it's gonna be awesome.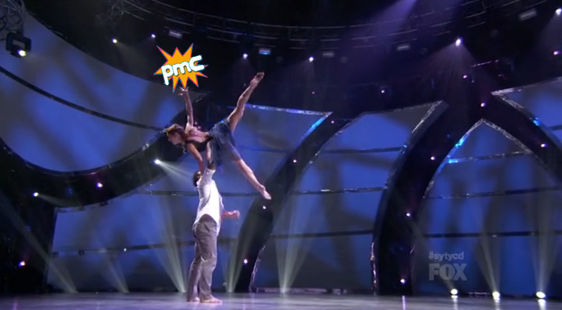 Chills. I was out of my body watching it, thinking "I'm seeing something magical happen right now, for the first time, and I'm going to remember it for a long time." There's an incredible one hand lift, Chehon's signature leaps and turns, and a full mouth kiss! They were really in their own moment, and it was stunning. Standing O of course, and when the camera cut to Stacey's reaction, you could see that she was so proud. Mary told Chehon that he was "free at last!"- does she know that he isn't black? Nigel said he was watching Allison breathing before the routine, "psyching herself up," and I couldn't help but think he was probably doing a little "psyching up" of his own.
Things take a strange turn when Eliana and Tiffany are paired for a burlesque/Broadway number. With a pole. Nigel is foaming at the mouth & penis. Luckily, it was in good non-gropey hands with Ray Leeper. The song, "When You're Good to Mama" from Chicago, is already suggestive song but at least their costumes & pole moves are relatively tame.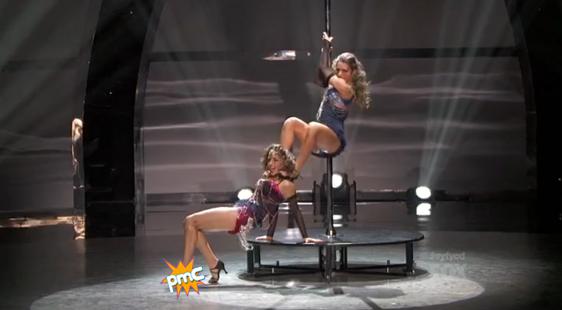 The dance is very, very well done with some ridiculously difficult choreography. It's also not the sexiest dance we've ever seen- thank god! Rob, who directed the 2002 Chicago movie, was busy "trying to imagine Queen Latifah doing that", hopefully putting Nigel's own pole back in its place. Cat cemented her role as Best Host Ever when she said about Nigel "let's drown him out with applause!" Wise words, girl.
Speaking of forgetting things from the early weeks of the show- I'd forgotten how good Cyrus's solos are. Tonight he blew us away in his understated style to the same song from his very first Atlanta audition, I think (let's be honest- it's hard to tell those songs apart).
Tiffany really flew under the radar in auditions and Vegas, and was never featured until making the Top 20. Even then, she was so similar to Audrey she didn't have her own identity- something that's evident even looking back at past recaps here. Dancing with Ade was her breakthrough moment when people finally knew who she was.
The boys have a Sonya dance, and of course, District 78 music. The lifts & partnering are delightfully homoerotic. Sonya does a great job in making sure both dancers' strengths are used.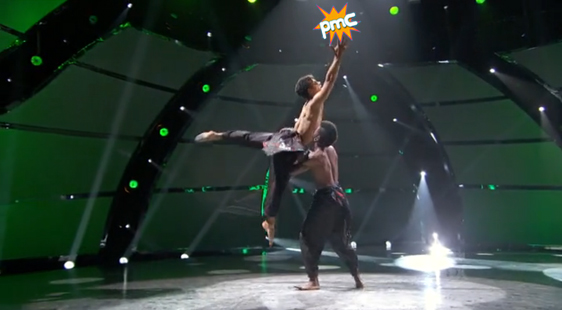 I never noticed before, but the two of them are built almost exactly the same- in the shadows they are identical besides the hair. Cyrus is Nigel's "favorite person on the show" and Chehon is his "favorite dancer on the show". We know Eliana is his favorite female dancer, so maybe that leaves Tiffany the title of Nigel's "favorite dancer to fantasize about"?
Guest dancer Jean Sok, a French one-legged Asian b-boy, takes the stage for a solo. What, was the Samoan blind dwarf tap dancer unavailable?
Chehon's pre-solo clip package really gets one thing across- that boy loves his mom. He started his solo with the coveted plane ticket to Vegas, and his song was appropriately called "This Is How It Ends."
Eeeek! It's the heavenly Alex Wong with Eliana! And it's her first time dancing with Travis Wall! Talk about a finalé. They changed the game with their Bang Bang dance a few weeks ago, and how they're with the best goddamn choreographer? I am vibrating with excitement.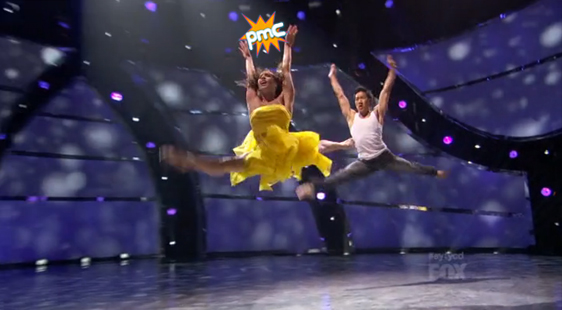 Off the bat, the cliché/cheesy song choice ("Without You," performed by Harry Nilsson but covered by everyone from Mariah Carey to Air Supply) made it hard take to take this piece seriously. It was beautifully done, the dancers were passionate & effortless, and Eliana's extensions & pointed toes are simply unreal, but… the song was the worst. Nigel calls it his favorite routine of the night, and Eliana his favorite dancer of all time on the series- damn! I really, REALLY wanted to like this more, and maybe if I see it again on mute I will, but I'm left feeling a little underwhelmed.
Tiffany and Chehon have a rumba with former contestant and current shirtless wonder Dmitri. Will these goofballs be able to pull themselves together to dance as if they're in love?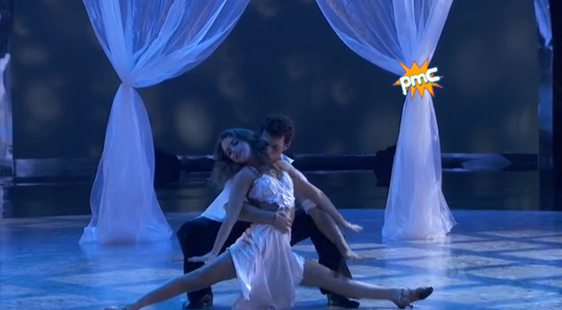 Between the stunning set design and romantic song (Love Me Tender by Norah Jones with Adam Levy), this looks like a wedding dance more than any kind of "sexy Latin ballroom." Maybe I just don't know what a rumba is, but this dance is soft and mellow. There's not any great chemistry as Mary says, but it's lovely and safe.
It's the first ever animation routine with Cyrus & Twitch! Another big moment not only for the show, but for an ecstatic Cyrus. Oh, and guess which numerically zoned band is doing the music?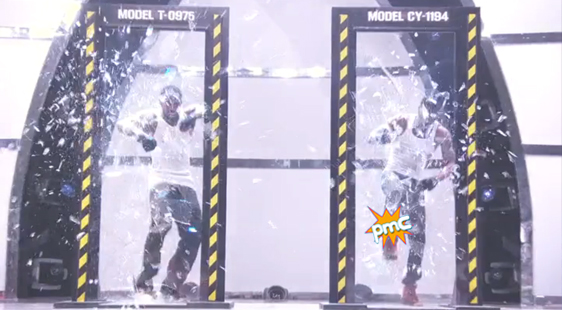 This WILL be one of the most memorable dances in the history of the series between the killer dancers, revolutionary style, and literally explosive start of the dance when the boys smash out of their glass enclosures (and my lady boner smashes out of my pants). As Dancetradamus, I predict that kids will watch this dance over and over, trying to learn the moves à la Thriller, and a new generation of hip hoppers will appear in next year's auditions.
With the show moments from closing, Nigel manages to make it really, really awkward. And not even sexually, for once. He tells Cyrus that he's not voting for him (in favor of Chehon) because of how hard Chehon has worked as a trained dancer. What the fuck, Nigel? First of all, nobody asked! There isn't some obscure bylaw that states "Nigel must declare which male dancer he will vote for at the end of the show, but don't worry about saying anything about the girls." Second, let the guy enjoy his last moments of (well deserved) adoration on stage after experiencing a once-in-a-lifetime event! Finally, the comment killed the whole mood of the show and made everyone visibly uneasy. Nigel's weird "I love your bones" compliment (?) certainly couldn't make it all better.
What a way to end the show… but it was pretty damn spectacular between the ballet, Stacey Tookey's showstopper, crying dancers and judges, a stripper pole, and Cyrus in a dress. Next week's SYTYCD will announce the grand prize winners, and here at Pop My Culture we'll reveal the winner of the So You Think You Can Predict prize pack! We've had a good run, guys. See you then!