It's been two weeks since we last saw each other, but the mini-hiatus is over and I'm back with another recap of So You Think You Can Dance! Tonight's show will be a tribute to still-alive-but-does-this-mean-she's-dying-or-what choreographer Mia Michaels, and four more dancers will be destined to a life of county fair appearances and emotional overeating. Hurray!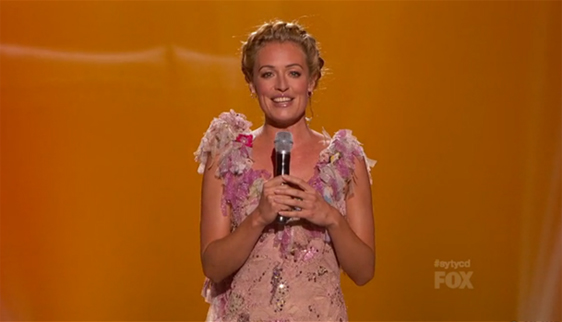 Mother Nature Cat introduces the guest judges: two dudes "all the way from Britain" (nevermind that of the four judges and host, only Mary is American) who call themselves the Ballet Boyz. That's Boyz with a Z, yo! We be straight ballin' up in this joint! Check out these hardcore muthafuckas!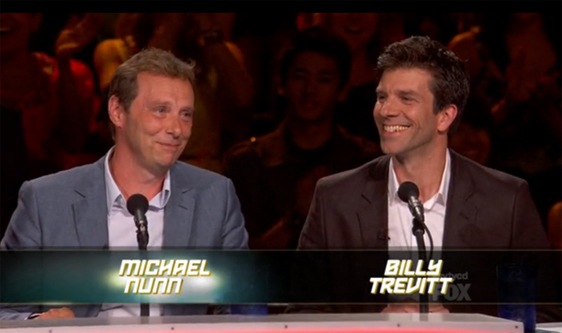 In other news, Tabitha popped out baby boy London, seemingly right in the middle of getting a manicure-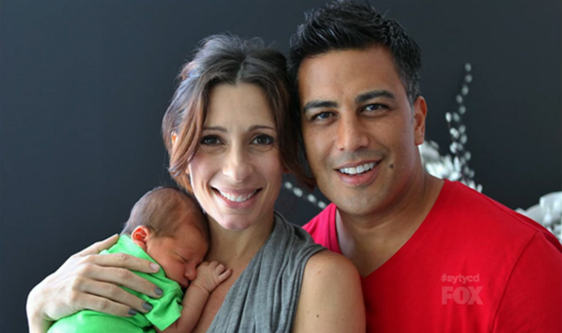 -and there's now an official SYTYCD iPhone app. Because of course there is.
The top 14 launch into a Phantom of the Opera meets Cirque de Soleil (and as Nigel uncomfortably interprets later, 50 Shades of Grey) fever dream of a dance, complete with long stem roses, ropes hanging from the ceiling, and lots of hardcore lip locking. It's ethereal, beautiful, haunting, and pretty damn weird. Of course, Mia put it together since this is HER NIGHT, people. Why are we honoring her as if she's arabesquing with Jesus, again? Perhaps we'll never know.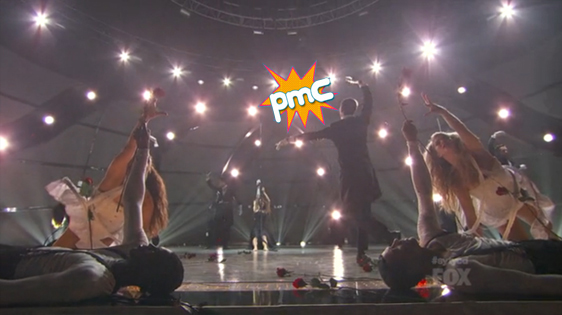 Tonight's 7 dances will be recreations of Mia's Greatest Hits- or to put it another way, dancing with furniture! Taking arguably less talented people and putting them into iconic roles has worked out well in the past (see Psycho, Flubber, and Nic Cage's unfairly robbed of an Oscar 2006 version of The Wicker Man), so this should be no exception.
Eliana and Cyrus will be playing the roles of Katie and Twitch in Season 4's "The Door Routine." This actually doesn't sound like a potential disaster since both dancers have similar styles to their original counterparts.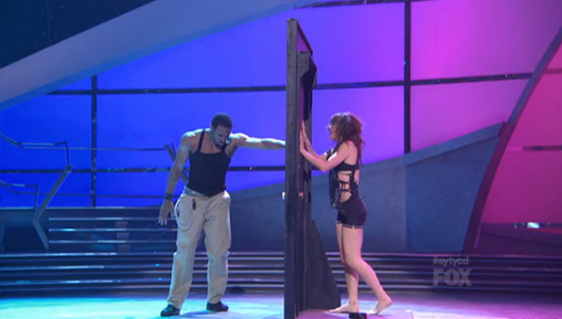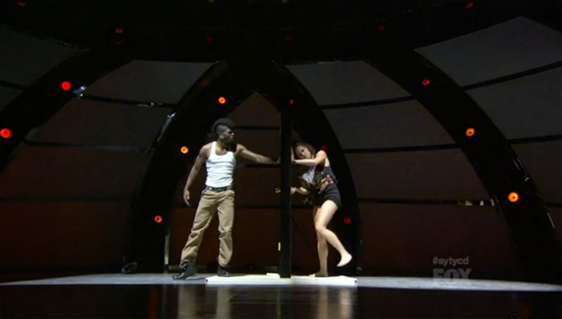 It's… fine. Cyrus does some crazy floaty shit and Eliana charges at him like a housewife in heat, but it doesn't have the passion and intensity as the original. The BBz admit they've never seen the show, ever. One of them tells the dancers that he's there to offer constructive criticism, and in the same breath, simply states that he's "excited".  Oh, you Brits and your mysterious ways!
Before the next dance, we have a cameo by yours truly! That's right! Your very own PMC recapper appeared on screen in front of the world. During the footage from National Dance Day in LA, I get some serious screen time. I'm the one in red waving my hands in the air-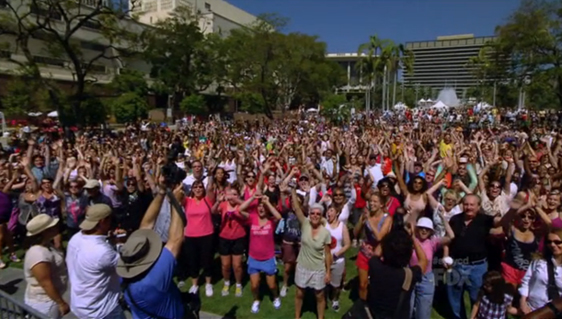 No, not the one in the shorts. I've circled myself so that you can see me better: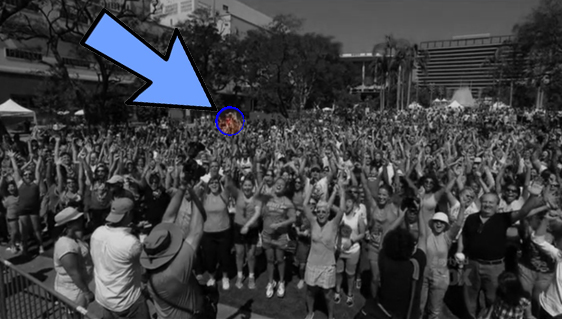 If you recognize me walking down the street, don't be afraid to come up and say hi. The fame hasn't gone to my head and I'd be happy to sign autographs for a very reasonable price.
And speaking of cameos- look who it is!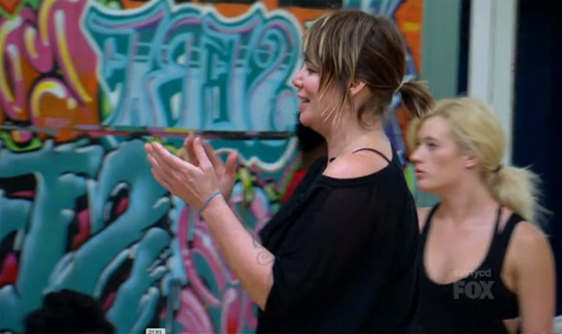 Last year's from-my-hometown Ryan Ramirez! Looks like she's working as Mia's assistant; you can also see her in the studio audience.
Anyway- on with the dances! Tiffany & George will be taking on Katie & Joshua's "The Assisted Run" piece. I gotta say I don't entirely remember this one, although I do recognize that running part…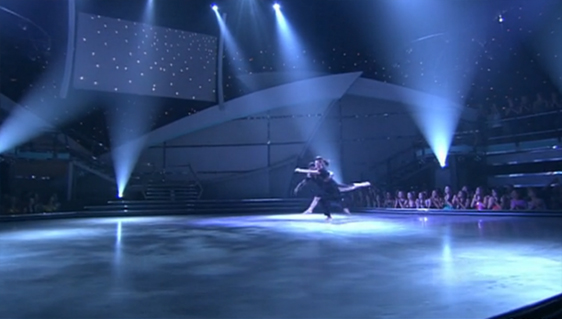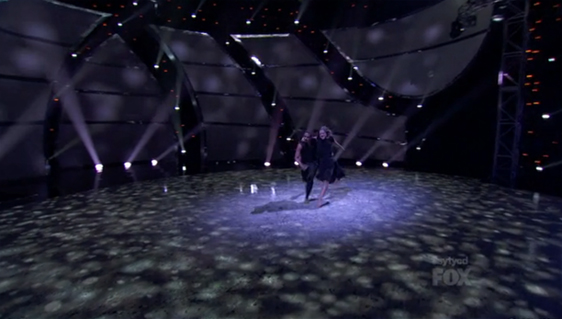 …and these guys didn't do it justice. Instead of a smooth suspended run, Tiffany did what looked more like a series of leaps, which threw off the cadence and destroyed the effect of weightlessness. She also had her hair flying all over the place (Katie's was in a ponytail), which was a distraction. The judges liked it better than I did, but noted that it was a "different dance" than the first version and that they were too dramatic with the emotions.
Poor Amelia. She and Will end up (no pun intended) with "The Butt Dance." I barely remember Evan and Randi from the first time around, but I certainly remember this Emmy winning choreography.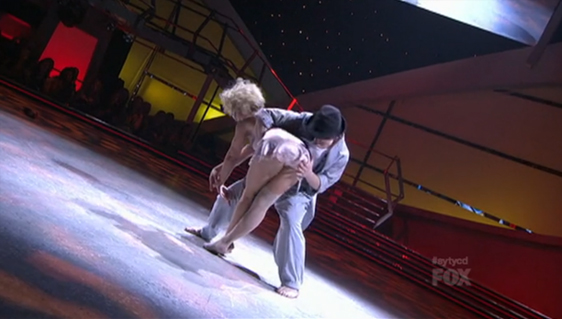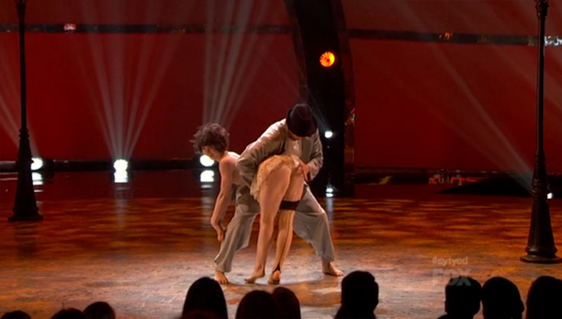 Their version is just as awkward and borderline demeaning as before, but they dance it beautifully. To no one's surprise but everyone's horror, horndog Nigel confesses that Randi's butt has been "on his mind" for the past 3 years. He was unimpressed with their lack of strong character, but the other judges were generally positive.
The second Twitch dance of the night, "The Bed Dance", is drawn by Janelle and Dareian. I'm suddenly reminded of how much I couldn't stand Kherington Payne- even her name is fucking annoying!- but this number was definitely iconic and powerful. (I also suddenly remember how much of a douchebag John Mayer is. Shoutout to Jen Aniston- congrats on your engagement, girl!)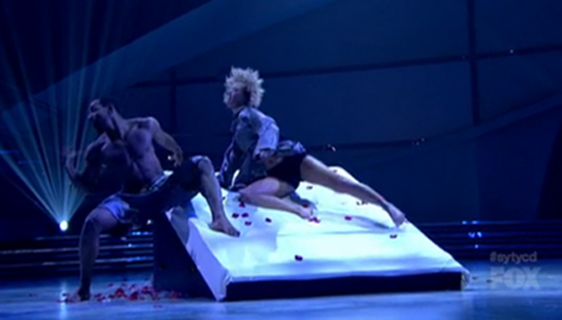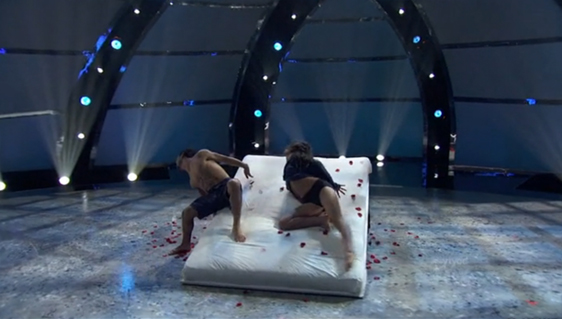 Janelle reveals that she is going through some heartache of her own, and it shows in her intense emotions. Dareian does an admirable job with his side of the bed, especially considering how much taller his counterpart was.  Even BBz #2 recognizes that "whoever this Titch guy is, he's responsible for some great movement." (Apparently "titch" means little or small in Queen Elizabeth-land, which makes this misspeak both funnier and more unforgiveable.) Dareian gets chastised for his feet and Janelle for her hair in what I thought was a less complimentary critique than they deserved.
Get out your tissues, everyone (unless you had them out during The Butt Dance…), because Mia's "Dead Dad Dance" is taking the stage. Between the flowers and Neil's hotness, who could forget when he and Lacey turned Mia into a sobbing mess? The pressure on Audrey and Matthew is palpable- do they have what it takes?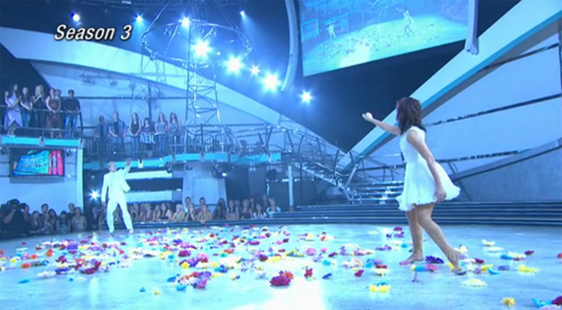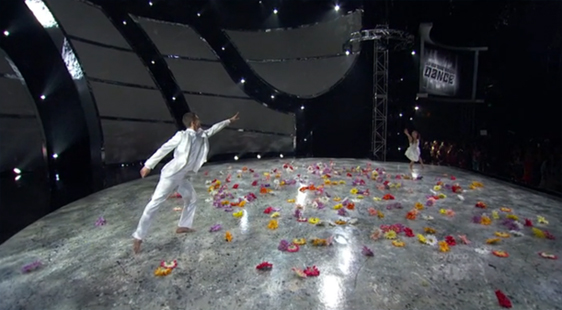 Not entirely. To be fair, look at the contrast in lighting between the two versions. The original looked like springtime in heaven, and the new one gives off more of a "dead flowers on a gravestone" vibe. As Mary notes, the passion is lacking even if the technique is solid, and it simply feels less like a celebration of life than a reminder of our mortality. Nigel goes on to nearly make the dancers shit their pants when he quizzes them on Mia's father's life story in an effort to criticize them. ("How old was Mia when he died? What did he do?" Dude, way to back them into a corner!)
Sidebar: in the comments of the last recap, reader Crystal suggested that Audrey looks a bit like a brunette Stevie Nicks, and I can't say I disagree!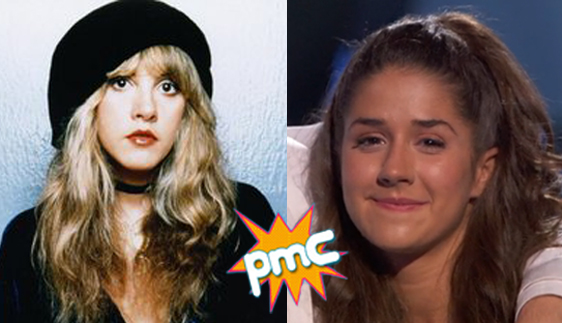 Hopefully Witney & Chehon can turn things around with their interpretation of Travis & Heidi's Emmy winning "The Bench Dance."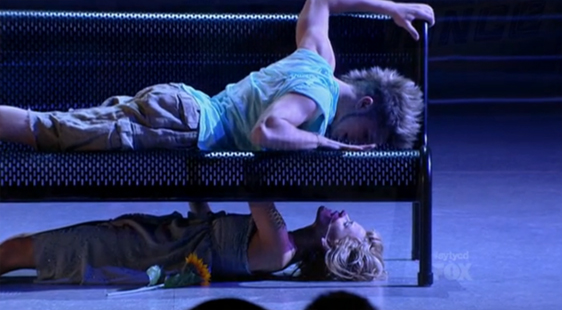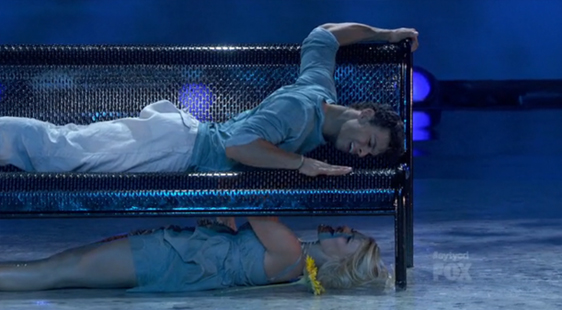 Nigel translates the meaning behind this dance for the first time- the sunflower represents Mia's heart in a true story about the time she fell in love with a gay man who (obviously) couldn't love her back. Saucy! My unrequited relationships only ever end in repressed sadness and permanent weight gain, not Emmy awards, but whatever, good for her. The judges finally gave their stamp of approval, and BBz #1 offered Chehon a job with their company "whenever you want it." Score another point for heartbreak!
The final dance of the show is yet another Emmy winner- "The Addiction Dance" originally starring (the admittedly forgettable) Kayla & Kupono. Their names may not ring a bell, but seeing clips from the first time it was performed certainly jarred my memory. This one beat us over the head with the metaphor of fighting an addiction, but it was moving and effective.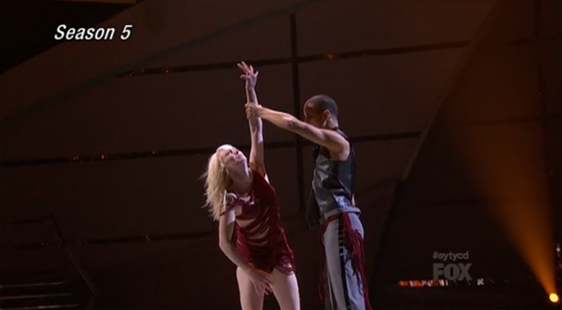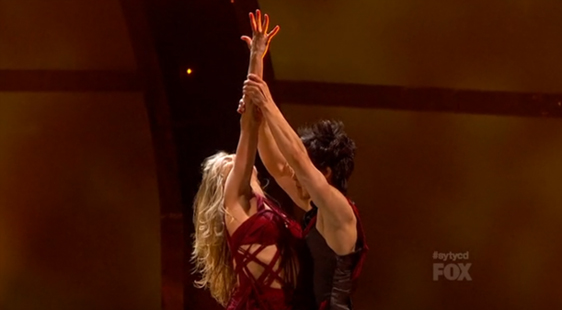 Lindsay & Cole nail the fuck out of it. Easily the best performance of the night- between Cole's dark, chilling character and Lindsay's intense stare, you couldn't take their eyes off these two. This dance was actually an improvement on the original, which is saying a lot. If these dancers end up in the bottom six & aren't saved by the judges, then I give up on humanity. Again.
…but they are safely in the Top Ten! The bottom six are revealed to be Amelia, Janelle, Lindsay, George, Dareian, and Matthew. (Janelle and Darein are the only couple in the bottom together, which isn't surprising if you remember their hot mess of a Cha Cha to Call Me Maybe. I guess the audience didn't call them AT ALL AMIRITE GUYS?!? BOOM! UP TOP!) Nigel tells all six dancers that they'll be doing solos, so I guess it's anybody's game at this point.
Amelia showcases her remarkable control when she slows and holds some difficult poses. Janelle fires her belly dancing missles directly at Nigel. Lindsay shimmies and shakes in a hot pink bird carcass. Dareian combines some serious martial arts with explosive contemporary moves and even remembers to point his toes. Matthew does quite a bit of rolling around on the floor and looking pained, which comes off a little desperate but not in a good way. "Gorgeous George" does a lyrical jazz thing that seems to impress these ladies: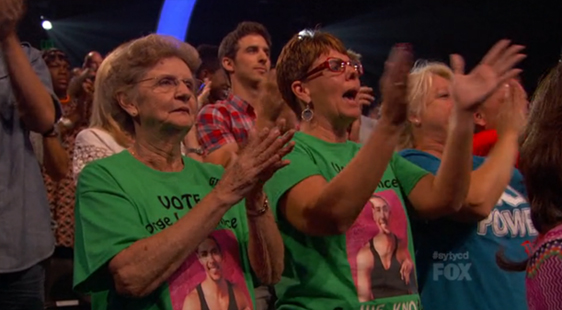 With no further ado, Nigel announces that Lindsay and George are given another chance, while Amelia, Janelle, Dareian, and Matthew are left to ruminate over missing out on the national tour of the Top Ten by a hair. Meanwhile, the remaining dancers will be paired with all-stars next week! Since I can't get enough of Twitch and Travis, I'd love to see them back again.
Tell me who you hope to see, along with your predictions for who's going home and who's going all the way, in the comment section below. There may be some prizes straight from National Dance Day in it for you…!
Exiting stage left,